Bray Head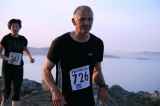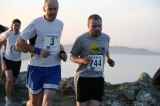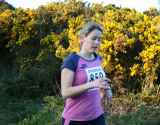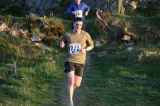 Description:

The classical Bray Head route, straight up and down over the two summits of Bray Head

County:

Wicklow

Date:

Wednesday 27 April, 2011

Time:

19:30

Climb (m):

290

Distance (km):

6.00

Event Difficulty:

6 (2,2,2) - Moderate Terrain, 200M - 500M ascent, 6Km - 10Km

Race Marking:

- Route fully marked

GPS Allowed:

Yes

Leagues:

Entry details:

No entry details have been entered for this event yet. Entries for league events usually open a couple of weeks before the event

Vouchers Allowed:

No. Online entry only for this race.

Route Description:

Start above 2nd barrier on hill climb at southern end of seafront. Follow Way markers towards Cross. Halfway up through trees the path forks: take the right fork to follow the Way marked path and approach cross from west. Climb through rocks to touch cross. Continue to southern summit and do a short loop before returning by the same route to cross. Do not go to cross on return, instead take a right turn around 20m beyond where you came out from cross on way up and then an almost immediate left turn (see small deviation on route map). Descend through trees by almost exactly the same route as ascent (see small deviation on route map) and finish at cul de sac sign before the promenade.

Getting There:

Registration for Bray will be in lounge of The Strand Hotel on the esplanade in BRAY

Organisers Instructions:

The 2011 route is the same as the 1980s to 2004 route apart from the start is at 2nd barrier rather than at foot of climb, and small loop at southern summit rather than immediate turnaround.

Prizegiving Location:

The Strand Hotel, Bray

Notes:

Map courtesy of OSi and Geolives.
Volunteers (Non-Running)
You need to have done 2 non-running volunteer roles in a calendar year to qualify for end of year prize
Volunteers (Running)
Check with race director if they have a need for people volunteering and running. Race directors need a minimum number of people available throughout the race to make the race work so non-running volunteers are preferable. While it can be helpful, volunteering in a volunteer and race capacity does not count towards qualifying for end of year prize
Carpool
| Driver Surname | Firstname | Location | Passing Through | Departure | Seats Available | Seats Accepted |
| --- | --- | --- | --- | --- | --- | --- |
| Little | Gareth | Blackrock | N11 | 17:45:00 | 2 | 0 |
| Keatinge | Justin | Portobello | Harold's Cross, Rathfarnham | 18:00:00 | 3 | 2 |
| Flanagan | James | Adelaide Road | N11 | 00:00:18 | 1 | 0 |
| Flanagan | James | Adelaide Road | N11 | 00:00:18 | 1 | 0 |
Carpool option is not available at this time..