Scarr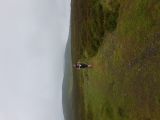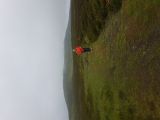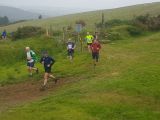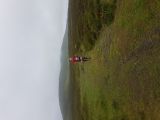 County:

Wicklow

Date:

Wednesday 13 June, 2018

Time:

19:30

Climb (m):

383

Distance (km):

8.25

Event Difficulty:

7 (3,2,2) - Difficult Terrain, 200M - 500M ascent, 6Km - 10Km

Race Marking:

- Route fully marked

GPS Allowed:

Yes

Leagues:

Entry opens:

2018-05-31 09:00:01

Entry closes:

2018-06-12 18:00:01

Entry limit:

None set

Entry cost:

€7 for seniors, €5 for over 65s and under 18s

Vouchers Allowed:

No. Online entry only for this race.

Route Description:

2017 route = 2016 route = 2015 route = 2014 route

The route had been changed to a circuit at the behest of the NPWS. The ascent follows the perimeter of the forest to the right of the stile on the WW and then follows a wall to the ridge over open mountain. A right turn leads to the summit. The descent is unchanged.

Getting There:

2km South of Oldbridge,turn right up narrow lane on Wicklow Way ( Near Roundwood, Co Wicklow) http://www.openstreetmap.org/?mlat=53.0347&mlon=-6.27413&zoom=16&layers=M

Organisers Instructions:

As is often the case at IMRA races, car parking is limited for this event. Please car pool if possible either from town or from the prizegiving pub (Coach House in Roundwood). NOTE National Parks Limit in place for this race We are limited to 200 runners tonight so please come early and don't be too disappointed if you get turned away.

We have secured parking in a field near the race start for which a small charge will be made in inverse proportion to number in the car -> more people = lower charge :-)!

All monies collected will be donated to a local charity as per the landowners choice.

To encourage and reward car pooling we will charge as follows- charge per car :-)
•Cars with 1 person = €5
•Cars with 2 people = €4
•Cars with 3 people = €3
•Cars with 4 or more = €2

Please park following the marshals' instructions.

No parking permitted on the general roadside as the road is too narrow Please park following the marshals' instructions.'

Under IMRA rules for competitors safety, it is mandatory to bring and carry a jacket that is shower and wind proof for the entire race. Any competitor seen not carrying or wearing their jacket at any stage in the race will be disqualified. There are no exceptions to this rule!

All competitors, and particularly those who have not competed this year already, should READ the NEW REGISTRATION GUIDELINES.

We are NO longer accepting MONEY at races.

Unless you intend using a race voucher to pay for the race, you will need to REGISTER ON-LINE for the event and for the year if this is your first race this year.

If you have bought vouchers on line and are collecting them please bring confirmation of payment.

Registration will close at 6PM the evening before the race to allow us print off the list of runners. If you want to run and have missed this you can use your or someone else voucher if they are willing. However you will need to be registered for the year( €10 paid on-line).

On the night you will be directed either to the 'Registered on-line' table to sign in or to the 'pay with voucher' table to have your card punched AND SIGN IN.

If this is your first race this year, you will collect your number which you KEEP for the year. Please bring confirmation of number and registration.

If you have already run this year you will or should have your number with you. Its quite a headache for the organisers if you forget your number so PLEASE bring it. Early start for 2017 will be at 7.00pm. (This is only if you are normally > 160%).

Prizegiving Location:

The Couch House in Roundwood.
Volunteers (Non-Running)
You need to have done 2 non-running volunteer roles in a calendar year to qualify for end of year prize
Volunteers (Running)
Check with race director if they have a need for people volunteering and running. Race directors need a minimum number of people available throughout the race to make the race work so non-running volunteers are preferable. While it can be helpful, volunteering in a volunteer and race capacity does not count towards qualifying for end of year prize
Carpool
| Driver Surname | Firstname | Location | Passing Through | Departure | Seats Available | Seats Accepted |
| --- | --- | --- | --- | --- | --- | --- |
| Jones | Val | Applegreen garage, Swords Malahide Rd | Red Cow Luas | 17:00:00 | 6 | 1 |
| Scott | Fergus | Whitehall | Whitehall, Santry & can pick up at Coach House in Roundwood around 1825hrs. | 17:00:00 | 2 | 1 |
| Scott | Stuart | UCD | N11, Kilmac, returning via pub | 17:50:00 | 2 | 2 |
| Hodgett | Alistair | Monkstown | Salthill & Monkstown DART, Bakers Corner, N11; coming back straight after race | 17:30:00 | 4 | 4 |
| O'Riordan | Kevin | Ballsbridge | N11 | 17:30:00 | 4 | 4 |
Carpool option is not available at this time..