Scarr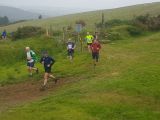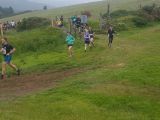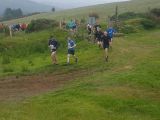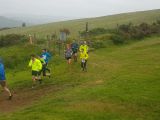 Authors
Scarr
16 June, 2018 - Graham K. Bushe
With the little bit of business of the weekend dealt with (the Wicklow Way race), it was time to turn my attention back to the Leinster League. I had taken a night off for PWS, which sounded like a great race from the reports and comments. Now I've never really loved this route, with its steep climb, false summits and stony lane descent to the finish. However, I rocked up ready to give it a go. Not much time for a warm-up I slip on my jacket as is a tad wet. After few chats I get to the start line. The rain seems to ease a bit, so I decide to remove the jacket. As this happens we get ourbrief from RD Brendan. "30 seconds! " I panic and wrap the jacket around my waist. Then we are off and climbing the farm lane. Eventually we turn right and the climb eases a bit. But it seems to take a lot longer than I remember to get to the wall. And the climb up feels longer too. Lots of walking bits follow and I am happily using the excuse of the ferns to stay in line. I use the opportunity to loop my belt through my jacket as I am afraid I will loose it. Eventually though there's a gap in the ferns and I feel I should make a bit of a move over the heather. At long, long last we get to the marshal who is bouncing on the spot trying to keep warm. We set out for false summit number one. There's a strong wind on my back, which is a bit of a help. But I know what that means too! I go with it for the moment. With all the bumps and flats I loose count and just keep hoping to see the summit marshal. My jacket is lashing around like a whip so I try to secure it a bit more. Soon after the turn I see Peter, then Angus, and the pressure is on. My lovely laminated number is acting like a parachute and threatening to tear the tee shirt off me. The rain is lashing and I have to run down hill battling with the wind. I may present less surface area, but am nearly blown off the route. Try as I might, I can't seem to make any ground on the runner in front. The gap seems to be widening, which also means the next runners will be closing in. Yet again, this bit is longer than I remember! Turning left before the trees I steal a quick glance back to see Peter hot on my heels. Thankfully, and at last, this section is a bit shorter than I expect and soon we are back on the lane. Passing a few early starters, I manage to get in before Peter. What a buzz! A great race. Gasping for air one minute, pegging it down a mountain being lashed around the place with wind and rain the next. And loving all of it! (well, sort of, in a strange way)
Thanks to Brendan and his crew of helpers and thanks for the post - race flapjacks, yum.
Scarred for life: a rookie's report
14 June, 2018 - Ross Fitzgerald
Some 10 runs into my fledgling IMRA career and THIS is what it's all about.
Hill runs? This felt like the real thing, a proper mountain run.
Firstly, two words that have only recently entered my lexicon and are now possibly my least favourite in the English language: False Summit. Or in this case summitS.
At least Brendan forewarned us and with little delay we were away.
After early jockeying for (minor) places, soon settled into a comfortable rhythm and after about a mile found myself thinking 'this ain't so bad'.
Less than a mile later as trot became more of an on-all-fours crawl, mused out loud (in between gasps for air) that the monster climb directly ahead probably wasn't even the summit. 'Not even close' came the quick-witted response from two hardy folk as they strode on by.
A cursory glance at the profile post-race would reveal this section to have a 31% per cent gradient. I think it's what cycling aficionados would refer to as hors categorie.
Eventually reached first (false) summit just as our race leader appeared out of the mist and bounded by. Fair play I managed to murmur, to which Des managed a less-breathless reply.
Great to see the lads and lassies going at it hammer and tongs at the business end, really gets the competitive juices flowing.
Finally reached actual summit, quick high-five with freezing marshal wrapped in a towel to keep the wind at bay! Necessity, invention and all that.
As we turned realised just how rough the conditions had become, as razor-like rain lashed across the face and legs.
With t-shirt now firmly stuck to the torso and number flapping in the wind, I now knew why the smarter folk had opted to don the rain gear.
With no let up in the now-horizontal wind and rain, wanted to tell those still climbing that it actually got harder when you turned … but hadn't the heart.
A break in the clouds allowed a brief glimpse of the stunning surroundings but was soon snapped out of my stupor as James Clancy came whizzing past. 'Keep her going' I shouted, after he had been equally as encouraging on the way up. No catching him now and even that infectious laugh of his was lost on the wind!
So down, down we went across open mountain and bog. Now this is living. Nothing short of exhilarating. Passed a few, couple more passed me. All part of the fun.
Who knew bateing across open mountain with the rain lashing the face off ya could be so much fun? I guess most everybody in IMRA. Think I get it now too...
Congrats to Des, Becky and Rian - and thanks to Brendan and crew, especially the summit marshals and their innovative attempts to stay warm!
Peter O'Farrell
14 June, 2018
Mikey and Ross have said it all really but sure in the spirit of the more the merrier here's another one.
I love these races. I love the parking in a field only fit for growing sheep and St. Brigid's crosses, I love signing on out the back of an ex-president's car, I love when we go up and down an actual mountain with a peak, I love starting 18 places back with Bernard and picking people off until the climb ends and I love that descent off Scarr. Fast, safe, fast, fast, lovely.
Scarr holds a special place in my heart as it was here that enough of the good lads were missing that I managed to finally snag a win. In those sepia tinted daze we were unfettered by the thoughts of footfall erosion, GDPR or plastic straws and just ran as Vivian likes to do his race descriptions "up, then down".
The new looping (to me) Scarr is a great route, the new sneaky descent along the forest edge just serves to steepen the frankly ridiculously steep pull up to the ridge and then it's back to the usual beat and up up up all the false summits and down down down to the finish. Jelly babies are a definite improvement on the finish line of yore. The whole organisation was flawless and the racing (for the minor places only - Des was on a different level) was great.
Best of luck to the aforementioned Des in the long distance championship in Poland. He should get a race there :)
Becky Quinn and Ronan Costello were flying it too.
Scar face
13 June, 2018 - Mikey Fry
Having watched my kids eat yummy iced buns during the day leaving me wanting the race to be finished and to be tucking into them I passed them onto mum and headed up to pub to car pool so brendan couldn't give out to me :) .......jumped into car with Angus and John who kindly drove landed at field registered nice and early so had plenty of time to chat with Liam(who did a super job marking the course)James(Cahill I had a hole in my socks so I replaced them from the goodie bag left over from Wicklow 127k race which I had to smell to c if they'd being worn they were fresh so James lashed them on and did better then normal I hope)John Angus and rob and to get cold since it defo wasn't warm.....so eventually myself and rob went for a warm up we were just leaving the field and rob put his foot in a hole and twisted his foot thankfully it wasn't to bad.....back to the start of race a few little chats with various nice people as always......brendan got us under way quick enough since no body wanted to hang around.....des went off and that was that for the rest of us ...when we turned right and headed up the nice grassy section the field spread out nelus Barry ahead a young junior flying along at this stage Peter then passed me out I think Damian is right on my tail from the video I saw on Facebook....so when we hit the wall and the tough climb ahead I was following Peter Barry and nelus keeping up with them but lost them when we turned right at the top to head across to summit where I might des flying back ...the wind at this stage was kind of helping me up to the summits but very strong..good man Deirmid at the top marshalling gave him a nice high five and it was back again this is where you can see who's going to be giving you some racing bernad was hot on my heels and Damian not too far behind...this is the best part of the race it's such a good down section I was flying down the wind reeling me in a bit but still some good speed...at this stage bernad was right on my back but I held him off for awhile then he past me then I passed him back then he passed me..when we hit the flatter section he was ahead of me so I kept up with him turned left I passed him again then he passed me out again sorry getting dizzy writing this...when we hit the last marshal before the gate I decided to give one more push and passed him and went as hard as I could all the way to the finish line and managed to hold him off...well done des Peter and nelus top 3 men ...well done Beck Kim and Aoife ....some lovely jelly's thanks to Liam :)and the usual chats of the race ...was meant to mention last week was talking to mike long and he had some very kind words about my race reports thanks again it's your fault I've written an other one:)...down in the pub brendan had found some of his old clothes he wanted to give away as spot prizes you don't know what you people are missing down after the races :)
A big thank you to brendan and crew for a super good race he sure knows how to do it at this stage of the game:)
Mikey