Wicklow Way Relay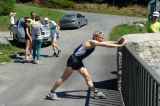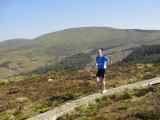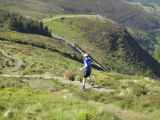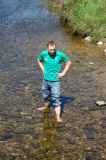 Authors
Gerry Brady
28 May, 2012
A Statistical Guide to the 2012 Wicklow Way Relay!
Rathfarnham retained their title with the second fastest ever time of 7 hours 9 minutes and 52 seconds. This was within seven minutes of the record set in 2011 by Rathfarnham of 7:03:13. Only one record fell on a swelteringly hot day.
Mullaghmeen Warriors led at the end of the first leg thanks to Gerard Heery who ran 56:11 which was slower than Keith Daly's 2009 record of 53:38. Cross-country international Laura Shaughnessy (UCD) set a new women's record of 1:04:40 which was almost two minutes faster than Lucy Darcy's 2010 time of 1:06:19.
Ian Conroy (Raheny) moved the pretenders into the lead at the end of leg two with a time of 1:04:25 which was over a minute faster than his 2011 time but is five minutes down on Brian MacMahon's 2009 record of 59:26. Emilia Dan had the fastest women's time with 1:24:13 which is around three minutes outside Aisling Coppinger's 2008 record of 1:21:07.
Gerry Lalor with 31:15 edged out Kate Cronin (Raheny) 31:26 for the fastest leg three time. Desie Shorten's 2003 record of 27:04 (on a different course) survived as did Fiona Reid's time of 30:09 from 2010. Raheny still in front.
Paul Stephenson (Rathfarnham) put his team in front for the first time with a fast 38:29 on leg four. This is an agonising four seconds slower than Wieslaw Sosnowski's 2004 time (shorter course with finish at car park roundabout). Fiona Roche (Raheny) in her debut mountain race had the fastest time with 43:46 which was a minute slower than the 2009 record of 42:47 set by Donna Mahon.
Jason Reid (Rathfarnham) extended his team's lead with a time of 53:57 which is only eight seconds outside John Brooks's 2008 record (both 2008 and 2012 finished at the crossroads; 2011 finished at a field gate beyond the crossroads). Roisin McDonnell had the fastest women's time with 1:23:16 not within reach of Beth McCluskey's 2010 record of 1:02:05.
Turlough Conway (Rathfarnham) had the fastest leg six time in the noon heat of 55:50 which is seven minutes outside Gerry Healy's 2004 time of 48:57 (2012 course has shorter road stretch in middle of leg). Zoe Melling, back with a medal from the previous weekend's World Masters, had the fastest time of 1:12:16 which is ten minutes off Laura McGinley's 2004 time of 1:02:54.
Brian Furey (Rathfarnham) made it four fastest legs in a row for his team on leg seven in a time of 1:24:00 which is nine minutes off John Brooks fastest time (shorter course with finish at bridge) of 1:15:07 from 2005. Eileen Walsh had the fastest women's time with 2:04:58 which is around 25 minutes slower than Beth McCluskey's 2003 record of 1:41:10.
Pat McCavana (M50) ran a sound 38:28 for the fastest leg eight time but was five minutes behind Barry Minnock's 2008 time of 33:33 (on new course?). Catherine Devitt (Rathfarnham) ran 41:20 for the fastest women's time but Donna Mahon's 2011 record of 39:28 remained intact.
Mick Hanney
27 May, 2012
TEAM 24 - THE AFTER 8'S - A MANAGERS REPORT
Interest in the Wicklow way relay seems to build each year and this year it seemed to peak as the entry window seemed to open and close in a remarkably short time with all places filled up. Paul Joyce was looking to make up for the disappointment of a 3rd place for a Boards team last year by assembling a stronger team if that was possible. Realising that a place on that team was beyond my reach I decided to take matters within my own control and send in my own entry. I distanced it from Boards as my own team was going to be made up of hill runners. Coincidentally many of them were active on boards but that was as far as it went. (In the end the team would be very representative of IMRA which is great). The original team was a solid core and a few TBCs as I didn't have lady runners identified. A conversation with Suzanne Kenny and I managed to nab her. She was friends with Mags so she came on board too. It was shaping up well but I got injured after the Wicklow way trail and I was out so another place to fill. Filling places would become par for the course over the coming weeks. The early lineup had John Ahern, Sean Fox, Suzanne, Mags, Angus, Warren. Still work to do to fill 3 places.
Paul's Boards team selection fell apart from multiple drop-outs. Like any good friend I tried to hoover up what I could but at the same time staying true to the lineup I was committed too. When John Ahern had to drop out I ended up with 2 of Paul's selection on board, with Eanna Cunnane lined up for leg 1 and Simon O'Dwyer lined up for leg 8. Thanks John for helping Eanna with a subsequent recce when he wasn't part of the team anymore.
The line-up was complete but there was a moment of panic when I wondered if I had the 2 vets (I was to be one of them). It was a relief to confirm that Simon was indeed older than he looks, so the team could be competitive.
Along the way I was persistently asking people to join my team – maybe persistence is the key. Many of those running yesterday I had approached and got a no, already on a team. Nearer the day it turned out that some of the elite teams had left runners off as their bar was so high and those runners any team would have been very glad to have.
A chance conversation with Torben after he won the Annacurra trail race cemented the selection.
A week beforehand I got a bad news good news message from Suzanne. She couldn't make it but if I wanted Helen White could run instead. When you've a drop out and a ready made replacement who is potentially faster that's pretty perfect. Sorry Suzanne couldn't have been part of the day.
I learned from Paul Joyce over recent years the mastery that is relay team management, so the logistics and the emails went into overdrive. Everyone got their required recces in and I was happy with the experience of my team. I wasn't happy when Torben announced he couldn't fit his recce in and would have to run it off a garmin track on his watch. Not good.. a disaster waiting to happen? There wasn't enough time to recruit another and Torben was good.
In the final 24 hours before the event I got the email that any manager just doesn't want to get. Eanna was sick and I'd a leg 1 gap to fill. Christ! How do you fill a relay place with 24 hours notice for a leg that starts at 7am?
This is where my guardian angel stepped forward. I messaged Paul Tierney on the offhand. Paul had run the Bob Graham round the previous weekend and I expected a decline. I was expecting to have to message most of my friends network and I was expecting multiple declines. I was expecting the team to not make the start line. Amazingly Paul was up for it. Despite being down in Munster he was game. He made moves to try get in on the leg 2 action – his favourite leg by far. I tried to line him up for leg 7 as it would suit a later start, but no, he needed to get back to help with the Knockmealdowns race – a busy day for him. Anyways, many txts and emails later the handover logistics were agreed and we had a team. Phew.
Last year the team of which I was part was 6th less than half a minute off 5th. I figured our team was strong enough to go 5th. The club teams were head and shoulders above us .
The day itself was a bit of a blur. I was committed to helping with some marshalling at leg 6 and 7 so that restricted my travel to other parts of the race. The morning was spent at home trying to stay in phone cover to get and give updates to the team.
Paul ran a great leg 1 in 60ish. 6th.
Sean ran to schedule on leg 2. 6th.
Helen ran a stormer on leg 3 and picked up a place very quickly. 5h.
Mags ran strongly on leg 4. Still 5th.
I only realise now from Angus's account that he consoidated his position on leg 5 but also Crusaders had went astray so it seems we might be 4th.
Can Warren consolidate that? Yes, it appears.
It was apparent as the day was going on the heat was playing its part. Times were starting to slip and that was going to get worse during the hottest part of the day.
I made my way to Ironbridge and into the mobile signal free zone.
Rathfarnham were nearly 20 mins ahead of Raheny. There was word of a Crusaders runner gone astray on leg 5. Bad news for them. Good news for others who could stand to benefit. So figure we were 4th or thereabouts.
I headed to Crossbridge to help there. Brian Furey finished and a pre-race nervy Catherine Devitt (who had gone wrong her her recce of leg 8 ) set off on the final winning leg for Rathfarnham.
20 mins later no sign of a Raheny runner. As the wait grew it was apparent that the runner had gone astray. And taking a wrong turn on a hot day could have serious consequences.
Nearly the hour after Rathfarnham came through Martin Francis was the 2nd runner through Crossbridge. God bless him. Martin looked like he was about to expire. Dermot set off to run his last leg for All the Presidents men.
We counted the mins. 4 mins passed and Torben handed onto Simon. Torben wasn't looking too hot either. Leg 7 was leaving its mark on people.
Was 4 mins to much to make up? I know Simon is a good runner but that gap is a lot to ask particularly in these conditions.
I was trapped at Crossbridge marshalling and couldn't get away to support Simon. My marshall relief apparently bypassed Crossbridge and went straight to Shillelagh. Sadly it meant I missed out on the dramatic last stages and I missing giving some support which could have helped.
In any event runners were finishing at leg 7 thick and fast. Our team had 5 mins or so over the 4th team so at the very least a 3rd place seemed in the bag as I was confident in Simon's route finding on leg 8.
Leg 8 is a road runners leg if there ever was one and that is what Simon is.
Stuart came along to let me head off to Shillelagh. As I walked to the car the phone ran. Sean. 2nd. Simon did it.
Simon had dug deep – too deep in fact – to close the gap on Dermot. Having passed him before half way in leg 8 he only needed to cruise but he kept pushing and the heat was impacting. If we had support out on the route we could tell him to relax. In any event he crossed the line some 32 seconds clear of Dermot and Simon was very worse for wear for the exhertion. He was looking very ropey and it took a good while for him to look and sound like himself. Relief and happiness all around.
A great rollercoaster of an event and a day. Delighted to have been part of a great team. A nicer bunch you wouldn't want to meet. The surprise successes are always the best ones.
Its a very curious event and thats part of its appeal. Not always the sum of the individual fastest runners will podium. Its a combination of planning, speed and luck and you need a fare measure of all to succeed.
Thanks Paul, Sean, Helen, Mags, Angus, Warren, Torben, and last but not least Simon. Everyone played their part. Thanks too to John, Eanna and Suzanne who all played their part too with recces done.
And thanks to IMRA and Stuart for a great event. Would have been nice to have a memento of the day. 8 medals for the team. Boo hoo none for me - whose medal will I keep! Eeny meany...