Mullaghcleevaun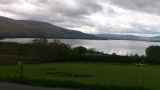 Authors
Alan Ayling
12 May, 2012
Another boggy but brilliant Mullaghcleevaun race saw Bernard Fortune retain his crown from 2011, with Torben Dahl edging out Zoran Skrba for a very closely fought second place. Maeve O'Grady took the women's race with Niamh O'Gorman second and Sarah Steer third.
Last year Aidan Roe's race report gave a wonderful account of his battle with Aidan Blighe on the mountain - this year Mr Roe turned race director and let the rest of us do the running bit - hopefully Aidan's unfortunate injury (if rather unusual, hit by a stone thrown up from the wheel of a passing car) will be sorted soon. Meantime, he presided over a cracking race today - much appreciated.
I was too far back to see much of the action up front, so perhaps one of the fast lads will fill us in on that. Where I was, it was a battle to get my own legs working properly on that first drag up Black Hill. The first section is grand and steady, then onto the delightful green road, eventually swing left off that before the Hampden Bomber Memorial, across a heathery section, then onto low but squishy, energy sapping sphagnum moss that leads all the way to the top of Black Hill. Some familiar foes ahead - Dermot, Kevin Grogan, Gareth Little, John Langan - and they were steadily widening the gap. A few words of encouragement from Nora at Black Hill (well, I think it was encouragement, hard to know sometimes!) and finally the ground began to point in the proper direction - down.
The descent and flat boggy saddle worked in my favour, the rhythm and the legs got going and I got back into contention with the lads ahead, some of them anyway. Aidan's report last year described that saddle as the worst place in Wicklow (a distinction that I agreed with Paul Nolan some time ago that could only be awarded to Corriebracks); sure it's messy, but give me that over a long fire road drag any day. We are mountain runners after all.
The ground steepens a bit, some peat hags are negotiated and the climb up Mullaghcleevaun begins in earnest. No more running for now - this is walking country. Bernard cruises down past us without a pursuer in sight. After a short while, they appear - Zoran, Torben, Dan, Adrian... I'm locked in a battle of wills with Gareth and John, we keep passing each other but no one can pull a meaningful lead. Kevin and Dermot come past, then Barry Moore. Gareth & John get a bit of a lead on me as we begin running the last section to the top, encouragement mixed with disbelief from walkers at the trig point and so begins the real reason for being here. The descent.
The people at Inov8 need to be commended for the tremendous creation that is the Mudroc. Not as grippy as the Mudclaw, but a step up from the Roclite. I went with the Roclites last week in Donard and had a few very near ones, this week it was only ever going to be the MudRocs and they were perfect. Confidence in your grip while descending makes all the difference.
It took a while to pass Gareth and John - and it wasn't any real running ability or fitness that did it, just a better line through the peat hags. For the next few minutes of blissful downhill, I reckon I got into a false sense of security. You can never look back of course, that would be weakness, but on a day like today you hear the ploshing feet behind you. And there weren't any. Deadly. And I'm catching the two black-clad figures of Dermot and Barry, slowly but surely. Problem is, Black Hill still has to be climbed and that'll favour those boys. Then - no it can't be! - the sound of ploshing feet! Two sets from what I could tell. Getting closer. And the climb up Black Hill became a replay of that up Mullaghcleevaun - Gareth, John and myself all overtaking each other. Barry and Dermot hit the top before us, then Gareth who'd pulled a 3 second lead, then John... and it's all downhill from here.
It's a fabulous descent. Caution basically goes to the wind and all that matters is getting the better of the other guys. I tracked Gareth down that hill as best I could, but an overtake or even an attempt was beyond me. Just hang in there, maybe something will work out. We eventually caught Dermot and set our sights on Barry, but he was having none of it. It got interesting with the line choice to get to the green road. Gareth cut right, Barry straight ahead, I in between. Certain Barry had messed it up, I put a spurt on to hit the green road ahead of him, soooo nearly got it, but had to jam on the brakes for a steep drop and tight turn as he got by, already accelerating on the road.
The two lads opened a 30 or 40 metre lead on me by the time we'd hit the sign and the final left onto the agreed access route. It's an easier route to follow up than down - well it is with your race head on anyway. We veered right - Gareth realised it and cut across the slope to correct it, Barry cut higher and I reckoned half a chance might just have appeared from nothing. And sometimes half a chance is all you need, so on went the afterburners and it paid off, with legs screaming I found myself ahead of Barry on the final flat-out 300 metres (Gareth sadly still ahead...)
And so it ended with a couple of seconds between3 of us after an epic battle. John came in shortly afterwards. Thanks lads, and see you in Glenmacnass for the next instalment.
Wishing a speedy recovery to Derek Kellett, who took a tumble on the green road and badly cut his knee.
Until next time!!
(PS - a few years ago, writing a race report counted as volunteering - can we bring that back?!)