Ticknock Winter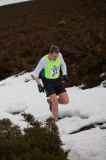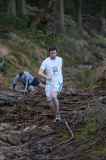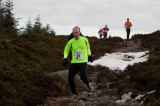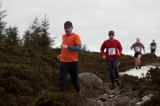 Authors
Johan Dehantschutter
29 January, 2010
Ticknock Winter was my first ever mountain running race. Registration was taking place in Taylor's pub near Marlay Park and eager as ever I was there at 9am. As a result, I was allocated one of the smallest numbers available: number 12. As I learned, this is the number that I will have for the whole year.
As I was very early, I made my way to the start of the race in Ticknock wood, put on my jacket and hat and went on a reconnaissance of the course. The idea was to follow the course for half an hour to build a feel for the course and then turn back. I would then have half an hour to get dressed, drink a bit of water, have a banana and stretch thoroughly before the start at 11am. The problem is that on the way back I took a wrong turn and went down the hill in the wrong place. By the time it dawned on me that I didn't remember coming up that way and that I hadn't seen some tape for some time, I was way down the hill, in the middle of a wood. It took me 10 minutes to, anxiously, run back up to the last place where tape was visible and realise where I had gone wrong.
Having lost such valuable time, I found myself walking fast and even running a little bit all the way back to the start and I cursed myself for having wasted so much valuable energy before the race even started. I had barely over 10 minutes to get ready when I had planned for half an hour. Everything was going wrong. I kept my tracksuit bottoms on until the last few minutes, to keep my legs warm but, just when I was about to take them off, I realised that I had walked in a humongous dog shite. I tried to clean it up for a bit, with a stick and brushing my foot in the soil (there was no grass nearby) but it just got messier. I ended up having to take the shoe off, in order to take off my tracksuit bottoms without messing them up but, by that stage, it was 11am and the race was about to start. Sh*t, sh*t, sh*t (literally); my heart was beating so fast with the stress…
Fortunately, Peter, the race director came to the rescue. He stood at the side of a ditch overlooking the participants and spent the next couple of minutes making announcements and giving some advice and instructions about the course. By the time he was finished, had made the participants gather behind an invisible line and done his "Three, two, one, GO!" I had recovered from my ordeal and was ready to go.
It was a cold day. Just before the start of the race, I checked the thermometer of my car and it indicated 4.5C. I wasn't too sure what to wear and I had taken a lot of different clothes with me, with a view to decide what to wear on the day, after looking at what other participants were wearing. Unfortunately, the above mentioned delays resulted in me running in whatever I was wearing underneath my tracksuit, namely shorts and a short sleeve thermal top with a tight and somewhat constrictive collar. Had I had more time, I would have swapped this for running tights and a long sleeve top but it worked out OK in the end, so no harm done.
The race was hard. There weren't a few hundred meters of flat ground to get you into the rhythm before you started climbing; it was straight up from the word "Go". I tried to pace myself and it wasn't until we had covered about 3 kilometers that I had to walk a little bit, to get over a particularly bad patch with very loose rocks. The way up, although hard, was generally fine. On the flank of Two Rock Mountain it became pretty wet, to the extend that you could completely forget about trying to keep your feet dry. And then we hit the snow! On the lee side of Two Rock, snow drifts had accumulated in the depression where the path resided and we had to go through them. This was a bit of an unknown quantity because where the snow is thin enough, you're never quite sure of what's underneath and you could end up twisting your ankle if you land on the edge of a hidden rock or in an unexpected hole in the ground. It was serious fun though!
From around the 6th kilometer onward, it was pretty much downhill all the way back to the start. I tried to tread carefully, being acutely aware that it's where most of the accidents happen. Grass and loose rocks were slippery, not to mention the lethal tree roots and branches left lying around after tree felling. You really reach some speed going downhill and it was exhilarating. I hadn't passed anybody for quite a while but overtook a couple more runners on the downhill.
Towards the end, in the last kilometer or so, I felt like a million dollar and four guys were within easy reach but the sensible side of me kicked in. Suddenly, I was talking to myself: "Don't you fecking idiot go and ruin it all on yourself now. It's your first race and the end is on sight, don't you go and break a leg now, Tóg go bog é!!" I shot a glance behind me and there was no-one near so I did take it easy and completed the course in what I would consider a pretty respectable time for myself. As it was my first ever race, I hadn't given a thought to how much time it might take and I was pretty pleased with the result.
Overall, it was a total blast and I can't wait for the next opportunity to take part in one of these races. I'll have to start scheming and negotiating hard with my other half.
A great many thanks to the organisers of this fantastic race and to all the volunteers - great job guys!
Mick Hanney
28 January, 2010
A runners perspective...
Brigadier General O'Farrell coordinated this race with military precision. 1st race of the year and 140 or so new souls processed through the imra computer (thanks Niall and Turlough) and before we knew it we were lining up at a cool but fine 'start line' at Ticknock. As Mr Winter League himself Eoin Keith was unfortunately injured today's race gave an opportunity for a new face to take their imra race honours. From the go Paul O'Connell charged on up the hill pursued immediately by 2 others with the rest of the field moving forward at a more hesitant pace. I initially ran in a small group with Cormac O'Ceallaigh and Ben Mooney (who would go on to have a fantastic race). The forest tracks at the start were a nice way to get into the race before you start into the rockier sections. Running on rubble is a knack. I don't have it, but I ticked over well enough to sort of maintain my position and get away from Cormac. Ben Mooney got away from me on this section, and in a Bernard Fortune like performance was to accelerate through the field to eventually take 3rd place and 1st M40 home. Today's route was a variation on last year's route, but distance-wise was a very close match (c. 10k). Lots of water, both running and pooled, after recent snow made for interesting running conditions. The first half of the race for me went by in a blur. The 2nd half were more of a struggle, and I regretted having warmed up by running up from Taylors . Meeting the snow was a surprise and running in it was an art in itself. Planting the foot on it, for me at least, met with the foot sinking in to the knee causing immediate loss of the negligible forward momentum. Now, if only I had big flat feet. After the snow and the customary wave to J Shields I was passed in quick succession by the ever youthful Martin Francis, Adrian Tucker and Paul Mitchell. I stuck with them as much as I could but ran very tentatively along the newly felled forest and the gushing stream bed and lost some ground. Finished within sight of Adrian Tucker.. a déjà vu moment from last year's race. Some things never change. Great race. Great route. Great organisation. Super photos. Thanks to the volunteers, particularly those that didn't run so the rest of us could. Congrats to the winners on the day.
Peter O'Farrell
27 January, 2010
http://www.imra.ie/photos/view/id/36262/
A runner appearing to have ran across a line of tape, verboten as we all know :)No doubt the camera lies on this occasion and he was merely demonstrating his hip swivel for the camera.
Running in straight lines is always a good start and Craig Longmore was only flying it but the winning of an IMRA hillrun depends on many factors and this oul rock called 3 has caused plenty of straight lines to be fractured by wee streamers of red and white.
Paul O'Connell had the happy knack of staying on the proverbial straight and narrow although confusingly enough the straight and narrow included many bends, twists and the odd wide section. The first man home finished second across the line as the very promising junior James Alexander stormed around his mandatory short course to win convincingly from Robin Mooney whose father Ben was third home but ended up taking a fine spot prize as first veteran and thus allowing poor Craig to claim something for all that straight line power in Third spot overall, even though he was fourth :) confusing isn't it? A troupe of horsies and a gaggle of walkers had previously tried out our fine finish line but the hardy souls manning the finish were not fooled - the horses had no IMRA numbers pinned on obviously..
A stricter definition of 10.30am and Karen Doyle would have been first lady but arriving for registration was the only time all day ladies winner Catherine Devitt proved tardy as she won the race, drank the tea (thanks to Taylor's) and was gone from the pub before she could claim her prize - It's waiting in Annacurra Catherine.
The surprize of the day was the snow and ice lying in wait around the back of 2 rock, unmentioned in the briefing. tut tut...
Roll on Annacurra!
Rene Borg
24 January, 2010
MEN
1. UCD 16 (2 Eoin Brady, 4 Craig Longmore, 10 Zoran Skrba)
2. Sli Cualann 22 (3 Ben Mooney, 6 Martin Francis, 13 Cormac O'Ceallaigh)
3. Sportsworld 31 (1 Paul O'Connell, 7 Paul Mitchell, 23 Jakub Splawski)
4. Boards AC 98 (9 Mick Hanney, 25 Richard Nunan, 64 Brendan Craig)
5. Crusaders AC 128 (21 Gavan Doherty, 43 Oran Murphy, 67 Diarmud O'Colmain)
No female team had three scorers