Trooperstown Hill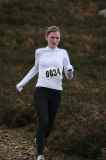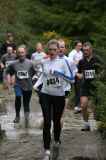 Authors
Turlough Conway
15 February, 2011
Race Report: IMRA Trooperstown Hill 28/02/09
By William Greensmyth
Trying to justify participation in mountain running to those who have never scrambled up hill and sprinted down dale is difficult. You are often confronted with dubious looks, concerns over your mental well-being and queries into whether you have sufficient health cover. 'Tis true - mountain running attracts a different breed of running animal...none of your cheetahs who whip around the track nor your gazelles who stride over the cross country plain, thank thee very much.
And so on Saturday last, 28 February, seven of our club's true troops trooped to Trooperstown Hill and the longest race of the IMRA winter league.
At 10,600 metres and with an ascent of almost 400m, this was no fun run. At the start line, it was clear that the national senior XC hadn't reduced the calibre of the field as many of the leading competitors were present and correct. Following a run-through of the course from Rene, off we went.
The first 4k was a long gradual climb with a few steep sections thrown in for good measure. Lungs wheezing, legs burning, hearts breaking, after 4k there was a brief respite and a chance to stretch the legs and show off a bit of speed on the comfortable downhill section for about 2k before digging in again as we ran through marsh and over scree up to the top of the second hill around the 8k.
Then we came to the main downhill section, what the IMRA fiends called a "technical descent"...I can assure you, dear reader, the technique employed by my good self was simply award-winning.
Scrambling down the slope with the sure-footedness that a drunken three-legged blind hippo would be proud of, rueing the day Newton discovered gravity and cursing Eoin O'Brien and his suggestion that this would be a bit of fun and good preparation for Ballycotton, technique went out the window and survival instincts kicked in.
The IMRA website warns that this final descent has a -26% descent grade. Being more concerned with descending without shattered ankles, I did not have time en route to indulge in some amateur trigonometry and verify this angle. I shall take it as accurate.
Once at the bottom of this section, it was free running all the way to the end and the chance to gain a few places.
Results? Who cares - we all finished and without injuries. Fair play to my fellow mountain goats - Paul, Jakub, James, Colm, Eoin and Liam.
Rene Borg
12 March, 2009
<b>Overall WL Club Standings</b>
Available by clicking <a href="http://www.imra.ie/ad-hoc/WLOverall2009-4of5.xls">here</a>
TEAM RESULTS
Kevin Keane victory was not enough to reinstate Rathfarnham's dominance in the hills despite backing by always reliable Mike Long and Liam Griffin.
Home team, Sli Cualann took a strong victory led home by Tim Grummell and Hugh Kinsella, whose attendance was a welcome sight in the Winter League.
Gerry Brady's Clonliffers just missed out with last time's winners Boards AC dropping to 5th between "newcomers" Carlow Runners who had three strong finishers in what is proving a very tight men's team league.
In the women's, Crusaders AC took the win.
In the overall competition, Clonliffe have a 14 points lead on 2nd placed Sli Cualann, while Rathfarnham must turn up the heat on newcomers Boards AC to wrest 3rd from them in the last run. Crusaders AC have secured the women's competition before going into the last race at Crone.
MEN
1st Sli Cualann 20 (Tim Grummell 5, Hugh Kinsella 6, Martin Francis 9)
2nd Clonliffe Harriers 23 (Gerry Brady 4, Paul Duffy 8, Brian O'Sullivan 11)
3rd Rathfarnham WSAF 44 (Kevin Keane 1, Mike Long 21, William Griffin 22)
4th Carlow Runners 45 (Keith Heary 2, Rafael Guzman Murillo 19, John Maye 24)
5th Boards AC 47 (Mick Hanney 12, Paul Joyce 17, Gary Condon 18)
6th Sportsworld AC 70 (Paul Mitchell 15, Jakub Splawski 27, James Shanahan 28)
7th Crusaders AC 105 (Jason Reid 7, Sean Burke 39, Diarmuid O'Colmain 59)
WOMEN
1. Crusaders AC 21 (Mary Collins 6, Emma Walsh 7, Bronagh Cheetham 8)
Gerry Brady
01 March, 2009
Wicklow were back in dominance on home soil with county team wins in the women's and men's races. Mary Dawson led them home supported by Siobhan Schmidt and Aisling Renshaw. Meath and Dublin were both short of a third runner.
In the men's Tim Grummell combined with Martin Francis and Ben Mooney for a narrow victory over Dublin with Carlow registering their first ever team finish in third place. Cork, Wexford, and Louth were all one runner shy of a full team.
Inter-county women
1. Wicklow 45 (1 Mary Dawson, 20 Siobhan Schmidt, 22 Aisling Renshaw)
Inter-county men
1. Wicklow 24 (5 Tim Grummell, 9 Martin Francis, 10 Ben Mooney)
2. Dublin 29 (4 Gerry Brady, 7 Jason Reid, 18 Gary Condon)
3. Carlow 45 (2 Keith Heary, 19 Rafael Murillo, 24 John Maye)
4. Kerry 82 (15 Paul Mitchell, 21 Mike Long, 46 Fergal Buckley)
5. Galway 85 (16 Thomas McLoughlin, 31 Damien Cunningham, 38 Vincent McGuinness)
6. Kildare 130 (25 Dermot Murphy, 47 Jeremy Hart, 58 Colin Burns)
7. Mayo 173 (20 Eoin Syron, 64 Enda Walsh, 89 James Higgins)