Carlingford - Fox's Rock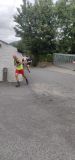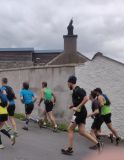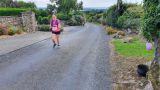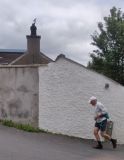 Authors
A frustrating day out.
07 August, 2022 - Brian Furey
A frustrating day out.
Robert Jankowski took it out up the laneway with Enda behind and I followed. As we moved up the lane - Enda took over in the lead I passed Rob too. Slieve Foye loomed in front o f us - its quite a steep climb up - grassy and rocky. Its quite close to Carlingford.
Enda went over to the right up to Slieve Foy - I took the steep ramp to the left- we both touched the cairn within a second of each other. At the stage I was 2nd
Heading for Foxrock - meant - we were following single tracks - it was quite enjoyable at this stage chasing Enda weaving in and around different peaks.
I made one small error on the way over cost me about 40 seconds maybe where I was going to go high but decided to go around the peak so had to turn back (one we didn't have to visit). This cost me dear later as meant Enda opened a good gap.
I did see someone in green singlet over to me my left or right when I got near to Foxrock. Likely was Bernard. Its quite a open plain area of mountain so its hard to pick out runners in the distance.
Got to summit turn and turned. Marshall said I was in 3rd. I couldn't see 1st or 2nd - met Alan Ayling and Eoin coming against me and a few others as I retraced back.
From here I headed over to Ravens Rock and here's where I made my mistake. I went right off this one instead of left over to Eagles Rock. I ran on in flattish valley with the long ridge over to my left. I took a bearing eventually and could see I was generally going in right direction but way over to the right. As I hadn't seen anyone in 15 - 20 mins - I knew it likely wasn't good.
I hit the Tain way eventually and then climbed up Slieve Foye from this side. Id lost alot of height too so it was a good climb up.
Got to summit of Slieve Foye and found a way down. Good fun sliding down the steep glassy descent. Through the Bracken onto a good path. it was about just finishing it out at this stage.
First time up around Slieve Foye.
Nice area for running - would love to see it on the calendar again next year.
Thanks for the race.
Line choice galore
06 August, 2022 - Alan Ayling
Enda Cloake took the honours in today's Carlingford – Fox's Rock race… but he had to work for it. Fellow Wexford man Bernard Fortune – around twice Enda's age – came through the finish a mere 18 seconds later. It would be nearly 12 minutes before third place arrived. Orla McEvoy ran out convincing winner in the female race.
A glorious early August midday, the usual pre-race chats and banter, and RD Turlough set us off. Robert Jankowski set an ambitious pace up the initial tarmac climb. Through the gate onto open mountain, Enda slipped into the lead and soon we were faced with the first of the day's myriad line choices. More than anything else, line choice characterises this race, with the only mandatory points Slieve Foye summit (both ways) and the cairn at Fox's Rock summit at the far west end of the course – in between is literally anything goes. And so it began, early on, in the bracken. Different folks on different lines, with different plans, or at least different whims.
Regardless of line choice, there isn't an easy way up Slieve Foye. At 588 m, it's not the biggest, but punches above its weight, being steep, rocky and towering menacingly over you as you try to haul yourself up its flanks. At the top, little separated Enda and Bernard; former Irish Champion Brian Furey held third, after that it was myself, Robert and several others not far apart.
More line choice, all the way to the little lakes and marshy ground of the White Bog, then again beyond. Over Raven's Rock, right of it or left of it? Most, it seemed, opted to go right (north), though some went over the top. The routes reconverge in the dip beyond and leave the short but punchy uphill to the turn at Fox's Rock. I could see Enda leading Bernard back down by a small margin. As I climbed, maybe a minute off the top Brian appeared on his way down. I could hear a runner behind me – a look back revealed it to be Eoin Syron.
Turned and retreated more or less the same way, passing several runners on their way up. Got a bit low to the north (now the left) of Raven's Rock, leaving a few metres' gentle climb to the lakes. Enough for Eoin to have drawn level. Different lines though the col area and make for the start of the long climb back to Foye – Eoin has picked a better line and looks strong, now leading me by 30 or 40 metres. Got a good drink of water into me on the start of the climb and began to feel better… gap narrowing noticeably, gap eventually closed and I decided to try and push on – be nice to have even a small head start for the descent off Foye, I know Eoin can descend well and I wasn't too sure of my chances in a close race on the steeps. Opened a small gap, though both of us managed to hit the wrong top before the actual summit.
The descent is full on – and packed with line choices as you've come to expect. I guess I got a good one – down the northern gully, steep but all runnable, and the bit of ferns I cut through was benign enough. The lovely fast grassy track after that and the road back into the village never seemed to end, but mercifully no one was in sight in front or behind… arriving at the finish line to find only Enda and Bernard there meant I had come in third. It transpired had Brian succumbed to what I call "sub-optimal route choice"; Crocodile Dundee might have called it "going walkabout". Robert finished strongly to take fourth, Eoin came in fifth.
An epic route, a beautiful day and wonderful people. Days like that you're glad to be a mountain runner. Big thanks to Turlough and volunteers for making it all happen.