Wicklow Way Race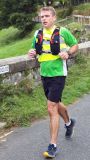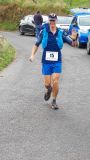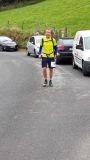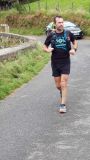 Authors
Angela Flynn
29 October, 2021
So the next time you're in Clonegal..
…..visit Huntington Castle and gardens. Clonegal Castle and gardens offer a delighful afternoons entertainment for the discerning visitor. One may enjoy a tour of the historic castle, built around a medieval fortress, which most likely used materials from a previous monastic settlement. The house and gardens features many interesting items -not least the grapevines growing in the conservatory. These grapevines are over 400 years old and are said to have a gift to Anne Boleyn from a vine cutting from Cardinal Woolsey. Of equal note, is the remains of a turbine built in the 19th century to generate electricity by hydro power, designed and built by an ancestor of the present owners. The ruins of the turbine house are still present onsite. Clonegal developed because of its strategic location on the main Dublin to Wexford trade route. The road was tolled and protected. Today, Clonegal is a lovely, quiet village on the river Slaney. It would have been of significant military importance and was captured by Cromwell during his conquest of Ireland. Various additions to the castle by the family have led to the current structure.
…………or the next time you're in Clonegal- sign up for the Wicklow Way race. The race reports posted pretty much cover the event for anyone interested. But the thank you to all the organisers and helpers cannot be overemphasized -thanks Lads. As for my attempt -well, the best that can be said of it is that I made the first checkpoint with about 25 minutes to spare. I never got to the next one but after one too many navigation mistakes and about 60 km of running, I decided to call home for help. (thanks Kate and Paul).
It is a pretty special experience it has to be said, to be alone in south Wicklow at 4 am with only your thoughts for company, one that we seldom get to do in our modern lives. The weather on the night was amazing and with very little light pollution, your other senses really come alive. What I noticed above all else, was the sounds of all the many rivers and streams all around -something you rarely get to enjoy, in the absence of traffic and noise pollution.
Some of the more mundane thoughts went like this…'is my knee pain getting better or worse?' 'If I've done 32 km how many km is that away from 54 km, to the next checkpoint?', 'Christ, how is basic maths so difficult right now?' 'Did I leave the immersion on?' 'why did I eat such a big dinner?', 'why can I still taste my dinner?', 'who thought eating dinner was a good idea?', 'will the water be hot when I get home?' 'Should I be seeing that headtorch running towards me?' 'Oh good, someone else has missed a little yellow man sign', (sorry Johnson). 'Wow, maybe I should invest in shares in the company that makes little yellow men signs?' (and all the hundreds of other reflective signs that my headtorch picked up throughout the 10 hours I was moving in the dark),' 'how do you buy shares?' 'Is there more that one company making reflective signs?' 'Will I make the next cut off (no)', 'hope no-ne is bothering to track me -what a waste of time that would be', ' are my knees getting better or worse? Who said 'eating a good dinner before the run was a good idea' and on and on and round and round the thoughts went.
But mostly, I thought about the deer- I thought: 'do deer sleep? 'when do deer sleep?' is that deer looking at me?, has that deer seen any other runners?' 'and finally and very genuinely, I thought -do those deer think we are all nutters?'
Answers on a postcard please- being from Kilmac ( you know ) you know my address!
Wicklow Way Race Not June or October 2020 but finally October 2021
21 October, 2021 - Seán Higgins
She tells us we have arrived at our destination Clonegal! Oh how little does the GPS know. My wife Nicki pulls up and finds a parking spot. In the darkness Clonegal looks like a nice little village worth a better look in the daytime. Our kids are pulling towards the chipper and our dog is barking at what appears to be a sculpture of a sheep on the green. Like everyone I just want get checked in and get going. I place bags full of a selection of dining options at the appropriate CP drop points. With the dark, head torches and buffs making it hard to catch up with fellow racers everyone wants to get going. I work and coach Whitehall Colmcilles U14s at weekends so it's seldom I get a chance to get to run many IMRA races but they are always a joy.
Jeff gives us the pre race briefing and in no time we are hitting the board and off into the night. The first 5k is the only section I haven't run before and turns out to be a very pleasant ease into the race. A few of us had met four weeks beforehand to recce from Moylisha to Glenmalure, this proved invaluable. I learned a lot from it and felt I had a good handle on the route. Of the the 7 on the recce 5 had made the start line, Avril Challoner and Gerry Tully succumbed to injury, get well soon. Eoin Kelly, Phil Behan, Clare Keeley, John McCann made the start line. I'm indebted to them for that nights experience.
I had decided I would wear road runners to the Dying Cow where I would change to the trail runners. My HRM had given up 2 weeks beforehand so I free of keeping an eye on heart rate. Running on feel I tried to settle into a rhythm where I wasn't pushing too hard and losing fluid. I told my sister Yvonne I would meet her at 10:30pm CP1 this was the first of two time targets I set myself. At 10:27pm I arrived in a quick shoe change a chocolate milk drink, a handful of jellies, water/Tailwind refill and away with a banana in hand. Thanks Yvonne. I kept to a pattern of not delaying at check points and easing out but not losing momentum.
The next section takes me through familiar country coming up off the Tinahely road onto Coolafunshoge lane past my cousins house, over my uncles house in Mangans, out around Ballycumber lane passing the old schoolhouse where my grandfather attended. Up a steep boreen called the Pattern Green where my mother remembers travelling to her grandmothers house in a horse and cart. I'm in my element and loving it. Back on the road it's a drag to Shielstown. I take it easy here and chat a little to Julie McNamee and Richard Cooper. After the Shielstown climb I put the foot on the gas down to Iron Bridge, the check point is a further 4km. Duncan Barrett is struggling with stomach cramps but he toughs it out (and ends up running a great race). We huff and puff our way up Mucklagh and a short dash to a welcome flickering fire at CP2. I had a quick coke and sit to change my socks. Another chocolate milk drink and Jaffa cakes down the hatch. Banana in hand I'm gone out onto the road when I realise I've only one water bottle, decision made I'm not going back. 26k to Glendalough I think I'll do it on 500mls, I seldom drink the bottles dry and I'm not sweating heavily. Thankfully I don't regret my decision.
Down the grassy track before we are back up to the boardwalk and I'm beginning to find my stride on the forestry road, blink blink head torch 1 is dead so I'm onto my back up one. It's not as comfortable but does the job. Onwards. It's a nice trail run down to the Drumgoff halfway marker happy days. A nice bit of encouragement from race supporters by the Lodge keeps me in high spirits. Not long after entering the woods heading for Mullacor there's a tree felling diversion and I have to concentrate on the diversion signs, eventually the yellow man reappears not far from the Devils Staircase. I can see 2 head torch's moving high above me and can hear stags roar in the night air, the rut is on and we are not the only ones in competition tonight. Every step is progress and I reach the short boardwalk to the top and join Kazimirez Pawelczak for the descent. We manage to keep an nice pace down and keep it going finally glad to see the lights near the information centre. I'm relieved to sit on an green electrical box at the gate, I keep the routine Coke, water, change the socks and chocolate milk. Volunteers offer help and encouragement it's wonderful. Banana in hand I'm gone again. Brian Hutchinson skips by me looking fresh, I take it easy until I can find a rhythm again. One of my favourite sections is along a scrap of native wood before you cross the old military road I enjoy it and the starry sky. Moving well again
up grassy Paddock Hill on past Brushers Gap shelter I get over the stiles feeling good. I've had cramp crossing these stiles before on the Tucker Trail, not today and I'm off down the lane. I stop to refresh and drink from the tap at the end of the farmhouse I set off again only to hear John Mollohan call my name he's there with a selection of treats on the car, I take up his offer of orange segments and they were so good. He encourages and tells me I'm going well, I realise I'm well up the field, now I have to keep up the momentum. I plough on to Oldbridge and ease up the hill to the Roundwood turn. Into the farmers field …blink blink 2nd light is failing but the dawn is breaking and I don't need the 3rd light. My watch is running out of juice too so I decide to turn it off so at least I'll have enough power to keep the time. Soon I'm out onto the road and get a wave from John Murray and Ivana Kolaric in their camper as I head into Balinstoe. Its a beautiful calm and sunny morning hitting the boardwalk. After skirting down off White Hill and over the shoulder of Djouce John Mollohan appears again this time at the Dargle crossing I take more orange segments and get the photo taken.
I'm feeling the climbs now, but I manage a strong descent to Crone CP. I keep my routine a short sit, chocolate milk….I'm off with Claire Morrissey encouraging me to run she's right and I keep it up all the way along the river to the turn. Up Knockree and I'm going to get the head down and grind out the climb from Curtlestown. I manage to close the gap on Liam Vines and Fabio Baltieri. I've another good descent to Boranaraltry bridge, but I take it too easy on the Glencullen road, Ciaran Croke is tearing up to Fairy Castle and Fabio he takes off once he reaches the junction. I gather myself for the descent, the end is near and someone out running asks me am I in a race, he's impressed at the distance we've run and he's running to Marley too. Even though my body is struggling now, I try to keep up with him. When I hit the road out of Killmashogue car park I can see Richard Cooper ahead with Fabio gaining on him. Fabio seems to be disrobing as he runs and passes Richard, the Carlow man keeps his shirt on and let's him at it. I have realised at this stage I'm not going to make it under 16hrs, but I've comfortably surpassed my expectations spirits are high I'm nearly done.
My other time target today came about because coincidentally my son Darragh and the U14s have match in Marlay Park at 1:30pm my goal was to be there. I have time to spare!
I cross the gap at 12:03pm 16 hours 3mins 26 seconds the race will live long in the memory.
Unfortunately Darragh's match end abruptly after he collided with an opponent and was sidelined with a bag of ice to his head and is still modelling a shiner.
Thanks to Jeff, the volunteers and runners who made it a special race. A big thanks to Avril Challoner who organised a night recce and then sadly missed race day with an injury. All the runners
Finally thanks Nicki, Darragh and Cuán for supporting and allowing me time to go missing in the hills.
Wicklow Way Race 2021
20 October, 2021 - Aaron Montgomery
For the past 2 years I have been collecting DNF's for 100km+ races and not medals. Even at the start of 2021 I got another DNF but was due to stomach issues and not mental. So, I did a lot of shorter local mountain races to strengthen my mind and legs. By pure luck WWR was being held in October, so this was going to be my last chance to see if I still have that fire in me for these distances. For this time of year (October) the running gods took pity on all of us and gave us a dry warmish night to try and help us make it through 11 hours of darkness. The terrain was good going but the amount of mountains that had to be ascended, which I couldn't see in advance due to the darkness, were long, steep or long & steep. Nevertheless, I kept on moving forward. The check points were signs of relief as you could take a few moments to refuel and start to feel good again, and the volunteers added to the great feeling with their support and help. Everything was going to plan, fuelling, pacing and even my stomach – what could go wrong. Arrived at Glendalough, refuelled and off I went. Now the sun was rising. A new lease of life entered my body and I was feeling great. At this point my legs started to hurt due to the down hills but I was still moving. Gave my wife a call to let her know everything was going good. She said, "just keep going, push through the pain". Everything was going to plan, no need to push through any pain. Why did I say that! It felt like it took an eternity to reach CP4 (Crone Woods) to discover we ran an additional 3/4km due to the diversion during the night. I was slightly behind my schedule, legs were in a lot of pain and I just felt down. I left CP4 just walking with all motivation gone. I arrived at CP5 11min after the cut off time but Jeff (Race Director) said that the good news is, 40mins has been added due to additional 4km. Yes, I can keep going and possibly complete it in the new time. While walking up to the main road, I recalled what my wife said to me about ignoring the pain, I reminded myself I have just ran through 11 hours of darkness and suffered 7 hours to reach CP5 and I can finish this race within 21 hours, why am I HIKING – I'M AN ULTRA RUNNER! I mentally need to complete the WWR and as Ultra runners, pain is part of the sport. I sucked it up, ignored the pain and ran down the road, ascended Dublin Mountain as fast as my legs allowed and then (I knew it was downhill basically to the finish) ran as much as I could which paid off as I managed to come in 9 mins under the original 21 hour cut off time, which just proves it's not the course that beats you, it's just yourself.
This race with the help of everyone involved has relit the Ultra running fire in me again and for that I am grateful.
PS. After the sun came up, from Glendalough to Marlay Park the scenery was stunning and plenty of hikers for support.
Big Thanks to Jeff, Robbie, Lillian and all the volunteers – are pains would not be possible without you guys.
First Time Wicklow Way Report
19 October, 2021 - Eoin Kelly
Well, that was fun.
And it was horrible.
And fun again and then there was more horror and so the cycle continued for 130km.
I decided at some point in the last year or so that I was going to run the Wicklow Way. The plan was to 'run' at a nice leisurely pace, over two days, with a nice wild camp somewhere along the way. Maybe a nice hot dinner before sipping a beer watching the sun set as I listened to the wonderful sounds of nature before carrying on the next day to finish in Clonegal with a celebratory pint or two before being collected by my wife.
The reality, as it turned out was somewhat different. There was no wild camp, no beer, no hot dinner and no leisurely pace and even the celebratory pints got cancelled! The only part of the original plan that made it was my wife, she was there to collect me at the end!
In place of the leisurely pace there was a relentless hike and jog for 19 and a half hours. The beer at sunset was replaced by carbohydrate drinks in the middle of the night and the hot dinner was ditched for a cold half eaten sandwich in the early hours of the morning. The wild camp got swapped for hiking and jogging and the celebratory pints were put on hold for an early night with a sleep like no other.
So here's a race report from a first timer on the Wicklow Way, first timer over 80 km and only the second time in my life to miss an entire night's sleep.
It seemed like Friday was going to be the longest day in the history of long days, drop bags packed and labelled by 11 and then waiting. It seemed like a long wait, so went for a walk at lunch time with my wife. Waited some more, got race clothes on, waited some more, got everything in the car, waited and waited and then Phil got dropped off so loaded his stuff into the car. Said goodbye to the family and finally got underway. We were getting a lift from Brittas Bay to Clonegal with my sister, so headed to her house, and realized I should have waited at home for a while longer as we ended up getting there early and waiting for her to come home! More waiting, then off to Clonegal.
Arrived at registration in loads of time, got registered, and ready to go, only another hour to wait. In fairness the last hour flew by and the waiting was no more. A few short words from the race director and we were off to the sound of a jangling cow bell, 8PM sharp.
And what a start, 90 odd runners make a lot of noise in a bunch and spirits were at an all time high for the first few km. The pace was quicker than it should have been for me given the distance ahead but the legs were happy to be moving and soon enough we turned into the first forest. 5km done, don't think of what's ahead, one checkpoint at a time. So on we jog through the night and soon enough I'm tearing down the steep hill into the Dying Cow. Legs are good, head is good, the night is fun, I'm moving well. I do a quick refill of the bottles, grab the chocolate and get going again. Phil is there, and Karl, and Duggy and another few too. A nice group. I'm staying quiet, getting into the rhythm, march the ups, run the flats and downs. It's a long stretch to the next check point so I just focus on 'always be moving' and the kms roll by. Eat every hour, drink the bottles dry between checkpoints, stick to the plan.
The first real low came around 10 km after the Dying Cow. My stomach was getting a bit rough, too early I thought, but then I guess you can't really control when you might feel bad. A few kms of cramp and nausea and I fell back from the group, needing a little alone time in the woods, not sure which end might explode first. I won't go into the graphic details but it is sufficient to say a purge occurred during which I thought my soul may have been forcefully expelled from my body, along with other stuff. Had no choice but to keep going afterwards, but if I had a sleeping bag I would have laid down there and not moved until the sunrise. As is the way, the low was followed by a higher high. Boom, I was drinking water, and electrolytes and feeling great again. So I figured I'd catch the group if I put in a steady pace to the next checkpoint.
The cruel climb up to Mucklagh came soon enough, still no sign of the group, so on I pressed. The phone rang at the top of the hill but I didn't get to it in time, missed call from Phil, but not enough signal to call him back so figured I would see him between CP 2 and 3. Trotted down the hill to CP 2. Sat in the chair to take stock, legs OK, tummy back on track, head spot on – OK good to go. Filled the water bladder, stocked up from the drop bag and headed out again into the night. Noticed after a while that my back was cold, so stopped for an assessment. The water bladder had sprung a leak so had to stuff it into a plastic bag to catch the drips, which worked to a point, after which every time I leaned over I got a stream of water down my neck from the bag. On a hotter night it would have been nice, but I wasn't appreciating it. Just one more problem to deal with.
Pressed on towards Glendalough where my breakfast sandwich was waiting patiently in my drop bag. Couldn't stomach the peanut butter wraps any more so chocolate and carb drink were doing a good job for me, but I was really looking forward to that sandwich.
I spent a good deal of this stretch in quiet contemplation of the foolishness of this endeavor, while also discussing how much additional distance the detour we had to follow was going to add with Steve from Waterford. Its amazing how quickly the details blend together, but the highlights, which all seem to be related to amazing people and places, stand out. At one point I looked up, and I'll be ever grateful that I did, because the darkness of the valley made the stars appear like a thousand burning spotlights in the sky, their brightness and clarity were just inspiring and lifted my spirits sky high.
And then the climb was over and down we went, into very familiar territory after the Tucker trail and a lifetime of Glendalough visits. Poulanass waterfall a roar in the dark off to the right, the steep bit and onto the green road that seemed a lot longer than I remembered. Through the car park and out to the checkpoint. Wow, 80km in the bag so opened the drop bag, refilled bottles, got rid of the leaky bladder and had a little sit down. Was just getting ready to head off when Phil appeared beside me, having gone up the main route and then back to join the detour where I'd sneaked ahead of him. Rightio, a minute or two more rest while he got himself sorted in double quick time and off we went, into unknown territory for me, past my previous longest ever distance.
And up, eating some sandwich, chucking away the cheese, eating some more – drink, chat, eat, drink chat, march steadily upwards.
Dawn was breaking as we climbed out of Glendalough, higher we went, and brighter it got, like our spirits. A beautiful dawn greeted us as we climbed to Paddock hill and up past the Brushers Gap hut. Life affirming beauty all around, but it was starting to get tough. I knew the next checkpoint held a great treat as my wife and kids were going to be there, and two friends to run a few kms with me too. So you just keep moving, and what seemed like a lifetime later the watch hit triple digits, and I knew I would make it. Enough time in the bag to walk all the way back if I had to so we carry on and 'always be moving'. It took a long time to reach the turn into Crone Wood, and then down to the carpark, and there's my wife and girls and I'm in great spirits, on the verge of happiness tears. Change the shoes, fill the bottles, ditch some superfluous food that I'm not going to eat and out again. See you in Marlay guys, it's been awesome.
Two friends met me there to run along for a few kilometres and I'm flying it again, though the times on the watch don't fully agree, I feel like a new man. Only one more checkpoint and then its only one more hill and then we are home. But it was too early to start thinking that far ahead, so reigned it in and took it one climb at a time. With the chatting and messing we managed to take a slight wring turn and got to the top of a bit of fire road with no yellow man. Consulted the phone and figured out what we had done wrong so back down we went for few hundred meters and back on track. My wife called me then to let me know I was off course, the trackers are brilliant!
Out onto the road we went, and in no time we were off the road and into Curtlestown for one more big push. The lads turned back, their time on the WW up and we pressed on, Phil setting the pace up the hills and me pushing it on the way down. Over the top and down towards the Bridge and checkpoint number 5. And it was a long way down, turn after turn after turn until there were no more turns, no more forest, only a long straight road to the checkpoint. Phil's friend Jodi was there and a very quick stop and chat and we were off again. One more climb to get over, only one, finally.
Again, Phil pushed the pace on the way up, marching steadily and I did my best to keep close. Only one week before this climb had seemed so much easier, but like everything in the WW so far it came to an end. Only down now and it was my turn to push to the front again. We set a steady pace and soon enough were into the Park. Thankfully I had recced this bit the week before so had a good idea where I was going as the yellow men are not very obvious at some of the junctions. A good fast dash through the park and there's the finish line, over the stile and bang the board. Elation and relief. To hell with social distancing and a giant hug for Phil and one for my wife. A piece of granite with a yellow man thrust into my hand and I am in a very happy place.
It's done and we have done it! 130 km in 19 and a half hours. There and then I say I'm never doing that again, but now I'm already thinking of the next one.
My wife drove me home and I went straight down to the beach to stand in the sea for a few minutes, and that's when I realized just how tired I was. I started shaking uncontrollably and after a minute or two in the sea I was done and headed home for a long hot shower. Clean clothes and some well earned Indian takeaway followed by 13 hours of sleep, and oh what a sleep!
I learned a few things on this adventure – marshals at CPs are the heroes of the race, there's no way I would have finished without their help, their coke and their pushing me on when I needed it. Food is hard to nail down, what worked for the Tucker Trail was a disaster on this race. Whatever way you cut it 130 km is a long way on shanks mare. Massive respect to all the entrants, for taking the step to give it a go and giving your best on the course. People are wonderful; family, fellow runners, hikers, tourists, everyone along the way giving encouragement and support that soaks into your muscles and bones and pushes you on, further and faster than you thought possible.
sprint finish to WW Race 2021
18 October, 2021 - Karl Richards
So happy to have finished my third Imra Wicklow way race. Standing on the start line there were lots of doubts about be ready for it after easing off training due to an IT band injury.
Starting at 8pm that meant we had at least 11 hours of darkness ahead. Thank god for good head torches. I took it reasonably handy for the first 26km but didn't feel great. Lots of little muscle aches and then doubts. Had great company with Paul Duggan Eoin, Phil, John Boyle Bill Barry and others.
With crew support for the very first time Owen Fenton Paddy Rowe and Paul Croke really helped speedy transitions.
The second check point was a different matter. I only had 500ml of tail wind in the first section and that resulted in me being quite dehydrated by CP2. That was my lowest point. My brain couldn't add 1&1. Suppose it was middle of the night too.
After CP2 I ended up beside Juraj Karcak and after a while we struck up a conversation. The stories came and I started to wonder if I could keep up with him. George as he's known was a former podium finisher in the race and Raw 100 miler. 12 hours later it was clear I could stay with him. A massive thank you George as he's known. You really helped the time go quickly and 4 eyes were better than 2 for staying on track.
We flew through Glendalough in the dark and quickly refuelled. Eventually it started to brighten. There are a couple of photos just after sun rise.
It went so well. So many volunteers and crew along the route. So many people asking if we needed something and after many requests we never got fresh legs.
The weather was perfect. I ran in a long sleeved t shirt all night abd changed into a freshtshirt in crone. Incredibly it was dry with no wind. Hitting the half way 65km mark in 8 hours was a shock. As we ran over djoice we met a few runners. I started to think I might actually be able to do this. A brief hello with Clare Murphy Keeley as we ran down djoice.
At crone we knew we had 22km left and 3 hours to get under 17 hours. I thought it was too early to be thinking that I could get under 17 hours with my last 2 races being around 18 hours 40 minutes. Also experience has shown anything can happen such as cramp.
We hiked the hills and wee fast on the downhills. At CP5 we had around 10 km to go to Marley park and 1 hour 18 minutes to get under 17 hours. We gave it a go. One hill to summit and then down to Marley. We summited and had exactly 30 minutes to finish sub 17. We flew down the hill. Like men possessed. Even George commented I was running him hard. The last 5km we had 1x sub 5min/km and 3x5:30/km and 1x6min/km
We gave up a bit then as we walked a bit up to the entrance to Marley and then I saw we had less than 10 minutes to finish. Off we went and with a couple of minutes to go the end was close. We finished with a sprint to get under 17 hours by about 30 seconds. The video shows you our sprint finish. There was nothing left to give at that point.
A big thanks to George for keeping me going. To Owen Paddy Paul and Duggie for all there help too along the route. Thanks to my long suffering family Dorota, Amy and Maitiu for your understanding. To the race organisers and volunteers a massive thank you. Races like these don't happen with out a lot of hard work and support so thank you all so much. The trail running community or family in Ireland is amazing. I look forward to meeting you all on the hills this winter.
Wicklow Way 2021- A Rookie's Blog
18 October, 2021 - Eimear Deegan
Wicklow Way 2021- A Rookie's Blog
(TW- the report is nearly as long as the race)
I started 2021 with one aim to complete the 58km Kerry Way Ultra Lite, something that seemed like a mammoth task at the start of the year. Got stuck into training, mountain running every weekend and the odd Wednesday night with the gang from Lakeshore Striders; Barry Brosnan, Monica Blaney, Steven Byrne, Steven Pettigrew & Ray Cummins. As the year went on the circle grew meeting up with Claire McCann, Dave Barry & Denis Hogan.
Ray started to float the idea of running the 127km Wicklow Way regaling me with stories from previous years but I wasn't biting, running over 100km sounded ridiculous. 'Go on, go on', he was like Mrs. Doyle, eventually breaking me on a pre Kerry training run out near Djouce. Denis Hogan sensed my trepidation asking me what I was afraid of- lots of things, but mostly breaking down on my own in the middle of the mountains, the lads kept reassuring me it'd be grand. The gang travelled to Kerry and we all ran well giving me a bit of a confidence boost, fellow rookie Steven Byrne seemed tempted by WW too.
After a short Kerry recovery we started WW planning, mostly recces of the first 60km, all that end of it was new to me. Brilliant runs really enjoyed them. Even did a short run through Marley- if we got that far I wasn't going to get lost in the park. Started reading through years of race reports on the IMRA site, Clare Keeley's in particular helped- tips on everything, motilium, Vaseline (put it everywhere!) etc. I went a bit overboard on the prep with multiple changes of clothes, plenty of zip lock bags with food, pre mixed & labelled bottles, enough to survive a week in the mountains.
Clonegal- not the easiest place to get to but Steven's sister Sarah drove us to start line. Race night was some buzz, gear check, lots of nervous chat , a few photos, 8pm and we were off. Ray, Steven & I decided to run together, we tried not to get pulled by the pack and maintain a steady 5.30-6.0km pace on the roads, too easy but also too early to race here. KMs passed easily with plenty of chat. Despite a very recent recce we managed to miss a turn on some forestry road, probably only lost 15 mins but was a bit annoying to be getting lost so early on (the little yellow man was there but we rushed the turn).
Into the Dying Cow/ CP1 in 3hrs7 mins (cut off 3h45m) at 23.08 , a little later than planned but ok, meeting Ray's wife Suzanne who was crewing the entire race for us. Refilled the water/ tailwind bottles and out quickly- before each CP we said out loud what we were going to do so as not to lose time. Suzanne is a real pro at crewing, keeping us moving.
2nd section was very enjoyable to run, except for a quiet 30 mins or so fighting nausea- a real issue for me at Kerry Ultra Lite and the Ballyhoura Moonlight Marathon. Decided I wouldn't eat for a while and hope I didn't pay for that later. I was able to keep pace with Steven & Ray but I'm a bit of chatterbox so they knew something was up. Met & lost Adolfo a few times. Big climb to CP2 near Mucklagh, Paul Croke was running up and down the steepest climb around 3.30am encouraging us all- IMRA volunteers are brilliant if a little crazy. Made it in at 3.55 am, cut off was 4.30am. Stomach had settled. Missed a turn by a couple of hundred meters after we left but thankfully spotted our mistake quickly, I shouted out to 'Alan from Belfast' to turn back and we were back on course in a couple of mins.
Run down to Glenmalure was fine and was looking forward to this section. Half way there, a mini victory. Glenmalure to Glendalough is very familiar to the 3 of us, plan was to fast hike until we got over the Devil's Staircase and then start running again, but shortly into this section we met a diversion. John McCann joined us on this part of the adventure. As well as adding a few km this was real mental torture, we didn't know exactly where we were and felt we were moving further away from the trail with what little banked time we had being lost.
We were a bit disheartened running into Glendalough, my shin was starting to ache (more on that later), Steven's stomach & knees weren't great but Ray was full of energy or faking it to try keep our spirits up. Myself & Steven talked about bailing but I said if we made the cut-off we'd have to keep going. Arrived into Glendalough (CP3 8.03am, cut off 8.30am) where Suzanne was waiting for us with a smile on her face. Quick change out of my leggings and long sleeved shirt into a fresh t-shirt, shorts & socks (such a mild night & day for October), a few mouthfuls of coca-cola, panadol for the shin, bun (couldn't stomach anything else), led lenser into my bag (12 hours without changing a battery but so heavy to wear). Grabbed a charger for my garmin and we were off. Robbie Williams told us we'd get a time allowance for the diversion and the sun rise was lifting our mood.
Bit of an ascent out of Glendalough. Steven was rejuvenated at this stage and pushed us on the climbs. When we reached the more runnable parts I struggled a bit, right leg was a bit sore, had to do some run/walk. Must have been 85km in when I had to pee for the first time despite drinking loads- the lads couldn't understand this, one or other of them must have been pissing every 5k! I thought I picked a quiet spot when some tourists appeared out of nowhere but Ray, who speaks fluent German, distracted them offering to take their photo until I was sorted.
Bit of road running when a cyclist roared my name as he passed, Steven Kieran jumped off his bike ran past us, in his clip in shoes, to the top of the hill taking photos which made their way into my work whatsapp group while I was out in the hills.
I found the run to Crone hard, I knew I could make it but was worried I was slowing the lads down. Steven is a fast & strong runner, at Pier Gates we convinced him to go for it while Ray tried to drag me to CP4. Very scenic part (I'm sure it all is but 50% of the race was in the dark), bumped into lots of people out supporting Ray. Whenever we hit 100k, I let out a scream to celebrate- Steven a couple of km ahead at this stage could hear it. We ran into Crone not realising how close we were to the cut-off, arriving at 13.32 we only had 8 mins to spare. Race Director Jeff met us and said we needed to up the pace, if we didn't make Boranaltry Bridge by 15.25 we were out. This was toughest section of the race, Ray knew the terrain so well and told me when to push. Tried to ignore the leg pain and sure you can't be complaining when you're running with someone who has 7 stents. I told Ray to leave me if it was getting too tight but he said we were finishing together regardless. We made the bridge/CP5 at 15.21 with 4 minutes to spare. Suzanne was waiting for us and sorted my bottles. Mouthful of coke, a gel, should have taken a painkiller but forgot.
We knew we were tight but confident we were going to make it now, could hear the M50 in the distance, a walk/jog to Marley. Elation crossing the finish line (5.32 pm, 8 mins inside cut-off, 21hrs31m34s, 131km total) with Suzanne, Sarah and Steven waiting for us- possibly more relieved than us as they were frantically scanning the trackers.
Such a buzz at the finish, despite coming last I felt like a winner, Granite Wicklow Way Man in hand with added prizes of a Columbia hat & a painting by Paul Croke celebrating our last place finishes.
What an experience, incredible, better than I could have imagined. Ray & Steven were superb company we worked well together and knew how to motivate each other. Suzanne was the real hero spending 24hrs+ in a car (with our smelly running gear). The volunteers were all phenomenal. Maybe 100km+ races aren't so crazy after all.
WW21- Epilogue. Despite the deprivation I couldn't sleep Saturday night, mix of post-race buzz and leg pain. Couldn't get out of bed the next morning but had planned to meet Steven & Ray for coffee to relive it all again. Swallowed a load of pain killers and borrowed some crutches I wasn't missing the meet up, Fogarty's Post Office/ Coffee Shop in Ballymore Eustace was the final CP for me. Lots of banter as we bored the rest of the lads with our war stories (even longer than this race report). Decided to get the leg looked at on Monday. Going to be out of action for a while with a suspected tibia stress fracture but I'd do it all again tomorrow.
Thanks to Jeff, Robbie, Lillian and all the volunteers for an unforgettable experience.
Wicklow Way Race
17 October, 2021 - Phil behan
I had no idea that one of my biggest experiences from this race would be the stars in the night sky I witnessed descending into the Glenmalure Valley at around 4am. In all my time on mountains I've never encountered such an incredible scene. That moment will stay with me for a very long time. I firmly believe moments like this helped me through this race, but also this - a very very special breed of human beings.
Firstly, our magnificent race organisers who went above and beyond to bring us this race, always keeping us safe and well, secondly our remarkable volunteers who throughout the duration performed hundreds of selfless acts of help to see us get by, and finally, vital for a middle pack guy like me, the encouragement, advice, camaraderie and unbreakable spirit shown to me by my fellow runners during my darker moments .
For me those are the elements that make the Wicklow Way Race what it is. I will never forget this race. You can only bear witness to it's magic by running it.
Thank you IMRA, thank you Richie Healy for the beautiful sculpture, and thank you to all my fellow mountain runners. You may not think it, but we were all on this journey together.