Bray Head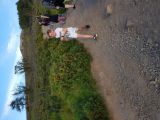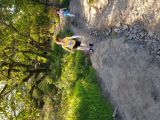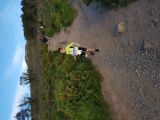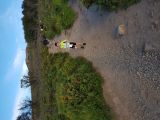 Authors
Headless chicken
16 May, 2019 - Mikey Fry
Headless bray
Parked the car right outside the pub 2.30 in bray realised I might be a bit early fir race so went to sea life with the kids just up the road then onto the beach always looking up at the cross saying I'd see you latter and it felt like a life time away then it was into platform pizza for a glass of water for me yum yum while I watched the lads and the good lady scoof down pizzas and then two really kick my in the nads a Nutella pizza with ice cream and strawberry's on top luckily for me there was two pieces left over which made it into my car for after....then music listening in cars chats with early birds......warm up with neilus and it's time we're off up that concrete hill oh no we're not turning right up the climb I love but going left along flat hard walk towards Greystones jakers the pace the pace Seán the marathon runner had gone off like a bat in a sweet shop I tired to keep up with the front runners and man there were so many tonight had John bell Jason in front but had fallen back pace was too much for me too long a flat section....ding dong right turn at Niall Lynch who would have done well at this race but I think after his leg change for Saturday he had other plans a quick right turn and it was a lovely up hill section too the trig point maybe could have got up faster if I hadn't been wrecked after sprint start..:Kate had passed me around here before trig we exchanged a few words I then passed her before trig and lashed down tiny technical hill descent hit fire road and went after John(not bell)and Peter Gorman it's hard to super push here it's a gradual hill before climb to cross ...got to cross so 99ers on sea front and went after my prey any thing in front of me that was moving got Peter John and few more down the steps onto hard concrete push push push then flipping Gordon place flys past well done dude:) and over the old finish line where I really finished my race I think mr race director had a bad week putting finish line along the stones I hit the beach headed for shore line bad idea headed up a bit felt like that was it race over legs didn't like that change over pushed after Gordon hit line lay down finished phew in for a swim then a 98er what more could you ask for thanks again Caoimhin and crew..back to pub missed call from good lady Eli sick had my two slices pizza in car met at doctors in to hospital home for 2.30am in no wrecked not sure how this report appeared:))
Well done Luke in his first Imra race:)
Well done everyone good day:)
Mikey
Blame Mick Hanney for this report :)!
16 May, 2019 - Luke McMullan
Almost 8 years to the day that I did my first IMRA race when still a fresh faced student in UCD. Same start location, same sublime blue skies and sunny evening, and some of the very same people toeing the start line - very little changes! In fact, a lot changes over the course of 8 years in your 20's and after living in different countries/cities, focusing on different sports, becoming thicker skinned through experiencing real life work, and generally learning to become smarter with your time and realising the important things in life, I find myself back on the promenade of Bray Head a very different person.
The gun goes off and I see Sean Hehir (Dublin Marathon Overall Winner of 2013 and a 2h15 man) waste little time, immediately gapping the bunch as I watched as his lead grew. I had met Sean for the first time two days previously as we did a fast training session together out on the Wicklow Way as a Recce for this weekend's Wicklow Way Relay and so had already known in advance he was going to be here tonight. My first reaction to meeting him on Monday was how unintimidating and friendly he was. Generally when in the company of elite athletes one can easily feel out of place but this certaintly was not the case with Sean.
Knowing his running pedigree, I realistically knew I was going into this race playing for the runner up spot. Probably my most likely challenger for this second place spot on the podium was going to be Ruairi Long. We had a few ding-dongs over the Winter season, and although I think we have different strengths, we always seem to find ourselves very close together come the finish line. Sean built up about 10seconds on us as we passed the traditional route gate (or "the bottleneck gate" as I remember calling it back in 2011 - if you're not at the front, you'll be standing still queueing mid-race. As if running over Mountains wasn't rare enough in itself!). Seeing the gap to Sean grow out so significantly so soon, Ruairi asks me how I think he'll get on on the tricky descents. My answer was "the race will proabably already be long finished for it to matter".
As the lone breakaway went up the road, one brave soul made the big mistake of trying to bridge across early on the cliffwalk. He was quickly swallowed up by the peleton only 40seconds later and might have regretted later in the race burning that match so early.
Along the cliff walk path, I felt like I was running at a decent Half Marathon Pace, feeling like I was floating along quickly, but burning very few matches, keeping them in store for where the selections would be made later in the race. Last thing one wants is when the incline exceeds 40% and you're looking for a match in an empty box. Ego goes out the window and after years of racing, you learn when to pick your fights and when to play safe. This flat section was definitely the time to play safe.
As Sean took the sharp right up "the bluebells climb", I did a time check on him in the distance and reckon he had made about 40seconds on me in this first 2.8k! At this stage also I couldn't hear Ruairi's footsteps on this last 400m stretch, but knew him to be a wiley fox probably sitting and waiting in the pocket, ready and waiting to pounce. I was cognisant of never counting him out.
Up the bluebells climb and I see Sean (vertically) up ahead. Road running and Marathons is Sean's back yard, few people in this race could hope to finish within half an hour of him over 26.2, put throw anyone on what feels like near vertical climbs and I feel like they have strayed into my own back yard. I sensed almost immediately that I was closing him down, through a combination of my own legs relishing the way up, but also the fact that Sean seemed to be resorting to a run-walk method of 5 seconds on, 5 seconds off on this steep section.
As we reached the trig point, myself and Sean coverged. I had also, to my surprise, gapped Ruairi and the rest of the field by about 40seconds on that first climb (but never count out the Orienteerers - More on this later!). Double backing on ourselves, I was now leading the race with Sean closely behind and I now had to take up the mantle of being the spotter for the racing tags to tell us where to go. I'm building up a bit of a reputation of making a hames of this job as I ran off course 5+ times over the course of my Winter races when in a similar position. As silly as it sounds, unless you find yourself in the position, it's surprisingly difficult to run perfect lines when leading a race. In any position but 1st place you just follow the man (or woman!) infront - the tags are almost solely for the leader to track. Dropping off the trig point was tricky in itself, but given we were running into the low lying glaring sun, I couldn't see a single tag and ran in hope of picking one up in the next half minute - thankfully they did come one-by-one into my vision prior to any opportunities for a mistake (although I definitely did slow a tad balancing the job of tag spotting with managing this rough and steep short descent).
This next section is a runners section (between the trig point and back to the Cross overlooking Bray and the stunning Dublin Bay), and was a place where Sean once again came into his own. I had made about 5seconds on him dropping off the trig point, but by the time we made it to the cross, there was a 10second swing and he was again just up ahead of me. I followed his line past the Cross, and we started descending. Almost immediately it felt it was like a Roadie hopping into a Mountain Bike trail. Sean was overly cautious as to where he was putting his feet and started descending with the handbrake on. Descending I think is threefold (skill, strength, and confidence). Very few people will rock up to a Mountain Running Race and excel on downhill running Vs people with some experience. All three elements can be improved but it comes with time and practice. This being Sean's first Mountain Race, it was going to be a learning curve and benchmark setting. If he decides to drop that road running malarky ;-), I'm sure he could set many course records around Wicklow.
Back to the race, I was now of the mindset for the first time that I'm racing for the W! I've never won a Mountain race before, but have been close a few times and descended with the determination that this is my race and I'm not for coming second again! I know I'm not a top descender (I'm top 10% at best) but I felt I had given myself a great chance and hopefully enough of a gap to see it out to the finish line. I had recced alot of the descent below the cross during my pre-race warm up and felt like I flew down close to the best of my abilities. I had three times taken a quick glance back and at no time did I see anybody or feel under threat. As I passed through the 'bottle-neck gate' (no bottle-necks this year!) I shouted to the marshall as I went past him if he could see anyone behind me. The answer was 'No'. Even still, given the position I found myself in, I didn't want to take the foot off the gas the whole way down the promenade. I was passing the kiddies' race participants and possibly used them as targets to keep spurring myself on.
I turned down onto the James Higgins Beach Sprint pushing it. Half way down the pebbles, I thought I'd have one last look back to see if I could enjoy the finish and soak up the last 20seconds of my maiden win. I look back (and low-and-behold!), I see Ruairi flying up just behind me with that killer instinct look! I get a huge shock and press every hypthetical button my hypothetical dashboard to turn on the after burners! No enjoying this finish! I cross the finish line about 10seconds ahead, right hand raised but at a heart rate of probably 190! My God did that make me appreciate that win. If I had of won it by say 30-60 seconds, I'd have downplayed the achievement. But given I had to have given the best account of myself on the day makes it all the more satisfying and worthwhile, so a thanks to Ruairi for such a great race - this will be an interesting upcoming league campaign I can predict already!
For anyone who knows me, they know I'm a sucker for the outdoors and spend 5+ days a week in the mountains, either on foot or on my bike. We are spoiled with these beautiful natural facilities on our doorsteps, but on the flip side it is great that our mountain running community makes good use them. I often look down to Dublin during my training runs around Ticknock and think about how much so many people are missing out by not knowing or appreciating what we have a few miles away in Wild Wicklow. It's great that IMRA exists to promote health, fitness and happiness by getting us outdoors, and as always a huge thanks to everyone who makes these events possible through volunteering. In this instance, a special word to Caoimhin MacMaolain and Brian Kitson for being the leaders on the night (and preceeding weeks). Thanks very much guys!
First ever mountain running race win. 8 years in the making, but well worth the wait! Until next time Wicklow!
Luke