Nav Challenge 3 Croghan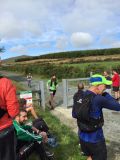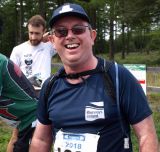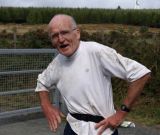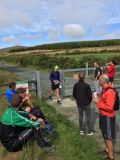 Authors
Croghan Nav. Challenge 3.. from the other side of the window.
12 September, 2018 - Clare Keeley
I can see Croghan Mountain from my kitchen window. It is 11k from my house and one of my go to places to run. It's got a decent steep climb, some grassy tracks, woods, open mountain, you will nearly always see a deer or two. Although the wind turbines are swooshing around, I consider it a peaceful spot. Standing at the summit, on a clear day you get fantastic 360 degree views. I love the place!
Mid week you meet the odd walker or runner but for the majority of the time you could have the whole mountain to yourself.
So Sunday was fantastic. To have 53 runners come down to your local is a real treat. A chance to show it off as such!
When Mick mentioned that he was RD for the Nav. Challenge 3 and was thinking about Croghan, I jumped at the chance to volunteer. Mick had all the control points well thought out and I was happy to help put a few controls out, bake and make the tea! A few pre-race ramblings in the hills and map studying brought us up to Sunday morning. All that was left to see was runners route choices and just how much tea and cakes could be consumed afterwards!
Sunday was clear and bright. A few runners had taken the early start and there was a nice flow of people registering. All very smooth, sign your name and punch the voucher. Mick had got word that control N was not where it should be. Feck...that was one of the ones I had put out:( It was situated up on Slievefoore where there was a fairy ring on the summit. I had placed the control to the outside of the circle but I guess either the fairy or farmers or the wind decided to test the moral compass of the runners on the day and disappear it.
With 5 minutes to go Mick gave the race brief. With the nod, I handed out the maps face down to eagerly waiting hands.
"Right you can go" says Mick...yet everyone stays! Flip over the map and take a good look, few murmurs here and there... then the scattering starts! Some runners headed down to Control O situated across the road first and others headed up the main path to the rest of the controls.
Right, lets have a coffee!
In Nav. Challenges it's all about the maps! and the route choice...both good and bad.... and the speed....both fast and slow!. As a volunteer it was really lovely to watch and listen to everyone's route choice, the laughing and joking, the state of runner's legs, their t shirts and their faces! I took some snaps.
Sure what else would you be doing on a Sunday morning in the south Wicklow hills only crawling, backwards ,on your hands and knees through dense bush??!!
As the crowd gathered back, the whistling kettle went on and the cups were pulled out. 7 litres of tea and coffee were made! A thirsty bunch! The last of the runners arrived in and the last of the treats were eaten it was time to pack up. On with the shorts and up the hill to collect some of the controls. Get a bit of air in our own lungs.
Congratulations to Ruairi (who had run the British and Irish Junior Championships the day before, as did Luke, who volunteered for the Nav, well done guys!) and Aishling short course winners and to Shane and Roisin for the long course win.
A big thank you to all who travelled down to this neck of the woods and thanks to Mick for taking on a bit of rookie volunteer. I didn't get sacked after Control N went missing so no P45 for me yet!
A very successful day out for all.
xx
BARBED WIRE FENCES
11 September, 2018 - Joseph Boyle
Being relatively new to Nav Challenges, to date I'd stuck to the short course events, for various reasons, but mainly not having to have someone come out to look for me and to let the volunteers get home at a reasonable hour.
This Sunday was to be a similar plan until the intervention of Mick our race director. I arrived quite early with my buddy for the run, Ronan Lynch. I'd managed to get him to Joe's Nav 2 and we did the short course and it went very well.
On checking in we got into discussion with Mick and he suggested that the short course would be very easy and that we might be interested in doing the long course as it would take in the region of two hours. This seemed like a good option as it made the journey down and back seem more worthwhile. There was the option to bail out at any time and revert to the short course.
The usual start, don't look at the map until the race instructions have been issued, all of a sudden the fun starts, however we don't start as we take a bit of time to review the course and decide our route direction, route decided we set off, at which point I'd say Shane Lynch was on his way back.
I won't bore you with all our decisions, however as we set off towards our first point M, we got in conversation with another competitor Henry, who was doing his second Nav, after the previous week, which hadn't gone too well on the navigation front and he asked if he could tag along, the blind leading the blind, no problem, the more the merrier.
The start in the wind farm was easy enough and then we climbed our first barbed wire fence of the day to take in F and head up to Croghan for A,B and C. We passed Andy and Sandra at this point back tracking, looking for their lost compass. The next thing I see Alan take off diagonally in front of us heading in the direction of Croghan. We were tempted but common sense and out limitations prevailed and we followed the fence line up to the path. At this point it was climb more fences or approach C from Croghan, the decision was made to climb Croghan and we wonder where the time goes. Once committed on the mountain we were now signed up for the long course and while we weren't fast we were making reasonable progress.
A and B followed uneventfully, although the run down to A was difficult enough on the loose rocks, we passed various people going in the opposite direction along this section, I remember, Alan again, Ger, Joe and Eriku who met us at A. Things still going reasonably well over to B.
At this stage as we climbed up the path from B we passed Maike heading down and this is where we made the decision that cost us so much time. We decided as we climbed up that there was a fence line on the map that we could follow across without going back to the peak. The fence line disappeared after a short section and rather than turn back we continued on across the fields, having to negotiate six or seven barbed wire fences, rough fields that we couldn't run through and sapped the energy from our legs. On top of this one of the fields was full of bulls, which made for a nervous few minutes. Having made it back across to Raheenleagh Woods we decided that D was the one we'd miss as the rest were fairly runnable.
The rest was fairly uneventful except for more barbed wire fences and fields with livestock back down to the roadway. Last fences climbed hopefully and while each of us had the scars on hands, legs and torso to prove it, at least none of us had been castrated.
It's funny the way your mind thinks at times like this, we'd one control still to get to make the 14 and we didn't want to go through the indignity of passing through the finish area so late in the day, we needn't have worried as everyone was gone at this stage, so we cut in through the forest to get to O, which luckily enough wasn't as bad as some of the other forests. Then the final run back to the finish 3 hours and 18 minutes later for joint last position, but at least we were only a minute or so behind an experienced orienteer who'd made a wrong decision as well.
Thanks to Mick, Claire, Gavin, Paul and Luke for a really great day out and for all the hard work involved in pulling it together. I know I'll be back for the Nav Challenges next year as they're the best fun of any of the races during the year. Thanks also to Joe Lalor and Brian Fennessy for the previous rounds and to all of the volunteers.
The great points:
1st long course completed
1st in value for money (euro(cent) per minute)
1st in longest distance (based on Strava only)
1st in most elevation (based on Strava only)
1st in number of barbed wire fences crossed (estimated)
Windmilling!
11 September, 2018 - Shane Lynch
Another great fun Nav Challenge! Nav Challenge 3 had more controls than the previous events and with the cluster of controls around the windfarm there were many plausible routes to choose from.
Upon turning the map over I noticed straight off there was one control on its own on the far side of the road, so having been told during the briefing that we were to miss out one control on the long, I quickly scanned the map and checked the furthest out controls to see if any of them were further away (timewise) to it's neighbouring control compared to control O on the far side of the road - there was, and so that meant I could set off to get control O without further thought.
Getting O first was good for two reasons it meant I would avoid an uphill finish! but more importantly as it was easy navigation out and back from it, it meant I had a lot of time to plan my route while on the run.
The first big decision was to decide which of control A, B or D should I leave out. The large track from B to A with not too much change it height helped my decision. Hugh was still running with me at this stage and we agreed that not knowing what the terrain was going to be like to D, plus the large drop and climb in and out of it meant that we chose to omit D.
I noticed K,L and M were substantially lower down the hill compared to the other controls in the windmill cluster and so they would be best got at the end of my loop on my approach to the finish.
With these two large decisions made the rest of the controls fell into place ONJIHEGFCBAKLM and so as I passed back through the start after getting control O I had a clear plan for my loop, and so just had to focus on keeping running and maintaining map contact.
There were some route choice decisions to be made between controls - from F to C the climb was minimised by going left of Croghan and dropping down to the track early, also K to L it was worth the risk to push through the forest here as it was much shorter than following the track around.
Thanks Mick for planning. The web of routes on Strava is clear evidence of a well planned event! Also, thanks to Clare, Paul and Luke and the planners and volunteers of the previous two events.
Nav3 - RD report
10 September, 2018 - Mick Hanney
When Gavan put the call out for RDs earlier in the year for this I was happy to put my hand up, having enjoyed the experience last year for Nav 1.
The navs are such a different event and most of the fun is in the planning and the navigational stories on the day.
I had a few ideas in mind for a venue but after some mulling back and forth settled on Croghan from White Heaps. 2 main reasons. The abundance of trails and other options up there which few enough of us local know about and the chance to 'show off' this amenity to others.
Many recce runs were done and draft maps send back and forward to Gavan before settling on the Control choices. An initial idea came from a training run I did on the trails of Raheenleagh where I tried to visit all 11 turbines in the one run. I think I got confused and missed one :-) Competitors on the nav will understand.
When it came to picking controls I went with a subset of the turbines. Many of these are tantalisingly close together, but that doesn't mean that they are easy to reach by direct lines.
A no. of outlier controls were spread out to give the additional distance and potential climb. These seemed to work well on the day and the fact that we had reasonable weather helped people with the nav and the scenery on the mountain.
Shane Lynch won in a ridiculous time for a tough route. Some great and not so great route choices on the day but that is all part of the fun. No one went astray and all finished with a smile or maybe that was a grimace? The strava flyby is a delight.
https://labs.strava.com/flyby/viewer/#1831095436?c=gc7krfnk&z=E&t=1RbEYj&a=jEwkbXa5IW1RAxFtvoAObZVxMW2lti5tCMQnbQsvIW3CQx5ttEQdbSuJFm3U6xFt3mYRbcEaEW2RbxBtDv4PbXnRD21UeA9t76kObdq3DW37JAtt
As ever Gavan was very helpful with the maps and feedback on the prospective route. Thanks also to Clare and Paul for input on the route and support before, during and after.
If you like IMRA events and nav in particular I'd encourage anyone to get involved in a future Nav event. Great fun all round.
Miriam Maher
09 September, 2018
First solo effort at a nav challenge. Did a couple - a few years ago - but then I moreorless followed Karen around as we paired up.
Today, I grabbed a lift with Lorcan, bringing Luke along to do his second volunteering stint. Mick kindly ticked that box for him, without really needing him, and gave him time to get a quick run while we were all out chasing controls.
We arrived at the start point with 5 mins to spare having taken some wholly unplanned detours on the way - the irony wasn't lost on us.
Just enough time to get registered, grab a map and nervously laugh that whether it was upside down or not, it wasn't going to make much of a difference to my understanding of it.
Off I went, big group heading off down the track, thought I had better be clear about the start point, double checked I was on the path I thought I was on with another helpful runner, my gabbled query and the slightly panicked look in my eyes obviously appealed to his sense of humanity - he even explained how I was going to punch the controls on my map. I was that unprepared for doing this.
But Mick's advance promise that the short course was runnable and straightforward was to be the case - even I could work it out. All those lovely obvious wind turbines and the great conditions made picking off the controls doable.
Have to admit to taking on Vivian's suggestion to Tommy - not to me - just that I was there and I have good hearing and he didn't stop me blatantly listening...and I followed a roughly anti clockwise look for controls 3-8.
Gorgeous day out, such a treat to see all the views that I've got used to seeing on Mick, Clare and John's stravas with this being their local trails.
Happily took a few photos of the rolling countryside, sea and big sky views.
Met the son of the guy that told me where I was on the map at the very start after my 6th control and we traded pointers - I told him how to get towards the control I'd just left and he told me how to get to the control I was looking for.
Then I had the wonderful good fortune to bump into Derek at the 8th control and I happily ploughed down the open mountain, marshy grasses next to the forest line with him. He gave me some map reading pointers on the way down and with that and his helping hand I managed to get over the barbed wire fence back into the forest and clicking on my last control.
Parted company with Derek there and back along the forest path / fireroad to the start line.
Hoovered down way more than I needed of the fabulous range of treats laid on by Mick and Clare before I headed off with Lorcan and Luke.
Lovely morning in which I got by, or around, with a little help from friends. Thanks Mick, Clare and co.
Nav challenge 3 short course
09 September, 2018 - Andrew Hanney
Each year in the nav challenges I manage to have a stupid ejit moment, and this year proved to be no different.
Nav 3 was being RD'd by big brother Mick on Croghan mountain. I'd never been there before, so just like last week, it was a good opportunity to experience some new trails.
This summer for me is about getting the marathon training done and letting the IMRA races slide a bit, but the Nav challenges were races I was not giving up on.
Myself and clubmate Sandra Pegman have been using them as easy runs whilst hopefully improving navigation skills.
It's funny when you're driving down to Nav races, you're nervously watching the cloud cover, hoping for the course to be cloud free so you don't end up spending the night on the mountain.
The pre-race photos of cakes being prepared for the finish line only added to the motivation for the race.
There were about 50 to 60 people gathered around at the start to listen to Mick's instructions, short course was any 9 controls out of 15.
Finally it's time to go and we can look at our maps.
I am determined to give this a good shot as the next Nav challenge is 11 months away! We line up the controls in what we think is the best circular route to nab 9 of them and deliver us back to the start, all of the controls are on fire road so minimum navigation needed. The start of Nav challenges are funny, because you initially think that everyone is following the same pattern, but after one or two flags, the amount of people you see dwindles as everyone has different ideas, strategies, paces.
So, on my map I drew in pencil the link between my controls M,L,K,F,G,E,H,I and J. Many of the controls are at turbines, but as Mick warned not every turbine had a control,
it was important not to be a turbine tourist. There was certainly no real challenging amount of elevation in the route selected, so it was really just a matter of nailing the controls.
Shortly after control K I managed to drop my compass whilst negotiating a barbed wire fence... a compass can come in handy on navigation races, so I had to go back and get it, losing a few minutes.
To cut a long story short, we were flying until the last control. We hit the penultimate control H in 58 minutes, and only had to do control I and run downhill for 2k to the finish. I figured we'd be in by 1hr 10, a good time.
At control H we had a quick look for the trail on the map which contoured around to control I and I couldn't see it and with that my brain stopped working and all rational thoughts were discarded until the end of the race.
Next idea was to go back past the last turbine as it seemed there was an access road leading from it to control I, we missed that as well and spent the next 22 minutes trying to force our way through freshly grown evergreens, it was a disaster, we knew there was only a certain amount of cakes to go around at the finish and we didn't wan't to miss them.
The funny thing is, during all the struggles through the trees and gorse we could see the turbine that we had to get to.
We should've spent more time looking for the fireroad and trusting the map.
The thing is about Nav challenges, that no matter how messed up your choices were, there is a good chance that somebody else did it worse and that is half the fun as you sit around afterwards hearing stories of peoples adventures. Thanks Mick and Gavan and all the Nav challenge RDs from 2018, it was a really good set of races, thanks for your time and commitment. Well done to the winners of the Nav leagues.
Nav 3, another learning experience and as somebody said afterwards, you'll never do that mistake again. I can make no promises there unfortunately!!!