Howth Winter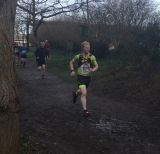 Authors
Howth Winter Run 2018
15 January, 2018 - Paul Page
So this is not so much a race report as the impressions of an IMRA race newbie having just completed my first race in Howth on Sunday.
It is aimed more at those who might be curious about what to expect from an IMRA race, rather than a hardened veteran.
I have been running for 5 years now, almost exclusively on the roads, and have completed 4 marathons and a host of shorter distance races. Last year, I became interested in trail racing but despite repeated visits to the IMRA website, I never took the plunge; I suppose my fear of the unknown overcame my curiosity and interest in trail and mountain running.
I had so many questions that prevented me from taking the leap: are IMRA races only for the elite? Is trail running dangerous? Just how hard are they compared to road races?
Last week, I decided to find the answers for myself and registered for the Howth Winter run. It was a beautiful morning for a run, but after a lot of rain in the days before the race, I knew the conditions could be tricky.
On arrival, there was a good buzz around the Deer Park clubhouse where runners signed in and collected their race number. Credit to the volunteers – the registration process was fast and efficient, all the more impressive given that this was the first race of the season, and there were over two hundred runners participating. Within five minutes, I was pinning my number on my race jacket and ready to take my place at the start line.
An hour later, I was back at the clubhouse, having completed my first race, tired, relieved and happy. So what did I learn?
1.Fears that an IMRA race are just for the elite were unfounded.
Looking around at the start line, there was a healthy mix of obvious newbies, hardened regulars & serious athletes. The atmosphere was friendly, relaxed and welcoming: a good start.
2.Within 5 minutes, it became very apparent that this was going to be tough, very tough.
The uphill through the car park was the first shock to the system for someone who has been running exclusively on the flat. But what followed was very different to what I expected – this was no pleasant run through leafy forest trails with a few gradual climbs thrown in here and there. There were steep climbs up the side of rocky hills that reduced everyone to walking pace, there were twisty, undulating single trails through thick undergrowth over muddy and slippery rocks and roots. It was more physically demanding than I expected.
3.The downhill bits were harder than the climbs.
This came as a surprise to me, and it might not be the same for everyone, but running downhill demanded so much concentration; every place you put your foot had to be chosen carefully (and rapidly) to avoid taking a tumble. Throw gravity into the mix, pulling you downwards with a pack of runners in pursuit, and you get an experience that is both exhilarating and a little scary at the same time. It reminded me in some aspects of the way we used to run as a child – there has to be an element of fearlessness to 'go with it' on the down hill sections. Unfortunately, I didn't have that and more people passed me on the downhills than any of the climbs. That will come with experience though (I hope!).
4.Proper trail shoes are essential.
Maybe on a dry trail, normal running shoes would cut it, but when the underfoot conditions are as slippery and muddy as yesterday, road shoes will not do the job and result in a more cautious run, particularly on the down hill sections.
5.The course was well marshalled, well-marked and cleverly designed, eliminating any navigation concerns I had. As someone who could get lost going to the local shops, this was a very good thing indeed.
6.The views were spectacular.
I know this because I heard someone saying it – such was the level of concentration required, I barely looked around me once during the whole run. I regret that, but that regret is tempered by the knowledge that had I done, I probably would have ended up on my arse.
7.6KM feels a lot longer on a trail run than on the roads. Stating the obvious here.
8.Is it dangerous?
It is definitely more dangerous than road running. It would be a lie to say anything else other than that the risk of falling is infinitely greater than it is while road running. Most of the time, you will probably bounce back up, and be off and running again. I stumbled once, but managed to avoid or see any nasty falls. In a curious way, the little bit of danger is also what made it more exciting and thrilling than road running. It gets the adrenaline going and it is easy to see how people become addicted to that.
9.How hard is it?
Well, it is not a park run. And I say that as someone who regularly runs and loves park runs. It is tough and demands more than just an ability to run from A to B. I would say at a minimum you would need a decent level of fitness built up from road running before attempting a trail race like the Howth one. But once you have that, there is no reason why you shouldn't give a trail race like this one a go.
10.Would I recommend it based on my first run?
Unquestionably yes, It was thrilling, challenging and demanded complete focus, something you don't get on the roads. I finished in just over 45 minutes and I was happy with that for my first run. I lost time on the downhills, and while normally my times on the road, (while not earth shattering) would put me in the top third of finishers, my time in Howth put me close to the bottom third. So there is a big difference, and as long as your expectations are tempered by the knowledge that trail running is a completely different beast, your first experience will be as rewarding and enjoyable as mine.
Looking forward to the next one!