Ticknock Tick Tock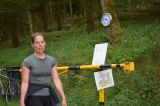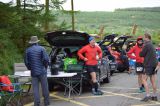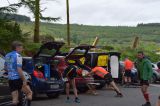 Authors
Peter O'Farrell
30 May, 2017
Sleeping in was the preferred strategy pre-race and I duly emerged from the bed at 6.10am. It was at exactly this point I realised that setting the alarm for 50 minutes before the race start had been optimistic.
So no breakfast and up to Ticknock with a bag pre-packed from last night. Just in time to sign in, bolt down a yogurt and a banana and then thankfully the first lap was to be a warm fuzzy non scoring settling in finding your feet (and the control positions) affair.
As Greg was both deputy RD and co-planner I happily followed him around lap 1 walking the climbs and jogging the other parts. With no watch it was reassuring to now know the lap was going to be doable if the ability to run the climbs was gone. We did a handy 53 minutes which left plenty of time for some liquids and more banana before setting off for the first scoring lap. A few of the lads had blitzed around the course on the non-scoring lap. I wondered about that. Too much coffee maybe.
As I really hadn't a notion if I would be able to finish (unreliable knee and the distance) I set off nice and easy and could only watch with admiration as some of the lads went for it like it was a Wednesday evening. The Bravery! The Tactics?
Lap 3 was anti-clockwise and was I was slightly surprised to hear it was a scoring lap. The warm fuzzy settling in finding your feet ambience had been dialled down to tepid. The racing was on for those with aspirations. John and myself managed to amble past a control without thinking of stopping to punch it. Luckily for Didier we called him back from heading off on the Wicklow Way instead of back across the wet track. More chatting with John and eventually it dawned on us that we were only counting up to 6 and everyone else was managing 7. Not to worry. Sure it's all a voyage of discovery this race.
Back to base and Orla has arrived up with two big bags, one full of salty carbs and the other full of warmth. Greg was slightly suspicious at this point of my claims to be only a tourist out for a looksee..
The next fews laps tick tocked off steadily. Orla and Conor came and went with various foodstuffs every couple of laps, I stayed having two functioning knees and it was all going swimmingly. In terms of the overall I was a mere observer, and enjoying the chat and the flow of the event immensely. I might have been lucky with where I plonked my deckchair but it really was the most sociable day out on the hills I've had in ages. I don't see John or the lads much anymore and the chat was mighty. Other lads dropped up for a looksee during the day and the hours flew in.
One of Orla's arrivals brought coffee and I had a mighty lap after that. Sebastian went off at his customary gallop but after a while appeared to be slowing. For the craic I decided to try and catch him. It felt super. Completely reckless and all the more enjoyable for it. I knew with near certainty I was signing myself in for partial or total collapse with such exuberance but sure I hadn't expected to get this deep into the event and it was all groovy.
Sure enough half way through lap 9 the wheels came off the wagon and the power just left my legs. It was anti-clockwise for me and I climbed strongly up through the start but across the wet track the lads just streamed past. Zoran's lucky tights had worked wonders and he ran off with renewed vigour after a dodgy earlier lap.
I had my first gel before lap 10 but it to be was a non-scoring one. I was deadly on it :) not to worry. Only two laps left and at this stage I knew I'd finish and despite really very heavy leggies I thoroughly enjoyed the last lap, it was super satisfying to punch the controls for the last time.
Not knowing the time gaps throughout the event was interesting. Right up until the announcement of the prizes we didn't know who won. Greg and Tim had both finished strongly and took top spot and a podium spot.
The real beauty of this event is that it is for everyone. As Jarlath said the distance is a great leveller and lads got to display endurance strengths that are less apparent on a Wednesday evening.
Thanks to Adrian and Greg especially and all the volunteers for the super day.
Nice to try something different on a hill I love so well.
Running around Ticknock against the clock
29 May, 2017 - Greg Byrne
Sunday started on an ominous note. I slept in. Luckily I had agreed to carpool with the Race Director and so at 6am I was roused by phone for the trip to Ticknock. The sandbagging started early. Peter cycled up to annouce that he was in for a couple of laps to see what it was like… tactics?
At 7am 16 brave souls gathered on the start line unsure of what was to come. The kitchen clock was hung for all to see, the master maps were interrogated. Each runner was armed with their jackets, race number, map, control card and a good dose of trepidation.
Any talk to tactics were thrown into disarray by the the first instruction. Lap 1 would not count towards the finishing time. So now we knew that 'lap time' from all 12 laps would not count in the finishing time, but all 12 laps must be completed. How would this work? Which laps count? The questions abounded. The Deputy Race Director was volunteered for some tour guiding (surely against IMRA rules? DRD is a non-working role?). Lap 1 would be 'neutralised', but that did not stop those with plenty of energy (coffee?) from putting in a good time at the front of the field. The lack of watches made it very difficult to gauge the pace… and/or the risk of being >1 hour.
In the end those of us at the back of the field arrived in around 53 mins with the comfort that a run-walk strategy could deliver a sub-60 min clockwise lap. The assembly for Lap 2 was told that we were now on the clock and going clockwise. Sébastien, Silvano and Zoran led the way with the Phelans in tow, Peter, John and myself watching from a distance. At control 3 I took to the forest passing the Phelans on their right and saving maybe 5 metres? Had I played that card too early? Maybe a bright yellow top was not so clever either? John & myself cruised, collected Didier at a random junction and finished in around 38 mins only to find ourselves about 6 mins behind the leaders. Did they go quick? Did we go slow? Either way the mind games began as poor Silvano was subjected to numerous enquiries about fast starts and blowing up…
Lap 3 was to count and would be run anti-clockwise. We started up the road and soon I realised that the first control was only 200 metres into the lap. The pace quickened as we all made a move to get to the top of the queue. First out of the punch, I was soon joined by Sébastien & Silvano. It is only then that the full extent of 12 mass starts hit me… 12 races… 12 attempts at self control. I failed miserably at the latter and finished up just ahead of Silvano in 31/32 mins. Time to deflect… I enquire off Silvano how one recovers after TWO fast laps in a row? John joins with the prompting of a sub-30 lap? John is distracting from his 5 minute penalty for chatting with Peter instead of punching the control. Peter's supplies arrive… a man only testing the water now has enough kit to lay siege to Everest. Sandbags at dawn. Didier arrives to announce that he failed to fell a tree with his leg, instead he has a branch lodged in his calf. Some quick first aid and he is off to Swiftcare to have the splinter removed. 4 stitches later he arrives back to support Sébastien. Happy ending.
Lap 4 throws a spanner in the works… half the field will go anti-clockwise with myself and Silvano. Sébastien, Peter, John, Zoran & others will go clockwise. Where is half way? Half-way by distance? Half-way by time? No watches is making this difficult to gauge. Off we go… cordial farewells at the trail junction. We meet the lads on the Fairy Castle descent. The front four are close together and enjoying a good battle with Tim lurking. Are they going quicker? The unsaid feeling is yes… we quicken… no more chats. We arrive before the lads. Is anti-clockwise quicker or did we just break ourselves?
Lap 5 reverses the spanner in the works… we now go clockwise & the others will go anti-clockwise. Again where is half way? Will we meet them at the same half-way? Off we go… coridal farewells at the trail junction. My attempt to vault a Wolfhound keeps Silvano amused. We meet the lads on the Fairy Castle descent. They have got further down the trail than we had on the previous lap. Another unsaid agreement with Silvano and the tempo increases. We descend through the forest just in time to see Peter and John emerge onto the finish. Close on the lap, but where are we on the overall scores?
For the next lap we're given a free choice, clockwise or anti-clockwise. The significance is not explained. I choose anti-clockwise. Later we find out that Lap 6 is an easy/non-scoring/recovery/gorging lap, and we can drop one control of the seven. The announcement is made with a minute to go… so I dive into the food bag and grab what I can. Alicia, Jarlath and myself are in general agreement that number 5 is our least favourite. Off we go plodding behind the Phelans. Kilmashogue to the mast offers options. Brian, Colm & Lorcan take the tarmac, Alicia, Jarlath & myself take the eroded trail, Tim wins the walking race with the trail off the road bend. Justin joins with some new route theories. We pass those of the opposing direction in jovial mood, but as the lap passes there is some jogging just in case we might miss the hour. The lack of a watch is getting serious.
Lap 7 sees us racing the anti-clockwise direction. From the first control Sébastien is gone. I am leading Peter and Silvano up the climb, before Peter tests our appetite for speed. Descending the forest we try out Justin's suggestions and we all approve. By the last control Silvano is pulling away. Sébastien is still out of sight, but later confides that he slowed slightly when the lack of runners concerned him. Eventually Silvano entered his vision and with that re-assurance Sébastien led us home. Zoran drops the hint that his knee is dodgy. Is the constant stop/start beginning to cause some joints to seize?
Lap 8 saw the field divided once more… same split meant Silvano and I teamed up again. Well we did for a bit of it anyway. We met the opposition the at the Lucozade arch. A finish line at half way… Silvano pushes on and I hang on, but eventually I succumb to the warm glow of the sugar crash. A change of tack is required and I hit the lemonade in transition. Peter arrived in at the head of the clockwise gang and announced it was a caffeine inspired lap…. We think he's cranking up the gears. Zoran is thinking of dropping. Sandbagging?
Lap 9 sees us balancing the lap count. This time Silvano does the hanging. Tactics? We met the guys in the usual spot; Sébastien, Peter, John, Zoran & Tim were well bunched. Is their race of 5 going to better our duo? Emerging from the forest we can saw Tim & Zoran racing for the line. They've dropped the lads. Has the tide turned? Sébastien & John follow in shortly after, but Peter has allowed a gap to form. Peter thinks his challenge has gone. John grabs the last Tuc to make sure there is not comeback.
Lap 10 is the reverse of lap six. Silvano is now having knee trouble. Lavaredo is on the back of his mind and he returns to the start. Alicia, Tim, Jarlath and myself saunter around clockwise trying to recall where we were 10 hours ago. Emmm, we were exactly here… and so another lap goes by… only 2 to go. Both more than likely scoring runs, but we just don't know.
Lap 11 started with the announcement of a clockwise circuit, but with a twist. The first home would get to choose the direction of their last lap. Each runner thereafter would run in alternate directions. Me thinks the RD has been watching Barkley Marathons documentaries. Silvano has decided to save his knee for the Dolomites. I can only guess, but I am sure that Sébastien is leading by 5-6 minutes. I could be second and if so I want to make sure any victory is earned. Off we go charging with renewed vigour. The pace is down, but the effort is not. Tim has decided it is time to move and wants the choice as well as a second lap to his name. No words are shared as we pass each control. Too much at stake to go beyond cordial. From Control 5 we hit the old Wicklow Way. The rough descent gives an opportunity. I just hope by choice of road shoes doesn't back fire right now. The dash home is conflicted between the need to focus on the controls and the analysis of optimum direction for Lap 12. I choose anti-clockwise.
The final lap sees 11 starters. Tim, Sébastien, John & Co head southeast, while myself, Zoran, Peter and our cohort head west. The effort is related to the prize on the line. Sébastien wins the race to our parting, but that is only 100 metres into the lap. From there the field splits and stretches out. I set the goal of running it all, hoped that would be enough. I met Tim on the fireroad above the mast. Both making an effort to shout encouragement. Next it was John, then Sébastien. The technical descent is challenging the ability to coordinate my footfall. The pool of blood left behind by a Barretstown hiker reminds us all to stay alert. Each little climb on the run home is counted off for the final time. Familiarity helps the lap pass. Each runner taking their final finishing line is greeted with cheers from the gathered volunteers and supporters. One by one we cross the line and turn to welcome the next runner.
Many thanks to Adrian for the superb planning, the 2 hours course marking on Saturday, the 14 hours taking care of us on the day and for de-marking today. Thanks to all the volunteers throughout the day (that includes Anthony 'fake news' O'Reilly).
If we had special category prizes I think that 'Most Combative' would have to be Sébastien for leading out every single lap, and best strategy would probably be Tim who moved from 12th to 3rd over the 9 scoring laps. Special mention to Alicia who ran a very smart race, improved with every lap/lesson and powered home over the final 2 laps. Another couple of laps and who knows what might have been?
With only one race for hindsight to interpret I think most questions are still open, but looking at the speed for the non-scoring laps it would seem that the slower the pace the better. Now if only we'd had a watch by which to judge it.
Scoring Lap Average Times
1/1095/Greg 35:58
2/1462/Sebastien 37:47
3/488/Tim 39:47
4/758/John 40:03
5/165/Peter 40:35
6/281/Zoran 41:34
7/1326/Lorcan 46:07
8/966/Colm 50:10
9/737/Alicia 50:27
10/854/Brian 50:32
11/832/Jarlath 52:10
Non-scoring lap Average Times
1/1462/Sebastien 39:12
2/758/John 41:11
3/281/Zoran 41:34
4/165/Peter 44:46
5/1326/Lorcan 45:40
6/854/Brian 46:28
7/966/Colm 46:29
8/1095/Greg 49:03
9/737/Alicia 49:08
10/832/Jarlath 50:33
11/488/Tim 52:33
Ratio of Non-scoring to scoring lap (by finishing order)
1095/Greg 136%
1462/Sebastien 104%
488/Tim 132%
758/John 103%
165/Peter 110%
281/Zoran 100%
1326/Lorcan 99%
966/Colm 93%
737/Alicia 97%
854/Brian 92%
832/Jarlath 97%
Fascinating race. Hopefully happens again. Next time I might volunteer for a 'working' role.