Dublin Peaks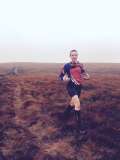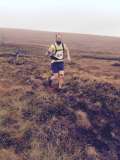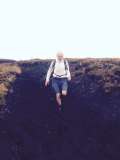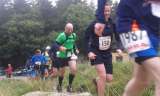 Authors
Laurence Quinn
06 October, 2015
The Dublin Peaks was a race I had marked on the calendar. I was quite familiar with the area and it would be nice to race there. Three Rock is the easiest place to get to for a hillrun from Dublin and I had been up Kippure at least twice from the Bog Road. The only part I was not familiar with was heading over the Glendoo Ridge. So I dedicated the two Wednesdays before the race to cycling up there and recceing coming off Tibradden, climbing to Glendoo in search of the child's shoe and coming off Glendoo to get to the Bog Road.
The distance was definitely on my limit and my body can be a bit unpredictable once I pass the 20km mark in the hills. Indeed my route for the Dublin Peaks was the furthest I have ever run in one go. I misjudged my food on the day and only ate Haribo during the two hours before the race as I had forgot to bring anything else. Even still I felt good to go when 12pm came.
I knew it was going to be a long day and I didn't know if my legs would be up for it. After cramping badly on Leg 3 of the Lug Relay I was nervous. This was a tougher route. But then again I had come through the Mournes without major issues. I didn't take my map out of my bag for the whole race. After the recces I had now run the whole route at one point or another. Gerry Brady led us up the hill once James set us off. I was happy to take it easy here. But then already I found myself in the lead as Andre stalled on the track as the main group cut left into the forest towards the main road going up to the masts. He really wasn't kidding when he said he didn't know the route! I kept it steady but was feeling strong and was happy with how controlled my breathing was. As the road curves round I cut up the small path that continues straight on and then took the right onto the stony track that goes up to Fairy Castle. I was bouncing up and stole a look behind. It was good to see Rob McEvoy there at the front of the group behind me.
I punched at Fairy Castle, experience of this at all those orienteering events saving me a few seconds, and took off for Tibradden. I took it slowly here as I was ahead and took the opportunity to relax for a while. This meant that somebody was right on my tail again. I didn't look around and if they wanted to pass they could have. I was on my own pace now and I was happy to run the race like this. I took the small trail to Tibradden rather than following the Wicklow Way. It is a lot shorter, has less climb and although it gets wet you can run along it at a decent pace. I didn't know at the time but Andre Van Barneveld was the one behind me and I could hear him until I started climbing Tibradden. There in no time and punched the second control.
I knew to sway right off Tibradden to avoid the rocks and then drop straight to the forest line. You can still learn a great deal without a recce and I knew to avoid these rocks from satellite images. Now my recce knowledge was kicking in once I crossed the road. This initial climb is the toughest part of the course, high heather on a steep slope. I walked, didn't try too hard even though I could now see Andre and Paul Keville on the road below. I guessed the gap was a minute. I cut across the slope to get to the boggy way up towards Glendoo. This was wet but there are sections of dry peat so if you keep your head up you'll move through it decently. I made sure to run up this whole thing and then followed the fence to Glendoo North and then cut through the terrain to Glendoo South which was the next checkpoint. I looked back and could not see anybody on the mountain behind me. This is where I started to notice that I was climbing better than anybody else.
Liam Vines stabbed my punchcard with what seemed like a golf tee and I beared left. In my recce I went more straight to the bog road and the going was rough. You can't see below the heather but there are holes everywhere, not enjoyable running. Bearing left I would hit a track sooner and the runnability to it was decent. Then I jumped between tracks through 200m or so of burnt heather. This was key for me as I could run solidly through the burnt stuff and didn't want to be thrown around by the terrain (even if it was a little quicker to go more straight). As I approached the car at the bog road I stole a glance or two behind me and could see Andre and Paul taking the straight line. I put the gap at 4-5 minutes and looking at James' bog road splits that's what it was. At the car I took a bit of water and four jellies for the bog road.
I was still feeling pretty good but knew that Kippure could be a gamechanger. After the gap I had made going up Glendoo I knew that climbing Kippure was important for pulling out more time. I felt strong and could run the whole way up. I passed a few of the early starters coming down the hill. I wasn't sure how long the climb was and told myself after a while that I had another kilometre to go and shouted out when I saw the mast appear out of the mist 300m or so ahead. It was very nice to punch there and turn around for the descent.
I marked the time on my watch as I knew I would see the chasers on the way down. I passed Paul and Andre after three minutes of descending. In my mind that was close to a 10 minute gap. This was a very nice realisation and I appreciated the buffer I now had as who knew how the last kilometres would go. Descending was nice and I get plenty of encouragement off everybody still climbing. Hopefully they didn't have any tricks for the route back that I hadn't thought of.
I had planned to cut to the right before the Bog Road and take the main track up the Glendoo ridge but I wanted to get some more fuel on board. I was still feeling pretty good but made sure to take on more water and a few jellies. I changed my mind here and decided to go between Cruagh and Glendoo rather than back over Glendoo. The terrain wasn't too nice but I was happy to walk most of the way up the ridge and then run once I got near the top. I didn't take out my map as I felt pretty confident with the new direction. Then as I neared the top I could see Cruagh to my left. I kept on my line and hit the fence corner perfectly at the top of the boggy track I had earlier run up. Obviously it was much nicer to run down and I was at the R116.
My route back was very similar to the route out with minor deviations. I didn't need to climb back over Tibradden but rather took mountain bike trails that run more or less along the contour between Tibradden and the road. Although I did get nervous at one point when I lost the trail I didn't take too long to find it again and for everything to look familiar. It left me off on the track running from the WW to Tibradden, in the forest just before the open mountain starts. I went over to the WW and followed it back towards Fairy Castle. Of course there was no need to climb over Fairy Castle again and I took the left towards Three Rock Wood.
I was tired and remember looking at my GPS watch a lot, counting the kilometres away. My legs weren't at risk of cramping but they were tight now and I kept it steady coming down into the forest. I did take a look or two behind for a strong finisher in the main field but was relaxed not to see anybody. I followed Gerry Brady's route to the barn and then took a left at the barn, down the hill rather than the track towards the upper car park. That was sneaky. Then cut up onto the road after a while and I could see the finish.
It was nice to be finishing feeling strong in the legs and in the stomach. It was also very nice to hear I had won! The preparation had definitely helped and I had no problem with the route, even with indecision coming back over Glendoo.
My route was 26.25km with 970m of ascent. I think this route was pretty close to optimal although there could be a few little things to further improve it. I had initially planned to hit the junction between the WW and the R116 after descending off Glendoo. This would take close to a kilometre off the distance but I discovered on a recce that after crossing the valley, the 100m before the R116 is a steep slope with nothing to pull yourself up it but brambles! That hurt. I see that a few runners (Rob and Andre) ran around Glendoo on the road. For me that is just too long and although coming back over Glendoo is slow you only have to get to the top before you cruise down to the road again. I think that this route is a small bit quicker than the previous route but not massively due to Glendoo being tougher than Cruagh.
Thank you very much to James for organising this and to all volunteers that make the race possible. Personally I think James did a fantastic job as RD and the information provided on the forum was extremely helpful. The change of checkpoint from Cruagh to Glendoo was very clear. I didn't have any questions at all only because James had them all answered in the information already.
Looking forward to the last race of the year, Powerscourt Ridge!
Dublin Peaks
05 October, 2015 - Andre Van Barneveld
I entered the Dublin Peaks race for a bit of a training run with the intention of testing my discipline, aiming to go out easier than I usually do and wanting to get a few miles in the legs having done a few ultras and longer kms in the hope of building my stamina for the WW solo next year.
My biggest concern was the navigational aspect of the race as it was obvious that the choice of route would have a huge impact on finish time.
The race started with all of us going out easy enough, straight up the hill all the way to the first check point, Fairy Castle, all good, about 6th place clipping my card and on we went, I let the legs stretch out on the way down towards Tibradden and caught up to Laurence at the front, I planned to stick behind him so I would find my way around.
We turned off the WW trail on a little short cut, a narrow, wet little trail that cut across to Tibradden but it was here I went down the first time, falling hard and twisting my knee. I got back up reasonably quickly but had lost sight of Laurence and quite accidentally came across the summit stones with the second punch for the check card. I dropped straight over the side down towards the road through the foot long heather and into the trees and when I got to the road spotted Laurance heading straight across on the way up towards Glendoo summit. I followed him up but that was just a tough, uphill hike through thick heather and wet holes continuing all the way to the top and then across the very rough ground toward the third check point, falling a couple more times on the way. I was now running in third place and just followed other runners as much as I could but felt the route choice was probably not ideal to Bog Road, check point number 4.
At least it would be hard to go wrong now, all the way up to the top of Kippure, a couple of kms of hard slog to the top, I tried to stick to my plan of conserving energy to the top, getting to the mast in third, clipped my last check punch and let rip on the down hill, now in second place.
By the time I got back to the Bog Road check point I was feeling really great and keen to pick the quickest route back. I remembered from discussions at the start that it may be best to turn left and run along the road a bit and look for a trail heading off to the right. I expected a fairly good trail which didn't exist and I realised I must have run past it. I stopped and had a good look at my map and decided my best option might be to run around Glendoo on the road and come back across Tibradden then.
Several kms later and stopping a few times to ask other walkers/runners, I made it back to the summit of Tibradden and set off back to the start, following the WW trail around to miss Fairy Castle summit and through the forest.
I had to ask for directions one more time and then spotted another runner in front of me so followed him back to the start, finishing in third place in just over 3 hours.
30.1kms with just over 1100 metres of ascent, definitely not the most efficient route choices made,
I did run a few kms more than most others but the road kms were pretty quick. All in all a great training day, definitely the roughest terrain I have ever run and I had fallen about 7 times, there is no doubt that knowing the route is a massive advantage in this race so I would advise to recce the course if you are thinking of running it. We couldn't have been luckier with the weather and dry conditions leading up to the day, an awesome race not for the faint hearted or beginner, especially in conditions worse than we experienced....Thanks IMRA, another top event!
Bog Road Splits and Results
04 October, 2015 - James H Cahill
Name Time at Bog Road (Running Time)
Lurence Quinn 12.57 (0.56)
Paul Kelville 13.02 (1.01)
Andre Van Barneveld 13.03 (1.02)
Mathew Sammon 13.05 (1.04)
Damian Kelly 13.08 (1.07)
Warren Swords 13.08 (1.07)
Rob McEvoy 13.08 (1.07)
Conor Kelly 13.08 (1.07)
Gerard Cunningham 13.08 (1.07)
John McGregor 13.08 (1.07)
Olivier Privat 13.08 (1.07)
Aidan Buckley 13.13 (1.12)
Dan Whittaker 13.14 (1.13)
Gerard Keating 13.15 (1.14)
Gerry Brady 13.16 (1.15)
Andreas Kusch 13.16 (1.15)
Joe Lalor 13.16 (1.15)
Keith Mulvey 12.20 (1.17)
James Curran 13.21 (1.20)
Donnough Shaffrey 13.21 (1.20)
Don Hannon 12.24 (1.21)
Siobhra O Sullivan 12.24 (1.21)
Derek Livingstone 12.24 (1.21)
Gavan Doherty 13.23 (1.22)
Lorcan Farrell 13.27 (1.26)
Inigo Alana 13.33 (1.31)
Paul O Grady 12.40 (1.37)
Dermot McNamara 12.40 (1.37)
Barry Coyle 12.40 (1.37)
Syl Ivers 13.39 (1.38)
Karan Johns 13.46 (1.45)
Brendan Coghlan 13.46 (1.45)
Anglela Flynn 13.03 (2.00)
John Fitzgerald 13.09 (2.06)
Gordon Douglas 13.10 (2.07)
Short
1 247 Gerard Keating M40 137.57
2 1601 Gerry Brady M60 153.09
3 92 James Curran M50 162.58
4 1420 Inigo Alana M40 173.55
5 670 Donnough Shaffrey M40 180.12
6 604 Barry Coyle M 191.7
7 1607 Karen Johns F40 202.33
8 1063 Angela Flynn F40 230.03
9 21 John Fitzgerald M40 251.72
10 561 Gordon Douglas M40 254.59
11 150 Paul O'Grady M 263.67
Long
1 504 Laurence Quinn M 160.1
2 1102 Olivier Privat M40 184.11
3 1077 Andre Van Barneveld M40 184.43
4 439 Damian Kelly M40 189.31
5 879 Conor Kelly77 M 191.39
6 321 John McGregor M40 193.26
7 120 Matthew Sammon M 193.37
8 469 Warren Swords M 194.26
9 210 Gerard Cunningham M40 196.11
10 501 Paul Keville M 203.32
11 1360 Robert McEvoy M 218.16
12 1294 Aidan Buckley M 219.01
13 253 Joe Lalor M60 229.56
14 789 Siobhra O'Sullivan F 234.62
15 463 Don Hannon M40 234.64
16 1188 Daniel Whittaker M40 236.55
17 22 Derek Livingstone M40 245.72
18 243 Keith Mulvey M40 257.66
19 405 Andreas Kusch M40 261.28
20 198 Dermot McNamara M 263.11
21 1236 Gavan Doherty M40 266.59
22 1454 Brendan Coghlan M40 284.42
23 1107 Syl Ivers. M50 285.12
24 1239 Lorcan Farrell M DNF
A Visit to the Iconic Dublin Peaks
03 October, 2015 - Gerry Brady
The Dublin Peaks lived up to its grand title with a challenging and varied run across some of the most iconic peaks in the Dublin mountains. The course goes from just inside the entrance to Ticknock forest to the top of Kippure via Fairy Castle, Tibradden, Glendoo, the start of the bog road to Kippure (short course turnaround point) and Kippure.
A slow start along a narrow path opened up a little after we reached the higher car park on the circuit road in Three Rock. Runners began to position themselves with more serious intent as the field split up. Some runners stayed on the path towards an old red barn until they reached a sharp left – essentially following two sides of a triangle while other runners took a slightly faster diagonal through the woods. We rejoined each other just below where a major path turns right towards Kilmashogue. Just beyond that junction we came to a sharp left turn in the road and that was the cue to leave the road for a short cut to the lower aerial masts. A sharp right here and a drag up to Fairy Castle. The trail up to the summit is quite broken but a couple of small trails emerge from the woods below raising the question of whether there is a better route choice to Fairy Castle given how many mountain-bike trails are being made in the forest.
At the trig point, we veered right for the descent towards Tibradden. On the way we joined the Wicklow Way (I noted the junction carefully as it will be of relevance on the way back). The runners ahead of me took a short cut through the forest to Tibradden. The going is generally good if a little wet and a fence has to be crossed at strategic points to get the best ground. Tibradden summit can be seen from a distance and I was fortunate to see those runners find a small trail through the heather for the final ascent.
I descend immediately behind the summit following lines of less resistance in the undergrowth. It is not too bad and the forest below is very open making for an easy descent to the road. On the way down through the heather, I noticed what looked like a nice bog path for the climb up towards Glendoo on the open mountain however access to it from the road is not so easy so I decide to keep to my planned route of turning right on the road and climbing at the edge of the Pine Forest. However I notice a runner immediately entering the forest and then Ger Cunningham follows him. Ger is a very experienced orienteer so I hesitate and decide to follow! I keep a bit to the right in the forest and it quickly begins to look scary. This is serious forest and you could emerge with a back that looks like a sailor's after he was given nine lashes. Too late to turn back and I hesitantly climb looking for areas where the light is getting through the trees. After a while I cross a faint path going in the right direction and I emerge in a large clearing just before the fence that goes to the lower Glendoo summit. The deviation from my planned route has changed the options for the climb to Glendoo. Following the fence to the lower summit has come into play whereas working my way over to the fence that goes up to the higher summit is less tempting as I am no longer at the top of the boardwalk. I opt to go straight through the heather hoping for light vegetation or walkers trails. I find neither and it is a slog the whole way. On my left I see that runners going via the lower summit are gaining maybe a minute.
The descent to the Bog road is probably the roughest part of the course. Runners have kept left and right. I keep right but am nearly at the road before I find a path. Time for a gel and some water before turning on the short course for home! Leo Mahon is there to check our arrivals. My plan is to follow the road towards Hellfire for a while and then the trails over to Cruagh. Another runner is just ahead of me so I decide to leave the road early hoping for friendly heather. I can see the trail option is faster and take my lesson. On the ridge I meet a path and turn left, a mistake. As I happily descend with a forest on my right I gradually accept that I am not going in the right direction. I have strayed onto Kilakee mountain and have to retrace my steps. I am still uncertain but gradually everything falls into place and I head straight to the boardwalk. This descent is simple and quick and I turn right when I hit the forest track. On the bend I cut in and follow a narrow winding trail down to the road – this was my planned ascent on the way out.
On the road I turn right and retrace my steps to Tibradden and the Wicklow Way junction. Here I leave my outwards route and follow the Wicklow Way until just beyond it meets a forest. A diagonal path on my right drops through the forest onto the main path from Three Rock to Kilmashogue. I turn right and then a left brings me down to the old red barn. I take the road option rather than the forest track and eventually enter the forest just before the main entrance.
A great course and very well organised race. On the way out I reached Fairy Castle in 17:53 which is just over four minutes faster than Gerry Healy and myself had ran in 1991 for the up and down via the edge of the forest. Those days are long gone.