Stone Cross to Lug Relay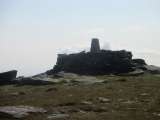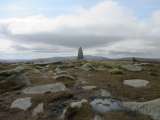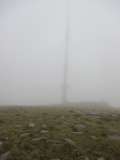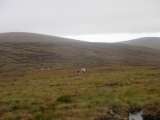 Authors
Laurence Quinn
09 October, 2015
The Stone Cross to Lug Relay was a race that I had noted on the IMRA calendar and was really hopeful that it would go ahead. When Eoin Syron stepped in as race director I was delighted. I had run it once before on a GEN team with my brother and Alan Ayling, with myself taking on Leg 2.
We put out the word to the UCD orienteering club and there was a pretty good response so it looked like we would have 2 teams. Things did get complicated at times with Colm doing in his ankle at the Nav Challenge the week before and the Corbetts ditching us for 'Straight Outta Maryborough' but Ben Mangan and Conor Short were able to fill the gaps.
For some reason I began to fancy doing Leg 3 even though I was not running during the three weeks before the race. I had run Leg 1 before on a recce pre the 2012 race so this would complete the route. Besides I had never been on top of Canavalla, Camenabologue or Lugnaquilla so what a perfect way to visit all three.
I was so excited about the race that I chose to head up with our first leg runners, Aoife and Roisín, to help out at the kit check even though I had only arrived back in Ireland seven hours previously. Anyway it was good to see them off and we watched as they went over Seehan and Corrig before continuing on to the Sally Gap. It was cold there and I didn't spend much time out of the car. The girls did really well and Ben and Jonny were off. Jonny wasn't looking forward to Leg 2 after all the horror stories of Barnacullian Ridge he had heard so I told him to try and avoid it by running to the east. I think it worked out decently for him.
It's a long drive to the Wicklow Gap and you really appreciate the journey that everyone was making on Leg 2. We had about an hour to hang around once there. After many false alarms my dad announced through his binoculars that there was a runner coming down off Tonlagee in a blue top. That sounded like it was going to be Ben and sure it was. I readied myself and waited by the road and I was off along the service road. Earlier we had debated where to cut up and I did it later than Cillín and Conor I think. Then a little more along the service road and then a second cut up through the terrain. Looking back here I couldn't see anybody coming down Tonlagee so perhaps I had a gap. It turns out I had a gap of about 10 minutes to Cillín and 15 minutes to Conor but I spent most of the race looking back anyway.
The start of the route is simple enough, up the road to the resevoir and then a right over to the communications hut. I touched it and headed in the direction of Lough Firrib. I didn't want to go all the way around but I did want to save height. After 200-300m I cut down through the terrain. It was heathery but not too bad and there were dry peaty sections to help out. I crossed the valley and started to climb. I wasn't running much here with my lungs enjoying their reconaissance with running but kept moving up the hill. My direction wasn't perfect though and I hit the top of the ridge to the north-east of Conavalla and was straight into the bog I was trying to avoid. It was slow going but I knew this was probably the only bog I would meet for the rest of the day. The summit was nice and occupied by a few sheep.
At the top I was kind of doubting myself as I couldn't match what I saw across the valley towards Table Track with my map. Is that the ridge with Table Track? Am I on the right summit? Stupid questions. I headed downhill into the valley. I tried to pick it up a bit here as I had been taking it easy to begin with. After crossing the river I tried to run most of the climb. It wasn't possible with some of the heather but once I reached the track I was able to run all the way to Table Track junction and over Camenabologue.
From here I followed the small path towards Cannow and Lugnaquilla. I was quite warm and wished I had some water but in general felt pretty good. After starting the climb towards Lugnaquilla I was hurting. The path was kind of crappy here, muddy and easy to lose. I also could see somebody in a yellow shirt running down off Camenabologue. I guessed the gap was close to 10 minutes so I wasn't too worried. All I needed to do was keep myself moving up to Lugnaquilla and then I would cruise down to Fentons. That plan didn't exactly work out.
The climb up to Cannow was nice for runnability but in the heat I was struggling. It was a 50:50 run walk for me which I think was ok for that section of the course. I kept an eye out for the cairn at Cannow, which I had not been able to locate on any map but it appeared kindly ahead of me. I touched it and passed two walkers who instructed me I was heading towards Lugnaquilla. I would have had to have been mad not to have known. I had felt the first signs of cramp just before Cannow so was shuffling along to Lugnaquilla. Towards the top I had to stop for a few seconds and admire the view because the weather was great. I could see miles and miles back over the Wicklow Mountains.
The descent off Lugnaquilla did not go to plan. The steepness at the start upset me and I developed a bad stitch. I thought it would go away but it stayed with me to the finish. It was a crippling pain and as if that wasn't enough I began to get cramp in both my calves. It was not the enjoyable fast descent I had dreamt of. I could see I still had a 6-7 minute gap on yellow man so I was confident I could hold it off. But the run to Camara Hill kept coming and coming and yellow man was getting closer and closer.
Once I hit the road I became more confident but then the cramps became stronger. To make matters worse there were spectators all the way to Fentons. I asked my Dad how far it was to Fentons. "300-400 metres", he answered. Wow, it looks like more on the map. I'll take that I thought to myself. But the next guy I asked said 1km. That had me cursing. Eventually I took the left turn and was on the final straight. Fortunately the cramps held off from here. I kept looking back for yellow man but I had enough of a cushion and came in about 2 minutes clear.
What a relief! I thought yellow man (Cillín) was going to get me but Ben had done enough on Leg 2. It was great to be at Fentons. My legs were gone but a good BBQ started and I enjoyed the company and sunshine. That can only have been good for me.
I can now fully appreciate Colm Hill's 107 minutes after I took 134 minutes. I was happy given my recent training and really happy to have been up Lug for the first time. If I run this race again next year I'll probably be looking to take on Leg 3 again!
Stonce Cross to Lug II
10 September, 2015 - Maike Jürgens
Stone cross 2015 race report
After finishing the stone cross to lug relay as a solo runner in 2014, I was hooked and wanted to run again in 2015. Thankfully, Eoin Syron signed up as a race director to make sure the relay and solo run would go ahead. He also got together a cheerful crew of volunteers – an indispensable support during such a long race.
Preparations were not very focused since so many other things were going on so on the day, I had no idea how long my legs would last.
There were 5 of us setting off at 6.30 in the morning to Eoin's "it is 6.30 now, you can go". A short jog along the fireroad and I decided to try a new route that people had found during the West Dublin Peaks race. It turned out to be longer (or slower?) and I fell a little bit behind. On top of Seehan my jacket came off and another 20 s were lost. Oh well. It was early days still and I just kept jogging on, enjoying the morning and the fact I was out for the day. A quick (well a bit longer) peak over to the left when leaving Corrig showed a beautiful sunrise over Dublin. Hopefully, we would have a lovely day. Seefingan touched and over towards Kippure. Obviously, it was in the clouds and the compass had to come out to make sure, I wouldn't go off course in the maze of peat hags. Touch the trip point and because it was so misty, going down the service road was definitely the safer and faster option. I met Daniela here and we had a good chat all the way to the sally gap which meant time passed quickly on the only long road section of the race. About 13 min faster than last year (Daniela wondered whether that was good or bad and I had no clue). A quick bite to eat and sip of water and off we went again, it was freezing (and had been for most of leg 1). Different routes up Carrigvore didn't make much of a difference, different routes down the other side didn't make too much of a difference either so we reached the boggy section together (pretty much). Daniela shouted something about not going one way, I replied "I got away with it last week" and promptly landed in a bog hole up to my knees. Oops. My legs were freezing for a good while afterwards. Over Duff Hill and towards Mullaghcleevaun East Top. Looking back I could see the first relay runners appearing. A welcome distraction on the run over towards East top and Mullaghcleevaun. It was amazing to see that the relay runners seemed to hit Mullaghcleevaun within about 15 min of each other, it looked like a fairly close race. I got a bit chilly here and really wished for a hot, sweet cup of tea which reminded me that I better eat and drink. It was like that for the rest of the day, imaginary conversations with handover people on how it was going turned out to be a great reminder on that I should eat and drink and that my legs were feeling fine and better than last year.
At the Wicklow gap, Daniela was 2 minutes ahead but we had time for a bit of a chat before the was off and I offered my cheese to all around (to great amusement of everyone – seems like cheese is not a usual food supply ☺ at long distance races). Bread roll in one and a block of cheese in the other hand I set up the short cuts and service road to Turlough Hill. Eating something real was a nice distraction here and time was flying. I remembered that my phone still had the 3G running so to conserve battery I turned it off and sent a quick message to Mike to say how I was getting on. Daniela closely ahead, I set off for Lough Firrib. A quick chat with passing walkers and Joe Lalor flew past in the distance and I figured he must know the best route so it would be smarter to set off after him (I heard later Daniela scared him popping out behind a peat hag and then had the same idea).
I found a cairn on top of Conavalla but seeing as there are more than one I figured going along the top for a little while before turning right towards the valley was the way to go. Once I turned, I got very confused when a I saw forest the other side of the valley. I had gone too far. Oh well, better get down and across. It turned out it worked fine, it was a runnable downhill in a dry riverbed and then following sheeptracks towards the river. Going up the other side wasn't half as bad as the route I took last year and I hit the track earlier than last year so got up to table track junction quite quickly. I had done a bit of route time planning in my head on the way over and figured that if I got to table track junction it would be 2 h to the finish. I got there at about 14.20 which meant a sub 10 h finish was within reach. Better push on so. I got the Ribena out of my bag together with a bag of vegetarian Bodo the Bear jelly sweets. The Ribena got me to the top of Camenabologue and the jellies provided energy to the finish. I saw the 3 guys that started with us and a bright yellow top that had to be Daniela closely ahead and kept catching up. I caught up with the four around Cannow and we reached the top of Lugnaquilla pretty much together. Every time I felt tired (which probably was every 2 minutes), I ate some jellies and took a sip of water and the sugar rush made sure I kept going. Trying to keep up with Daniela on the Lug descent meant we reached the fireroad to the finish closely together, amazing considering we had taken different lines and routes all day. Also, we agreed that we probably pushed each other all day which meant 9h 41 min, a 1 h improvement (more exactly 58 min i think) on my time from the year before. As opposed to last year, I managed to run all the fireroad (I must have gotten something right during "training" or blame Bodo the Bear sweets). Finishing together gave Eoin a short headache but it was a great reception at Fenton's with loads of relay teams still around, a burger from the barbeque waiting and a lot of chat and catching up.
Thanks all for a great day, especially Eoin for race directing and Daniela for company and cake.
Stone Cross to Lug Solo 2015
07 September, 2015 - John Dempsey79
Super race, thanks to Eoin Syron for organising this year to give me and all the others a chance to race it. Brutal tough course, straight through the most beautiful parts of the Wicklow Mountains. It was a privilege to be able to see this part of Ireland.
Training for this race was the same as any other – could have been better. Averaging 20 – 25 k per week in April I brought it up to 35k per week in May, lost my way in June before hitting 45k per week in July and about 65k per week for August, still pretty low. Goal for the race was to complete, I reckoned I had about 8hrs 30mins in me and that became the target.
Having not ever done any orienteering and with limited open mountain racing behind me, navigation was going to be a big part. I was confident however that I had enough wherewithal and had done my homework plotting out bearings for this race and previous ones that it wouldn't be a problem. Three small kids and a travel time of over an hour to any part of the course meant that recce's were never going to happen.
I barely spoke about the race at all leading up to it, if I didn't have to talk about it then it didn't seem so impossible to tackle. This worked grand up until the night before the race when 4 hours sleep seemed the least of my worries.
Food and water all packed across three bags, mandatory kit and spare clothing all stowed, and I was standing chatting with several other hardy souls near the stone cross in South County Dublin that gives the race half its name. General chit chat interspersed with talk of route choice made for an interesting 30 mins. Eoin called us together, last minute run through and we're off up the fire road towards the top of Seahan, the first of 17 mountain tops plus 4 additional locations to be visited.
Faced with a long hard day in front of me like that I did the only I would do – try to keep up with the relay teams!! It wasn't until I had crossed both Seahan and Corrig, and I was halfway along the ridge towards Seefingan that I finally reigned it back in and let those near me off, 30 minutes in and the heart rate had been far too high so far. I took the opportunity to walk up Seefingan and get some food into me. This was the pattern for the day, walk the uphill's and try a few bites of food or a gel while at it.
Summiting Seefingan I made the smartest move of the race, I hooked up with two fantastic orienteers Rob McEvoy and Josh O'Sullivan, both from Cork. I stuck with them for most of the race thereafter and learned a huge amount from them both. Bog running, map reading, contouring, line selection, attack points, these guys taught me bucket loads just by running along with them.
The hook up was just in time too, coming off Seefingan I was hit by the sight of our first bog field of the day. It was an impressively large sight but Josh and Rob had already picked their line and were off. "Stay off the top and run along the bottom of the hags" Rob shouted back. Sure enough it was a good strategy and we were off kicking up black peat behind us heading for Kippure. Kippure sure is one big lump of a mountain, and with only the very top of it covered in fog, it was an impressive sight to be heading for. The fog was thick enough that the mast only became visible from about 200m.
Some of the talk at the start had been about route choice coming down the far side of Kippure. The choice was a direct line across the bog, or a longer route running down the surfaced access road. Conscious of the long day ahead we chose to conserve energy and take the access road. In hindsight this was the correct choice as we didn't seem to lose time on others.
Plodding along the Military road the end of Leg 1 and with the first bag drop for solo runners minutes away, I found myself longing for a mug of tea. I settled instead for the can of coke and ham sandwich that I had packed and restocked my backpack with water and food. I also had a decision to make regarding my water supply.
With perfect timing the water bladder in my backpack had sprung a leak at 9:50pm the night before the race, right where the tube junctions the bladder. I decided to superglue and fill it overnight to see how it performed. The next morning I was disappointed to see it was still leaking with perhaps only 30% of the water still in it. I made the decision race morning that I would chance the bladder for the convenience of carrying it, but leave two small bottles in my first drop bag to carry if I needed them. That was a good decision as I still had some water left at the end of the first leg. I made another good decision to refill the bladder and take it with me for the second leg, but made a bad decision in not carrying one of the other bottles as back up. Leg one took 1:47 and I had consumed one energy bar and one standard gel. It was an unintentionally leisurely stop as it turns out and several runners over took me, either running straight through or not stopping nearly as long.
The two lads had left the checkpoint about a minute before me and I spent a lot of the climb up Carrigvoher trying to catch up with them but not blow a gasket. Managed it before the top anyway. Descending Carrigvoher we fortuitously (for me) caught up with Jim Breyfogle before yet another soggy bog field. I took my eye off the ball somewhere along here. Whilst we were all 4 running in the same vicinity I was following my own line separate to Rob & Josh. Following a rather spectacular jump from the top of a peat hag down to the bog I hadn't really looked at my target landing sight and found myself up to my waist in slushy black stuff. A very brief "Oh crap" moment was followed by the realisation that I had three runners nearby, luckily Jim was right behind me and managed to help me out. It was a silly error and one I won't make again. As coincidences go, Josh was helping Rob out of a very similar situation only 15 meters away at the exact same time.
Gravale was next to be summited. At the top we had a perfect view of our next target Duffy Hill and the very steep climb ahead of us. Before that however we had to get down off Gravale. What a horrible descent. Quite steep heading down, we had to traverse a field of grass covering really uneven tussocky (word?) ground. I hated this bit for two reasons, the horrible underfoot conditions of the descent, and every step I took down I'd have to climb up again that awful looking slope in front of us.
Climbing Duffy Hill the watch registered no pace – it was painfully slow. Climbing up the same tussocky ground it took an effort. Somewhere going up here I managed to stick with Rob & Josh but we pulled away from Jim. Across the top and the lads were plotting the route to Mullaghcleevaun East. Decision made was to contour west towards more open bog in order to avoid losing any more elevation than necessary. It felt good to get off that uneven ground and back onto some good sloppy bog!
A rather uneventful climb towards Mullaghcleevaun East was rewarded with more stunning views, including the boggy ridge below us to be crossed on the way to Mullaghcleevaun proper. Graham Bushe was another solo runner and his bright orange top had been visible in various different locations ahead of us for most of the run so far. We appeared to be closing the last while and we all reached the trig point on Mullaghcleevaun within seconds of each other. Graham took a short break here whilst we pressed on.
Up next was the dreaded Barnacuillian Ridge, a vast bog renowned for holding huge amounts of water. All the advice both myself and the two lads had garnered beforehand said to stay East and make our way along the top of the steep fall off towards the Glenmacnass River. Whilst we managed to maintain fairly dry peat underfoot, there were a lot of small streams to be crossed. These streams had of course eroded fairly deep tracks that involved a lot of slipping down leaping across and climbing up steep peaty banks for each of these streams. Great fun on fresh legs, cramp city coming as they did halfway through an 8 hour race.
Stony Top came and went. The climbing continued alongside the cliffs of Lough Ouler on our way to the top of Tonelagee. This being the only part of the course I had ever been on before, I did my bit for local tourism with the two Cork boys, pointing out the stunning views down to Lough Ouler as well as translating Tonelagee from Irish back to English for them (Backside to the wind).
The descent off Tonelagee is one of the fastest around, but my legs were in no fit state to be taking it on at any sort of speed. What followed so was a slow sore shuffle down the steep hillside and over to the end of leg 2 and my second drop bag. During leg 2 I had consumed an energy bar, a banana, a standard gel, a caffeinated gel and a few wine gums.
My leaky water bladder had ran dry on the climb up Stony Top and by this stage I was really regretting not having grabbed one of my spare bottles form the first drop bag. Of course I hadn't thought to leave another bottle in this drop bag and I had no choice but to refill the leaky backpack and pray for the best. Leg 3 being the longest, what could go wrong? Anyway, another ham sandwich and a can of coke, a change of tops and again about a minute after the two lads as they set off up the tarmac road to Turlough Hill reservoir. I had been saying to the pair of them all along not to wait for me at any stage, do their own thing, but if they didn't mind I'd follow them as long as I could. They seemed happy enough, I was delighted for the company and the guidance.
We were all starting to suffer at this stage and reference was made to the three women on Kilnascully as we power walked our way up most of the road. None of us were looking to take any shortcuts off road and we stuck to the big loops up the hill side. Looking back it doesn't seem as if we lost much time with this decision.
After a short discussion regarding the location of the communications hut it was found, we touched it, and we were off. We had a wonderful view of our next target Counavalla, the only problem was the valley between us. The experienced orienteers that they are, Rob & Josh didn't want to lose any elevation that they didn't have to. More contouring ensued. I was feeling the pinch at this stage and was conscious of trying to make my water last, yet wanting to drink as much of it as I could before it leaked away.
After crossing yet more open bog we hit the top of the spur the lads had been aiming for and only one more obstacle between us and Counavalla, the wonderfully named "Hag's Sloughs". This was surely the place that Peter Jackson brought the two little hobbits to film them crossing the Dead Marshes as they tried to get in through the back door into Mordor. A sloppy wet black expanse, it certainly lived up to its name. Anyway no one got into trouble and a rendezvous with Graham once more at the summit of Counavalla.
Next up was Table Track junction and a similar problem of contour or straight across down and up. Somewhere along here Rob & Josh both clocked up their first ever marathon distances in a time of 6 hours +. Rob & Josh contoured, Graham took a more direct line, we all hit Table Track junction together. I had decided at this stage that there was no way I could attempt to outsprint the two lads at the end after following them for most of the way. When the finish came I'd trot in maybe ten seconds behind them.
By this stage I was out of water and knew that there was at least another 12 k of this and probably two hours left. After finding the leak in the bladder the night before I had decided to place the bladder inside a regular plastic shopping bag. At Table Track junction Josh helped me to spill the water sloshing around inside the shopping bag back into the bladder, it was probably about 250ml.
Hydration crisis postponed we set off to climb Camenabologue. Josh appeared to be suffering on the descent off Camenabologue but persevered. We stopped for a few minutes in the Imaal Gap, Lugnaquilla stood massively in front of us indicating an end to our climbing. As we were about to set off three runners appeared from our right and started into the long climb towards Cannow and Lugnaquilla 100m in front of us, and we could see Graham at about 200m behind us. Over seven hours into a mountain ultra of which just 18 people started, and here are seven solo runners all within a few hundred meters of each other – amazing.
The sight of the others was all the encouragement Josh needed and he took off up the slope after them. We caught and passed Jarlath but Duncan and Jim were staying ahead of us. As we came onto the shoulder of Cannow I took my last gel and when I went for water there was only a dribble. Head down, power on, I kept running. This was the only climb that I mostly ran, the rest of them were almost exclusively walked. I appeared to be closing in on Duncan and Jim, but when I glanced back I had put a bit of distance back to Rob & Josh behind.
Shortly before we got to the top of Cannow I caught Duncan and Jim. We had a brief chat about where Cannow summit actually was as it was a required checkpoint. We didn't realise we were standing on the top of Cannow at the time and mistakenly took off for a prominence to the North East of Lug. It was a small error as it only added a few minutes at most to our time.
With almost all the elevation gained at this stage it was a short and easy trot over to the trig point on Lugnaquilla itself. Skirting alongside the cliffs of the South Prison we had a great view. Duncan overtook me here and got to the trig point first with Jim on my heels. After an all too brief glance around the amazing views on offer I considered that we were still in a race. I took a bearing from my compass and off I shot in the direction of our final mandatory summit Camara. This time the route took me alongside the cliffs of the North Prison and yet more amazing views.
Things got a bot gnarly in short as the ground steepened and the lovely grass was replaced with lots of big stones and boulders. Duncan and Jim caught up with me here and we regrouped for a few minutes after the rocky slope. Somewhere along here Jim tells me he's run about 150 ultras!
Anyway on we press and I happen to open up a small gap on the nice fast decent towards Camara. All thoughts of chivalry were gone at this stage and I redlined it up the small climb to summit Camara. The grassy descent on the far side was slower and trickier than it looked. As I hit the gate out onto the laneway I looked back for the first time and could see no one. Out onto the lane I pushed hard but was conscious that there was still about 2k to go. They were definitely the flattest and the hardest 2k of the whole race.
Up ahead I see a few lads out standing on the final turn of the laneway clapping me in, I can smell the BBQ at this stage, out onto the road, woddle around the corner and into the small courtyard in front of Fenton's.
Shattered and delighted, I managed to finish my first ever ultra. Jim, Duncan, Graham, Rob & Josh all come in hot on my heels. An 8 hour 15 min race, and 6 of us all finish within 4 minutes of each other.
On leg 3 I consumed 1 energy bar, 1 regular gel, 1 caffeinated gel, 1 chomp bar, 2 bananas and half a packet of wine gums.
Fantastic race and thanks again to Eoin Syron for stepping up to do Race Director so the rest of us could get a full day out in the beautiful Wicklow Mountains.