Howth Summer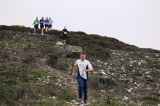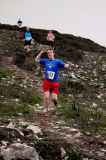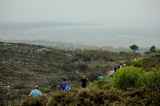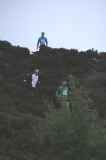 Description:

Avg Ascent/Descent Grade 4.9%/5.2%

County:

Dublin

Date:

Wednesday 4 May, 2011

Time:

19:30

Climb (m):

376

Distance (km):

7.85

Event Difficulty:

6 (2,2,2) - Moderate Terrain, 200M - 500M ascent, 6Km - 10Km

Race Marking:

- Route fully marked

GPS Allowed:

Yes

Leagues:

Entry details:

No entry details have been entered for this event yet. Entries for league events usually open a couple of weeks before the event

Vouchers Allowed:

No. Online entry only for this race.

Route Description:

See route map. Start is at quarry entrance. Run 340m on dusty road to start of lap. Turn right through quarry to join winter race route descent. Take left at t-junction (a right turn here would bring you towards the GAA club) and next right downhill towards Deerpark. Clockwise lap in Deerpark then go straight up the steep climb. Run along long straight for 250m and take first right. Go straight through various junctions and then a narrow left. Turn left at way marker to go up to aerial mast summit. Take narrow path descent behind mast and go straight across the road. Do a second lap if you were born before 1996! When you reach road after second lap, turn right and the finish is at the start.

Getting There:

See location map. Public transport users can take 31B bus which passes car park on main road which is being used for registration. Alternatively take DART to Sutton and walk to Sutton cross (<5 minutes) and go to 31B bus stop. Car users, coming from city, turn right at Sutton cross and watch for runners at bus stop.

Organisers Instructions:

GAA grounds are not available so please read these notes carefully. The registartion car park is on a busy road which must be crossed to get to the start, be careful crossing this road.

Car parking and registration is 400m on Sutton side of Summit pub (prizegiving) and race will start at quarry entrance which is 900m from Summit pub. See maps on event page to see location of car park, pub, and start. Note that the route map on the event page is the GAA start route.

Be very aware of numerous rocks underfoot throughout the lap that could result in a nasty fall or a twisted ankle. In Deerpark, the summit rocks can be slippy while the forest trails are mucky with tree roots and sporadic rock clusters creating dangerous underfoot conditions. Be watchful of head height branches.

Prizegiving Location:

GAA Clubhouse

Notes:

Two laps of 2011 Winter route lap. Admire rhododendrons in full bloom in Deerpark!
Volunteers (Non-Running)
You need to have done 2 non-running volunteer roles in a calendar year to qualify for end of year prize
Volunteers (Running)
Check with race director if they have a need for people volunteering and running. Race directors need a minimum number of people available throughout the race to make the race work so non-running volunteers are preferable. While it can be helpful, volunteering in a volunteer and race capacity does not count towards qualifying for end of year prize
Carpool
| Driver Surname | Firstname | Location | Passing Through | Departure | Seats Available | Seats Accepted |
| --- | --- | --- | --- | --- | --- | --- |
| Dahl | Torben | Tallaght, Dublin 24 | M50, Howth, Howth Dart Station | 17:45:00 | 4 | 0 |
| Tormey | Keith | Loughlinstown | M50 | 00:00:05 | 3 | 0 |
| Kusch | Andreas | Castleknock/Blanch exit | M 50 | 18:00:00 | 4 | 1 |
| Healy | Gearoid | Clontarf | Clontarf, Sutton | 18:15:00 | 3 | 1 |
Carpool option is not available at this time..