Ballyhouras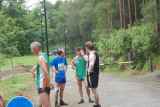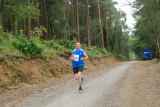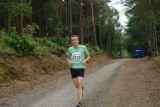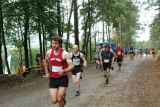 Authors
Brian Flannelly
04 September, 2012
The final race of the Munster League took place last Sunday in the Ballyhouras, and indeed the final race of our official 2012 schedule.
Competitors arrived in the carpark of the Mountain Bike Centre to be greeted by Tom, Ger, Jane and Patricia at registration. There was a flurry of other activity on-going at the venue, with mountain-bikers emerging from and embarking on the purpose-built trails and a road-bike race complete with load car-mounted sirens taking place on the public road outside. Kieran Collins arrived back after marking the course (thanks Kieran) looking like he had been ploughing instead – a word of warning, there were some "man-eating" bog holes up top! The advice was to keep right on approach to any "puddles" up there unless you remembered to bring your snorkel.
Tom issued race instructions and we were off up the forest fire-road and by the time the left-turn for the more intense zig-zag climb was reached about 2km in, the group had spread out into pretty much the final run-in sequence, led by Tim with Curley battling hard in second and Tom getting stronger with every stride next. After another 2km, the summit of Seefin Mountain emerged as the surrounding terrain changed from forest to open mountain, with crags jutting out from the soft peat. After seeing the marker at the turning circle at the highest point of the fire-road, athletes were directed left onto the rough boggy path over the summit consisting of two main peaty plateau's. Negotiating the next ~1km was mighty craic, with the adrenaline pumping in anticipation of the bog-hole(s). Of course for most people, the inevitable happened and there was a share of "mucking" done traversing the Seefin peak. On the other side a sharp left once again brought trails, this time undulating for a while on ever-changing underfoot conditions, before a sharp right and a steep 300m descent onto the fire-road and back to the finish.
We all headed to the Greenwood Inn in nearby Ardpatrick after the race for complimentary tae and sandwiches. Custom-designed IMRA hoodies were given out as end of year prizes to all those who completed 4 or more of the Munster Championship races, whilst those who finished the Munster League had a selection of hats and t-shirts to pick from. It was a fine way to finish off a mighty day on the hills.
Thanks a million to all involved with running this race, in particular to race director Tom Blackburn, Kieran Collins for route marking, Ger Griffin for de-marking, Alison O Callaghen for timing and Jane Griffin for photography.