Stone Cross to Lug Relay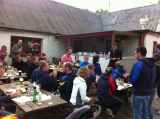 Authors
Oran Murphy
03 August, 2012
The Rubber Arm Squad: Leg 1 Luke Kenny (1.41), Leg 2 Jerome Dupuy (2.40), Leg 3 Oran Murphy (2.36)
Prologue
"Imagine running across sun baked Wicklow mountain tops through the heather with fantastic panoramas- you can almost picture a chopper doing an overhead fly-by with the camera, picking out the different runners across the peaks"... well that's how I sold it to my two potential team mates, Luke Kenny (previous IMRA regular, now living in Vietnam) & Jerome Dupuy (sporadic IMRA participant of French origin) a few weeks in advance. They agreed to sign up (well more like they were sent a copy of the scanned entry form!). Fingers were crossed for good weather forecasts during the week before the race, as none of us had ever used a map or a compass before, and only I knew part of the route I was about to run (having run the Lug route a number of times). It was going to be an interesting adventure.
Taper
I met Jerome briefly outside Kehoes the evening before the race. Jerome had been designated the role of chief mapper, and had done an exquisite job of laminating individual A4 sections of the routes. . Logistics still needed to be worked out and I explained that he would be picked up by someone he never met around 6:30 in the morning, he would then have to drive that person's car to somewhere he had never been before , which he had to find on a map. After his "bog snorkelling" leg he would then take my car on to another spot he had never been before. The one bit of good news was that he would only need one map! I left Jerome to consider the task in hand.
I was on the way home when Luke, our Leg 1 runner texted to say he hadn't got a compass, so I swung by the athletes village (Bernard Shaw) where Luke was doing a "dynamic" warm up ( to be fair to him, he was wearing a tracksuit top). Luke took the map and compass enthusiastically and parked them beside his pint of Carlsberg. We discussed his pickup time for the morning, allowing for 30 mins. driving and 30 mins. getting lost. We settled on 06:45, Luke seemed confident, me less so.
Race Day
I woke around 8 and had a look outside, it was grim, there would be no sunny panoramas. I texted Jerome, assuming his radio silence meant they had missed the race start. He called back, surprisingly they had made registration, but only by the skin of their teeth (07:45!). He sounded nervous though, giving a weather report of windy & cold, with a visibility of about 50 metres. I wished him luck!
Around 09:40 I got a call from Luke, he seemed a bit downbeat but had finished in 3rd despite losing the compass after 5mins. He claimed he'd had to stick with some other runners until the descent off Kippure as he didn't have a rashers where he was going, so had lost a good few mins. 3rd was pretty good though considering and kept us in the hunt for a podium finish.
Leg 3
I met a couple of IMRA lads I recognised in the carpark at the top of the Wicklow gap. I asked them if they had recce'd the route before or had any tips, no one seemed that confident. We discussed team members and who had been leading going into leg 1, they said they had met a terrified looking French man in a blue top heading off into the clouds in 3rd position cursing his team leader. Sounded like our leg 2 man! Binoculars were out in force trying to identify individuals coming down off the top of Tonelagee from the clouds. Zoran was first, in a clear lead, then another two runners came down the mountain within 15 min., Once someone shouted "blue top", it knew it was on and got changed quickly, strapped up my bag and asked Kevin O'Riordan, who had just finished leg 2, if I should run up the road to Turlough Hill or head across country, he said road.
Wicklow Gap-Turlough Hill-Conavalla
Jerome arrived quickly at the handover spot. He was covered in mud and blood, and looked pretty wrecked, but I think I spotted a smile, it may well have been a grimace! He handed over the team compass and off I headed up Turlough Hill. Starting in 4th place overall,I was keen to maintain this position and kept an even pace & HR up the road to the top of the hill (following Kevin's advice) to try to ensure I didn;t blow up later on. I'd decided beforehand, based on the map lines and a few boggy stories of Lough Firrib, that I'd try to take as direct a line as I could across the various peaks all the way across to Table Track Junction (whatever that was!). Keeping Lug in my view line I descended across the first boggy valley. After 20 mins. of marsh hopping, trying to keep a straight line towards where I thought I should be going, I emerged in the middle of a moon like bog. There appeared to be only one way across to Conavalla, straight through the bog. I spotted some other foot prints so thought I was in luck, until I found myself in waist deep bog and from then on it was case of guessing which bit of bog would be shallower and moving from bog hag to hag. I had a look around to see if there was anyone else taking this route... of course there wasn't. Legs were getting tired at this stage and there was still some serious climbing to go.
Conavalla-Table Track Junction-Camenabologue
I arrived at the top of Conavalla and from there tried to gauge which of the hills in front of me was Table Mountain, which was Camenabologue, and where the hell was Table Track! I didn't really have a clue, so ended up heading for Lug in the background. After a couple of minutes of running I suddenly realised my heading was far too southerly and changed my route back to a more westerly direction, staying higher in the valley. As I climbed the far side of the Valley I had a look over my right hand shoulder and could see another competitor, time to get the skates on... but I was wrecked! I merged from the valley onto small harder surfaced path which led me up to Table Track Junction (I think!) and then onto the cairn at Camenabologue.
Camenabologue-Cannow-Lug
From there I tried to take as direct a line as I could to Lug, not realising there was an actual path. Half way down through the bog and heather, with storm clouds looming I decided it would be a good chance to get my jacket back on and wolf down a banana before the climb to Lug. Whilst changing I noticed another racer go past me , about 100 metres to my right and appearing to be following a trail, damn it! I got my bag strapped on quickly and managed to keep up with him until the very last climb to the cairn at Lug. As he disappeared from view I started following a small path for a few minutes through the clouds, which I thought was leading me to the summit, then out of nowhere the guy who was ahead of me suddenly appeared out of the clouds running towards me "back 400 metres that way" he shouted "Thanks", I guess! (Note to self, this may have been a good opportunity to use a compass)
Lug-Fenton's Pub
From Lug down I thought it would be plain sailing, but trying to run downhill quickly over bogs and rocks is a perilous activity with tired legs and after a few small twists and falls I went over on my ankle pretty badly when trying to jump over a really mucky bit. I stayed down this time writhing in pain, feeling pretty sorry for myself until I realised that the reality was that I'd have to make it down the hill by myself. I looked back up towards Lug, not a soul around. I got running slowly again after a couple of minutes, but compared to the 5.x min/miles I had been doing on the downhill from Lug a month or so ago, I was now descending at 8min/mile pace. Then once I hit the road at the bottom of Camara hill, both calves started cramping and the 1 mile run back to Fenton's Pub was a real slog. I arrived, tired, but happy to be finished. I thought we were in 5th place, but didn't realise that I'd passed a runner (who I thought was a walker) so had managed to maintain 4th to the finish with a total time of 6hrs 57 mins.
Great atmosphere (& BBQ) at the finish line and sharing of similar bog hopping stories. Will definitely be trying again next year to go at least 1 place better! Thanks to all involved in the organisation of the race, real adventuring!
Route Map : http://app.strava.com/activities/15449709 (Distance 21.5km, Elevation 837m, Moving Time 02:28:40, Avg. Pace 06:55/km, Calories 2,548 )
Kevin O'Riordan
30 July, 2012
Today was a great return for one of IMRA's best open mountain races. After last year's disappointing turnout, we saw a healthy 19 teams showing up for this year's race.
Was quite worried leading up to race as I'd done hardly any running in the last few months due to injuries and was still carrying a bruised toe that had me walking with a limp only a few days previous.
Arrived at Sally Gap with Zoran Skrba and Ger Butler in the car. Niall McAlinden was already hanging around at the changeover after a great first leg run. Greg Byrne showed up a few minutes later and Zoran was off. Niall set me the challenge of catching their second leg runner, Roz and giving Ger and Kyle a good leg 3 race although I wasn't feel too confident of it. A few runners later, Gareth my leg 1 runner arrived in tandem with Ger Lalor and both myself and Brian O'Murchu set off. We both opted to head straight up from the cross roads rather than trying to find the small walker's trail that started about fifty metres up the road. Kept with Brian about half way up but the pace didn't feel sustainable so let him pull away. Could see Sean Harte, Jerome Dupuy and Conor Kelly coming from the right on the walker's trail. Sean Harte stormed past me. Got a brief lead on him again as he overshot Carrigvore but he caught me again at Gravale.
After a bit of skittishness through the mist, got to the welcome incline of Gravale. Took a look behind me and saw Brian O'Murchu and the two lads who I managed to overtake in the mist but they were rapidly regaining ground. They were bounding up the hill while I was crawling. Struck a perfect line coming down off Gravale towards Duff Hill and managed to gain a lead over Sean again, however he again bounced up Duff Hill. Stopped briefly for an energy gel after feeling the hunger. Got to the top of Duff Hill and Brian and the lads overtook me. Kept them in sight till just after East Top but couldn't descend properly with my toe and lost them completely going up Mullaghcleevaun. The mist had cleared now too so I wasn't going to overtake them in the mist again. Stopped to take a bearing off Mullaghcleevaun and headed towards Stony Top. A hundred metres down off Mullaghcleevaun, I saw Roz coming towards me. Excellent, Ger will have a lead on Kyle after all I thought. About 20 metres later, I realised I was heading wrong. Had a few moments of doubting myself, had to remind myself that the lake ahead was Lough Dan and not Lough Ouler, look out for the Military road heading to Glenmacnass car park and the ridge heading up to Tonelagee from the car park before I felt totally confident making the sharp correction I needed and regain ground to get onto the correct ridge heading to Tonelagee. Luckily I was getting a second wind at this point and was all on for attacking the ridge hard. Had a look around to see if Rosalind was following but no sign. Figured she had continued on but too late to do anything now.
Raced towards Stony Top feeling I was really running for the first time in a long while and thinking I'd be up Stony Top in no time until I hit the cursed peat hags at the bottom. Had a look behind me while on my hands and knees and saw Brian, Jerome and Conor behind me. Was pleased that I had managed to take the lead again but expected they would overtake me again in no time. To my pleasant surprise I found after a few hundred metres that I had increased the lead. Legs started to feel full of juice again, must be tapping into the ample fat reserves I was building over the last few months. Bounced up Stony Top, and to my surprise found myself bouncing up Tonelagee as well. Didn't dare to look behind me until I was over the initial false summit of Tonelagee and couldn't see Brian and the lads. Unfortunately I couldn't find the walker's track down off Tonelagee and ended up coming down through the heather and had to contour round until I could see the Wicklow Gap car park which cost some time. Eventually rejoined the track again and the difference in speed was huge. Handed over to Ger and wasn't sure if the lads had managed to overtake me while I was battling through the heather or not but was happy to hear that I had arrived in 3rd with just Zoran and Sean in front of me. I had no doubt that Ger would keep hold of the 3rd place, armed with the correct map, he was unstoppable.
Had another pleasant surprise in the form of my car waiting for me at the Wicklow Gap, Ger had managed to find someone to shuttle the car for me. That meant no having to make a round trip to the Sally Gap (Sally Gap is a real pain to get to from Wicklow Gap). Called to Laragh for coffee/cake, then turned back and made the trip to Fentons. Arrived at Fentons to find I was the only one there. After a small "oh crap, this is a disaster" moment, I decided being the first one to the finish pub wasn't such a bad thing. Settled down to a pint and soon after Phillip arrived outside. Spent a few moments hoping that Finbar might have made a major navigational fuck-up but it wasn't to be as Finbar arrived in home first soon after Phillip arrived. He still had the grumpy face of a man who went majorly wrong despite the team win and a more than respectable 2:10 leg time. Came out to congratulate him and hanging around I started to think "Could Ger overtake Brian Corbett? How much of a lead did Sean have anyway? Brian's fast but Ger's faster". Looked at my watch, Ger would have been out there slightly over 2 hours now, he could do it in less than 2:10 if he had a clean run. And there's still no sign of Brian. Had a few nail biting minutes then momentary panic as I heard the sound of a runner coming round the corner followed by elation and relief to see Ger tearing it up round the bend.
A while later, Rachel arrived with the barbecue as well as most of the teams. Plenty of burgers, sausages and salad on offer all paid for my IMRA. Barring a few heavy showers,the weather remained sunny for a perfect finish line atmosphere. Certainly a day that will hopefully ensure the reputation of the race for years to come.
John Bell
29 July, 2012
The day started when my alarm went off at 6:30. I left nearly straight away so as to not wake the kids and I collected my two team mates Brian Fennessy (leg 1) and my brother Peter (leg 2). When we left Greystones the sky was blue but I was wondering how long that would last as it was forecast for showers and at time thundery.
When we got to Stone Cross there was no sign of the blue sky and the mist was fairly well down. This was going to put our team of amateurs under pressure as we had only recce'd legs 1 and 2 the previous few weekends, when the weather was fine, and that was the sum of our navigational practice / experience. There was a good atmosphere at the start where there were 18? teams getting ready to start Leg 1 with another 20 or so team mates / supporters to cheer them on. Philip gave his pre-race instructions and they set off disappearing into the mist after about 100m.
Now it was time for breakfast and as there wasn't much choice for breakfast around Stone Cross and because we had a bit of time to kill before heading to the start of Leg 2 we made our way over to Blessington where we found a cafe / bakery on the main street where we filled up with croissants and coffee.
We made our way over to Sally Gap for about 9:30 to see the first few Leg 1 runners appear out of the mist and the leg 2 runners disappear into the mist up Carrigavoher. Brian arrived at about 10:25 in about 12th place after a great run, where he trusting in his no-so-vast navigational experience rather than follow the runners in front. Peter set off on the boggy playground of Leg 2 to jump off peat hags, wade through marshes and crawl through the black stuff.
When the last of the Leg 1 runners came in we headed over to Wicklow Gap for the start of Leg 3. We made it up to see the first few teams pass through. The weather was mixed with sunshine and showers with the mountains continually appearing and then disappearing again within a few seconds. Peter arrived in after a really good run having made up a few places at about 12:40. I grabbed his bag from him (while we had all the kit we only had 1 decent bag for running between us) in what was not the most efficient transition and I headed straight up the road to Turlough Hill staying mostly on the road rather than taking the direct route straight up as I was thinking there was more than enough open mountain ahead of me. Nearing the reservoir I caught a glimpse of a runner a couple of hundred metres ahead and another 2 runners behind. That was all I was of other runners until the finish about 2 1/2 hours later. From the end of the track at Turlough Hill I took a bearing towards Lough Ferrib rather than the direct route to Conavalla. At the time the sun was shining so navigation wasn't difficult, but within a few minutes I was in thick mist climbing over peat hags and knee deep in bog. When I got to the top of Convalla there was a heavy shower as I wandered around looking for the cairn. Finally I found it and took a bearing for Three Lakes, again my tactic was to complete the route without getting lost. On the way towards the lakes the cloud cleared and with good visibility again I took a slightly more direct route up to Table track where the ground conditions improved so I could run a fair bit instead of continually sinking and climbing out of bog on the previous section. I found the track heading up Camenabologue which lead me straight to the cairn where I had a good view of the challenge ahead, the long ascend of Lug na gCoille. Coming down off Camenabologue I followed the track for the most part. I was making good ground as the cloud descended and brought with it a blast of wind and hail. I managed to follow the track as far as Cannow before the final ascent to Lug. It was a relief when the large cairn on top of Lug appeared in front of me with a few hikers enjoying a break. No break for me though as the thought of a barbeque and beer at the finish drove me on. I skirted the cliffs of the North Prison and as I descended through the rocky section near the top when the cloud lifted and I found the path which lead all the way to the road and on to the finish line in the beer garden at Fentons Pub where the other runners, organisers and supporters where relaxing in the sun shine getting ready to start the barbeque.
Thanks again to the Philip and the rest of the volunteers of what was for me the best and most challenging event of the year and the barbeque was a really nice touch. I'd recommend it to anyone and intend on giving it a go again next year.
Brian O Murchu
28 July, 2012
I managed to carpool with other leg 2 & 3 runners Oran, Daniela, Roz & Kyle at 8.15am from Ranelagh. Thus avoiding having to get up at 6am to carpool with my team. I hope you don't think I was putting my need for sleep before a long run ahead my team loyality...
When we left Ranelagh, it seemed a nice day with the sun out -I had even put on some sun cream. But the closer we got to the Sally Gap the more the cloud enveloped us and reduced the visibility. I originally planned to run in a t-shirt & my 'rain' jacket. But as it was so cold at the Sally Gap (9 degrees), I upgraded by short sleeve t-shirt to a long sleeve one. Then shortly afterwards I upgraded the long sleeved t-shirt to a long sleeve base layer.
Before my leg 1 runner Ger Lawlor arrived in 6th place, I was watching which way the other leg 2 runners went at the changeover. Roz went straight up the boggy hill, but most of the other runners went down the road. I'm not sure where they turned left up the hill as the visibility was so poor. When Ger arrived at the Sally Gap, he handed the team 'baton' over to me -a weather proof map cover containing each of the three legs. Ger arrived with Garth Little, therefore two of us from different teams set off together. We both quickly decided we weren't going along the road but straight up the boggy hill. I was so cold before I started my leg I tore up the first hill to get warm, quickly dropping the other runner I started with.
This was my first time doing a race which involved navigation, and I didn't know how I would do with the cloud down relying on the compass. I got to the summit of the first hill (Carrigvoher) straightforward enough, but not before stopping to empty some small stones from my shoe. There seemed to be barely much descent before ascending the second hill (Gravale). I got to the summit of this one also straightforward enough, but not before stopping for a toilet break. Beginning the ascent of the 3rd hill (Duffy Hill), I caught two runners ahead of me. I was feeling pretty good about newly found nav skills and I had improved my teams standing in the race. The first four hills seemed to come and go fairly quickly, and there was a small break in the clouds before we commenced Mullaghcleevaun (hill #5). This was a long slog and the poor visibility returned with the low clouds. From Duffy Hill (summit #3) to Barnacullian (hill #6), I kept trying to get ahead of my two new found running companions. I found to my detriment that my compass would only settle if I stopped, so each time I tried to get a bearing I would get caught by the other two runners. I needed their nav skills to keep my speed up. Mental note to self: must buy orienteering standard compass.
Going through Barnaweelyeen (between summit #6 & #7) it really got boggy. I found myself learning new bog traversing skills, such as using my shins in swampy bog, how best to get up the peat hags, watching other runners footprints, etc. This section also happened to be the only section without cloud. Although that didn't improve navigation as hills #7 & #8 were both covered in cloud, so we still needed the compass to head in the right direction.
Up Stoney Top (hill #7) and Tonelagee (hill #8) I finally managed to get ahead of my two running companions, thanks in part to a runner ahead being visible enough to follow. Was that the guy I started leg 2 with? Summiting Tonelagee I sent my pre-typed text to my leg 3 runner (Paraic Gallagher) that I was starting the Tonelagee descent -but am not sure if my phone got a signal to send it. At this point the visibility was so poor I had lost sight of the runner I had been following, and I missed the descent path, taking a bad line down the mountain. I ended up descending onto the road and running at least half a kilometer on the road to the Wicklow Gap. This route meant I wasn't seen descending off Tonelagee and my teammates only seen me unexpectedly when I was at the carpark. Worse of all for me, the two runners who were behind me ascending Tonelagee had reached the changeover before me...doh!
My nav skills didn't end at the race, as when I arrived back at Ranelagh where I had locked my bicycle, I managed to get lost -I am a northsider. In hindsight I shouldn't have put the compass away at the Wicklow Gap...