Scarr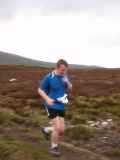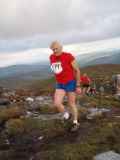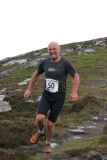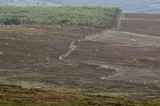 Authors
Ken McDonagh
03 June, 2011
'Remember: When you get to the top, it's not the actual top'
With the words of the Race Director ringing in our ears (great job by the way Colm!), we set off up the Wicklow Way. Despite some grim weather forecasts earlier in the week, the Irish summer finally peeked from behind the clouds and it was a lovely evening for traipsing up a mountain.
The start had been preceded by a brief stand off between the Race Director and the body of runners, as Colm tried to shepherd us back to the race start line while the latter wanted to edge as far up the hill as possible. There may have been a steward's inquiry if any course records had fallen!
Back to the race, and the early climb stretched out the field nicely and the lack of trees meant the views were outstanding – I could even see the leaders as they bounded off into the distance. Then glancing up at the peak I decided staring at my shoes was probably the best policy.
As ever with IMRA, there are always races within races. While the frontrunners sort themselves out, us mid-packers pick our targets. Mine was to hit the summit still running but with a bit of gas left for the way down.
The shoe staring policy paid off as I reached the summit feeling fresher than expected and was ready to let go on the descent. The dry weather made for great running on the way down as the springy turf held firm under each step. I had a tall runner in my sights and managed to pass him on the steep descent from Scarr. Reaching the flatter section before the route returned to the Wicklow way, the first doubts crept in as my breathing quickened and legs began to feel heavy. Soon, the tall runner came past again, followed quickly by another runner.
As the route swung to the left and slightly uphill my legs began to loosen again, so I set myself the target of catching the tall runner again. The gap at this stage was about 20 metres – the remaining descent would be fun.
Down the stony farm path I was gradually reeling him in, about a 5m gap remained by the time we passed the water tap on the right. Coming around the final bend, and with the encouragement of the spectators we both made a final push – ducking over the line, a dead heat – joint 68th! Cheers John, great race!
Great evening for running and an excellent course!
Thanks again to Colm, the RD, and all the volunteers and to the Gaffney family for the parking facilities!
Rene Borg
02 June, 2011
TEAM RESULTS
MEN
1. UCD 20 (5 Greg Byrne, 7 Brian Caulfield, 8 Zoran Skrba)
2. Sli Cualann 35 (6 Ben Mooney, 13 Jimmy Synnott, 16 Tony Collins)
3. CNOC 84 (3 Seamus O'Boyle, 25 Conor Short, 56 Ruiri Short)
4. Boards AC 95 (28 Angus Tyner, 32 John O'Neill, 35 Shane Jenkinson)
5. Glenasmole 226 (39 Thor Christian Valle, 85 Thomas Galvin, 102 Andrew Clancy)
6. Crusaders AC 228 (26 Kevin O'Riordan, 86 Diarmud O'Colmain, 103 Ken Cowley)
WOMEN
1. Crusaders AC 23 (3 Aoife Joyce, 9 Susan Seager, 11 Roisin McDonnell)
2. DUHAC 39 (5 Mirjam Allik, 13 Laura Schwirz, 21 Chloe Galley)
3. Sli Cualann 41 (2 Jenny McAuley, 19 Liz Ryan, 20 Aisling Renshaw)
4. River Runners 87 (12 Catherine Halpin, 33 Kate Harris, 42 Eavan Casey)
5. CNOC 124 (35 Ruth Lynam, 36 Bernie O'Boyle, 53 Regina Kelly)