Mullaghmeen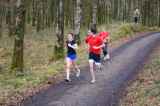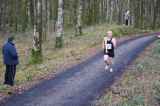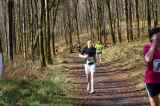 Authors
Rene Borg
09 April, 2011
TEAM RESULTS
MEN
1. St. Brigids 15 (1 Gerard Heery, 5 Robert Caffrey, 9 Thomas O'Reilly)
2. Dunshoughlin 24 (4 Tommy Maher, 8 Paddy Mangan, 12 Aidan Swan)
3. Dunboyne 76 (3 Neville Reilly, 36 Eddie Reid, 37 Ray Mitchell)
4. Trim 93 (24 John Doyle, 30 Conor Daniel, 39 Ciaran Tobin)
5. Aura 95 (19 Shane Tully, 27 David Miller, 49 Simon McCabe)
6. Father Murphy AC 120 (15 John Keogh, 50 Ciaran Bird, 55 Kris Thompson)
WOMEN
1. Dunshaughlin 15 (4 Shauna Moore, 5 Ursula Byrne, 6 Linda Fahy)
2. St. Brigids 42 (11 Karen Crean, 14 Gillian Hawdon, 17 Breege Reilly)
3. Bohermeen 43 (8 Linda Gunning, 13 Bridget Reilly, 22 Kathleen Croal)
4. Father Murphy AC 55 (3 Sharon Monaghan, 24 Ursula Thompson, 28 Lorraine Monaghan)
Rene Borg
08 April, 2011
From Mud, Sweat and Tears: http://www.mudsweatandtears.co.uk/2011/04/07/heery-stands-tall-in-mullaghmeen-forest/
Gerard Heery had positioned himself as the firm favourite for the Spring League title with his convincing win in the first race of the series at Hellfire three weeks ago.
While he was absent at Sliabh Bui, the revived league allows you to use your best two of three results to score and with Heery's club St. Brigid's organising the final race in Mullaghmeen forest, all was in place for the local man to sweep up the honours.
The Mullaghmeen route has come into the IMRA calendar "from the side" having been used as the course for the Meath Hill Running Championships in the previous years before claiming the high seat at the Spring League table. As long-time IMRA runner Turlough Conway added in his race report, a local county championship is a great way to grow the sport and hopefully others will follow in Meath's footsteps.
With 5km length and less than 200m ascent, the course brings a wonderful freshness to the table and sits ideally with the other short races in this series allowing runners hoping to peak for the summer to sample their racing form without paying too high a price.
Short does not necessarily translate into pleasant and many runners may not have been fully able to appreciate the beautiful beech wood surroundings. The man with least time to take in the views proved to be Gerard Heery who did not disappoint winning in 17:32 having bided his time as the opening blows were struck.
Junior Cian O'Reilly showed great promise and stayed within striking distance as he took second in 17:39 with Dunboyne's Neville Reilly only a further eleven seconds back.
Cian O'Reilly's sister Eadaoin withstood pressure from Karen O'Hanlon to win the women's race with Sharon Monaghan in third. On the day 99 runners turned up and 24 completed the entire league with more than two-hundred taking part making the revival a resounding success for IMRA.
With the Winter and Spring League behind us, the summer season kicks off with the WMRA Youth Trial this Saturday before the senior runners get their first piece of Championship action on the new and extremely promising course "Carlingford Slieve Foy".
Robert Caffrey
03 April, 2011
A beautiful sunny morning greeted us all in Mullaghmeen today which certainly brought out the numbers to make it the great event it was(99 in total).
There was great help from the IMRA team and our own club officials to get everyone registered and sorted for the showdown at noon.
Michael Heery welcomed us at the start line and described the route for us before we got going and mentioned that it was the Meath hill run championship, Fun hill run and the last race in the IMRA spring league series.The word Fun got a few chuckles from the rearing to go pack.Martin Heery called us to the start line and without further ado we were off.
Neville Reilly (Dunboyne A.C),Cian O'Reilly(Annalee A.C) and myself set the early pace on the winding course gradually climbing through the first kilometre.
Neville and Cian gained a twenty metre lead from me and i was now joined by clubmate Gerard Heery and Tommy Maher (Dunshaughlin A.C).I stuck in there with the experienced duo as they had their sights set on reeling in the front two.
We now began to climb the main hill in earnest.
Neville crested the high point first followed by Cian who looked like he was finding the climb tough , with Ger putting himself into contention taking up the chase.Tommy was now in fourth and had opened a gap on me and i could hear the exertions of David O'Connell (Bohermeen A.C) climbing well in sixth place.
4 th,5 th and 6 th were to remain the same all the way to the line but the real action was up ahead.
Gerard ,using his ability and course knowledge, clawed his way back to the two early leaders and went on to win in a time of 17.32. Cian managed to get motoring again claiming second spot but had the consolation of being the first junior to cross the line.Neville cruised in to take third spot.
There was marvelous support to greet us at the finish too and all athletes that were done racing added their applause to their fellow competitors rolling in.
Eadaoin O'Reilly (Cian's sister from Annalee A.C) was first female and junior on the day with Karen O'Hanlon (Dunboyne A.C) hot on her heels.
Sharon Monaghan (Fr. Murphy's A.C) and top junior Shauna Moore were also prominent.Shauna i heard afterwards had taken a tumble on the downhill section but when i saw her sprint home at the finish she showed no ill effects of the fall.
When everyone was done we all gathered down in the carpark and feasted on the vast array of goodies and tea/coffee that was on offer.Many thanks to all that looked after us.
Dermot Murphy, Brendan Meade, Pat Plunkett and Michael Heery looked after presentations and some spot prizes were on offer too.
Robert Caffrey (St. Brigid's).
Turlough Conway
03 April, 2011
A lovely location for a race today. The largest deciduous plantaion in Ireland, containing the highest point in Westmeath and a race starting and finishing in county Meath was the setting for the Meath Hillrunning Champs.
I jogged out the route before as far as the summit. Lovely course. Fast and hard.
Off we went and i was immediately dropped by a fast starting leading group. Junior runner, Cian O'Reilly flew past and pushed into the lead with former Meath hurler, Neville Reilly and Robert Caffrey. Defending champ, former Irish International and multiple winner Gerard Heery was biding his time in the chasing group. Reilly and O'REilly in front now had pushed out a sizeable gap as Heery left his group giving chase at 1.5k.
A few ups and downs an up and it was time to leave the forest road for the short but steep climb to the summit of Mullaghmeen. Its not a long climb by hillrunning standards but when youre travelling at 5k effort you are going to meet your friend pain. Looking forward i saw Gerard Heery eating into the lead of the two lads on the open hill. You dont run Lug in 50 min flat without being a very strong climber. Passing O'Reilly on the hill and closing on Reilly he looked in a very strong position. In a very tough contest he didnt gain the lead till the final steep forestry road uphill at 4k tipped the battle of strenght in his favour. Young O'Regan showed impressive speed to come through in second to chase Heery home but he wouldnt be denied a fine win.
Well known veteran road runner Tommy Maher had a strong race to finish 4th.
Eadaoin O'Reilly a junior like her brother managed to suceed in winning the senior female cataegory where her brother had come so close in the mens.
I dragged my lactic filled legs clumsily down the hill and ran painfully home. A warmdown with el presidente Dermot found the only other big steep hill in the forest and put more lactic in the legs than took out i think!
Congratulations to the St Brigids club on an excellenty run event. An ambulance was present for potential, medical purposes. And a marquee was set up with tea coffee, sandwiches and all sorts of tasty goodies!
Well done to Alan Kilbride on his debut on the laptop.
This race is going from strenght to strenght as the near 100 hundred runners are proof of.
The route was a great mixture of fast trail and open hill, great for someone new to trails to get a tough but enjoyable introduction but with enough there for the experienced hillrunner to get the teeth into, as Heerys tactical win today showed.
The idea of a county hillrunning champs is a very good way to introuduce runners to the joys of off-road running. If any members have any ideas for potential routes in your local county: organise it locally and im sure IMRA would provide an umbrella to facilitate it.
Hopefully will be back at Mullaghmeen next year.