Tonelagee and Clockwise lap of the Lake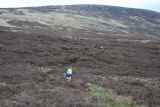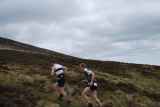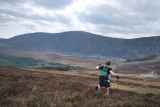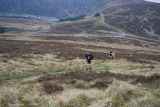 Authors
Rene Borg
26 April, 2011
From: http://www.mudsweatandtears.co.uk/2011/04/21/hill-triumphs-at-the-lake/
It was a battle seen by many as one between the "master and the apprentice" of the fine art of running over rough ground as Paul Nolan and Colm Hill went head-to-head at Tonelagee and the Lake (the lake this year being run clockwise)…
Both runners learnt their off-road trade amongst the orienteers and with Paul Nolan representing the "Great Eastern Navigators" (GEN) and Hill the Curragh Naas Orienteering Club (CNOC), the race also had a battle of the clubs (and the acronyms!). IMRA nostalgics would have been heartened by the return of Paul Nolan, who may well have won more IMRA races than any other runner but has seen his career haunted by injury in recent years.
Men's M50 winner Adrian Tucker mused after the race that the course could compete with many of the classic fell races in England, despite its shortness, but left the question unanswered of whether a clockwise lap was significantly faster than an anti-clockwise one (finishing within one second of his time the previous year).
Ahead of him Colm Hill had set proceedings in motion as he took the lead with Paul Nolan and another experienced mountain runner, Turlough Conway, watching with interest on the early stages of the one mile climb to the summit of Tonelagee. Nolan took the lead further up and rounded the cairn in the lead; Conway had dropped back while Hill remained his constant companion during this section and the two leaders enjoyed a tit-for-tat downhill until Nolan looked briefly to threaten with a break-away on the steep ascent back.
Hill didn't let a gap materialise in the end and broke away for a small lead on the return to the cairn extending it to over a minute on the final descent.
In third, Bernard Fortune had come through strongly and employed his trademark scintillating descent to finish well clear of any other podium-seekers in the race. Women were sparse in small field but victor's laurels would still have been sweet praise for Melanie Earwaker who won ahead of Roisin McDonnell.
Rene Borg
20 April, 2011
TEAM RESULTS
MEN
1. GEN 16 (2 Paul Nolan, 6 Pat McCavana, 8 Alan Ayling)
2. Sli Cualann 63 (12 Martin Francis, 22 Cormac O'Ceallaigh, 29 Brendan Lawlor)
Mick Hanney
17 April, 2011
Race Director's report...
I ran this race last year. I would have loved to have run it today. Alas, injury has me on the recovery trail so I was glad to be involved in the race, in this case to help direct it. Leinster Champs races are where its at. Nice field size. Nice friendly crowd. Lovely settings.
A fine day dawned in Wicklow. Nice and sunny and mild. Up near the Wicklow gap though the wind was up slightly and it was colder. Jackets would be mandatory. Thankfully everyone was compliant with the mandatory kit. I was dreading having to tell someone they couldn't race if they hadn't got the kit with them. We put these details on the website, but not everyone is web savvy. Anyway it all worked out.
We were expecting 40 or so runners based on last year's results and so it was that 46 runners set out on today's course, a variation on last year to take the clockwise direction around Lough Ouler.
After a few pre-race words the race started pretty much bang on time. Literally seconds after the start a chap arrived asking to run and to fix up his registration after the race. No deal, sorry. I told him he could run, free country and all that, but registration was closed. If you can't arrive in time for the race start and all that…
Paul Joyce was up the hill with a merry brigade of his and my kids, picnicking and taking photos of the race. Who said that men can't multi-task?
Nearly 40 mins after the start we saw the first descenders. We squinted up the hill to see who it was. Colm Hill had a decent gap at the front and looked relaxed in his descending. Bravo Colm. A rejuvenated Paul Nolan had a comfortable 2nd place secured behind, followed by the hard descending Bernard Fortune who when he finished, took off again on another climb up the hill. Not to be outdone Adrian Tucker did similarly when he finished. Some races just aren't hard enough for some people :-). Melanie Earwaker was 1st lady home. See Results sheet for other winners of the day.
It would have been interesting to see split times for ascent and descent. From the pictures it would appear that the likes of Bernard and Amidou were flying down the hill.
Word came through that an injury had befallen a runner up on the hill. A fall and an ankle turn ended Tony Berkery's day. We were fortunate to have some mountain rescue guys in the race who asked the right questions to determine that Tony was mobile enough under his own steam to make his way back down the mountain, ably assisted by a stick from a walker and help from a friend who headed up the hill after they had finished their race. Mary Collins was a very able first aider at the finish line.
A nice atmosphere at the end where Paul Joyce played a blinder by supplying buns for all and sundry. The weather played its part.
Torben put his laptop training skills into play today and everything went smoothly. Thanks to Rachel too, who looks like she could have caught the LC bug from todays' race. Its addictive this stuff.
Roll on the next LC race. With luck I'll make it to the start line this time.
btw.. if there was a team prize (and its not clear why there isn't a team prize in the LC?) GEN would have won today. Orienteers obviously make great hillrunners ;-)
Colm Hill
17 April, 2011
Warning: The post below contains youthful enthusiasm, cockiness and a complete disregard for anything and everything unrelated to Open Mountain racing. Trail runners do not read on as you may be highly offended by the views and language contained in the post.
...........................
Sunday morning dawned early, up breakfast, coffee, the usual. Getting slightly nervous. Unsure who'd show. I was mentally prepared for a battle of attrition with Brian, Jason, Peter and championship running newbie Ian. PN would be somewhere close to the action. He's always there. Somewhere. The route is his baby. He knew the lines to take.
Landed at the Gap with the younger brother thanks to a lift from Ollie (much appreciated). The RD, Mick Hanney looked delighted I had shown. All smiles in the mountains.
Got changed and began warming up. Legs felt heavy. Always a good sign. It just means your body is begging you to not go through with the madness. My body knew what was coming. Turlough, PN, Bernard… The Usual suspects at an off roader. No sign of any of the big guns from last years championships.
This increased the tension I was feeling. PN and Turlough begin to trash talk. I knew they were talking shit, but you can never write off someone who wants it badly. I did a mini recce, running up the hill as far as the stake and attacked down the hill, I wanted to see what the ground traction was like. My logic been that if it came to a sprint finish, I'd plan on having the extra gear and the added knowledge. Taking it at race pace felt good. In fact, it felt awesome. My body had woken up. Now we really wanted to race. This was going to be the ultimate blow out session before the JK.
Everyone drops over to the start. Mick calls out the standing orders, something about steep dangerous crags… I think. I was focused on the start of the track. With a 3, 2, 1 we were gone. I reckon I had a micro second of a break in my eagerness to start climbing.
Accidently (honest) I hit the front. I climbed and didn't look back until I reached the first marshy section. PN and Turlough were with me. PN was breathing extremely heavy. He was taking the mick. Needless to say I followed suit before we both stopped playing mind games… briefly. As we climbed, the abusing began. PN was throwing out comments on the poor standard of IMRA if an orienteer is leading. PN took the lead and I sat in behind. After a while, I made an acceleration to see would they respond. They continued at the same pace. After a while, they caught back up with me. More comments on why orienteers shouldn't lead hill races and his surprise that I was still able to run up the mountain. Turlough was breathing heavy, when PN asked his opinion, the response was one of "we'll continue this in the carpark". He was gone. Slightly over cooked. I enquired if he was hurting due to his heavy breathing. "I'm only faking Colm", I responded with a cheeky comment of "so was I" before I accelerated. I pushed maybe a little bit too hard, but the burn felt good. I begin to toy with the pace. PN caught back up ("and then there was two") and went by me. I jumped onto his footsteps and followed. After a min or 2, I took over the lead climbing. He inquired about the time, 10:05 climbing time. "Oh goodie, we're almost near the top… but the question is do I add a min or take a min for the bullshit factor?".
It was smiles all round up to this point, however, things were about to get a little more serious. The climb began to level off and the chat stopped. Across the flatish top to the cairn, PN rounds first, I yell out the climb time (16:05) and we begin the first drop.
He takes off. Time to unleash my tactic. Stick to the recce'r like glue. I think recce'in is a nasty habit that I can not condone, but hey, following ain't cheating in mountain running.
I follow him stride for stride down the muddy track. His technique is clean and efficient. I could go past him, but I need his line. After PN said it was like a mountain marathon, he couldn't have put it better. We got down further, our paths begin to zig zag, when he zig'd, I zag'd. It was mountain running bliss. No feeling is better than cruising down a mountain effortlessly. To a non mountain runner, it looks suicidal. To those lucky enough to venture into the proper hills, it is a peaceful experience. We were cruising down it. I would have loved to see a 23 year old PN going balls to the wall down it… feck that, I would have loved to let go!!
We hit the flat and PN takes a sharp right and drops down to the lake. The orienteer inside me doesn't let me follow directly, I stay slightly high and end up on a sheep track. Tipping along, I see him 20m to my right. My sheep track meets up with PN's and we're again on top of each other. Crossing the river, I look up from PN's shoes. It looks awesome. PN dives left into the heather, I follow suit, thinking he knew of a secret sheep track. No such luck. Beautiful energy sapping heather. I follow PN until after a while a voice appears in my head. Why are you following a GEN runner in terrain. Man the hell up. So I picked my own lines and got a gap… and by got a gap means I went in front, slightly.
Climb climb climb climb and we're onto the saddle. PN is running comfortably. He starts up the climb and contuines to run. I follow suit but I'm soon down to a walk. PN keeps turning the legs over. I keep walking. The gap doesn't increase. Sweeeet. Glad to know he wasn't going to drop me on this steep climb. I'd never live it down. I plug away and he plugs away. He looks behind a couple of times, I was going to say, don't worry about them, we're well clear, but it was fun seeing PN looked concerned. The climb begins to level off. I begin to get the legs turning over. I see PN's legs not turning as fast. I need to get a little gap before the cairn, I wasn't in the mood for a hard bloody thirsty sprint down the mountain that would take me a week to recover from. I up the pace and get over the earth bank and have opened a tiny gap (I can't see PN's feet if I look down). I run up to the cairn, roundabout, check my direction and begin to attack off the top. Looking to my right, I see a muddy trail of inov8's, Walsh PB's and Salomans. Guess that's the accent route! That could have been a costly mistake.
I take off and cruise down the mountain. I reach the top of the track and let gravity do the work. I'm tempted to lets out a loud "Weeeeeeeeeee" as I pick up speed. A few close slips but I recover well. As gravity is doing its job, falling with style, I make a mental note that I have two world ranking races next weekend. Now is not the time to break my neck, leg, ankle or any other important bone or muscle. If PN wants it and goes past me at speed, I won't give chase, but he has to do it at speed. Cruising down, I past Paul (the dude with the camera) I yell out whats the gap… "10seconds". Its enough from where I am now, I think. Down further and I pass the stake that I ran up to. A mental note revision, he ain't passing me now, he had his chance. I hit the last corners hard, accelerating in and out, down the last drop, into the mud. I take a quick glance behind me, no one, accelerating across the mud, happy days. I wait and PN follows within the min.
End of they day, he did what he had to do and I did what I had to do. Slowly learning that I don't have to go off like a bat out of hell to get a win. A bit of tactics is always fun.
Cooled down with Martain and Turlough heading up towards the Turlough Hill... already dreaming of Stone Cross...
(Martain had run up from Laragh... and was preparing to run back to Laragh, after setting a PB for 10k the previous day.)
From 16 year olds to 60 year olds. Everyone out for a bit of muddy weekend fun.
Ya gotta love IMRA :)