Maulin Winter League Route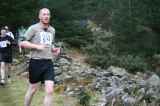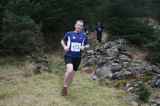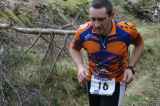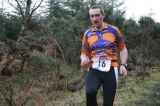 Authors
Des Kennedy
06 March, 2011
I cycled to Crone Wood for the Maulin Winter League Route arriving early enough, so plenty of time for a bit of pre-race banter to calm any nerves. Having done this race last year I know that although it's relatively short it's a tough one. On checking the map at registration I find that it's even more of a challenge than it was last year. Gerry has added a detour near the finish that takes a left turn part of the way up the steep rise that is used for Powerscourt Ridge, then turns right on to a flat fire road for a bit before a right turn and a steep descent back onto the Wicklow Way. Ouch!
I do a short warm up run before getting ready. With a few minutes to go to the start we are called to the barrier by race director Mick Hanney and given a brief description of what to expect. Anyone on the line who ran this route before knows that when Mick says that the first 2k is very steep to the top of Maulin he's not exaggerating!
And then the off. I start from the front but am a bit sluggish out of the blocks so I end up a bit back in the pack surrounded by runners on all sides. I don't want to get boxed in before the narrow steep chute through the woods so I dart out around the outside to regain a position near the front.
Into the first steep chute up through the woods, in good position here, plenty of space in front and room to draw breath. John Brennan in the distinctive green singlet of Rathfarnham is just in front of me at this early stage and David Power wearing a blue Connemarathon T-shirt is in close attendance. I maintain my position as we negotiate this first steep rise and some steps made from sections of log. We pass a group of scouts who are out for a hike, they shout some much appreciated encouragement as we turn on to the fireroad for a brief flat section. Just as the legs are recovering from the first steep chute we turn to the left and up again for steep chute number two. The field is starting to stretch out at this point, John, David and myself are still to the fore along with Peter O'Farrell, Zoran, Tim, Turlough, Theo and James Alexander.
After steep climb number two we turn right leaving the chute behind and emerge out into the open, on to another fire road section. It's nice and flat here, so the legs can recover a bit for what lies ahead. I'm anticipating that insanely steep section to the top of Maulin now, I take in the view to the right to try to take my mind off of it. Peter has taken over the lead now, I notice him looking to the left at the next junction checking for race markers, none at that point. We go on a little bit more until we spot the red and white tapes that mark the left turn onto the near vertical grassy climb. Up we go following Peter, I'm jogging at first and it's not long before my legs and lungs are burning, I pass Peter and take the lead briefly but not for long, my jog turns to a slog, Peter regains the lead and John follows. David is there or thereabouts wearing his all too appropriate at this stage "I hit the wall" Connemarathon T-shirt. The climb is very long and very steep, it's best that you don't look up too often, so it's head down and slog at this stage.
Eventually the tortuous gradient evens out a bit and we are on a single track to the summit. Peter has a gap of a few seconds at this stage to John in second. I'm hard on John's heels and David is just behind me, I think about trying to pass John but decide to bide my time. Peter summits first followed by John, myself and David. Now comes the downhill, a dry stone wall drops into the distance, marking the descent.
Peter takes off on a line that is well wide of the stone wall, David passes me by and takes a line closer to the wall, I decide to follow Peter's line, John is in fourth place now. Peter stretches his lead at this stage and David takes a clear second. As usual the dreaded tears welling up in my eyes are making the descent more difficult, best that can be hoped for is that the clumpy grass will provide some good cushioning in case of any falls. May be quicker to roll down this mountain!
We eventually come to a left turn at a gap in the wall and then it's down a steep technical twisty trail through the bushes until we reach the steep zig-zag track. Then there is a nice section through the woods, the gaps are more pronounced now, Peter with a clear lead followed by David then me then John. This next section of track is good underfoot but intermittently criss-crossed by little run-offs, turning this in to a bit of a steeplechase. Skills picked up as a youth are put to good use here jumping over obstacles.
Further on and I hear a shout and look up to see David running on ahead on the fire road, I remember from last year that there is a hard right here onto a steep vertical climb, David has missed the turn and Peter is shouting from up ahead to let him know of his error. At this point I'm arriving at the turn so I also let a roar at David and gesture towards the steep rise that Peter is already negotiating, David turns back and follows us up the rise catching and passing me about half way up. It's up over a stile at the top and back onto a flat trail, the legs are really heavy at this stage and it takes a while to get moving smoothly on the flat.
A short distance up ahead we turn left and down another steep windy trail through bushes and trees, There's a mixture of rocky and muddy spots along here and I almost lose my footing a few times, at one point I let a out a yelp, from up ahead David asks if I'm alright, I reply I'm grand, but further down as the trail starts to level out a bit I lose concentration for a second and my legs do fly out from under me. I bounce back up immediately and am back into my stride, the only ill effect being a slight graze on my right hand.
Soon we are back out on the Wicklow Way, I'm feeling good after the descent and start to close the gap to David on the flat. I move into second place but there is no time to start thinking about putting in a burst for home just yet. There is still the additional steep rise and descent that has been added on to the route to come. I see Peter in the distance taking the left turn up the rise. I get to the rise and muster any strength that I have left in my legs and lungs for one last uphill push. I pass Gerry and offer an ironic thank you for his little addition to the course. I look up to see Peter reaching the top of the rise. He's home and hosed! I'm slogging at this stage and David catches and passes me again. I dig in and reach the turn off the rise, the legs are very tired now and it takes even longer this time to get moving smoothly on the flat, then it's down to the right again and the last steep descent, David, in second place has a decent lead on me, but it's not insurmountable, I'm keeping pace on the descent.
At the bottom when we reach the Wicklow Way again David takes a few strides to the right before going left, allowing me to catch right up to him. I sit in behind at this stage, the legs are very tired so the plan is to wait until the last bend is in sight and then make a push. As the final bend approaches we both increase the pace, I'm moving along nicely now and I take the inside line on the bend and move level with David, the finish line is in sight, I dig in and manage to find a burst of pace from somewhere. I do just enough to beat a very valiant David in the sprint to the line for second place. Peter is waiting to offer his hand and commend us on what must have looked like a very exciting sprint finish.
A cracker of a race! Well done to Peter for the win, might have been a different outcome for second place had David not taken the wrong turns! Well done to Karen on winning the ladies. Well done to Mick and to all the volunteers for the organisation and to Gerry for creating and marking a great course. Unlucky on the runners who missed turns and went wrong (been there and done that!), but there'll be plenty of opportunities to make up for it in upcoming IMRA leagues and championships.
Rene Borg
05 March, 2011
TEAM RESULTS
MEN
1. Rathfarnham WSAF 8 (1 Peter O'Farrell, 3 David Power, 4 John Brennan)
2. Boards AC 67 (13 John O'Neill, 24 Odhran Hendley, 30 John Langenbach)
3. UCD 70 (5 Zoran Skrba, 6 Tim Grummell, 59 Stuart Scott)
4. Crusaders AC 182 (58 Ken Cowley, 60 Diarmud O'Colmain, 64 Tony Berkery)
WOMEN
1. Crusaders AC 25 (4 Susan Seager, 10 Ailsa Berkeley, 11 Mary Collins)
Gerry Brady
05 March, 2011
At 7.5 km and 538m of climb, Maulin is one of the steepest races on the IMRA calendar. As it is an up and down race, the climb can be put against half the distance giving an average gradient of 14% for the uphill half. The runners who ran this race will know how that feels especially after making it up the steep grass climb which has a gradient of probably around 35%. Added to the steep sections is the variety in the course which has two short steep climbs coming after periods of descending and it can be difficult on those climbs to get the legs to readjust!
Peter O'Farrell has a good record in this race having been 2nd in both 2009 and 2010. It looked on the final short climb that he would be second again but unfortunately the apparent leader, Theo Mooney, had missed the right-turn up the top part of the ride and thereby made good progress through the field to take the lead!
The next big surprise as the runners passed through was a new female runner moving from 10th into 9th on the final climb. Emma Donlon has had success in adventure races mainly built upon running well. Having already won the Ticknock Winter league race, she looked set for a second victory. However she unfortunately missed the right-turn down the final descent.
Losing the route in an IMRA race is a hazard and you can minimise the risk in various ways. Given that this happens in almost every IMRA race, there are a number of things runners can do to minimise the risk. One approach is to count your number of Yes responses to the following questions:
Have you previously ran a race over the course?
Have you done a recent recce?
Are you an experienced IMRA racer?
Have you studied the course map?
Have you studied the course profile?
Did many other runners get lost?
If you answer Yes to most of those then have a quiet word with the race marker!
Turlough Conway
05 March, 2011
A tough race this one. Peter O'F had turned up on the trusty bike again. Another Rathfarnham runner John Brennan was in attendance. John was a frequent top 5 man in the early 2000's and recently won a team silver in the national intermediates. In great for but still a tough one for the comeback.
Peter was generous in his advice for John during the warmup. Jogging around the last climb and loop the difficulty of this finishing section was evident. Peter suggested it would be advantageous to work to forge gaps on the last ascent rather than waiting. It was good advice.
For myself i wasnt sure how this one might go. A prolonged cold over the last couple of weeks had interruopted training but the rest might have me in flying form.
A good warmup and caffeine flowing in my veins had me feeling good at the start.I was worried about the course narrowing up the newish path and steps. Deciding to start fast i thus found myself leading before turning for this stepped climb: feeling very much like Eamonn Coughlan on the 3rd lap in Montreal but with only 20 secs of a hill race gone!
John passed to lead up the steps. He pulled away effortlessly and was quickly pursued by a determined looking Des Kennedy and David Power looking comfortable.
Turning right at the top of this section Zoran and Tim passed, then Peter calmly measuring his effort and position,relative to the lead runner.
Left again up another new path and more steps. I feel im slogging here and can go no faster. Leaders arent getting too far ahead but im not going to be able to catch them on the climb unless they have gone out too fast.
Right again slighly downhill down a grassy trail. Theres the hut from Gerrys description, now wheres this climb?
Ah, now i understand. The steep grassy bank, steeper than the ride. Im aware we have still over half the climb in metres to make at this stage. I can run about a third of it. Making slight ground on Tim. I start to walk and hold my ground. Looking up I see John leading a group of 4. I expected to see Peter leading by now, but he was climbing with a sustained effort. As the climb prolonged Peters sustained effort had taken him to the front and he now made a significant move to establish a gap. It worked and he was now alone with a groupof 3 chasers.
Zoran and Tim ahead followed a pattern of Zoran winning the climbs and Tim winning the flats.
My ambitions were now to catch and finish ahead of the two lads and hopefully nab a tiring runner from the group of 3 late in the race.
Mercilfully we turn right at the top of the bank, now on a good trail over a stile to the Tongalee side.
The lads gap has strectched as the ground flattenned. I can only manage a weak jog up to this final summit climb. One false summit but i dont mind as a friendly cooling breeze gives relief here.
A glance back and Theo Mooney is climbing well behind.
A poor descent down the round summit means that im no closer to the two lads when we turn left through the wall.
Down the zigzag trail and over to the Ride and its time to climb again. My walk gets me close to Tim. Looking behind, no sign of Theo but another runner appears followed by a female running strongly up the steep slope.
This is Emma Donlon and i dont think many women have climbed this strongly on Irish Hills since Beth McClusky last ran.
I dont manage to pass Tim on the descent to the WW and with renewed strenght he pulls away on the fast fireroad.
An overrun past the left turn for the second Ride climb called back by Zoran means he is not a threat to Zoran but is still quite safe from me.
Looking up the climb, Peter, true to his word, pushes hard on this vital last climb and tops with a minute lead, followed by David regaining second. John after an excellent return to hill running is in fourth losing a little time to the others on the descents but climbing as well as anyone bar Peter.
David, losing 10 secs with a wrong turn at the bottom of the gully allowed Des a chance to win the sprint. David is a Rathfarnham runner, and did not now of the curse before the race. This proves that the curse is supernatural rather than psychological and appropriate action will be taken by Rathfarnham before the WW relay this year;
-Voodoo dolls removed from Clonliffe managers Gerry Bradys house and
-Boards.ie zapped poltergeist style back into their computer monitors.
Emma Donlon is flying up the last climb but misses the turn for the gully and lets Karen O;Hanlon in for the win after a fantastic Winter League.
Peter and Suzanne take the Winter League.
Roll on Hellfire and The Spring League!