Annagh Hill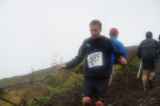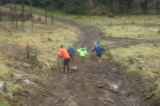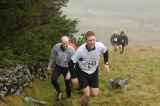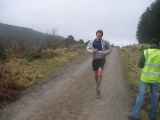 Authors
Peter O'Farrell
07 February, 2011
Well!
This was an oldschool feelgood hillrun through the muck , slop, wind and 4x4 tracks of Wexford's finest Coillte lands which allowed runners to see their relative strengths and weaknesses in crystal clear focus as race positions chopped and changed throughout the field. Strong climbers stumbled down technical descents and good descenders toiled up a climb borrowed from Ben Gorm for the day, mixing it up was a headwind for the "big units" who could barrel through it as their wispier willowy friends were blown back like topsails and endurance plodders came into play in the latter stages as the tired legs on the friskier faster runners started to find it more and more difficult to find that foot placement and maintain speed.
Arriving into the pub carpark your eyes are drawn to a wall that seems improbably placed on the sheer flank of the hill with the devious path of the zigzag descent almost completely hidden by the brashings and confusion that remained after a tree clearing operation. It looks steep, it is steep and you bounce off it within 700m of the start of the race, fatally early for many legs in the field. As per usual impetuous youth reared up and tackled it head-on and so fair play to Theo Mooney breathing the thin air at the head of the field and charging up the first climb. Keep her lit Theo, bravery and belief are important attributes in a runner.
The chopping and changing of positions was from first to last with our winner on the day, a strong Kevin Keane (making a welcome return after more than a year's absence of 3 in 1 triathlon), suffering a minor reversal as Eoin Keith swooped past him on the first fast grassy descent into an early lead but after a steady climb Kevin was untroubled by pretenders to victory as his legs re-discovered the nearly forgotten pleasures of hillrunning and he eventually cruised in a full minute ahead of the field.
The ladies race was a much closer affair with Suzanne Kenny pressed hard by Karen O'Hanlon who was always within a few seconds fighting hard and waiting to pounce on any weaknesses that Suzanne might show. These two ladies really pushed each other on as the results show they were well clear of Maeve O'Grady in third. Suzanne certainly made the most of a recce and the not inconsiderable benefit of a personal lesson in descending from Paul Nolan, one of the masters in the craft.
Eva Fairmaner, Mary Collins and Caitlin Bent took home the experienced hillrunning ladies prizes with Brian Caulfield, Martin Francis and Diarmiud O'Colmain taking the grizzled male veteran spoils although Brian Caulfield will apparently be asked for a birth cert next week as he looked much too fresh faced for a M40. The actually fresh faced James Alexander won the MJ sweetie bag. Fergal O'Mahony is this week's race points baseline person :)
Ben Mooney would probably have won the M40 prize but sadly for him a very fine run propelled him to 3rd place overall as the usual M40 podium finisher Eoin Keith had a spill and had to DNF whilst in second place with less than a kilometre to go. The thrills and spills of hillrunning – Get well soon Eoin.
There was an unusually high number of informed spectators about the course with Paul Nolan, Simon Fairmaner, Joe and Nora all keeping a watching brief and helping ensure motivation levels didn't drop although I did dirty my bib with a full slip and tumble right in front of Paul on the grassy descent as I took my eyes off the ground ahead to see where Eoin Keith had gone. For my troubles I received a laugh and the helpful instruction to keep my eyes on the track although in fairness Paul had both marked the course and helpfully placed carpet over a rocky wall.
Thanks again to all, especially Paul Joyce on a stunning debut as race director. Chapeau!
Mick Hanney
07 February, 2011
A non running volunteers perspective.
Paul Joyce has worked very hard to put this race together. The guts of this race route is part of Paul's training ground for hill and longer runs. The route has gone through a no. of tweaks before his 1st outing today. An initial plan to have the run up the first hill start near the road, so you run the full length of the stone wall came and went by the wayside. As did a plan to have the downhill come back down the same hill. Funnily enough I was thinking of its similarities to part of the Ben Gorm race myself. The final route has a great balance of everything you'd want in a hill race.
For a race that doesn't have a huge amount of climb compared to some races it still has a huge amount going for it. The variety of terrain is something that you don't really see on conventional league races. It is bordering on a championship race in style and with some tweaks – probably a bit more distance – it could make a leinster champs for sure.
It's a pity the weather wasn't more forgiving as the views from the ridge heading out and the trail heading back are magnificent. Still, the weather did add to the proceedings. And while the wet and mud made for difficult going at times it also made for some great downhilling and splashing through the puddles like giddy children.
I was stationed at the top of the 1st climb and Kevin Keane was a clear leader at that point, some 30s clear of the field I reckon. Fair play to Eoin in catching him later in the race but the quality of Kevin shone through as when I next spotted him with just over 1k to go his original gap was reinstated. Eoin was running very well then too and 2nd place looked secure until a trip on a loose branch ended his race. He cut a Gandalf-like figure with a long branch for support when I next came across him. Well done to Peter & co. for returning up the hill quickly with the crutches to help Eoin back to the finish.
Back to the initial hill. There was a lot of shock on show in the faces of the runners (all walking) at this point. The joys of reaching the top were dashed with the realisation that a headwind was blowing directly towards you on the ridge. My attempts to get a position to get some photos near the large pool on the backward section were dashed by the elements. Attempts to take some snaps in the forest too were dashed by poor light (and by me being a poor excuse for a snapper).
I was jealous of the downhillers coming through the forest. It's a great downhill. The going gets interesting after that with the mud and slop and loose branches from recent deforestation. Downhilling technique was to make a big difference for some runners results on the day. Practice, practice, practice.
I was surprised to hear some runners mention going astray with the marking. From a non-running perspective I though the marking was excellent. The gauge of good marking will always be whether the lead runners went the right way. They, after all, don't have other runners to follow. If they went the right way then everyone else should. In any event going a bit astray is part and parcel of races. Some you win on some you don't.
I got back to the finish as soon as I could and helped out with first aid. Isolated cuts and grazes was all there was apart from Eoin's bad spill. Lots of smiles in evidence from race competitors. A great reaction to the race and kudos again to Paul for making it happen and to the volunteers who, without which, it wouldn't be possible. Having a great pub like the Gap near the start/finish for race logistics is brilliant. And fair play to them they really played a blinder on the day.
Rene Borg
07 February, 2011
TEAM RESULT
MEN
1. Rathfarnham WSAF 17 (1 Kevin Keane, 2 Peter O'Farrell, 14 Turlough Conway)
2. Sli Cualann 21 (3 Ben Mooney, 7 Rafael Salazar, 11 Martin Francis)
3. Boards AC 24 (4 Keith Heary, 10 Jeff Fitzsimons, 20 Eamonn Hodge)
4. The Kyrgyz 103 (23 John P O'Regan, 25 Viv Lavan, 55 Daniel Hardiman)
5. Crusaders AC 241 (72 Diarmuid O'Colmain, 78 Tony Berkery, 91 Ken Cowley)
WOMEN
1. Crusaders AC 36 (6 Eva Fairmaner, 13 Mary Collins, 17 Niamh O'Ceallaigh)