European Champs Trial Crone Wood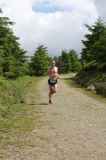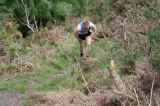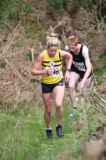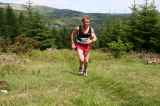 Authors
Rene Borg
15 June, 2010
TEAM RESULTS
MEN
1. North Laois 27 (7 Aengus Burke, 8 Martin McDonald, 12 PJ Carroll)
2. Crusaders AC 30 (9 Jason Kehoe, 10 Richard Healy, 11 Robert Healy)
Gerry Brady
13 June, 2010
Small fields but high standard winners were the order of the day at Crone Wood. Sinead Cronin was the first winner of the day in the junior women's race with a fine performance to finish ahead of Claire Brennan and Breda McDonald. James Speight was an easy winner of the junior men's race and joins Emmet Jennings (DSD) who was pre-selected for the Europeans. Shane Walsh showed considerable improvement to finish second ahead of James Griffin.
Debutante Sharon Bird ran an excellent race to beat Karen Alexander by 23 seconds. Given how well Karen has been running, this performance puts Sharon straight in at the elite end of Irish mountain running. American and soon to have Irish citizenship Gladys Ganiel O'Neill was third. Gladys ran 2 hours 41 minutes in London this year. Denise Ryan finished fast to overtake Suzanne Keny on the run-in.
Gary O'Hanlon also won his first ever mountain race. He ran 3:53 for 1500m last weekend and this speed was put to good effect on the downhill stretches. Philip Harty ran a tough race from the start to ensure his selection for the Europeans. Six seconds behind him was Brian Furey and then a minute back to James Doran. Next home were first-timer John Harkin who caught Colm Hill on the last lap.
The teams for the Europeans will be selected by the weekend.
Thanks to all of the volunteers and to the photographers. Especial thanks to IMRA President Dermot Murphy who is showing leadership in volunteering by example.
Junior women
1. Sinead Cronin (Celtic DCH) 19:31
2. Claire Brennan (Celtic DCH) 20:35
3. Breda McDonald (North Laois) 21:14
Junior men
1. James Speight (Omagh) 30:51
2. Shane Walsh (Dunleer) 32:48
3. James Griffin (St. Laurence O'Toole) 35:05
4. Brian Hill (CNOC) 40:32
Senior women
1. Sharon Bird (North Belfast) 31:49
2. Karen Alexander (Omagh) 32:12
3. Gladys Ganiel O'Neill (Abbey?) 33:41
4. Denise Ryan (Raheny) 35:34
5. Suzanne Kenny 35:39
Super veteran men
1. Mick Kellett (GEN) 45:36
Senior men
1. Gary O'Hanlon (Clonliffe) 43:09
2. Philip Harty (West Waterford) 43:45
3. Brian Furey (Rathfarnham) 43:51
4. James Doran (Riocht) 44:54
5. John Harkin (Tullamore) 45:46
6. Colm Hill (CNOC) 45:50
7. Aengus Burke (North Laois) 46:34
8. Martin McDonald (North Laois) 46:38
9. Jason Kehoe (Crusaders) 47:56
10. Richard Healy (Crusaders) 47:58
11. Robert Healy (Crusaders) 48:06
12. PJ Carroll (North Laois) 49:38
13. Derek Livingstone 69:28
14. John Fitzgerald (Sportsworld) 72:17