Little Sliabh Bui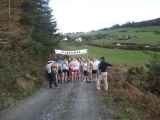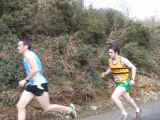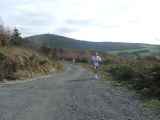 Authors
Rene Borg
17 March, 2009
Wicked tongues will let you hear that nothing happened in Wexford since '98 (the less forgetful will mention 1996) but whether that be true or not, on Sunday 15th it was the turn of Jane and Graham Porter, not King George, to look out for hirelings as they opened their Open Trail Series and marked the full blown return of mountain running to the rolling forested hills of Loch Garman.
An unfortunate clash with the traditional Four Counties Cross-Country Championship in nearby Ferns could not deter thirty enthusiastic runners from bringing life to the new League, and hopefully, as time passes, a flourishing hill running scene in the sunny county.
It did close the door on a few fascinating duels as the strong local men of Sliabh Bhuidhe Rovers, of which Bernard Fortune will be well-known to regular hill runners, could not make it. In their absence could any of the Boys of Wexford challenge Keith Heary, the Carlow duathlete, as he lined up?
Moments earlier, Tommy Galvin, had nodded to me saying "shall we congratulate the winner" in response to which I hastily pointed to Keith before cautiously adding: "Anyway, I'm sure there's a few dark horses in the field." Indeed, I looked around at many faces I didn't recognise but there were many club runners from local clubs Slaney Olympic (the organisers) and Kilmore among them Stephen Tyrell, cousin of Irish International and fellow Wexford-man Tom Hogan, fittingly outfitted with the Purple and Gold shirt.
Arriving at the race had been a breeze guided well by the sterling instructions and impressive road marking put out by Jane and Graham. The Blackstairs Mountains loomed impressively behind the smaller hills that set the scene for the Little Sliabh Bui race that Graham described "as an introduction to hill running for road runners". Sliabh Bui itself stood tall as a pike covered in conifer and topped by a mast to our right and I was somehow happy that we would face the gentle roundness of the "Little Sliabh Bui" rather than its bigger cousin.
Parking was easy at the road side and registration was well-organised and flawless just as the marking would prove a bit later, hats off to Jane and Graham whose long experience with IMRA showed.
The start took off from just beyond the characteristic black and yellow iron gates that so often mark the entrance to a good running trail and as Graham send us off, I roared into the slipstream of Keith Heary and Leevale athlete and climber Kieran Collins, who had taken the long drive from Cork. Grey stones disappeared below us as we swept up the initial ascent. A mighty wave? Perhaps not quite, but the 30 strong crowd meant the race felt most certainly "on".
800m swept by and as we moved onto the first short descent Keith and Kieran had opened a gap of a hundred metres, yet when my Garmin beeped to mark the 1st Kilometre finished I looked down and saw "3:34". Keith Heary passed the 1 mile mark in 5:21 and gathered momentum from there, but for me this first uphill kilometre spelled doom and I knew it.
As we hit a flat patch, Slaney Olympic runners Eddie White and Stephen Tyrell were first to pass me out, then followed Kilmore's John Moore. Stephen hammered mercilessly down the flat descent and almost paid the prize as he slowed to a walk as the first loop of the "eight-shaped" route closed in on itself by turning very steeply up through the evergreen trees on a narrow grassy path.
It was here Keith Heary upped the pace further and broke away from Kieran, in the meantime Eddie White had secured 3rd while John and Stephen battled it out for 4th and 5th. I fought grimly a few hundred metres back, and it felt like the last vile sweat of the flu that had plagued my training for ten days poured out as I harked and coughed my way up the hill, never halting to a walk but never pushing the pace either. Every one of the races 4 miles was noted with a visible marker and every one was more welcome than the next.
Behind me I could hear two runners approaching, one was Fiona Kehoe, last year's Wexford Senior County Cross-Country champion while the other was a third Slaney-man, Chris Squance, who had been inducted into the hills at last year's Mount Leinster race. Every time the route flattened out a bit, I managed to up the pace somewhat although this stage I felt like a Hessien brought to the spear. It was like being stuck in a high gear on a bike up a very bad hill, unable to change it.
As we the road turned out of the trees and downwards back towards the finish, I sensed relief, to my surprise, however, I know felt like pedalling down the hill unable to change away from the small gears, the stubborn big chain would not jump into place. The road grew more mucky and rocky then and for a brief moment I closed the gap on Stephen and John, then two more short ascents hit me like sucker punches. The final corner came into view, Aoife, and Graham were cheering us on now: I took the corner clumsily, and then saw the expected very steep drop on broad rocky fire trail to the bottom. I sped up but could only gather momentum to a 3:40 final kilometre on a descent so fast it begged for a runner to break 3:00.
It was up to John and Stephen to decide the race for 4th and 5th now and the latter opened a 6 second gap to John with myself 6 seconds further behind. Behind me Chris Squance had overtaken Fiona who still finished in a good 27:08 taking first woman in front of Kilmore's Helen Doyle and Bray Runner's Liz Ryan who both came in just beyond the half hour.
John Moore's fifth spot meant he won the M40 in front of fellow Kilmore man Adrian Stafford and Carlow's John Casey. Vivian O'Gorman, who needs no introduction, took the M50s win in front of Slaney's Lar Doyle while Myles Murphy secured the M60 and Charlie O'Connell in familiar style took care of the M70. On the fairer side, another Kilmore runner, Frances Barden, won the F40 in front of Carole Percival and Nahn Ambravason and no women contested the other categories.
Glory on the day, however, belonged to Keith Heary, who gained a welcome reward for his fine performances in the Winter League this year, as he held on to a 1:25 victory over Kieran Collins (and everyone else). An enthused crowd took off to Ferns for the prize-giving while I decided to have a second go at the route and enjoy the views a bit better the second time around. While we missed the prizes, we arrived in time to be treated to tea by Jane and Graham who were advertising the next two races in the village which was now filling with athletes preparing for the cross-country. What better place to advertise.
All in all, a great introductory route to hill running with an average ascent grade of around 5.4% (around what you'll get on the easier Winter and Leinster League routes) and a total distance of 6.25km and a climb of a manageable 177m. Next up, at Kilbrannish, we shall see who is truly Mount Leinster's own darling and pride before Gibbet Hill finishes off this league. But it doesn't end here for Wexford. In this year's Leinster Championship there's the chance to pit yourself against the roof of County Carlow and County Wexford: Mt. Leinster herself.