Ballyross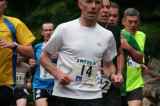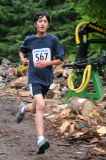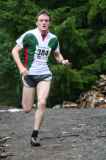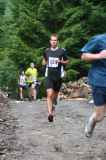 Authors
Rene Borg
30 July, 2009
TEAM COMPETITION
A small club crowd contested the Trail League at Ballyross but this didn\\\\\\\'t rob the race of an exciting contest between Boards AC and UCD. Finbar McGurren brought the Boardies in first with Niall Fox in close pursuit but with Ben Dromey and Zoran Skrba gaining space on John Ahern the student club took a 2 point victory.
Behind them Gavan Doherty led home a Crusaders team with \\\\\\\"new man on the block\\\\\\\" Oscar Nieto Cid and M60 winner Diarmud O\\\\\\\'Colmain. Their female counterparts could run home to an unopposed victory led home by Lornie O\\\\\\\'Dwyer.
This means Boards AC now lead UCD by 18 points before the final race of the league with Crusaders too far back before the final race to fight for 1st and 2nd.
MEN
1. UCD 28 (7 Niall Fox, 10 Ben Dromey, 11 Zoran Skrba)
2. Boards AC 30 (6 Finbar McGurren, 8 Mick Hanney, 16 John Ahern)
3. Crusaders AC 116 (19 Gavan Doherty, 37 Oscar Nieto Cid, 58 Diarmud O\\\\\\\'Colmain)
WOMEN
1. Crusaders AC 29 (8 Lornie O\\\\\\\'Dwyer, 9 Eva Fairmaner, 12 Geraldine O\\\\\\\'Shea)
Eva Fairmaner
30 July, 2009
Ah the midgies, I swear they check the IMRA site every Wednesday morning and if we are anywhere in the Enniskerry direction (in particular) they summons their kinfolk and swarm down to the car park to greet us. My colleagues are confident that I don't have swine flu but are wondering what other disease I have as I have been scratching more or less nonstop all day.
The first trail race of the league and rain and mud did not dampen the enthusiasm of the crowd. Plenty of new faces and good to see some old (or not so old faces) returning – notably Aisling Coppinger who had missed the Wednesday nights races through both injury and triathlon pursuits. Dessie Shorten appeared in his usual neat and coordinated singlet and shorts and ever so shiny racers, a picture of sartorial elegance! Once Douglas had delivered his oration in his gentle and dulcet tones we sped off.
Though most of us were used to greater climbs from the Wednesday nights' races it was surprising how sapping the track felt. Places swapped and banter exchanged between those who are obviously fitter than me. I was busily enjoying the sweet waft of Caroline Herrara 212 perfume (hint for Simon – my favourite perfume) which I had sprayed on my race number and Geraldine O'Shea's before the race. Now well you might ask is this a new form of pre-race preparation? Well…..we found that our well-raced numbers were less than fragrant as befitted us Ladies so we thought we would remedy that!
Oh yes…the race…..well as you can see from the results Ian Conroy had a comfortable 2 minute lead on Jason Reid and David Healy. Donna Mahon was in a class of her own finishing fifth overall and six minutes ahead of 2nd placer, Aisling with Hazel swooping down for 3rd place.
I had a fine battle with first-timer Deirdre Fitzsimons who had the beating of me on the uphill stretches but I luckily only just managed to beat her on the long downhill section.
Roll on next Wed to Djouce Woods and please Midgies, take your summer break and head off to the Dail – oh wait, are they on a break again? or somewhere else!!!