Wicklow Way Trail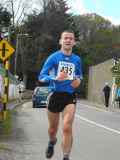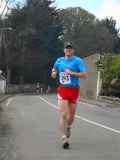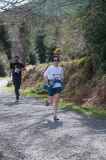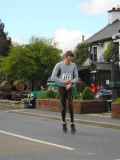 Authors
Rene Borg
16 April, 2009
Full club statistics including all teams below:
MEN
1st - Rathfarnham WSAF 16 (Kevin Keane 1, Aaron O'Donohue 4, Niall Somers 11)
2nd - Clonliffe 21 (Gerry Brady 3, Ronan Hartnett 5, Paul Duffy 13)
3rd - Sportsworld 41 (Ed McEntee 6, Paul O'Connell 9, Vincent Galvin 26)
4th - Sli Cualann 65 (Jimmy Synnott 10, Cormac O'Ceallaigh 16, Daniel Buckley 29)
5th - Crusaders AC 76 (Jason Kehoe 19, Gavan Doherty 21, Diarmuid O'Colmain 36)
WOMEN
1. Crusaders AC 25 (Mary Collins 5, Niamh O'Ceallaigh 9, Deirdre Ni Chearbhaill 11)
Mick Hanney
15 April, 2009
A great day's weather for the annual Wicklow way trail race. Most of the runners bused it over from Johnny Foxes and along the way we had a crystal clear view across the Wicklow mountains skyline that we were to run through soon enough.
A good crowd gathered at the traditional off-point. As usual we waited for the first of the ultra runners to arrive before we set off. Eoin scampered down the slope, took his drink and was off again on his return 'leg'. He was closely followed by 1 or 2 others but Eoin opened up that gap on the homeward stretch as he habitually does.
The WW trailers set out.. a dash for position before we all single file it along the WW boardwalk. There are some great photos of the runners in the early stages of the race with Lough Tay in the background. Thanks John Shields again.
Into the distance raced Kevin Keane (never to be caught). A very good time was recorded by Kevin on the day, all the more commendable if it was very much a solo running effort. Kevin was pursued by the new entrant to hill running this year, the impressive Keith Heery. Gerry Brady did very well and finished 3rd.
The ladies race was won by Jackie O'Hagan with Caroline Reid and Marie Dawson following.
I'd a decent race. I set off with heavy legs having run a marathon 6 days beforehand (not to be advised), but ran somewhat conservatively early on and was surprised to find some life in the legs later in the race and to finish reasonably well for a WWT PB.
The WW trail race sneaks up on you and gives you a shock if you haven't run such distances in training. The hill coming out of Curtlestown for instance terrorised a few people. Certainly some people who went off too fast probably suffered for the longer distance in this race compared to your standard winter league race.
A great race then and good craic at the finish which was ably directed by Dermot Murphy & crew. Thanks to all who made this a great day.
Dermot Murphy
12 April, 2009
Well done to Kevin Keane for a great win in the Wicklow Way Trail on Saturday. Its been a great return for Kevin this year after injuries have disrupted his last few seasons. Keith Heery also had a good run for second, with Gerry Brady in third.
In the womens race, Jackie O'Hagan had a great run and looks in good form for the season ahead. Caroline Reid was in second place with Mary Dawson in third.
We were blessed with great weather this year with a mixture of sun and cloud throughout the day. This kind of weather adds to enjoyable and successful event, which Saturdays race undoubtedly was. It was a great turnout for the race - 86 runners - and the good weather no doubt helped there as well.
I would also like to thank all the helpers throughout the day - for Sean (car parking duties/Curtlestown water stop), Geraldine, Deirdre & Melanie for helping out with registration, Mick & Justin for organising the bus - there were some last minute changes to places here but this worked out great on the day - for Peter who did numerous jobs throughout the day, for the people who did such a great job at the water stations at Crone and Curtlestown - Mary plus helpers/supporters at Crone and Trish and Sean at Curtlestown, also to John Shiels and Lindie who took loads of photos at various points throughout the day. I also drafted in various helpers/supporters and finishers to help out at the finish - thanks to you all. A race like this, plus the Ultra which runs at the same time, is dependent on volunteers to make it a successful and there was great commitment from everyone throughout the day.
Any runners who would like to add some of their on thoughts on the race, please feel free to write up a report.