Crone Woods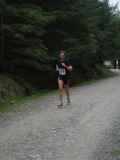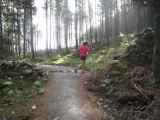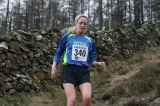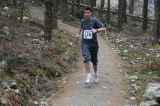 Authors
Peter O'Farrell
24 March, 2009
The pre-race photos had led me to believe that Karen Duggan would be leading the field but in reality we had to make do with the determined posterior of Kevin Keane high stepping into the distance, the comeback kid is making a habit of winning races but Eoin Keith is still showing the way to win leagues, his consistency earning the overall title to keep his cockles warm as he prepares for a 100km race next weekend. From 7km to 100km in 7 days, versatile as well as consistent!
Versatility was required in an absorbing course that managed to reference the 4 provinces, a nice touch on the day Ireland won the Grand slam with tries from Leinster and Ulster and a winning drop goal from Munster. The grassy climb was pure Knockdhu, the plunge off Maulin had a touch of Ben Gorm and the switchbacks showcased the shiny new Leinster.
Gerry Brady was literally everywhere and was ably assisted by fellow committee members Sinead and Rene and many others. John O'Connor had a welcome return to racing and not too many in the field might have realised the class of this man who regularly featured in races in years past and is still keen enough to manage our international teams.
The winter league is over but the weekend championships are revving up for an exciting year with many contenders remaining injury free and more importantly motivated to challenge the mighty Lenihan on the true classics of the Irish Championship.
Gerry Brady
21 March, 2009
Fiercely competitive battles saw out the final event of the 2009 Winter league on an extended Crone Woods course that took in Maulin summit. In 2008 the course was 6 kilometres, five of those were kept for 2009 and two new ones added to introduce a summit and two more technical descents. The pictures of the race largely describe the toughness of the climbs and the agility required for the descents. I will leave it to the competitors to describe their suffering in their race reports ………
Not that Kevin Keane (Rathfarnham) noticed the extra kilometres or the climbs as he powered his way to an impressive victory. He had already established a lead as the climb up the steep grassy bank began and he further extended it on this stretch. Peter O'Farrell (Rathfarnham) showed a return to form with a strong run in 2nd place. Eoin Keith (Boards), with victory in the overall Winter league at stake, stayed in contention throughout to finish third. His main rival, newcomer Keith Heary (Carlow), was only eight seconds behind Eoin in sixth place. Emmet Jennings (DSD) was first junior in a very creditable eight place. Colm Mullen (Sli Cualann) made a welcome return to competition in 13th. The individual race in the college championship was a very close affair with Stephen Cleary (DCU) edging it ahead of orienteer Colm Hill (DIT) after a recount! In between them was Vincent O'Sullivan, a former UCD student and currently studying in England, The team event went to University of Ulster who were led home by Philip Goss in third place. The Military College and UCD tied on points for the silver medals but the Military had their third runner home first.
In the women's race Donna Mahon (Rathfarnham) led throughout the race but she was never far ahead of Ciara Largey (Queens), Niamh O'Boyle (TCD) and Mags Greenan (Clonliffe). Greenan gave Mahon a hard chase. Behind her Largey and O'Boyle had a titanic tussle for the colleges title and eventually they passed Greenan on the last technical descent. Both are orienteers so they were well matched in their strengths with Largey holding a narrow lead throughout the race. Mary Dawson (Sli Cualann) and Maureen Lowther (Trim) are tied on 12 points in the overall women's winter league provisional results with Mary winning the overall title by virtue of having most wins.
In the club race Sli Cualann won with 30 points while only two points separated the next three clubs. Clonliffe won the women's team race as well as the overall winter men's team league. Crusaders were overall winners of the women's winter league.
Thanks to all of the volunteers who did tremendous work and to all runners who were competing in their first ever IMRA race. A sizeable contingent from Metro St. Brigid's turned out thus renewing a link back to 1980 when Metro runners were to the fore in the newly started fell races. Notable newcomers were Elizabeth Cuskelly (Tullamore) and Kate O'Neill (Metro) who are well-known for their cross-country performances and they look set to become contenders for the Irish international mountain-running team. As indeed will Ciara Largey (Fermanagh orienteers) and Niamh O'Boyle (CNOC).
Colleges individual men
1. Stephen Cleary (DCU) 36.24
2. Colm Hill (DIT) 36.59
3. Philip Goss (UU) 40.21
4. Jason Wilson (UU) 41.00
5. John Kirwan (UCD) 43.04
6. Sean Downey (TCD) 43.22
7. Jarlath Falls (UU) 44.45
8. John Maye (NUIM) 45.35
9. Daire Roche (Military College) 47.39
10. Liam Fannon (Military College) 48.49
11. Kian Jennings (UCD) 50.27
12. Gavin Egerton (Military College) 54.39
13. Paul Morrissey (UCD) 57.38
Colleges individual women
1. Ciara Largey (Queens) 43.06
2. Niamh O'Boyle (TCD) 43.16
3. Sarah Heal (TCD) 53.21
4. Lisa McMahon (WIT) 54.43
Colleges team men
1. University of Ulster 14 (3 Philip Goss, 4 Jason Wilson, 7 Jarlath Falls)
2. Military College 31 (9 Daire Roche, 10 Liam Fannon, 12 Gavin Egerton)
3. UCD 31 (5 John Kirwan, 11 Kian Jennings, 13 Paul Morrissey)
Mens club
1. Sli Cualann 30 (5 Vincent O'Sullivan, 12 Ben Mooney, 13 Colm Mullen)
2. Rathfarnham 39 (1 Kevin Keane, 2 Peter O'Farrell, 36 William Griffin)
3. Crusaders 41 (10 Richard Healy, 14 Robert Healy, 17 Shane O'Rourke)
4. Clonliffe 41 (4 Stephen Cleary, 9 Paul Duffy, 28 Sean Downey)
5. Sportsworld 68 (11 Paul O'Connell, 25 James Shanahan, 32 Paul Mitchell)
6. CNOC 73 (7 Colm Hill, 23 Hugh Cashell, 43 Conor Short)
7. MSB 100 (19 Mel Hilliard, 35 David Carroll, 46 Paddy Parrott)
Womens club
1. Clonliffe 24 (4 Mags Greenan, 7 Karen Duggan, 13 Cliona Kenny)
2. Crusaders 46 (12 Tressan McCambridge, 14 Sarah Heal, 20 Niamh Ni Cholmain)
Inter-county women
1. Dublin 10 (1 Donna Mahon, 4 Mags Greenan, 5 Laura Flynn)
2. Wicklow 43 (10 Mary Dawson, 16 Grainne Cunningham, 17 Ruth Lynam)
Inter-county men
1. Dublin 24 (2 Peter O'Farrell, 8 Emmet Jennings, 14 Robert Healy)
2. Wicklow 44 (12 Ben Mooney, 15 Tim Grummell, 17 Shane O'Rourke)
3. Cork 52 (1 Kevin Keane, 3 Eoin Keith, 48 Richard Nunan)