Croagh Patrick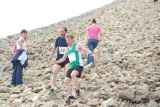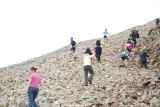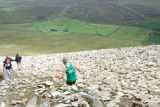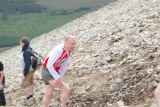 Authors
Unknown
28 November, 2009
A sunny day that showed some promise for a good run on a great mountain - that was the hope and, being Croagh Patrick, the prayer. And so it turned out.
So fit and strong athletes? Friends until the "go" then foes 'til the end.
Up the road to the steps - to the statue. Some of us gasping and John Heneghan from Pudsey and Bramley, makes his way ot the top first. John Lenihan followed just behind with Peter O'Farrell and John Brooks. Down the great descent amongst all the walkers Heneghan extends his lead to win. Brooks passes two to take secon dand Peter stays third tot tkae third while Lenehan took fourht - all under 50 min! Lenihan winning the vets!
First lady ot the top Moire O'sullivan, fresh from her Wicklow Round adventure, kept her lead over former youth international Rosy Temple and current junior international Michelle Finn in third (thereby winning the juniors).
That man from Bilboa Joe Ahern just doesn't slow dwon and won the supervets with Maritn Coortvriend form Wales finishing second. Limerick man Joe Lafffan ran a good race to hold of Bandanaman Mick Kellett for the over 60s while the ever hardy Charlie O'Connell won the 70s.
In the junior men's race Louis Mulloy had a great race to win in the and finished 23rd overall.
Tiarnan Muldoon and his brother Darragh both ran the junior short course, no problem at all!
Our thanks to Rene for taking times at the top - what do yo udo if you have no pen! Improvise of course, use the voicemail on your phone! A bit obvious that!
Thanks also to both Troy and Denise for the finish and to Mayo Mountain Rescue - stalwart Paul O'Malley for fixing ankles-shoulders-knees - what a Q!
TEAM RESULTS
OveralL IC: <a href="/ad-hoc/ICOverallTeamResults4-5.xls">here</a>
MEN
1. Rathfarnham WSAF 12 (John Brooks 2, Peter O'Farrell 3, Brian Furey 7)
2. Bilboa 41 (Thomas Blackburn 8, Mike Cunningham 12, Joe Aherne 21)
3. GEN 102 (Alan Ayling 26, Joe Lalor 31, John Shiels 45)
WOMEN
1. Crusaders AC 22 (Rachel Walters 5, Aoife Joyce 8, Leanne Cooke 9)
2. Millstreet 22 (Michelle Finn 3, Gayle Finn 7, Mary Finn 15)
<b>KoM/QoM </b>
<br>Full results <a href="/ad-hoc/CP_KoM.xls"> here </a>
Apologies to those not successfully recorded at the top.
<b>King/Queen of the Mountains</b>
KoM
1. John Heneghan 29:00 10
2. John Lenihan 31:13 9
3. Peter O'Farrell 32:12 8
4. John Brooks 32:24 7
5. Bernard Fortune 35:23 6
6. Sean Twomey 00:36:22 5
7. Leo Murray 00:36:23 4
8. Brian Furey 36:43 3
9. Keith Ryan 00:37:33 2
10. Thomas Blackburn 00:37:52 1
QoM
18. Moire O'Sullivan 00:41:33 10 pts
20. Aoife Joyce 00:42:39 9 pts
24. Lynn Temple 00:43:54 8 pts
29. Michelle Finn 00:45:04 7 pts
31. Rosy Temple 00:45:30 6 pts
33. Rachel Walters 00:46:16 5 pts
35. Mary Finn 00:46:54 4 pts
36. Clare Morrisey 00:47:00 3 pts
37. Gayle Finn 00:47:28 2 pts
39. Caroline Reid 00:47:40 1 pt
Rene Borg
10 August, 2009
TEAM COMPETITION
MEN
1. Rathfarnham WSAF 12 (2 John Brooks, 3 Peter O'Farrell, 7 Brian Furey)
2. Bilboa AC 42(8 Thomas Blackburn, 12 Mike Cunningham, 22 Joe Aherne)
WOMEN
1. Crusaders AC 22 (5 Rachel Walters, 8 Aoife Joyce, 9 Leanne Cooke)