Wicklow Way 22K & 44K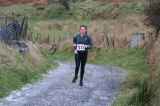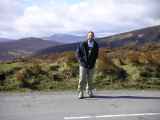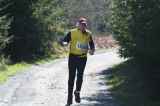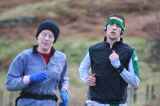 Authors
Unknown
28 November, 2009
The weather once again dominated proceeding during this years' Wicklow Trail race, with wind, rain, hail, thunder and lightning all playing their part in an attempt to prevent runners finishing the course - it seems appropriate that this race typically occurs during the Lenten period.
This year 15 runners set out at 10am from Johnny Foxes for the ludicrous 50km route. 45 marginally more sensible runners waited until 12am for the 25km route start from Lough Tay.
Before the 12am 25km start cheers erupted as the first of the 50kers, Eoin Keith, appeared at the half-way point, followed very closely by Gerry Lalor. Paul Mahon also made it to the half-way point within 2 hours, with Beth McCluskey just a couple of minutes back. Perhaps these athletes forgot about the return leg, given the conditions & than there is approx 100m more of a climb over the first 25k? :-)
Jonathan Doyle & Johnny McCabe set the early pace on the 25k route as most people were using whatever means possible to avoid being swept off the sleeper boardwalk due by the gale force gusts. John McEnri & Richie O'Donnell illustrated their descending abilities as they took over the lead on the trail down from Djouce. At Crone the 25k race was a 3-way tie between Barry Minnock, Richie O'Donnell & Joh McCabe, while Eoin Keith had opened up about a 5 minute gap on the 50k race.
From Crone yours truly, Barry Minnock, made a decisive break up the hill to the hostel & never looked back (except to occasionally verify that I was still on the Wicklow Way). The race for second always seemed likely to be a 2-way tie between Richie O'Donnell & John McCabe, with Richie winning out in the end. Martin Francis didn't read the script, as he paced his race to perfection to pip John & take third spot (also 1st M40). Vivian O'Gorman was first M50 home & Brendan Doherty the first M60.
Fidela Ayres led from the start in the ladies 25k race to take first place (also 1st F40), with the ever improving Orla McEvoy in second and Zoe Melling in third.
On the 50k route Eoin Keith once again dominated to take first place, with Paul Mahon second & Beth McCluskey third. Gerry Lalor possibly regrets his early pace as he was eventually forced back into 4th, although perhaps he takes some consolation in the spiritual enlightenment achieved on route & also being the first M40 home. Tom Loftus was first M50.
The ladies 50k was dominated by Beth McCluskey. Roisin McDonnell came home in 2nd (1st F40), wtih Jane Porter 3rd (1st F50). Jane is also one of only 2 people who have done all 10 Wicklow Trail races to date. Afterwards she promised this will be her last & that in future she will take on a organisation role instead ...
A special thanks goes to all who helped on the day. Fidelma Ayres & Tony Kiernan for their marking (also Andrew & Zoe for the aftermath) - even I didn't get lost, although Aisling Coppinger & Jonathan Doyle were obviously running too fast to see the signs. Eva & Simon at Crone and Geraldine & Karen at Curtlestown deserve special praise for baring the elements to provide excellent refreshments on route (those jelly babies ...)! John Farrelly obviously has a helicopter as I saw him a number of times on route fresh as a daisy, eventually helping Henny Brandsma at the finish line. Brendan O'Connor also appeared at several point with his camera - please get in touch so I can put the pictures up on this site! The mugs & prizes were excellent, with Fidelma Ayres & Maurice Mullins deserving the praise here. The race wouldn't have been possible without the extraordinary efforts of the race organiser, Mike Long. On behalf of all the runners to everyone who helped, THANKS! Apologies for anyone I've failed to mention ...
Please find race results below:
<b>50km Overall
Position Name (Category) Time</b>
1st Eoin Keith (M) 03:49:50
2nd Paul Mahon (M) 04:07:59
3rd Beth McCluskey (F) 04:12:00
4th Gerry Lalor (M40) 04:19:45
5th Tom Loftus (M50) 04:37:06
6th Roisin McDonnell (F40) 04:39:08
7th Aaron Henry (M40) 04:50:07
8th Cormac O'Ceallaigh (M) 05:12:40
9th Tony Kieran (M) 05:56:00
10th Dave Brady (M50) 05:59:41
11th Eugene Duff (M) 06:17:24
12th Gary Kerwin (M) 06:17:24
13th Graham Porter (M50) 06:28:00
14th Jane Porter (F50) 06:28:00
Aisling Coppinger (F) DNF
<b>50km Ladies
Position Name (Category) Time</b>
1st Beth McCluskey (F) 04:12:00
2nd Roisin McDonnell (F40) 04:39:08
3rd Jane Porter (F50) 06:28:00
<b>25km Overall
Position Name (Category) Time</b>
1st Barry Minnock (M) 01:38:16
2nd Richie O'Donnell (M) 01:47:42
3rd Martin Francis (M40) 01:47:58
4th John McCabe (M) 01:48:31
5th Mike Long (M40) 01:52:18
6th John McEnri (M) 01:54:35
7th Colin Murphy (M) 01:55:25
8th Connor Little (M) 01:56:35
9th Liam Griffin (M) 01:57:28
10th Jonathan Doyle (M) 02:00:33
11th Archie O'Donnell(M) 02:00:45
12th Neil Fitzgerald (M) 02:01:33
13th Fidela Ayres (F40) 02:01:58
14th Andrew McCarthy (M) 02:02:50
15th Orla McEvoy (F) 02:04:17
16th Vivian O'Gorman (M50) 02:04:35
17th David Naylor (M) 02:04:46
18th Paul Sullivan (M) 02:05:43
19th Dermot O'Sullivan (M) 02:05:43
20th Noel Boylan (M) 02:06:21
21st Kieran Wymm (M) 02:06:39
22nd Zoe Melling (F) 02:07:00
23rd Emma Sokell (F) 02:07:11
24th Cillian? Stewart(M) 02:08:00
25th Aoife Joyce (F) 02:10:00
26th Phillip Brennan (M) 02:10:39
27th Sarah Moores (F) 02:11:14
28th Michael Bate (M) 02:13:44
29th Ruairi McGown (M) 02:14:04
30th Brendan Lawlor (M40) 02:15:14
31st Doug Corrie (M40) 02:15:26
32nd Enda McLoughlin (M) 02:16:14
33rd Maura Ni Chearbhaill (F) 02:16:31
34th Sean Hasset (M) 02:19:50
35th Hazel Thompson (F) 02:22:30
36th Justin Rea (M40) 02:25:00
37th Colin Rainer (M40) 02:34:24
38th Brendan Doherty (M60) 02:50:00
39th Bronah Gavigan (F) 03:02:07
40th Louise O'Sullivan(F) 03:05:00
41st Nadya Dunne (F) 03:05:00
42nd Gordon Douglas (M50) 03:15:00
43rd Barry Tennyson (M50) 03:42:35
Shane O'Rourke (M) DNF
Dave Weston (M40) DNF
<b>25km Ladies
Position Name (Category) Time</b>
1st Fidela Ayres (F40) 02:01:58
2nd Orla McEvoy (F) 02:04:17
3rd Zoe Melling (F) 02:07:00
4th Emma Sokell (F) 02:07:11
5th Aoife Joyce (F) 02:10:00
6th Sarah Moores (F) 02:11:14
7th Maura Ni Chearbhaill (F) 02:16:31
8th Hazel Thompson (F) 02:22:30
9th Bronah Gavigan (F) 03:02:07
10th Louise O'Sullivan(F) 03:05:00
11th Nadya Dunne (F) 03:05:00
Previous years' results available:
<a href = "http://www.imra.ie/?sec1=newsitem&news_item_id=149">2005 results</a>
<a href = "http://www.imra.ie/?sec1=newsitem&news_item_id=148">Pre-2005 results</a>