Carlingford Slieve Foye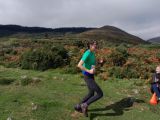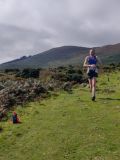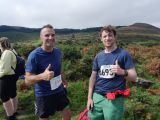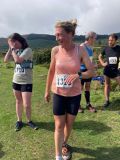 Authors
What a race....!!!
05 September, 2023 - Sean Forsyth
Just a small report on the 'wee' (see what I did there) race. In fairness it may be short in distance but it packs an almighty amount of mountain(s) into it.
I signed up for this as I was up that way for the weekend. On Thursday I was quite enthusiastic about it and as only 16 had signed up at that point, I'd be getting a top 20 finish.
That all changed by Friday, my top 20 ambitions were gone, I pulled into warrenpoint and seen, looming across the water covered in cloud, Slieve Foye…but mainly because there were 21 runners now signed up.
On Sunday, conditions were great around the lough but still misty up top. I pulled up to reg and said a quick hello to Peter and his family of volunteers. I had the added pressure of my own family here to watch..my youngest is a comedian, she was expecting me to come 1st. I thought I'd be lucky to come 31st , when looking up into the mist.
To the race, Peter gave us the talk and we were off. This race has it all, climbing from the get-go up some nice grassy paths, allows you to get into position before shortly hitting the steepish single track 1st climb. I'm not great at hiking but that's what I was reduced to. Up and up to finally hit the 1st summit, just over km done..15 minutes or so. From there it's down to the ridge, plenty of hidden rocks waiting to stub your toes. After that it's a wide technical track up to the gully to Slieve Foye, my 3 minutes of running turning into a trudge then clambering over plenty of wet rocks and muddy trails. In between changing some race positions.
This all leads to a very vertical climb to the summit..I think I had that last climb of near 200meters over 5/600 meters distance. Very tough and lost some places. Got to the summit, quick check with the marshal and down I went.
I'm not going to lie, it was on my mind that if I fell I'd just keep tumbling off the edge..tried to take it easy but the legs kept getting faster, couple of slips and a slide or 2 but very quickly back to the wet rocks..and one spectacular feet in the air on to my backside fall..even had an audience. Anyway up and at em..footing got easier and the descent along the ridge was nice, I completely forgot there was a small climb up to the 1st summit, nearly killed me but managed to get places back.
Then it was cartoon leg spinning time, down the single track , barrelled through heather, a few action movie jump of rocks and onto the grassy ride down, even had time to politely let someone pass me by.
The final run down could have been done faster but the climbing had shot my quads.
Still in I came at roughly 53 mins which was 7 minutes faster than planned.
Some quick chats, nice treats handed out, sweaty hugs for the kids and down to Carlingford to enjoy a cuppa in the tea rooms.
All in all a fantastic day out and a race that has everything you could want out there of a mountain run..all terrains catered for.
Big thanks to Peter and all the volunteers for a great event, one that won't be missed again.
Louth champs the descenders race.
05 September, 2023 - Turlough Conway
This race had always swung towards good descenders.
Last year Ian Conroy's segment smashing climbing was more than negated by Enda Cloake's descending ability. The year before Michael Dowling descended from 5th on the summit to win with Gareth Little managing a similar exploit to take 2nd. This was my first go at the race and with the masters in Madeira upcoming I needed to give this a good cut to bring me on. That meant 45-50 mins of hard work. My mentality was good, due to my Madeira plan I had no pre determined finishing place in mind : I was just going to run as well as I could and race whomever was around me. Less pressure, easier to have a decent race.
The Slieve Foye race also incorporated the inaugural Louth Hill Running Championship. But would Louth runners beat all comers? There had been a few Sligo visitors since Maeve sent that Louth fella packing and gave him that weird Brown thing that looked like a pony/goat that nobody in Connaught wanted anyway to ride home on. I had joked with Louth favourite Shane Lynch that a win for me might mean a prize of the cost of a Brown bull in Euro raised by a whip around by the Louth contingent. In reality I was only half joking. Game on!
As warmup I jogged up through the grassy streets of the deserted village which seemed to take a while and then took the right to start the Barnavave summit climb before turning back.
Not long later I was running through the village in the race which seemed to go quickly.
Shane Lynch was leading a group of three with James Millar and Lorcan Vallely in close attendance.
I was in 6th or 7th. Climbing well was Paul Sweeney and Javaid Gaynor closing on Lorcan.
Ahead I could see Shane now clear in 1st with James clear in second. I wasn't far off Lorcan and Javaid and I got a chance to pass them near the summit. One advantage of all the mileage I have been doing is that you recover quickly and I managed to get going off the summit before the lads and got a gap clear in 3rd. At the summit we may have been just within 30s of Shane. I had a decent descent and didn't appear to lose time on the lads ahead. After the saddle I seemed to be gaining on James who may have been nursing an achilles. I caught up half the way up the gully and nearly snotted it exchanging pleasantries! Now it was steep and I tried to get the fastest micro lines for me following the flags through the rocky upper part of the gully which i succeeded in doing albeit with a few mistakes. Quads were hurting but I was still managing to keep running which I wanted to do to get the legs strong and enduring for Madeira. The last slightly rocky push right to the bottom of the summit rock took some hiking and there I spotted Shane hop off the summit starting his descent about a minute before I summitted. When i touched the trig stone and turned James was already climbing the summit rock.
I went for it and managed the first few hundred metres well enough before coming a cropper in mud and having a really decent slide, James asked after my health as he hopped past, I told him all good and I set off. Rhythm was gone but I was just trying to get down to the saddle as quickly as I could.
As the view of the saddle appeared I could see James well ahead, Shane was out of sight. I was a little more reserved getting to the saddle, with more descending to come, James was well out of reach and Shane was gone. I felt if I got there in 3rd I would hold it. With plenty in the tank I legged it up Barnavave again, happy with it and possibly not losing time on anyone there. Enjoyed the descent and the lovely grassy run through the old village and was suprised to see Lorcan finishing not far behind me. After Lorcan was Paul Sweeney who is showing great climbing form and had one of the fastest climbs from Saddle to Foye summit.
It's a descenders race though and most places are swapped from the descent from Foye summit to Saddle than in any other section of the race.
Well done to Shane Lynch on a dominant win. In the women's race Louth runner Rebecca Carolan was a clear winner with a battle between Ciara Largey and Catherine McIntosh seeing Ciara edge it out.
Well done to Peter, Orla and volunteers. Thanks also to Junior volunteers Conor and Oisin for the work on both days and keeping everyone sorted with jellies after the race was over.
Bigger things for this event next year hopefully and great to see several of the Louth runners getting involved and planning already!