Carlingford - Fox's Rock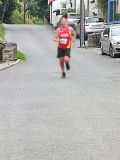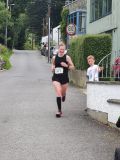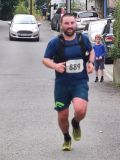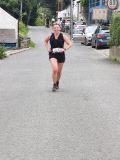 Authors
Táin Rith Cuailnge
05 September, 2023 - Rónán Davison-Kernan
As a proud Ulsterman I love a race in the Cooleys. Sure isn't that where Cú Chulainn drove off Queen Méabh singlehanded while the warriors of Ulster were laid low? Never mind that Cú Chulainn was from Dundalk, and (most of) the Cooleys are in Leinster. Cú Chulainn clearly didn't worry too much about heel blisters in his brand new Mudclaws, or finding the Slieve Foye trig point in the mist. But Saturday wasn't particualrly sunny, yet I came away with a spectacular vest-shaped sunburn after but a few hours out - how would the famously redhaired Cú have coped with that?
Anyways. Twas a mostly clear day, except for Slieve Foye wearing a misty hat (as is traditional). At the stroke of midday the finest mountain runners in Louth (mostly) took off up the tarmac lane at a furious pace. Our latter day Cú Chulainn, recently crowned NIMRA champion and pride of Kilkeel Adam Cunningham took an early lead as several optimistic runners perhaps unused to his relentless pace tried to hang on but were soon dropped. This was no victory lap for Adam, however, as Marcus Bishop, adopted son of the Red Branch Knights (...he lives in Armagh) was right behind him the whole way, keeping him working hard.
We climbed through the ferns into the mist on the steep boyo that is Slieve Foye. Anyone who took part in Armagh AC's Flagstaff-Carlingford race in June will have at this point started suffering from Vietnam-style flashbacks to scores of runners running round in circles amongst the crags and flase summits of Foye, guldering at each other like a game of Marco Polo trying to find the trig point, and then huddling together waiting for someone who knew how to get of the blasted thing.
Thankfully, all seemed to make to the top of Foye unscathed, as when travelling from Carlingford you essentially just go up until there is no more up to go. As the climb got steeper and runners spread out a bit, I caught a few people as what I lack in aerobic power I partially compensate with a willingness to take a direct line through steeper terrain (those years spent rock climbing coming in useful). However both heels started to smoulder like a toaster turned up to 11 and I soon regretted choosing this day to break in new shoes. I reasoned that half the race would be downhill which would give some respite, which was mostly true.
Off Foye, with the top 3 of Adam, Marcus and Brian Furey (Brian, your surname is an excellent example of nominative determinism for a runner) disappearing into the distance while 5 of us battled it out for the crumbs. Different lines were taken but all converged as we tumbled out of the mist and on to Foxes Rock - where, alas, my request for plasters, tape or sympathy was denied (fair enough).
Ah, but now there was more Down than Up, and I could continue to gaslight my heels with promises of temporary relief. The run back to Foye deteriorates to a shuffle, but most are in the same boat. I keep low past the lakes to a green ramp that leads more or less direct to the summit and reach the trig in 6th. No stumbling about lost this time.
This, then, is the fun bit. I head straight for a steep rocky gulley with a post at the top labelled on the map as the Dreimire Beag (little ladder). Spat out into the ferns and the mist lifts as I join forces with Denis McGlynn for a bash through the primordial jungle, dodging gorse, sheughs (ditches for ye non Ulster folk) and walking groups. My hope of 4th place disappeared as I went for the stile while he vaulted the gate and took off down the tarmac like Macha at a long-legged pace that I couldn't match, but I'll not be unhappy with 5th - a quare day out alright. Adam was home about 10 minutes earlier with Marcus about 15 seconds back.
Another great race - many thanks to Turlough and all the volunteers for organising. I'm looking forward to getting lost in the Cooleys at the nav challenge in October. Maybe my blsiters will have healed (Heeled?) by then.