Annacurra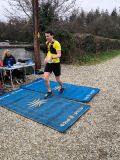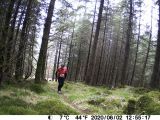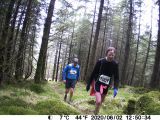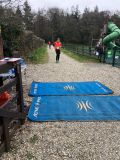 Authors
Annacurra 2023
12 March, 2023 - Lonan O Farrell
The 4th of March saw us take a trip to South Wicklow for a sharpener race. This was definitely outside my comfort zone. 11 2km of fast hilly trail was ahead and I was actually excited with the task ahead. I warmed up along the course for 15 minutes and at midday the gun went off. I knew one or two of the lads ahead were super speedy so I decided to treat this as a hard training race and just go with the flow, racing my own race. I settled into the first climb which went on for approximately 2 5km. Up and up through the most fantastic single track through the forest. I was sitting around 6th or 7th place and maxing out near the top before we swung onto a fire road for a short distance. Soon we left the road and hit a fast grassy downhill for 500 metres of fun. Smashing through downhills was easy before swinging at the bottom to climb back up to the next fire road. Another quick decent followed before climbing a fireroad, dodging a tractor and leaving the road to descend on a farm track down a fast decent of over a kilometre. 8km in now and the fire road at bottom of farm track kept descending with my pace around 3 mins 15 per kilometre. I felt like I was flying and having a ball. Eddie O Connor passed me around 8km and we then hit a hiking uphill through a short piece of forestry. I passed him and the next runner on the climb and we swung left again to hit another little climb on the fire road before hitting the last 2km decent through the single track forestry. This was the same as the first climb and we just took off. Bouncing around corners, ducking under trees, deadly underfoot technical running, but mighty craic! Eddie passed again and I then passed the guy ahead to move into 5th. I chased Ed down the last kilometre at full tilt but couldn't quite reel him in. Across the line in 51mins with over 500metres climbing and 11.26km. Such a blast. I'll be back to this one. Not my usual distance but a lot to be said for close fast racing!! Thanks as always to the organisers and marshals. Some super volunteering and excellent course marking.
Short course - steep and fun
07 March, 2023 - Maeve OReilly
Holly O'Doherty (8):
I think that the best port was going down the hills
I didn't fall but I did nearly trip on the tree roots.
I enjoyed the bacon fries from the bar.
I needed help putting my tag on my shoe and my number though I would have managed if I had more time.
I played in the playground before the race.
I didn't have to wait around much on the day.
Overall it was a good morning and my legs don't hurt afterwards though my stomach muscles are sore.
Declan Devine (12):
The race has a playground at the start which we played in. The race goes up and up and up and up. We weren't sure we'd get out alive from the creepy forest but the thought of chicken wings and hot sauce kept us going. Then we went down and down and couldn't see parents anymore as they were too slow. One parent caught up on an uphill but we ditched her again on the next downhill. I had to leave Holly behind with my mammy as Holly had a sore tummy so they were going too slow and I didn't want an adult beating me. I had a sprint finish at the end and I won.
Then Holly and I went to pub and asked how many bacon fries in an even number we could get for €10. 6 packets!!
Maeve O'Reilly (Holly's aunt and Declan's mammy):
This was Holly's first IMRA race and her mum's 2nd. We car-pooled from my house and arrived in plenty of time, which normally would have been 'too much hanging around' for kids. But happily there was the open pub where we got coffee and kids had chocolate (possibly related to Hollys' tummy issues later...) and even better there is a playground right at the start.
It was a small enough group in the short course. It starts with a gentle uphill and then a fantastic steep section through the trees. I had come prepared to carry coats etc., and soon I was carrying Holly's and that is presumably when I lost an emergency jacket I had in my bag. This is when we discovered Ayesha's new shoes, enjoying their first outing on trails, had no grip and were too loose. We had to pull her up some of the steep bits. Despite this she was nearly the first to the top, only Declan's and Holly's determination not to be beaten by an adult resulted in them sprinting past her. We met a lovely marshal there who directed us down.
That was nearly the last we saw of the kids - they flew. We did not. We ended up stopping to try and tighten Ayesha's shoes and then I did make a good effort to catch the kids, eventually seeing them on a brief uphill but lost them again on the next downhill. Caught them again after the forest trail, as Holly had stoped with a sore tummy. Declan ditched us and sprinted to the finish. By this point we had the front runners on the main course flying down so we were trying to keep to the side as well. A magic runner's jelly from my emergency supply fixed the tummy issue and we ran to the finish.
I was expecting Ayesha to be 10 minutes later, given her shoes! So I took the kids to the pub again where they negotiated a great deal of bacon fries. Ayesha was only a couple of minutes later and met us there for some lovely soup and sambos.
It was a great morning out, enjoyed by all. Having the playground, the open pub and a course that is fun like made it great for kids. Though the uphill is steep/tough, it's also a spooky adventure with fun obstacles.
RDs Report
06 March, 2023 - Mick Hanney
To fill the gap before any more potential reports...
Annacurra makes a welcome race return after a bit of a gap. Between 2009 and 2015 there were 5 races and none since, as Annagh hill took the south Wicklow honours for local IMRA race.
Over the years much has changed on the trails that we used to run here. Between deforestation and trails getting overgrown due to lack of use. Gorse takes hold so quickly and before you know it the access is gone.
In recent years I found some time to focus again on local trails and did extensive gardening to clear back access where necessary. During this time I came across a bunch of new single-tracks that has emerged from the forest. The single tracks, created by local bikers, are a great addition to the hill and take the boredom out of running fire-roads.
Over the last year I hatched a plan to try get back onto the race calendar as I knew there was a race route there, that would offer a nice challenge. Thanks to the committee for putting it back on the calendar.
Lots of runs and trips up and down to the forest to clear some obstacles and the route was set – opting for a clockwise route – might reverse it next time :-)
Arrival of Coillte felling machinery in recent weeks meant an enforced change of plan, taking out probably the best climb of the day. Nevertheless the last minute change of loop still had a nice sting in the tale to make it interesting.
As a location we are lucky to have all the things IMRA needs close by to make a good event – the hall, parking, start line, forest access and pub. All these went together to make for a very smooth day. Thanks to all those who ventured down and the volunteers who made it possible. In particular to Kate and Conor on the laptop, and Liam Kenny, a race director in waiting :-)0
Andrew O Donnghaile was first around the route in a terrific time of 49:02. Closely followed by Karol Cronin and Matthew McConnell.
Becky Quinn registered her 101st IMRA win with a time of 59:17. 2nd and 3rd ladies were Emily Ryan and Niamh O'Boyle.
Fabulous run by our M80 runner (yes – M80) Francis Conroy in a very commendable time.
All told we had 138 runners which is fantastic. It was great to hear people's stories and the feedback was very positive. There was a great buzz about the place at the finish line and in the pub afterwards. Until the next time.
Annacurry chips..
04 March, 2023 - Mikey Fry
The fire roads fly in disguise as we bomb off after micks lovely messages of the day left and up for a good while felt terrible to be honest didn't think I was going to get moving at all any way across road still up through lovely trees Becky passes me so I stay with her she's an animal on the pace up hill but I cling on and we hit down hill I squeeze past her down lovely single track eventually we're going up again unfortunately another fire road she's passes me again so I cling on again thanks Becky you really helped me tomorrow then for sone more down hill and I sneak past her again a couple of passes and being past and crap we're on that long 1k fire Road mick had said in he's chat which off coarse I was listening Bernad passes me and some other dude I keep up then right onto nice hill up Becky goes passed again and we all are drawn to a fast power walk up throw a lovely part of the forest then we were not sure somewhere else boom left turn onto down part through forest which I thought I was down for there on I passed Becky Bernad other dude eventually was difficult to get past cause going so fast and so many trees but I did I see yellow gate thinking this was where we crossed the road wrong no road only another fire road up hill so pretty much out of gas here Bernad and other guy pass me eventually left last turn downhill lads sneak ahead i follow some how then right turn to flat finish to the end I see the lads sprint finishing I'm ok from behind cross the line phew that was tough thanks again to mick and crew for a super race nice chats after with Imra people and thanks to des for the nice chats and warm up at the start was chilly today roll on to the next one for me …gooday mikey