Great Irish Trail Run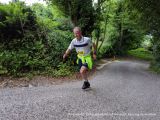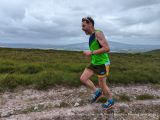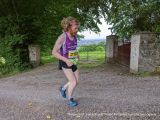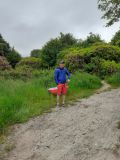 Authors
Great Irish Trail Run
21 June, 2022 - Martin Cooney
Great Irish Trail Run- back down to earth with a bump!
By Martin Cooney (19/06/2022)
The Great Irish Trail Run was a trial race for the World Masters Mountain Running Championships in September 2022. The event was being run in the same way as the World Masters will hope to be.
Anyway, I was on the road at about 9.00am. I travelled to Clonmel with Frank Coughlan who was going out in the same wave as me. The journey flew by as we chatted about everything & nothing at the same time! A bit like the three lads on the Gerry Ryan show in the '90s when after ten minute, you still hadn't a clue what the hell they were on about. Frank was telling me that he is just going to use this as a recce for the race in September.
We arrived at Hillview Sports Club, parked up in a grassy area behind the Raheen college & went in to register. I had been here in November 2021 & ran this race so was familiar with the surrounds. There were loads of volunteers there to direct us around. There were signs, porta-loos & those steel crowd control barriers. We both registered in the hall where we met Ide, Deirdre, Edel & a few others who made the check-in easy & quick.
As we headed back to the Frank's car, I was stopped by Màire O'Sullivan who jokingly started to pay homage to me telling me that she is not worthy. I recently won a race in Kilworth, which is a big deal for a runner like me (an Ordinary Joe-Soap) so delighted that it was recognized. "Ah there's no need for that" I say, "It was only a league race win"…. A pause- "Oh I didn't realize you won, I just thought it was the best race report I've read in a long time" Màire says. If that doesn't bring you back down to earth fast, nothing will! So just like the advert "You've know when you've been tangoed" where the guy is slapped by the orange coloured man from the early 1990's, I was back to being an Ordinary Joe again! No harm in that cos I was starting to think I was a decent runner there for a few days. I walk back towards the car & meet the always-happy Willie O'Donoghue who also gives positive comments regarding my race report.
Frank & I get changed, head into the adjoining GAA field & do a bit of a warm-up. My legs aren't feeling great, my muscles seem tight especially my Hamstrings. Anyway, get through the warm-up & wait for our wave to be called- we were in wave number 4. We trek around towards the front of the college & are escorted towards the start by the steel crowd control barriers funneling us into a pen. The last time I was in one of these corralled areas, I was dosing sheep with my father about thirty years ago. The fact that I ended up being fired into the dosing tank with the sheep doesn't bring the fondest memory; I never liked the smell of Jeyes Fluid after that. I leave in my drop bag, meet Jane Griffin who always gives me a big hello, get my name ticked on the piece of paper & I am now ready to be dosed; sorry- I mean ready for the race. A few minutes go by & we are called to go down to the road where the race will begin. Bad memories come flowing into my over-active mind; all the other runners now look like sheep.
We gather at the start line. "3, 2, 1, Baaa"; I mean "Go" & we are off. Eugene O'Keeffe takes off as if he'd stolen something followed by 8-10 others including Frank who was just "using this as a recce". My ass he was using this as a recce- instinct is instinct! I try to follow & get a little "twang" in my right Hamstring. "Oh Shhhugar" I say to myself, "that didn't feel right". I slow a little to see if my Hamstring has popped but thankfully, it hasn't. It is pulling a bit but not bad. Do I pull out of the race now or try to keep going? I tell myself to keep going, as I will be ascending for the first two kilometers so should not be affected.
After a couple of hundred metres, we are directed left by Martin Hennessy up Roaring Spring Road; pass some houses & another left. I see Eoin O'Connell at the junction, who was third in Kilworth last week, behind this unbelievable runner! He gives me a smile but I am not sure why. We are still on Roaring Spring Road, which I now call "Mount Calvary" because from that moment on, it feels like I am carrying a cross & I don't mean a St. Brigid's Cross! I practically grind to a halt, barely getting one leg past the other. Now I know why Eoin is smiling- he knew what was coming. The leaders are just inching away from me. Less than 100m up this steep incline & I can feel my heart trying to escape out of my body- It clearly does not want to be in my body anymore. It has asked to be put on DoneDeal… Advert now reads- "One owner from birth, minded for the first forty years carefully driven, recklessly abused for the past six years with no real service during that time. Constantly kept at top revs of 190bpm or more. Need some TLC, but good for another forty years if minded".
For the next two kilometers, I walk/jog up what feels like a cliff face. I persevere & just as it flattens near the top, we meet the Mountain Rescue crew. I think to myself "Where the hell were ye when I needed you two kilometers back down the road- ye're of no use to me now up here". Of course, I say nothing but throw a smile at them. They cheer us on, I respond by asking for some drugs to keep me going (legal or illegal, I do not care at this stage) - they start laughing, I tell them I am serious & they continue to laugh! Good job I didn't tell then I was having a heart attack, they would've been in convulsions!
(only joking- seriously massive thanks to South East Mountain Rescue for giving up their time to help out)
We swing right through a gateway & are greeted by Connor Murphy. "Welcome To Hell" or something like that he says. At this stage, my oxygen-deprived body is starting to lose consciousness so I could be hallucinating now. We are still going up an incline but it is just a slight incline compared to what we had just ascended. I see Frank off in the distance, about 300m ahead of me. I can see three runners ahead of me with the leader of this group about 50m ahead. It flatten & we are on a lovely single track heading across towards a junction at the edge of the woods. A marshal (Deirdre Cronin I think) turns us right & we now have about 2km of a gentle downhill. I throw out my legs very cautiously as my senses come back to me & I am aware that if my Hamstring muscle is going to pull, it is probably on this downhill. Don't get me wrong- I still put in a big effort & caught with the three lads in front of me but I just couldn't go my usual reckless-self. I gain the lead in this mini group, which includes Tom & Ger O'Sullivan, both from Cork & a pony-tailed runner who I hadn't seen before. I am trying to be so careful not to damage my Hamstring. This downhill really goes on & I can feel my heart rate slowing down which is no harm. I can see Frank Coughlan about 50m ahead of me so must be going alright speed-wise.
We reach the bottom of the decline, pop up over a furrowed ditch & into a wooded single track. Gary Healy directs us left & congratulates me on my brilliant race report! It soon starts upwards, not steep but at the way I'm feeling, this could be the sequel to "Mount Calvary". I trudge up at the fastest walking pace I can. The pony-tailed runner passes me & is gone after Frank. I encourage Tom O'Sullivan to pass me but he doesn't. I keep plugging away on the single track & inch slowly away from Tom & Ger. Not far ahead but a gap. We eventually pop out from under the foliage, right turn, then directed left by Danny O'Connell, who was second in Kilworth last week, behind this unbelievable runner! I slowly jog up the incline knowing that there are rolling inclines & declines ahead for the next 4-5km to the finish. I slowly reach to top of a hill & start a downhill. I starting to feel hot so take a drink of my water. We come up to a junction & I see fellow Clare-man; the always smiling Nick Hogan who is fast becoming a hill-running legend, who takes my photo & directs me to the right. I trudge up this narrow fire-road slowing as my legs are feeling the effects of the race.
We are directed right & right again by two marshals & are now back out on the open mountain. I run along the undulating, peaty ground. I can hear Tom & Ger. They pass me easily on the way up Scrouthea Hill despite my best efforts. Robbie Williams gives a big shout out & tells me I am in the wrong age-category. He thinks I should be in the M35 category; I am more thinking the M75 Category! We pass over the summit & back into a decline, I see Kevin Lenihan who gives me a big shout out congratulating me on my race report. I pass Tom O'Sullivan yet again & am now behind Ger O'Sullivan, just as it evens off. We come up to a gateway beside an old house & now the next IMRA Munster legend Tom Blackburn directs us straight on. My over-active brain has now gone into overdrive- the IMRA Munster running legend's ladder for marshals is about to hit it's summit: started with the O'Connell brothers, then Martin Hennessy, Conor Murphy, Deirdre Cronin, Gary Healy, Nick Hogan, Robbie Williams, Kevin Lenihan, now Tom Blackburn… who will be the last marshal to direct us back towards the finish? Surely only one man for it- it has to be former World Mountain Running Champion, John Lenihan!
I catch up with Ger as we slowly jog up the second last incline & encourage him on. He tells me his day is done, "Need to know the course really" were his words. I pass by & inch away from him with the sole purpose of saying a big hello to one of my heroes, John Lenihan. I pass Lisa Quirke Cashman who tells me in no uncertain terms, how exhausted she really is. There were a few expletive words, which I have had to sensor from this report. I keep my legs ticking over & finally reach the last turn. Who is the marshal at the last turning point? Who? Is it him- is it John?... No clue who it was as the person had a big hooded jacket, a florescent bib & bag on his back. He was also facing away from me so it might've been John Lenihan but could easily have been Elvis Presley, Shergar but my favourite thought is that it was Johnny Cash singing "Hurt"! If it had been Johnny Cash, that would have been me ending the race right there.
Anyway, took the left turn, onto a horrible, stony track that will surely be a cemetery for exhausted legs in September. I trot as best I can, through another gateway, up the incline, directed slight right & trundle over the finish line near the cross. I get a fist-pump from another IMRA Munster legend, Brian Flannelly who is taking runners times & numbers. There is a lovely crowd up at the finish, all chatting about their race, comparing how they did & munching on the lovely home-made cakes & chocolate bars. Frank finished in less than an hour on his "recce" & I did 1hr 2mins which was well over a minute faster than I had done last November- happy with that, happier that my right Hamstring is still intact.
Big shout out to Frank Coughlan for driving on the day & to Joan Ryan whom I met after the race, great to see her back on the hill-running scene. Thanks to all who gave up their time & volunteered for this race especially because you were sacrificing your own chance to run the course competitively with your age peers. Thanks to the organizing committee for the World Masters for putting this race on, to Tom Blackburn on creating the course & a big thanks to all around Clonmel who aided the committee especially the Hillview Sports Centre & Raheen College for parking, toilet facilities, etc.
If things run as smooth in September, we can all look forward to Ireland putting on a great event for the World Masters Mountain Running Championships.
Last thing from me on this report- when the World Masters is over, can we please organize this race to be ran in reverse so that the downhill running lovers can have their revenge?
G.I.T.R
20 June, 2022 - Barry Murray
Nice to get the chance to do an official recce for what will hopefully be a great event in September. Having raced in most mountain ranges around the country, this was my first time on the Tipp side of the Comeraghs.
No quick way of getting to this part of the country from West Kerry so my fathers day was spent mostly driving ! Still, it was worth it to be able to get a chance to test the legs and learn the terrain. HQ was at a sports club place called Hillview and registration was straightforward. A few old imra heads around that I hadn't seen in a while so it was nice to catch up. I went off for a bit of a warm up and some strides and then it was into the holding pen a few mins before 12 .
The race starts off on the road , a 500m section of flat tarmac , so its easy to go off too fast. I went out the front with the front pack of 5 and knew it was fast but also that we would hit the steep road soon. And it is steep, feels like 20% gradient, and goes on for at least 1km.... but its a slow trot pace... and easy to blow up on very early. So I didn't push it and the other fast lads pushed on ahead of me.
Once finally off the steep road , its nice to hit the trail and the next 3km or so has lots of fast up and down fireroad and trail . Some bits are almost too fast as you are bombing downhill and then have to make some sharp turns into the woods. Its all runnable stuff and defo suits the fast road racer guys and girls. There are some steep climbs but they are short enough . After about 6-7km, you are out on the open mountain section. This is nice grassy meadow trail.... dry and soft this time of the year. I wasn't too concerned about my placing and had only 1-2 guys near me to race with. The open mountain section is nice, nothing technical and again all runnable. The last km or so has one final climb on stoney trail... followed by a slight downhill before the last short climb to the finish. For some reason I had 11.5km in my head so I thought we had another down and up to go... but to my surprise the last climb is quite short... and actually has a 100m downhill dash to the finish line where the cross and shelter is.
Nice view of Clonmel from the finish area and race crew had plenty of baked goods to keep everyone happy. Someone said that it would be a good spot to set up a bar..... ;) Big numbers of stewards on the course and plenty of arrows to keep you on the course. A great test run and hope it gave Patricia, Tom and organizers everything they need to put on a good show in September.