Carlingford Slieve Foye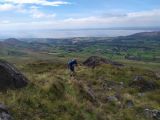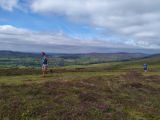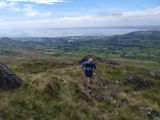 Authors
Race Directors report
09 August, 2022 - Turlough Conway
Weather was good for day two of the Carlingford weekend albeit a little breezier than the previous Fox's Rock race. The Slieve Foye race involves a grassy start below the famine village taking the path for Maeve's gap but turning right to climb Barravore. Passing Summit marshall Laura with a shallow short descent onto the col before a gradual rise until reaching the steep stuff with a 270m climb to hit Foye's trig point marshalled by Patsy.
From the vantage point at the start my binoculars allowed almost all of both climbs to be visible as well as a good bit of the col section.
Ian Conroy quickly took the lead with Fox's rock winner Enda Cloake and Marcus Bishop staying in touch. As the climb steepened and Ian didn't slow so much a gap was forced. The runners descend for a few minutes out of view and when they reemerged Ian's lead was a hefty 15 seconds which he doubled before summiting out. Enda, with legs tired from Saturday's efforts was into pacing mode and judiciously sparing his effort with a 6-7 second gap over Marcus at Barravore's summit.
Group two with Peter, Lorcan and Ronan is covered well in Peter's report but from the vantage point through my binoculars it was clear that Peter was racing well with his eye on 4th place as with the two guys.
Meanwhile Ian, who has made a great comeback from a bad ankle break last year and whose primary goal is the World masters in September was taking no chances on the descents today, and his pursuers caught and passed him on the descent and col.
Enda narrowly led Marcus with both thinking the game was back on. As the ground steepened they would have known what was coming and sure enough Ian passed holding a strong tempo that saw him summit 70s ahead of second place. Enda held a slight lead over Marcus nearing the summit and with the physical work mostly down Enda made a decisive break to gap Marcus, pass Ian and open an unassailable lead to take the win.
Ian took his time coming down and settled for third spot.
The racing in group two had put Peter in fourth place at Barraovore summit on the way back and Ian's red vest a third of the way down didn't look that safe. An unfortunate ankle twist put Pater out of that chase but Ronan had a go.
Luckily for Ian the trio of mini helpers (children of Orla, Peter and Daniela, Eoin) were in an advanced position and gave Ian warning that there was trouble afoot.
He held onto his third place and must be very encouraged by the quality of controlled climbing he managed ahead of the mainly uphill masters.
In the female race the finishing positions were decided early enough with a good win for Northern Ireland Junior International Jessica Blaney, followed in by a good run by Daniela Boehm and Angela Flynn.
Thanks to all the volunteers.
Peter's suggestion of a Local prize is a good one. There is plenty of local participation in MTB races in the Cooley's and maybe a Louth Champiosn prize on the Sunday race would get the conversions.
My own view is that the nature and changes to how people travel and live means that events will become more sustainable. In the 2023 iteration (hopefully it happens) I think a big push can be made to get majority local participants (and local volunteers so they gain knowledge) while establishing that nice mix between visitor and local. Very important for this weekend was having local athlete Laura O'Driscoll on board and networking the camping etc in the background as well as summit marshalling marking both days.
Peter O'Farrell
07 August, 2022
What a weekend. Turlough is planning to run this weekend again next year and may I be among the first to heartily recommend it.
Carlingford is a super spot and on the virtual bingo card I think we saw many of the attractions, including the frankly impressive unloading of a Hen Party from a windowless van outside PJ's. Going up on the Friday provided a brucie bonus in the form of a local 5km race which had an U9 mini race so the boyos did that. Everyone in the car was getting a race. Mighty.
We stayed in an AirBnB cottage right beside the start of Saturday's Championship race which was made for an astoundingly easy volunteering role for me. It's not every race where you go home for a cuppa when the runners head off. Many tales of derring do have been committed to print from that race and from our point of view Orla/Mammy got the win! HUP!
The more romantic/hardier souls were camping in the interesting looking wild camping with a payment place but we retired to the relative luxury of the AirBnB after a brilliant play in the local attraction, Skypark.
Turlough and his small but committed band of volunteers put on two great races with Sunday's offering being the much easier 6.63km romp up and across to Slieve Foye and back from the famine village. This was to be my turn, as Orla is the championship racer in our house and so Sunday was to be her volunteering day. Jessica Blaney took the win today with Daniela Boehm released from volunteering and child minding duties to good effect in 2nd place with Angela Flynn rounding out the podium although the results would suggest that Jessica's Dad kept a parental eye out.
I had faint hopes of a sneaky podium as surely the lads would be tired from yesterday's heroics but alas and alack, Enda Cloake powered to the win after a good battle with Ian Conroy and Marcus Bishop. G2, as they say on the cycling races, consisted of me and 2 Northern runners racing for 4th, or first old man as I like to call it, and our different strengths meant we passed each a good few times on the ways up and down. My apprenticeship on rolling Wicklow boggy softness was proving insufficient on the steeper descents against the hardy hardiness of the Mourne Mountain Men, from Belfast as it happens, but we all ploughed on.
Killian joined G2 for a while on the climb, then relegated us to G3 on the road as he went on upwards on his own. Downwards and we allowed ourselves to let Killian lead us off course but eventually got back over to the runners coming up and the original G2 men were back together, Killian probably realising he was too young. Coming over the top of the little mountain I had got ahead as I reasoned they were quicker descenders but from there it all went south a bit for me and I can only report that Rónán Davison-Kernan and Lorcan Vallely finished a full 2 minutes ahead of me! And in fact were putting Ian Conroy under pressure for 3rd.
A great mighty super weekend. We even got to see Dave Power at yet another volunteering role as he marshalled at the Triathlon in the town on Sunday morning after stout duty on Wednesday and the previous weekend.
Both races have the slightly unusual distinction of visibility of the much of the course from the finish line and with a half decent pair of binoculars you can see the racing unfold, from the comfort of your camping chair.
Pencil it in your diaries for 2023, it's a good one. If I may be so bold Turlough - may I recommend a specially commissioned plate for the first local man and woman home ;)