Coillte Crone Caper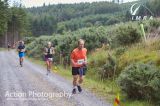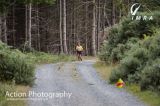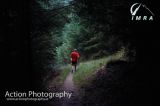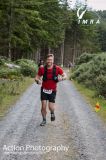 Authors
Finding a nemesis
21 July, 2022 - Robert Costello
The Crone Caper, a race with a bit of everything. You take off through the spectacular surrounds of Powerscourt Waterfall in what feels more like a 5k road race. Runners jostle for position running low 3 mins per km downhill towards the first turn that makes it clear it's actually a mountain race. And the mountain turn hits you like a tonne of bricks as you jump into the forest and climb for about a kilometre up towards the Wicklow way. But it doesn't end there, it's pretty much a relentless climb to the top of Maulin. 5km of almost pure climbing on single track, fire road and open mountain to get to the summit.
The pre race warm up started early as I uncharacteristically arrived before 7pm, giving enough time for a warm up and even a few stretches over by the waterfall with Kev. Everyone was in good form and after a few hellos and brief chats it was time to assess the competition. Anyone who knows me will know I'm very competitive. I firmly believe that there's nothing like a bit of competition on the hills to push you beyond what you think you can do. Tonight my competition was some good friends and IMRA regulars, Conor Nolan, Niall Fox and Caoimhín MacMaoilain. I also had a few others in my sights. Rene, Torben, Paul Mahon and Sarah Brady: all in fine form. To come close I was going to have to put in one hell of a shift.
On the way up I exchanged places with Sarah a couple of times but she seemed to pull away with ease on the climb. I had Conor and Caoimhín in my sights and was working hard to hold off Torben and Rene. Mahon was well ahead, as was Niall.
We hit the summit and I was just behind Conor and Caoimhín. Now's the time to turn the screw I thought but I was running out of juice myself. I caught the two lads after the gate and pushed on. Conor went with me and Caoimhín wished us good luck! He also shouted 'catch Niall Fox'. So we took off on the hunt for the Fox. We hammered at each other for about a km before the next left and a technical decent for about 200m. We caught up with two lads and I proceeded to fall as I tried to pass. My momentum took me by them and they stopped to let me go. Thanks lads!
Then the next section, the dreaded Alan Ayling mtb route. I knew Conor would take a direct line and go for it. So I went with him. We proceeded to pass the Fox who was taking the less risky switch back route. Back on the single track and Conor was about 50m ahead. Always in my sights but running out of track to close him. Onto the Wicklow Way and I could see Sarah Brady. Yes, I know I can catch her on the technical decent finish. One more push and Conor is crossing the finish line while I pass Sarah with 50m to go. I doubt she cared too much as I wasn't Becky.
Great night and some fine running by a super bunch of people.
Greeted at the end by a number of IMRA stalwarts. We chatted on the way back and I forgot my keys. Longer cool down than expected but the legs will thank me.
Back to Plucks for a pint and some finger food, by the fire (in this weather)! No raffle win tonight but a really enjoyable one nonetheless.
Well done to Gareth and the crew on another fine race.
Any one for capers..
20 July, 2022 - Mikey Fry
So the ice cream van wasn't open this year disappointing but not as disappointing as the lovely road start fast brutal and hard finally we turn onto the good stuff up through the forest Derek and the fast lads all ahead somewhere over some trees left onto very steep up hill in the Powerscourt race pòl passes me out I push after him legs dead right turn onto slight downhill bit boom right turn down one of my favourite little down hills past pòl and some lads left at bottom onto fire road Bernad passes me somewhere not sure where left onto bike track twisty turvy uphill we go pretty hard to get much running in onto very steep uphill legs still moving right onto trail and up the bends around posts up up up to maulin Bert tough up hill pòl passes me again hit top then I pass pòl again then it's bye bye I hope it's flying down these hills and hope there's no bad big uphill to do some dude passes me not sure who he is and it's step on the gas time till we're home down the lovely forest bit boom over finish line had lovely talk with the miges then with Dan walking back to the car nice way to do your 200 race thanks again Gareth and crew for a super fun hard race….mikey