Scarr/Lough Dan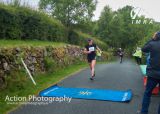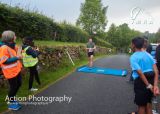 Authors
The mountain tried to swallow me whole
30 June, 2022 - Hazel Thompson
The mountain tried to swallow me whole, the midges tried to eat me alive, but what a great open mountain route.
First some steep single track. The pressure was on to try to keep running, a slight detour but nothing major. Then on to the open mountain. It was a wet slippy tough climb until we reached the smiling faces of Rachel and Fiona who cheered us on. The next section was fun, running across the bouncy turf towards Kanturk and on. I passed Gordon, shouted some encouragement, including that he should watch out for the bogs. Those words came back to me as we headed down off Bracket Rocks. One minute I was running along enjoying myself, thinking that I might be able to catch Nigel again, the next minute I was up to my neck in bog with my feet still not at the bottom. Luckily, I managed to grab hold of the solid ground just in front of me. As I started to pull myself out, I looked around and saw 3 guys coming behind me. I gave them a shout but had managed to get free of the man-eating bog hole just as they reached me, and I headed off running again. I can't image what it must have looked like to see the runner in front of you just disappear like that. I was a bit more cautious about which bits of ground I stepped on after that, but soon we were back on to some nice running down through the gate off the mountain and around the lovely wee path overlooking the lake and back to the finish. (I didn't manage to catch up with Nigel…). There was plenty of fun, laughter, and some concern [thanks :-)] as I told the tale of why I was covered from head to foot in mud and that it wasn't a headfirst slide.
Back in the car park, Eammon let me know that there were some taps that I could use to wash off. Behind the toilet block, I found the most glorious warm outdoor shower. Thanks to Nora and Joe for the loan of a towel. The sausages and sandwiches in the pub were much appreciated and I even got a spot prize for the "trauma" I suffered in the bog hole.
Thanks so much to all involved in organizing, marking, demarking, and helping! I'll be back next year, hopefully, to give it a go again.