Galty Half-Marathon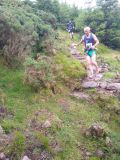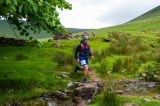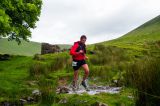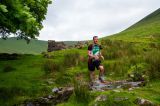 Authors
Galty Half-Marathon
28 June, 2022 - Martin Cooney
Galty Half-Marathon- Ton Up!
By Martin Cooney (25/06/2022)
A drive to Kings Yard, which is outside Mitchelstown at the foot of the southern side of the Galty Mountain. It was my turn to carpool to a race so Frank Coughlan was my passenger. We arrived early at Kings Yard, just around 9.30am. Anyone who has been there before knows that it is a lovely set-up with toilets, an indoor area to eat food & ample amounts of parking. I was lucky enough to be in so early that I was even allowed park in a concreted area near the IMRA Munster van.
We went straight over to the Registration where I met the ever-dependable Damian McDonnell, Robert Cunningham & RD for the day, Liam O'Donnell. We had a bit of a chinwag that mainly consisted of how wet & windy the summits of the mountains were going to be. Kevin Lenihan marked the course the night before & confirmed that it wasn't going to be the nicest day to be on the top of the Galtys. I changed, went for a warm-up along where we would be finishing & back again to the yard. Just before heading down to the start line, I dropped in my car keys to "the box" & just as I was walking away, Liam asked me if today was my 100th IMRA race. I said it was but asked him to say nothing until I at least finished it- last thing I wanted on the day was a DNF! About 10.50am, we all trickled down the hill to the start, which is at a forest entrance. There was a bit of nervous activity, mainly due to the dark & wet clouds overhead.
Liam stood up on the mound asked for a bit of hush and welcomed us to Kings Yard for the start of the Galty Half. Normally a description of the course is given but firstly he decided to announce to everyone that it was my 100th IMRA race. "That's kept it quiet alright, Liam" I thought to myself. There was some clapping, some cheering, a few fist-pumps and hands shakes, photos taken, kiss the baby, the works! Now I just had to finish it, uninjured hopefully! Race briefing was given & Liam informs us that The Galty Crossing Hiking Challenge was also taking place and to be careful not to follow them, as they would be taking a different route than our race coming off our last summit.
A strong field of runners were released like a herd of Mustangs. Very quickly, a group forms at the front including Sean Quirke, Paul Tierney (of Missing Link Coaching) & the always-happy Nick Hogan. Tom Blackburn, who has been returning from injury wasn't too far back either. I got a comfortable pace going along & was just behind Micheàl McSweeney all the way up the fire-road & then onto the black road. We passed each other half a dozen times over that first six kilometers, each time encouraging each other on. I was delighted to get to the end of the black road, having jogged/ran all the way to there. Normally, I would have been back to a walk along there somewhere.
We were now at over 600m in elevation & the wind was really starting to show. We turned onto the peaty ground & had to make a sharp ascent up onto Galtybeg. I went back to a quick walk as I inched my way up the soft terrain. Micheàl was about 10 metres ahead of me. As I looked up, I could see a body lying on the ground, nestled in by some rocks. As I got closer to the person, I discovered it was John O'Flynn. He was in full waterproofs so in my head have worked out that he must be marshalling the summit of Galtybeg. I throw him a "Hi John" & he nods back. He could have said something but the wind was now howling so I didn't hear anything. He looked to be concentrating over towards our east (to my right). I look over & see what looks like a hiker taking a little stumble about 100 metres away. My over-active brain takes off; John gives a little wry smile & appears to be winking- he is now a sniper whose sole purpose is to take out any of the hikers doing the Galty Crossing. Liam (RD) was going to make sure that none of the runners on his watch was going to be misguided by a hiker. "Thou Shalt Not Pass" is John's motto. As I summit Galtybeg & turn west towards Galtymore, I can see no hikers in front of me. John is taking his role very seriously. I look back down at John who spits out some chewing tobacco & takes aim at another hiker willing to run his gauntlet like a scene from American Sniper.
The wind on top of the ridge is so strong that I have to prioritize my thoughts & am now concentrating on the soft, slippy descent to the base of Galtymore. I make it there in minutes & am keeping close to Micheàl though never being able to catch him. The wind is still hitting us hard but we are slightly tucked in from the south face & are not feeling its full force. A trudge up to the summit & then try to break into a harder pace but I am lucky to be staying upright with the crosswind. It is both hurricane like & bitterly cold- I am leaning into the wind at nearly forty-five degrees just to stay on my feet. It is like a scene from the movie Twister as things go flying by- bag, glove, hiker, lamb… wheelie-bin!
I somehow make my way over past the summit & descend down as fast as I can onto the lower plateau. I pass Micheàl once again as we make our way down to the top of the Lough Curra gully & over to the wall by Slievecushnabinnia where he then passes me yet again. Micheàl is a bit like Robert Patrick, who played the T1000 Terminator in the film Terminator 2- he is just relentless. He can keep his legs ticking over in a jog/slow run all day whether uphill, downhill or on the flat. He passes me & with every stride is going further away. This peaty, undulating ground is sopping wet & draining the energy from my legs. I plod along & see a group of five, maybe six runners ahead of me. I can just make out Frank Coughlan. Frank is such a good uphill runner so I am always chasing him at the latter end of a race especially if there is a downhill. I claw back some ground on him & know that I will be descending down from Lyracuppal in about ten minutes. That will be my chance to try to catch up with him.
The time came, the descent happened & I passed Frank who seemed to be ass surfing down the descent. Now I am not saying he was enjoying it but I think I heard a "woohoo" once or twice. I was moving well until it started to traverse the side of the hill on the sheep path, which is when my insoles decided enough is enough. The insoles told my feet- "it's either you or us staying inside this fabric cocoon, but not us both". I stopped, sat on the grass and took off my trail runners. I then asked both my feet and the insoles to make peace until the end of the race. Frank passed me & starts laughing- there I am on the side of a hill talking to a pair of insoles. I adjust the insoles as to how they should be & hope the peace negotiations work. Then I tie my laces and start to chase after Frank once more passing him a little further on the descent. I get to the switchback & turn, now facing back towards the mountains while descending towards the river. Kevin Cronin passes me & says, "Well done" on my 100th race, I tell him I am not finished the race yet but thank him for his well wishes. I pass through the river & make my way slowly up the next incline, which I know is the last out on the open mountain. I am passed (yet again by Frank) who keeps his legs ticking over as he make his way up the old track. We are directed by a marshal onto another peaty section but I know once I go over the top of this, it is pretty much downhill & flat to the finish.
I tell myself to give one last push down towards the river & in doing so; I am slowly gaining on Frank who is just behind another runner. I descend this slippy section that is covered in long grass, cross the river & can make my way on the flat section over towards the old house with big tree. He is maintaining a 30-40 metres lead on me. There is a slight uphill & am struggling to keep my legs not to go back to a walk. Frank has caught up with the runner (Vince Bermingham) in front of him so I try my best to join them. Over the next five hundred metres, I catch up with them & am keeping pace. The track is getting rocky and uneven. I inch past Frank and am now going stride for stride with Vince. We both increase our pace a little. After another couple of hundred metres, I see a gateway.
"Is this the gateway I am looking for"? If so, we have just over one kilometer to go. It is the gateway! I increase my stride to see if Vince is going to match me- he does not so I try to keep this pace going. Down the rocky track which veers right, then left and finally a straight but very rocky 650 metres to the finish line. I can hear no one behind me along this straight track. I can feel myself relaxing with every stride knowing that once I pass the finish line, six years of driving to the almost every corner of Munster and further than that sometimes will have been worth it.
I cross the line, sit down on a stool & savour this moment. A few finishers ahead of me congratulate me like Sean Quirke, Tom Blackburn & Kevin Lenihan. I changed into dry clothes, ate a few sandwiches & a brownie, all of which were really tasty- hats off to whomever made them. A cup of tea & some chats had with the stragglers who stayed on afterwards... Congrats to Simon Duggan on his win.
Massive thanks to all involved in the organizing/running of this event, the volunteers and a big thanks to Kings Yard for the parking and use of their facilities.
Last thing for this report- Robert Cunningham presented me with my t-shirt for my 100 races and a photo taken.
Now, I know that I could have probably bought one of these t-shirts for €10-€15 or even stolen one if I wanted it that badly. However, to have earned this meant that I had to see so many different areas of this lovely country, meet many new people and have memories to cherish for a lifetime… For everything else, there is MasterCard!
This t-shirt is going to be put in a picture frame on a wall at home to show all my friends & family that you can put the description of lunacy on a t-shirt in just a few letters & numbers- "IMRA CLUB 100".