Luggala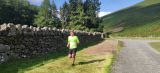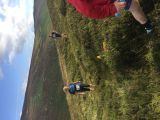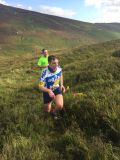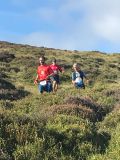 Authors
Luggala and the Year that's in it.
23 September, 2021 - Brian Kitson
As I hauled myself up the south face of Luggala through the heavy humidity during my first short IMRA race of the year I couldn't shake off the feeling that something wasn't quite right. To an outside observer used to seeing me getting my arse kicked in a race I'm sure everything looked perfectly normal. Defeated look on my face…check, tired arms swinging limply by my side like the toilet doors on a fishing trawler…check, a river of my own sweat trailing behind in my wake…check. Nothing to see here; just Kitson feeling sorry for himself again. An eight kilometre jaunt in the hills experiencing, as usual, the epitome of anguish. The prince of pain. But not today, despite appearances, deep down something miraculous was happening: I was loving it.
To understand why, you must first realise that 2019 was something of an annus mirabilis for me. A year of consistent training for an attempt to finally break the sub three hour marathon resulted in a happy unintended consequence. I became a hill running god! The marathon training made me stronger and also caused me to lose about a half slab of beer worth of weight. I'm guessing if you've ever run up a mountain carrying a half slab of beer it didn't go too well, huh? You might have had a nice time afterward but with my newfound power and lost deadweight I was intoxicated by finishing near the top ten of Leinster League races. I'm not saying it went to my head but I began to muse over options for my own version of the 'Mobot' and 'Lightening Bolt' that I could use while stumbling breathlessly over the line in 13th position.
Of course, everything changed in 2020 and apart from attempts at the summer Rankin Round (successful) and winter Wicklow Round (spectacularly unsuccessful) it was the year that didn't happen in running terms. Then along comes 2021, full of possibility and potential until a neck and clavicle fracture in January left me immobilised and unable to run for nearly half the year. I couldn't train at all; I lost power and I drank many, many half cases of beer. I am no longer a hill running god!
I planned many GREAT COMEBACK ADVENTURES during my convalescence but was forced to cancel each one when it became increasingly apparent that I was in no shape for a miracle comeback. This would have to be a slow, methodical, unsexy kind of comeback spent away from the hills doing laps of a dogshit ridden GAA field.
It was Terry McConnon and his TTracers who provided the inspiration I needed. I've been part of Terry's group of runners for several years and although the big group sessions paused in 2020, a small band of brothers led by Caoimhin MacMaolain began a 'Braystones' training chapter not far from my house. At first, I slowly rode my bike as they ran intervals. Soon I was able to jog and eventually I had enough strength to attempt the sessions. I became utterly dismayed by my profound lack of conditioning. From years of previous runners' injuries I presumed I'd be back to former fitness levels after a few weeks of regular work. But this was different. During speedwork sessions I could get nowhere near former speeds even during the first rep and the interval breaks were a killer. I'd collapse on the grass heaving for air, speechless, while my training partners stood by shooting the breeze and repeating what would become their mantra to me. 'Be patient, it'll get easier, you're doing great'. I silently doubted them but silently only because I was unable to speak.
When training with the same guys every week sometimes the gains you make are hidden because the others are getting stronger too.
Glenmacnass was my only IMRA race so far this year. The 20km+ course over rugged ground with a map in hand provided a perfect low pressure re-entry into the IMRA world of racing. Despite badly boinking on a recce a couple of days before the event I had a good race day but still finishing far enough down the field that anyone scrolling down the results would get thumb fatigue long before they reached my name. However, since returning to training I held fast in my conviction over the summer that there would be no short IMRA races this year. I didn't want to compound the pain of lost fitness by shining a light on the detrimental effect it has had on my race performances. I told myself that I'd be better weaving slowly around crusty turds on that GAA field rather than face up to the realisation that I've lost the small sliver of ability I had for running in the hills.
Of course, none of what I was telling myself made much sense. Racing and performance were never as important as the sense of connection to people and adventure I get from IMRA. The promise of a rare opportunity to run through Luggala estate also helped me to see the error of my thinking. Race day didn't disappoint.
Once John Bell set us off, I started very slowly and quickly got slower. I'd have moved up Knocknacloghogue more rapidly had I been travelling by osmosis and tried not to pay attention to the cortege of people passing me. Halfway up the summit cone a runner behind became the first to decline my offer to step aside so he could pass. We held positions to the top and I managed to make up a few places on the way back down.
Although completely out of character for myself, I did a bit of a half-hearted warm-up before this race. I ran hither and thither and did a few of those arse kicks with my heels that a lot of the fast lads seem to do. I successfully jogged up the first bit of Knocknacloghogue and feeling a false sense of confidence decided to run toward Luggala intending to jog up the first 50 metres or so. This plan was quickly aborted. Too steep. Like someone who breaks into an awkward walk-jog when they trip in front of a group of strangers, I disguised my abandoned climb attempt by completing a ridiculously short circle at the base of the hill before casually jogging back to join the growing crowd of starters who were looking on.
Yes, the climb up Luggala really was very tough but I didn't mind it. I thought about seeing my running rival and great training pal, Robbie Costello, not too far ahead and how nice it would be if I caught him before he had other ideas and blazed ahead. I thought about the warm sun on my back and its welcome heat before the cold arrives. I thought about how much Angela and John had fit into just five miles. So much climbing, so much beauty, so much pure enjoyment. I thought about how far I'd come this year and the people who helped me, in one way or another, to get this far up the hill. I thought about how much the damn highs and lows of hospital beds, consultants, a treasured family, a breakout adventure wearing a Minerva brace on the snowy summit of Djouce, communities getting stronger and how it all seemed to be told in this race. I thought about how lovely the sod felt under my feet when I finally turned from the summit to head back down. I thought about the finish line far below and how much the scene felt like some of the great alpine races I've done. I thought about feeling a little less invincible now and the importance of fighting against that dangerous feeling. I thought about how important the fire of adventure is and how easily its flame can dim if not tended. I thought about how far I have yet to go. Then I thought about what they'd said to me before, 'be patient, it'll get easier, you're doing great'.
The bugs…
18 September, 2021 - Mikey Fry
Come on dudes what a chance we had today to push up the Viking trails and beyond to a place not many venture….John bell gets us going with a boom boom something left through ferns and we're running along the nice flat bit then up the steep grassy green blades one of the lads in front lashes open the gate I was looking forward to hurdling over it and probably falling over it…I was going to take it easy today and as I was heading up felt like my lungs were saying noooooo good man ger passed me out he's flying at the moment we eventually turned onto the uphill no tracks Johnson all the way to the top it was really a power walk less zapping to the legs up to the top around top and then flying down watching footing still a bit tricky under foot passed out Ger I think Brian and few lads ahead it's a beautiful decent mind you when I was up checking coarse with John and Pete on Wednesday night I was like a jelly baby and rolled on both angles three times:)…hit the bottom and relaxed a bit I had someone in front I thought I might pass on the uphill as I was passing the guys at the start asked them was that it for the junior race got laughed at and headed up the beautiful luggala started with a run which ended up as a strong power hike still on your mans heals I get passed him have another runner behind good old Barry passes me eventually he keeps a good power hike and a bit of running so I head up with him pass the hikers then eventually gets more runnable so I get into a good rhythm pass no Gavin who's out for a walk eventually Brian flys past me and the other dude sorry don't know your name so I know I'm close to top then Barry passes me I have a feeling I can catch him on the downhill so on the turn about I pick up the down hill speed I like to take …..pass lots of hikers and runners thanks for all the encouragement just as I get up to Barry I roll my right angle again slightly but not going to miss this opportunity so I fly passed him and try watch my ankle and leg it down as fast as I can boom hit the flat and bomb across the finish line with no pressure……great chats with everyone afterwards as always and that can of coke ahhhhhhhh amazing thanks again for a great race to everyone and John and angel's for getting this on the calendar what whooper of a race:))
Mikey