Maurice Mullins Ultra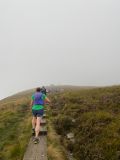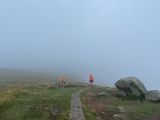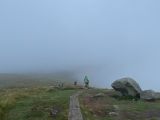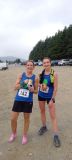 Authors
Richard Fox
06 September, 2021
A view from below – my journey to MMU
I started this running thing on the 1st July 2020. I was retired and 64 years old. I had never ran, in an athletics sense, before. I played rugby and trained hard but that was 30 years ago. Over the past few years I had been cycling.
So why would I ever start running. It started out with the Park Run in Avondale Park in Rathdrum. I didn't run but volunteered as much as possible. It was brilliant to see everyone out there for their Saturday morning run/walk/whatever. The fast guys going like rockets and the slower having a great chat and all over the same 5k course. This allied to some incredible neighbours (who do incredible things) pushed me over the edge. I mean in the Glenmalure Valley where I'm lucky enough to live with my fantastic and ever supportive wife, Mary (a regular river swimmer, at home, and a great hill walker) there are athletes scattered all around the place like confetti used to be at a wedding. People like Michael Dowling who with his great running buddy JP Byrne ran the Wicklow round a few months ago. Who also, along with Paul Mahon, Derek Crammond and Ben and Patrick Kinsella (all neighbours) ran the 125k that makes up the Wicklow Way. Along with Paul, who IMRA members will know well for his incredible achievements over the years is his partner Hilary Jenkinson (great swimmer, runner and mountain biker). We also have Hugh McLinden and Martina O'Kearney, Cormac and Niamh O'Ceallaigh, all great mountain runners. Further along there is the Kinsella family who regularly burn up the hills, roads or whatever else is in their way. We also have Bernie Byrne, a great competitor who recently (along with Paul and Michael) completed the Quest 12 hour – all three with top 10 finishes. Bernie also keeps us honest with her regular Monday evening cardio sessions.
On top of all that my daughter, Ellen, started running a few years ago and now can't be kept off the hills. Herself and her running buddy Lisa invite me out for the odd spin. Indeed we completed the Glenmacnass IMRA race a while back which was a great few hours out. I have to mention that Ellens mother in law, Eimear Hurley, has completed over 250 marathons and although not a neighbour is here enough times to qualify as an honorary Valleyite. And there are loads more but it's just impossible to mention them all in this little round up. The thing is though that they're all incredible.
So with all of these incredible people around I decided to give it a go. First stop Avondale Park and the amazing Billy Porter. Billy is just so enthusiastic you just keep going, keep showing up. I also started running solo and even though I was sore all over – sometimes I could hardly drive home because my ankle was just in agony, I couldn't get up when I sat down, I felt battered and bruised – rugby was never this difficult, ever, there was something there that just kept dragging me back. During lockdown another neighbour and great runner, Desie Shorten (who lives with his wife, Sandra Coleburn – a swimmer and runner), who lives up the road, decided, for some still unexplained reason, to take me under his wing and give me some advice and very encouraging help. I know nothing about anything to do with running so Desie just tells me what to do and I just do it. And that goes on for a few months and we're still talking.
And then comes the Maurice Mullins Ultra. I watch the lovely video and get a glimpse of what an incredible athlete this man was. I gain a brief understanding of what long distance running is all about. An amazing competitor.
And here I am – just arrived in the car park where it will start, for me, in about 40 minutes. Met two lads parked next to me, Gary and Dave, who, I guess, realise very quickly what a newbie I am. Great advice from them – totally different ball game between the way out and the way home. Walk the hills on the outward spin, keep your energy 'cause you're gonna need it on the way home – hmmmm ominous or what?
Richard gathered us in and advised that although it was a bit misty he had organised for the sun to come out just a bit later – and so it came to pass.
3, 2, 1 and we're away. Heading through the pines to the first boardwalk. Uphill, walk (remember what the guys said). Keep going past the J.B. Malone memorial (I remember that one of the guys said that after this point it heads downhill – and so it does). We're on open mountain going down, down, down. Wow this is nice. At the beginning of it all my only goal was completion – nothing more, nothing less – completion. The first test to ensure that happened was to ensure I hit the two cut-off times at the Glencullen Bridge and Crone Woods, on the way home. So I set myself a target of 2hrs per each 11k (I'm slow but generally not that slow but then again I've never ran more than 30k or been out for longer than 3 ½ hours. This test was over 44k and would likely take me about 7 ½ hours – so get a grip). So anyway a bit out from Crone and I have my first fall (I usually fall about 3 times but as it happens this is my first and only fall of the day and although I didn't know that at the time sure that was a good result straight away). Anyway there's a bit of blood seeping down my shin and reddening my lovely new white socks. It's a thing of nothing and I feel nothing and it looks worse than it is but I still feel annoyed for falling.
So on I go, beside a river, thick ferns, no camping signs and I smell this amazing brekkie fry up from a family of campers – right beside the river – idyllic, even though I didn't get an invite.
Somewhere along the way I go through Crone and manage to keep going. Ups and downs, ins and outs keep going, uneventful, no further falls, all good, keep going. And then after a massive downhill I'm at the Glencullen River and there's the amazing volunteers with smiles, encouragement, water, goodies. I'm inside my first cut off time by about 45 minutes – CHECK. All good, all great. I make my way back up the hill meeting oncoming runners who I know will turn and pass me but that doesn't matter – completion is the name of the game and so far so good. What the two lads told me at the car park was so true, a tale of two cities, a match of two halves. The return was an absolute slog. Anyway keep going. All of a sudden I'm getting a lovely smell of cooking again and I pass the campers having, I guess, their lunch now. I meet walkers, complete strangers, Irish and foreign, who offer me bottles of water and wipes and tissues with one woman actually offering to clean out my knee. Initially I had no idea what these absolute strangers were on about but it dawned on me that they saw my leg and thought it was much worse and that it needed assistance – this assistance was offered at least 5 separate times – imagine that? Where would you see the like of it? Simply amazing.
Anyway I eventually make it to Crone and a recognisable face in John Fitzgerald with water and other great volunteers with encouragement and smiles and chocolates and goodies. Brilliant, I'm in Crone, 33k in, 20 mins inside the cut-off time, brilliant. I can relax now – I've made the two cut off times, I've run further than I've ever run before, I'm still moving forward, I'm happy out and with only a little over two Park Runs to do sure it's all going great.
So onward and upward (always upward, relentless). I get to a place, could be somewhere above the Powerscourt Waterfall (?) and I hear what sounds like Spanish or Mexican music, way down below me, and this goes on for a while and I'm thinking Heaven and Hell have changed places. They're all down there swigging Cerveza and having the craic and I'm up here burning away. But that's ok – I'm still moving forward. Another chap passes me and says he's got cramp, but he's still running. I don't have any cramp and I'm walking – but that's ok I'm still going in the right direction. There can't be any more to pass me and I'm solo in the hills – the loneliness of the long distance runner, but it's not that lonely up here, it's beautiful.
I meet a gentleman and his wife coming down the lovely grass open hill that I had run down only a few hours previously. He very kindly tells me that things flatten out just a bit further on. And so it comes to pass – I'm back on the board walk. Wow or what? Maybe about 4k to go. I can really finish this. It's all worthwhile. I actually start running again. Just don't fall off the board walk. Keep going. More walkers generously giving encouragement. Amazing. I get to the board walk through the pines. Steady now. Off the board walk, heading home, big yellow sign, turn right and I can see the carpark and Richard and people and stuff. I get my mug (made by Hilary Jenkinson – what a small world). I meet my two buddies in the carpark and they give me lots of water in my lovely new mug. So grateful but a bit stunned, somewhat fatigued so can't say too much, me not them. More advice from the lads – get a coffee on the way out – it's a great pick-me-up and, as usual, they were right. I hope they made the long trip to Cavan via Dublin safe and sound. Thank you Gary and Dave. Thank you Richard Nunan and volunteers. Thank you neighbours. Finally thank you Maurice Mullins for your inspiration and spirit.
I head for home and stop off in the Glenmalure for the compulsory pint of stout on the way by. More offers of help for the knee (which I notice has tufts of grass growing out of it). And I'm sitting there thinking how fortunate I am to be able to have a day like this and I reckon I'll take it with both hands for as long as I can.
foxy
Two big hands and a heart pumping blood
05 September, 2021 - Ian Tighe
I have a big cardboard box full of necessaries and one of those freezer bags full of food and drink. I collect my number then change, load up the running vest and lie down in the back of the car with my book. I get out and pee in a bush. I go back to the car and lie back down. Get up and pee in a bush. Lie back down in the car. I do this eight times, which I assume contributes to the biggest miracle of the day, my not urinating for five hours.
I miss the first minute of the pre race talk because I am...yes, peeing in a bush. The gist is "Don't be an idiot". I will do my best, sir, I will do my best. As we move to the start I try to position myself near people who look strong, but not too strong. This is a fool's errand. Everyone looks strong, and also too strong. The countdown starts with a seven. Six, five, four, three, two, one. We're off.
Up the boardwalk, through the forest. It's instantly beautiful. Light through the trees. Hard to appreciate though what with all my focus being on not tripping up in the first 500m like the clumsy newbie that I am. I jump off to the side and follow two blokes up the parallel trail. When a big tree makes this not a thing, a woman generously slows to let me back on the steps. It is the first of many kindnesses I am to be shown. Out of the forest and we're already thinning out. I am determined to go easy, not go out too hard. I am also determined to not look at my watch for at least 5k. I look at my watch. I am going waaaaay too fast. All the other watches go bing a ling a ling as we hit the first k. "Just 43 to go" quips one wag. I lol, but internally. I iLol. Down we go briefly, then up we go again.
I am a horrible descender. My descending, I suspect, inspires horror in those around me. Who wants to tailgate a drunken driver? This is all fine on the first major drop, wide and grassy as it is. People can fly past me and pretend I'm not happening. But once we hang a left, the path narrows and becomes what I consider insanely technical, and everyone else thinks of as just a bit rocky, I am screwed. And so desperate am I to get out of the way of those behind me, I move to the verge, slip, and go down. I bounce back up. I've had worse. Multiple people check on me. More kindness. I let them all go by and gingerly pussy foot my way to the base of whatever the wall we're about to climb is called.
We go up and I bring them all back. I am going too fast. I am going to pay. We run. There's going to be a lot of running now. I do it all on my own. Men just ahead of me all the way down to the Crone Woods car park. I try leaning back to slow myself. It doesn't work. I'm not halfway and my quads feel...not trashed exactly, but weird. And not good weird.
It's all a blur till we hit that valley with the ferns. The small group in front of me slowly pull away. But beauty! So much beauty. It's goes on for longer than I remember and I love every step. Then up we go again. It's steep, so again I bring them back. Up, up, up. Why can't it always be up? As it flattens I hook up with Trish, who three weeks ago has represented Ireland in a 100k race around Mondello. This is mostly a training run for her. She is inspirational in her achievements, her easy form and the subtle encouragements she hands out over the coming kilometres. I tell her I'm worried I've gone out too hard. She tells me that if chatting comfortably then of course I haven't. Oh okay then! I hate the road and I am blessed to have her to talk to during this section. Once it goes up again we yo-yo a bit and she tells me I'm strong on the climbs. My heart overflows even as my legs deplete. I eat some pitta and peanut butter. It tastes like sawdust. We gradually pick people off. I think I might be having fun? Soon we see the leader, bounding down a rocky descent towards us. "Just a little bump to halfway!" Trish scoffs. We get over the alleged bump and then she's gone. I'm barely a runner, I think, I'm just an uphill grinder. Halfway is coming.
As I watch Trish disappear I begin counting the front runners who run by. I quickly lose count. More than twenty? Almost certainly. But like, who cares? Me. I care. I finally hit the bridge and turn around. A wonderful stranger goes to refill my bottles. I can't open one of them. She patiently does it for me. I can't thank her enough, then or now. "I don't get it" I say, "I'm not running with my hands". "We run with everything" she tells me. This gives me unexpected heart. I begin to go back up, running with my everything. This turns out to be the best part of my day. I feel that I can go steadily up, if not forever, then at least for a couple of more hours. I continue to pick people off. I do my counting thing. One, two, three, four, five, six, seven, eight. One, two, three, four, five, six, seven, eight. My mantra is just numbers.
I pass a woman who has briefly paused to tie a lace. "Stopping is a bad idea" she says as she starts back up again. Makes sense. She comes back to me on the next descent and we run together along the road section to the next big climb. She too was running around a motor racing track three weeks ago, but just 50k. Just. Ha! She's incredibly cheerful, incredibly strong, and just really sound, though it's not till we're about to hit the hill that I learn I'm actually in the presence of running royalty. This is none other than Maeve Hegarty, daughter of Maurice Mullins. This information gives another boost as the climb allows me pull away. Thanks to advice from Trish in the barely remembered country of two hours ago, I manage to not miss that dodgy turn and drop easily back down to the Valley of Ferns. I pass a couple more people. I wanted to finish this race in under six hours. My watch says I might do it in under five. I don't trust my watch and I'm pretty dubious about my body's plans too. As I start to go up again, I pretty much invite my bad patch in. It's gotten warm, I'm out of water, there's still at least a klick to the Crone Woods car park. I tell myself I'm strong on the uphills, but I don't believe myself. I don't feel strong. I feel slightly, yet unspecifically broken. On I trudge.
I make it to Crone. Another water top up, another beautifully cheerful stranger. I'm grateful for the water, but more grateful for her standing around for hours on end in service of others and the beauty of whatever it is we're all trying to achieve. This, and the fact that I ran the remaining 11km a week ago, gives me another boost, but the duration of these boosts is shortening. I'm struggling.
So on I struggle. Keep trucking. Keep counting. I pass two more people. I'm not entirely sure they're in the race. They let six year olds do this kind of event, right? Eat my dust, small child. Still, I'm walking hardly at all. Should I still be holding back with ten to go? I inhale a caffeine gel. It makes no discernible difference. I catch a guy just as he climbs the stile before the wall like descent. He's suffering too. "My expletive stomach!" he says, happily. (He doesn't use the word expletive) At least this isn't a problem for me. Reasons to be cheerful. For all that he still disappears instantly on the descent as I tiptoe my way down like Bambi learning to walk, with a look in my eye like I've just seen my Ma shot by a hunter. I finally reach the little bridge and begin what my tummy challenged friend referred to as "this effing beast". (He doesn't use the word effing) I danced up this climb last week. There'll be no dancing now. I'm slow but moving and I bring back stomach man and a couple of others. As I turn onto the endless Grassy Up I see two more targets ahead. Five days later and maybe a third of the way up I reach them. They stay with me. There is no talking. I take an unexpected step and feel my first shoot of cramp. Left calf. Concerning. I'm out of electrolytes. I should have just thrown the whole tube in my bag. Coulda woulda shoulda. On we go. I miss my stupid poles. On we go. I miss my mum, not shot by a hunter but still three years dead. She would be aghast, but proud. On we go.
The grade finally eases and I try a shuffle run. Surely it'd be quicker to walk? I wait for my two companions to shoot past me. Doesn't happen. I keep almost running. I remember that I have a McDonald's salt packet in my bag. It takes about two hours to fish it out. I recklessly put the whole thing in my mouth and chew. Surprisingly, I really am lovin' it. This and the indescribable majesty of the view to my left get me to the boardwalk. Four k to go? Something like that. The cramps are returning but now it's hamstrings. I slow, they ease, I go, they rear their evil heads. On I go, up and up, slowing, going. It's the first time today I've wanted a descent. It comes and I run, lumberingly down the planks. I try singing to myself. I collapse past the oncoming walkers. Thank you, thank you I say and think as they move to the side. I'm not sure I what'll happen if I make a lateral movement off the wooden boards. Nothing good for sure. I go back to singing. "Reflective tape on our sweatpants, big holes in our shoes!" I realise that I know I'm going to do it now. The last time I looked at my watch, mid crampy walk, I had fallen off sub five pace. I decide not to look again. I practically crawl the final bit of cruelly steep grade and then I run. Run like I ran in the old days before I knew there were mountains or ultras. I get to hate the way the boards rob me of rhythm one last time before I'm guided through the final few hundred metres by cheers and clapping and mercifully, directions, before emerging into the light to cross the line. There are a bunch of runners lying about smiling like medicated shock troops between raids. I look at my watch. Sub five. I do a little jig of joy. I give a little whoop of relief. I get given my mug. I am dazed but happy.
I go and pee in a bush.
I am eternally grateful to all those who made this day possible. All the runners. All the organisers and volunteers. Everyone. Thank you from the bottom of my heart.