Reeks Skyline (pre-entry approval required)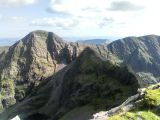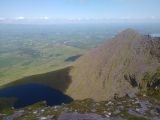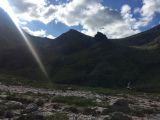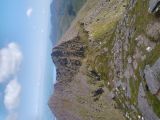 Authors
Reeks Skyline 2021
24 July, 2021 - David Power
View blog: https://dapower.wordpress.com/2021/07/24/reeks-skyline-2021/
Watching the Tour de France last week, I wondered how Tadej Pogacar would get on in the Reeks? While he may be the fastest man up a hill on two wheels, would his two legs and lungs be up for the challenge of 4-5 hours in Kerry's finest mountain range?
I headed to Kerry last weekend with excitement and trepidation. If this race was a stage of the Tour de France, it most definitely would have been the King's stage (we were in the Kingdom after all). With over 2,400m of climbing squeezed into "only" 24 kilometres, this was a beast.
My research had involved a few bits (a) recce: climbing Carrauntoohil in the snow last Christmas, (b) reading: race reports from past participants which might put you off rather than convince you sign up and (c) plotting: looking at Strava for past routes as well as studying a crisp new Harvey's 1:25,000 map with loads of detail.
This race had lots of similarities to the Tour de France. You're working hard for 4-5 hours in the hills. Firstly, the weather. It was scorchio. Camping in Cronin's Yard, I could sleep comfortably in a tent, (stupidly I forgot my sleeping bag, but never mind). Race day it was stifling, approaching 30 Celsius, with a wall of hot air and not a tree to be found for shade on the Reeks.
Second, we had climbs, lots of them. Like stage 11 of the Tour de France we had a double summit – just substitute Carrauntoohil for Mont Ventoux. We had 2 HC (hors categorie) climbs – Crúach Mór (33%) at the start and then Beenkeragh (30%) after 3 hours, both of which took nearly an hour of climbing. Your pulse is going full gas, but you're only just moving at walking pace.
In between we had a few Cat 1 climbs like Carrauntoohil from the Col du Devil's Ladder, which felt more like Alp d'Huez with the hordes of spectators dotted up the rocky slopes. I've never seen the place so busy – it reminded me of crowds you'd see at the beach. All that was missing was an ice cream van at the top. He would have made a fortune.
We also had death defying ridges, where you need nerves of steel to traverse narrow ledges along Big Gun and The Bones. You risk a slip, which might not end well with such steep slopes down to the glacial lakes. The cyclists who descend like a bullet off the Alps would know what I mean – you are taking risks and you better make sure they are calculated.
For me, my own mortality meant a few times I was scrambling or around rocks, holding on for dear life. People talk about living in the moment – at those times my mind was 1000% focused on the task in hand, I definitely wasn't worried about what I was going to have for dinner that night.
Like le Tour, we also had pelotons and breakaways, with everyone hoping the people up front would blow up and come back towards the group. It didn't happen. From the off, the peloton of 60 or so runners got split, with 2 tracks up Crúach Mór on open ground. I stayed right with last year's winner Brian Mullins, feeling he'd know a good line.
Later on, we got into a rhythm, jostling for position with various people. Krysztof from Kilmallock pulled away on the descents, David from Cork held with me down off Caher and Conor in the black stuck with me for the last 2 hours: we ended up crossing the line together.
Cyclists have a domestique to go back to grab the musette with all the food and drinks to keep the team fuelled. Us mountain runners had to be self-supported, carrying everything with us. Water was key on a hot day like that. I carried about 2.5 litres and it was gone by the halfway point after 2h45m.
I was so glad to refuel at Lough Eighter. So delighted I jumped into the water just to cool my body down. Heaven for a few moments. I've never stopped for so long in a race before, but it was oh so important.
The volunteer marshals were heroes – from directeur sportif Robbie and the organising team back at base, to each and every one who stood in the unrelenting heat for 6-12 hours, offering words of encouragement, as well as many having water, coke, dioralytes and even sweets on offer. Never was I so happy as to take a few jelly babies as at the Devil's Ladder after 4 hours of racing, when I was wilting before the last climb up Cnoc na Toinne.
A shout out to photographer extraordinaire Valerie O'Sullivan who perched herself atop Crúach Mór all day and got some fantastic shots. She's so comfortable in the mountains, she should enter the race someday.
Le maillot jaune was convincingly won by Rúairí Long, miles ahead of everyone on his debut at this event. He probably took the polka dot jersey too, being first up Crúach Mór from the off. Not sure who the green jersey should go to – Krysztof flew past us down the long Caher descent.
Looking back, I can't say I enjoyed even a single minute of that race. It was horrible during, but would I swap the experience for anything else? No way. I heard the quote recently that "life is about making memories, not dreams" and this rings true for events like this. Weekends like this. Camping out in nature, surrounded by mountains was unforgettable. No phones, internet, news, Covid talk.
Going back up on Sunday to watch other people race while we swam in the glacial lakes was magic. Or getting to walk up on Monday and take in all the views – munching on my apple at 9am in the still air atop Ireland's highest mountain, while everyone was at down below at work, was a rare moment of beauty at the start of a week.
Descending Brother O'Shea's Gully to swim in Ireland's highest lake, Lough Coumeenoughter, was special. Swimming in a glacial lake, with just jackdaws squawking above, sheep baaing on the steep slopes around and not a sinner for company. Peace on earth.
Roll on 2022. Tá grá agam do na sléibhte. Go dtí an chéad uair eile…
Race stats
18th place in 5 hours 10 minutes, covering 24.71km and 2,093m of climbing.
3 peaks over 1,000m, 7 peaks over 900m.
Simon Duggan
21 July, 2021
Its early May. The will to train is beginning to dwindle with these interminable restrictions. Structure is long gone. Week after week its junk miles with a sporadic effort to remind the legs what May is ordinarily like. Mild rumblings of cycling Ireland's plans for road racing's return reach me but my grá for mountain running is strong after my introduction to the sport in 2020. Weeks pass and with June on the horizon word comes that IMRA has announced its calendar. I immediately scour the events page. Amidst the Munster races, there's one in particular which draws the eye - "The Reeks Skyline". One for the bucket list. I'll give it a lash!
6 weeks to get ready. I'll do what I can.
The 10th of July quickly comes around and the graft is done. Time to freshen up and get the legs moving again later in the week for what ensues.
Cronins yard on d-day and its heaving with activity. The atmosphere is palpable with hikers and race goers alike doubling up on factor 50 in the Beaufort sunshine. 20 minutes to the off and a warm up is not on the cards - -sure I'm roasting!
Our MC, Mr Williiams, delivers the race briefing while the intimidating Cruach Mhór looms over his shoulder in the haze.
With the formalities done we're away on our very own Munster Marathon Des Sables. The start is lively, however the friendly chat and laughter quickly dwindles as a few of us opt for the first opening into the vast expanse below the eastern Reeks. Heavy ground awaits us but it's the most direct route to our first summit of the day. I keep reminding myself how long the day will be and to not let the ego drive the effort. As we reach the final ramp up to our oasis and it's legs as well as hands to manage the incline. Ruairí Long is on a bee line for Cruach Mhór while Remi Alex and I opt for the brief relief of Lough Cummeennapeasta from the already testing conditions.
Onwards and upwards as Valerie O'Sullivan greets us from behind her lens. All we can offer is a grimace dressed as a smile in the crippling 25C heat. Over the summit and Ruairi is out of sight and negotiating Big Gun. Remi, myself and Brian Mullins crest Cnoch na Péiste respectively 1 minute apart. The Eastern ridge was a joy to run as the cool westerly gave some respite, but this soon came to an end as Carrauntoohil presented itself.
With over 1.5 hours of racing complete the 300 meter ascent to the cross was beginning to take a toll on the body. The sun was now at its highest and so were we.
Michael McSweeney greets me at the cross where I collected two fresh bottles from my very obliging Chief Irrigation Officer , Jim. 1 litre gone, another in the hand for Coomloughra. On towards Caher and feeling relatively ok in third position. Although really content with how the day was unfolding, Brian was not far behind and the realist in me thought its only a matter of time before I'm swept up.
2 hours 15 have elapsed and the Hydro road beckons. With plenty of fluids to hand, I press on towards Beenkeragh conscious (or maybe just paranoid from developing heat exposure) that the chasing pack is looming. Navigating through the valley floor some 550 meters below Caher, its absolutely baking. Perceived effort has raised and fatigue is becoming a big factor.
As the climb to Beenkeragh begins, the summit marshals are not even visible making the task at hand unpalatable. What ensued was horrid. The wheels were slowly coming off. I could hear voices behind but see no one (surely its the wind carrying them up the valley). I inhaled 3 gels, the remains of my water and ate what I could. Just keep moving! Finally after 45 minutes the summit came into view amidst the endless rock garden. Far from feeling good, the marshals take one look at the broken soul approaching and kindly offer what they can - my remaining gel will see me to my final check in at Carrauntoohil. Looking back down the valley I could see two runners working together so there was no time to hang around. A second wind greeted me while traversing The Bones and gave me what was needed for the scramble up to the cross.
Arriving at Éireanns highest point for the second time and looking like death (according to Jim), 2 fresh bottles were thrust into my hand and I was informed I was in 2nd. WTF? No stop. Keep moving, albeit a brisk walk across the summit. Descending the loose meandering path from the cross I reach the Devils ladder. As I looked to the marshals in an attempt to salut, a misplaced step rolls my ankle out from under me. Faaaack! Negative thoughts flooded in. The helpful marshal does what he can for me but I have to get moving again. "Walk it off!" came to mind. I hate this saying but I embraced it today as it's the only option.
With Cnoc na Toinne ahead, power hiking suited my newly acquired shuffle. Cresting the summit and the Zig Zags were in view. The marshals greeted me with one gentleman producing and opening a fresh bottle of Orange Lucozade. I looked at him confused as I wasn't sure if he was even real. I graciously accepted and swallowed the presumably imaginary contents, bottle and all. The remainder of the path to Hags Glen was like the M50 on a Friday afternoon. Polite requests to make space were accepted with words of encouragement.
Reaching Hags Glen the temperature rose and what breeze we had aloft the Black Stacks was now gone. Final 20 minute effort to get home. Adrenaline partially numbed the ankle and fear of being caught drove what felt like the longest effort I've ever done. Looking over my shoulder at the green foot bridge no one was in view. RELIEF! 900 meters left. The endless anticipation of the finish line was unbearable. Finally, into sight appears civilisation. The multicoloured tops of tents peek through the ditch. Turning into the field its one last 50 meters to the line. Done and dusted and never so grateful for a race to be over.
Greeted by Robbie and the team, I'm left to dissolve in the grassy shade of the IMRA vans awning. Eventually, once lucid, Ruairí greets me and we congratulate. He looks sickeningly fresh! An amazing run from him saw him finish 20 minutes ahead even after loosing a further 12 minutes while on Beenkeragh.
The following 2 hours were spent horizontal on the grass with all the self incarcerated exchanging stories from our day in the Kerry mountains. Certainly one I won't forget.
Pure savage boi!
20 July, 2021 - Alan Ayling
So, with an hour to kill, a race report seems like a way to try and do justice to that weekend. The hour to kill is a bus journey to Roscrea, to collect a car that didn't make it home from the race... it took exception to a Chademo charger at Birdhill Services after 11 on Sunday evening, turning the journey home into an epic to rival the Skyline the day before. Thankfully the only blip on an otherwise perfect weekend.
Cut to Friday evening. A trip to the Reeks feels like it starts in earnest for me coming over that crest on the road between Abbeyfeale and Castleisland, where the vista opens up before you and that first glimpse of the mountains is to be had. As often as not they're shrouded in mist, but not this time - they looked glorious. Spotify was in charge of the music and it had chosen Gary Moore's Out In The Fields. Rocking out in the car where no one can see you, the excitement of the race weekend to come, always a good time.
An hour later, the tent is being pitched in the field beside the race finish at Cronin's Yard, old acquaintances are renewed, a couple of very civilised beers are had. Wicklow Wolf's finest. It's warm and calm, but the midges aren't too bad; the mountains are looking beautiful. The anticipation builds.
Race morning. Registration and kit check are a slick operation. Robbie gives us the race briefing and instructions - and we're off. Up the gravel trail towards the Hag's Glen until it comes time to swing left across the bog for Cruach Mor. A major split in the field - some of us stay left of the river that drains out of L Cumeenapeasta high above, others stay right. I realise I'm in a fairly respectable position, the left line seems to have paid off.
The haul to Cruach Mor is interminable. It gets even tougher near the top, in the big rocks. The original pre-Covid Skyline route, where we were bussed to the start at Kate Kearney's Cottage, was a longer tougher route overall, but at least its ascent of Cruach Mor was relatively merciful. This one's a brute. In the back of my mind lurks the thought that Beenkeeragh later on is even worse - at least now there's still some life in the legs. It's hot though, very hot!
Eventually summitting in around 12th or 13th position I think, the friendly marshal at the grotto helpfully informs me Ruairi Long has already gone over Knocknapeasta! Great, I'm already two mountains behind!
What comes next is perhaps the jewel in the crown of this race. At least in the dry. In the wet it just feels like survival. The Big Gun ridge. It's way more gnarly than its more celebrated cousin across the valley - the Beenkeeragh ridge. The Big Gun has more exposed bits and fewer safe line choices. Plenty of places you'd better not fall off. Strategically placed marshals and IMRA flags ensure runners are advised of the best and safest options - another example of the exemplary organisation behind this race.
The summit of Knocknapeasta forms the highest point of the ridge - and the last bit of view down to the delightful lake below (you can even see the wing of a crashed WW2 aircraft below the surface). The running suddenly becomes a whole lot easier. Over Maolain Bui and Cnoc an Chuillin, then skirting the side of the next bit and emerging at the top of the zigzags where we'll be descending later. Much later. For now it's over Cnoc na Toinne and the short descent to the top of the Devil's Ladder. The last bit of easy running for a while. The first ascent of Carrauntoohil awaits.
From the Ladder to the summit it's a hard pull up a trail comprising mainly loose rocks - and with far more people on it than any of the route so far. The summit is even more mobbed. Amongst the hordes is Micheal - our summit marshal. He has hauled water all the way up there in case any of us is stuck for it and he doesn't know it yet but he's going to be there until 9:30 that evening. Some man - big respect!
Had one runner close behind me on the climb up Carrauntoohil, but haven't seen any others since Knocknapeasta. Well, one white shirt a good way ahead, but I'm more concerned with not being passed. From here to Caher it's the Irish Champs race route - and one of my favourite bits anywhere. A fine mix of runnable bits and sections you have to pick your way, with spectacular views down into Coumloughra on the right. The lowest of its 3 lakes is Lough Eighter - held back by the hydro dam, where glorious water awaits some 600 vertical meters below us. First though, there's Caher summit, then leave the IC route to head over Caher West and begin the descent. Its rough and messy at first, but transitions into a pure ecstasy bit of grassy running down the ridge known as Shrone. A short steep drop, then across a flat bog (pretty dry this time) to the hydro dam. Caught the runner in front just at the steep bit - but the lads behind must have been flying because 4 of us arrived at the dam more or less together.
Words of encouragement from marshals Rob & James, water bottles refilled and Zero tabs added, a gel scoffed - and off again. Off up the brutal climb up to Beenkeeragh. You think you'll never get there. It was like a cauldron in the valley; thankfully with a bit of climbing came a mercifully relieving breeze. Interesting seeing line choices here. The two lads with me (well until they dropped me when I couldn't keep up) and I all took a mid line - initially fairly flat into the heart of the valley, then diagonally up by an old and very ruined wall, towards the last saddle before Beenkeeragh. Several others stayed much lower, well into the valley, saving a steep climb until as late as possible. I heard at least one went up over Skregmore... how would you be well?!
With Beenkeeragh finally attained, an awkward rocky descent follows. Winner Ruairi Long lost some time here, but still broke 4 hours for the race. Crossing the ridge to Carrauntoohil I caught one of my previous rivals and we came across Bernard struggling with cramp. With the help of an electrolyte tab from a marshal he was able to get going again, but lost quite a bit of time.
Over Carrauntoohil the second time, another hello to Micheal, down the long rough track to the Ladder, passed along the way by Fabio, bombing down the hill like he was in a 10 km Wednesday night race. My legs ain't working so well now! The little climb over Cnoc na Toinne seems a lot bigger than when we came down it earlier.
And so to the zigzags. Now I'm no stranger to getting tired in long races, but this time the wheels came right off. I bonked spectacularly. Had to stop and sit down for a gel and the last of the water. Bernard was one of I think eight runners to pass me down the zigzags, so pathetic had I become. 13th place became 21st. Not one of those runners looked to be moving well - the effort and the heat talking their toll, but every one of them was moving well enough to drop me easily. The misery continued on down the Hag's Glen until as if by magic, or by smoother ground, the legs suddenly remembered how to run again. The last 3 or 4 km was surprisingly enjoyable - spurred on by the encouragement of countless walkers and the thought of cold beer at the end, I finished feeling strong and elated. Not strong enough to recover any of the lost places from the zigzags, but nevermind!
The field and the finish set-up were lovely. Stopping at the end of 5 hours and 13 minutes of hard graft is always good, but to be cheered across the line, get a cold Coke and a beer and flop down on the grass to exchange war stories and congratulations with friends and rivals... that's about as good as it gets. A dip in the river (more like sitting in it for 15 minutes) followed, then food, more beers, an evening of craic and chats with great people.
A leisurely hike up Carrauntoohil with Deano and his friends the day after (the friends didn't quite get all the way) rounded things off perfectly. Stunning views, and getting to watch the Classic - an epic battle between Sean Quirke and Barry McEvoy for the win and a very impressive women's race win and 4th overall for Isobel Oakes. Great to be a spectator watching that.
A huge thanks to Robbie and his crew of volunteers for making it all happen. Can't wait for the next one!