Mount Leinster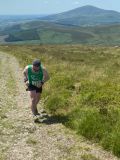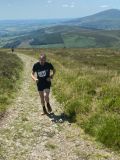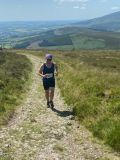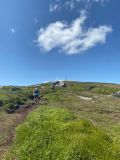 Authors
IMRA Mount Leinster – July 17th, 2021
23 July, 2021 - Gareth Little
https://summit2summit.wordpress.com/2021/07/23/imra-mount-leinster-july-11th-2021/
The Heat
21 July, 2021 - Alistair Hodgett
I felt more needed to be recorded about the heat. But first there is a navigation challenge before the start of this race but if you read the detailed instructions you'll find registration at the farm. If you rely on Google maps on the other hand you may explore more of the lanes than you wanted to. It was 28 degrees or above at the start and with face masks, sun glasses, sun block and water all much in evidence, it could have passed for the Marathon des Sables (perhaps). The advice ahead of the start included something about "it's OK to walk". I took a place towards the back where I was to remain, perhaps I took the advice too much to heart? Managed a decent run up the track and through the trees for ~2km, then settled into a steady walk for the next ~2km section that crawls upwards under blazing sun as I lost sight of anyone ahead of me. Very impressed by those who ran more than they walked. Then it was onto the all too short a run across what is typically soaking wet bog and today was solid and dusty ground. As this section ends, Derek passes me as he has done a few times already this year, leaving the philosophical question of "why do we do this" with me before he accelerates up the rocks ahead of me and over the last 1.5km to the summit marker and the eagerly awaited turnaround. On the descent – the 'fun run' - it's a wonderful view for miles around. A shame to keep eyes down but the track tripped me up once before so I only hazard a few looks. A few souls who had missed the start were out tackling it anyway, that's commitment. Back across the finish to find shade and cool down. Many thanks to Liam and team for providing the opportunity
Mount Leinster Race Report
18 July, 2021 - Brian Furey
Mount Leinster Race
A very hot summers day greeted us at Mount Leinster for this race in the Sunny South East. It felt like no warm-up was needed
but it was duly done anyways. Some quick chats with Patsy McC and Stephen Brennan as they ran up the track.
Talking to Enda Cloake beforehand - a man in form - he won the Wexford
road champs on Friday night in 32.50. I got presented the Wicklow round t-shirt from Niamh Kelly.
beforehand which was a nice touch. Thanks Niamh. A few other rounders were present too John Molohan and Stephen Brennan.
Race details were given to us by RD Liam Bowe and we were off up the laneway.
I settled into a quick pace and looked up to see Enda Cloake 50 metres up the road already. I upped the pace to catchup to him
or at least not let him get too far away. Tom Lupton followed me and passed me out soon after.
This was the first 3 positions for most of the way to the top. John Mollahan did pop out of the forest on the 2nd fireroad
as he had cut that corner (legally!) along with a few others. I battled on - stuck to the main track. I did consider taking some of the open mountain shortcuts - but felt they may not be worth the risk. Near the top - I could see Enda just ahead - less than 20 seconds ahead - I couldn't see Tom - Tom had taken a slightly wide route costing him time - which meant I moved into 2nd. I hit the top - summit marshall happy and headed for the
finish. Enda wasn't a whole lot in front at this stage - maybe 300 - 400 metres. Tom was just behind me as well - maybe 20 seconds behind.
I careered down the tracks - keeping a close eye out for the race markings at major junctions. These were great to keep you on the right path.
Met a few walkers on one track on way down. Finally got down to the main stony track - kept the pace fast to try stay in 2nd and maybe catch Enda.
Finished it off. Happy enough. Enda won it. I was 2nd - Tom was 3rd. Gerard Maloney was 4th. On Ladies side -
Becky 1st, Ciara Largey 2nd, Niamh Murphy 3rd and Caroline Harney 3rd.
I recommend this race as a nice one to do - very similar to Lugnacoille terrain and profile wise. its well organised - and a track all the way to the top.
We had a look at the Ferns Castle on way home while having a cup of tea and something to eat - local OPW tourist officer regaled us the history of Diarmuid McMurrchada King of
Leinster, Strongbow - bringing in the Normans - interesting stuff!
Thanks Liam and all for putting on a great race.