Ballyhoura Peak Marathon (+ WMRA LDC Trial '20)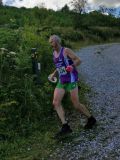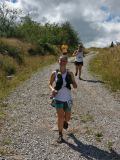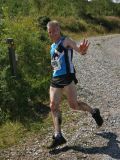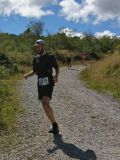 Authors
Close contacts & pitstops
10 August, 2020 - David Power
Last weekend I took part in a trial race, for the Irish team to compete at the World Mountain Running Championships, which is scheduled to take place in November in Lanzarote. The Irish trials took part in the Ballyhoura Mountains in Co. Limerick over a 40km course, involving 4 x 10km laps with over 450m climbing per lap (1800m total). I finished 8th out of over 56 starters (with 16 DNFs).
Brutal
I was happy with my performance, although I did find it really tough. While I've ran further (over 50km on the Camino and several road marathons of 42km), I've never raced for that long – nearly 4 hours of intense exercise. The one word that sums it up, from me and other competitors, was "BRUTAL." A concoction of the climbing, the laps, the heat, the lack of cooling wind, the fast pace from the off and the competitive field. So here's my account…
Pacing: not textbook style
Anybody who's ran a marathon on the road knows that pacing is key. Even splits, steady heart rate, everything under control til near the end. Hopefully you don't hit the wall after 20 miles. Well doing a mountain marathon doesn't work like that. Just look at my lap times:
Lap 1 – 49:16
Lap 2 – 54:34 (+5 mins)
Lap 3 – 59:03 (+4 mins)
Lap 4 – 66:56 (+8 mins)
So my last lap was a whopping 18 minutes slower than my first lap – that's a decrease in speed of 37%. What was also interesting was that my average heart rate dropped each lap too. From 165bpm on lap 1 to 157, then 156 and down again to 150 by lap 4. I'm not sure if it was the heat, the fatigue, my mind slowing down or just not enough endurance fitness.
While that might sound like a disaster with the wheels coming off after an hour, it really wasn't the case. Looking at lap times for all competitors, everyone slowed down significantly – although the winner Ben Bailey "only" slowed down by 9mins from 45mins to 54mins.
Close contacts
"Close contact" is one of the new phrases we all know about. Today in the Ballyhoura Mountains I was wondering who my close contacts on the hills would be. Pre-race I saw the list of 40 or so male entrants and the field had plenty of quality.
On lap 1, a few Rathfarnham lads were close by - Colm and Brian. On the climb up Seefin, the procession of runners strung out. Over the top and down to the boardwalk across the boggy bit. The clear views stretch for miles on such a beautiful summers day. No wonder there's good farmland in the Golden Vale.
Warning: rough terrain
Clambering back up the second peak, a few spectators cheered us from the large rock. Down through a mucky boggy trail, skipping along to keep light on the toes. Down a fire road - I don't like the hard surface, as my trail shoes are ½ size too small, so squeeze my toes a bit.
We pass a sign: "warning: rough terrain." Yeah, tell me about it! The downhills tire out the quads, so I try and relax and let gravity help. My first proper close contact is Mark Wolfe from Cork. We spent a lap together, moving nicely. I tell him "there's a long way to go, we'll catch those lads ahead."
Our next close contact to join is clubmate Colm. He's an effortless descender - he glides by me like a skier carving down a tricky slope. Through the woods it's lovely and cool in the shade. A welcome respite from the rising temperatures, it's heading for 22C, and with no breeze, you really feel it.
Pitstop strategy
Back to the start line I complete lap 1 in 49 minutes and have a chance to refuel. My F1 pit stop strategy was a 3-stopper. After each lap I take 200mls of water and stuff a gel and some of my homemade bars (Gillybars and date protein balls) into my back pocket. I'm glad I had over 1 litre of water – by lap 4 most of it was gone. If you'd handed me a pint bottle of Bulmers after lap 3, I'd say it would have taken me 10 seconds to drain it.
Back on the merry go round
Lap 2 is a bit more familiar. Mark and Colm are still my close contacts, with another Cork lad in white joining us. The sun makes us sweat on the long climb. It's feeling tougher. Mark takes off up the hill - that's the last I'll see of him. Colm drops off, surprisingly. Later I find out he stopped after 3 laps as his ankle was at him. DNF a common story I hear after, it's a tough day in the office with nearly 1/3 competitors dropping out.
By lap 3 I'm getting noticeably slower. My Cork mate is now my close contact. He flies down hills past me, but stops to walk some uphills, so we yoyo. Looks like his back is at him, or it's a smart tactic to conserve energy? We both make up three or four places as guys ahead run out of steam.
Nearly there
I've no close contact for the final lap. I'm happy to pass the marshals for the last time, to get off those hills. The Seefin climb for the 4th time turns into a march/hike rather than a run. It's amazing how the body slows. My heart rate has dropped from nearly 170bpm on lap 1 to less than 155bpm now. I can't lift my heels as fast my leg turnover has dropped. My legs feel heavier on the tricky descents across the boggy top. You can't shift your weight as quickly, so you end up tiring your muscles, as you absorb all that weight.
Job done
Happy to finish top ten, I did my best. I tell myself it's great to be out competing against like-minded people. My only battle is against my own expectations. I consider what I could have done better or differently. But then I tell myself, I'm as fit as I've ever been. I don't give up. I'm lucky to be able to even take part. Focus on the positives.
Well done to all the Munster IMRA volunteers, who put on such a great event in these challenging times. Kudos to Robbie as race director and everyone who made it very enjoyable. Coke, sandwich, buff and a mug at the finish. A cold tap to wash off some muddy runners. What more do you want?
P.S. I did get that Bulmers later that evening. It was glorious in the evening sunshine.
Results: https://www.imra.ie/events/results/id/1975
Strava: https://www.strava.com/activities/3883019110