Maurice Mullins Half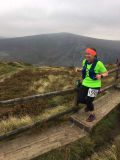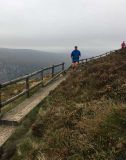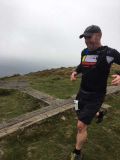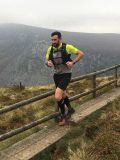 Authors
Race Director Report
21 September, 2020 - Mick Hanney
Planning started for Maurice Mullins as usual early in the year. We were well set up for the April event with logistics like mugs, buses and parking in hand. The level of interest was unprecedented, and we quickly sold out of 300 entries. We could have sold more but logistically there is a limit on a race along the Wicklow way particularly given we were expecting similar numbers in the ultra scheduled for the same day and overlapping route.
Then Covid-19 hit and all bets were off. A no. of postponements followed, and we allowed some refunds for people that were unable to make the rescheduled dates.
Covid-19 overshadowed the event throughout the summer. We made plans to reconfigure the event to the Covid environment and split the Half from the Full to keep them as separate. Using buses was an unlikely proposition, hence the idea to find a new location for the race start at Lough Tay. A new date of September 19th was lined up.
Covid restrictions eased then tightened up again and a lot of work was done in the background to secure the necessary permits needed to proceed with the event.
The weeks leading up to the race were eventful with imminent additional restrictions closing in on Dublin. Dublin going to level 3 of the Covid plan literally hours before the race start had a dramatic impact on the race entrant numbers and it also impacted the potential volunteers, to non-Dub helpers. This was unfortunate for the Dublin runners, but in a way, it was great to see the level of health guidance compliance amongst the IMRA organisation.
So, on the morning of 19th September on a cool dry Saturday, a small field of runners toed the virtual line near Pier Gates to be despatched on their race out to Crone wood and back. Social distancing and face masks were the order of the day and levels of compliance were high.
It was like old times with the race starting near Pier Gates and the no. of entrants on the day being low. Feedback from competitors was very good and people were appreciative of the event going ahead. It showed that, despite the Covid emergency, it was still possible to proceed with events in a managed and safe way. And, as always, the Wicklow way mugs will be cherished. With luck, 2021 will restore us to normality and we can look forward to staging the race again, particularly for those that couldn't make it the other day.
I am grateful to the help of the volunteer team, committee and others behind the scenes in making this a success.