Mountain Rescue Benefit Race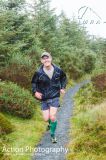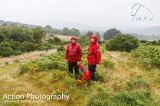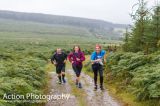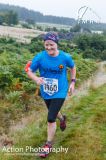 Authors
Wet Paddock
22 August, 2019 - Mick Hanney
The rain fell in torrents all day and didn't let up for the evening either. It was the kind of rain though that once you were wet and running you didn't much care.
The last IMRA Weds for many a month to come as the dark evenings set in. There are still some weekend races to look forward to including the forthcoming nav challenges.
The route is a lovely loop around Paddock hill and the Wicklow way. The rain had made the course more interesting than normally with soggy bog and puddles a plenty.
Over 100 runners were in attendance and I daresay more had paid for entry, as a contribution to mountain rescue, despite not making the race.
Any attempt at a warm-up was slightly farcical giving the teeming rain. At 7.30 we were set off by master of ceremonies Mike Jordan.
Up the fireroad and left up the single track, semi-dark under the tree cover in places, before breaking out to the open mountain.
Mountain rescue teams were manning various points around the hill encouraging us on and we needed all the encouragement we could get!
Early stages I was passed by Alan Ayling who was showing no sign of tiredness after an excellent run in the Galtees at the weekend. He narrowed the gap and eventually overtook Harriette who was running well ahead as we all played slalom with the boggy puddles towards Paddock hill. Alan would go on to have another great result.
Through the gap in a gate and onto the open mountain which was a slightly mad part of the run. There was no path to speak off except following the runners ahead. The marking tape had retreated in wet misery into the heather. Finding traction and good running through the heather was difficult. Struggled a bit here and at least 3 runners (mountain goats) passed me here – Aidan Coffey, Michael O'Rourke and Matthew Sammon. Some people are naturals on rough ground.
By the time we turned onto the next waterlogged trail (but at least it was a trail) I had been gapped a bit.
Got back into the running again and could see over time I was starting to close the gap on Matthew with the other runners out of sight in the dim evening light. Passing the hut on the Wicklow way the gap was less than 10s. Chipped away on the next section up towards the WW stile back to Trooperstown and by the time we hit the single track the gap was mere seconds.
Onto the final fire road and sprint finish of sorts. Managed to overtake Matthew here but not by much.
Rarely have I been wetter after a race. But such fun.
Well done to the volunteers, particularly those that had to stand around in the rain in the hills for us to have our race. Great to see the support for the mountain rescue as a regular part of the IMRA calendar.
Post-script: Collected the race gear afterwards for the Nav Challenge on Sunday. That gazebo is heavy. Its heavier still after incessant rain :-)
A nice spread of food afterwards in the pub where position was everything in terms of where you were located with respect to the kitchen. Right Mikey?
;-)
The Banshee of Brusher Gap
22 August, 2019 - Graham K. Bushe
I signed us up early to help with this great race as Adam wanted to get his 2 volunteering roles done. Due to hurling commitments earlier in the year he was getting tight on squeezing it all in.
Everything had been going well until RD Mike suggested I bring the tin whistle! (There's my indemnity clause there)
And, not having seen daylight (or even twilight) for at least a year, I dug out the old feadóg and gave it a bit of a dust off. There were a few raised eyebrows, elbow nudges and even outright laughter when I explained what I was getting it ready for.
The day finally came, and Adam and I headed off to Laragh to do our bit for IMRA and DWMR. We checked in and met with Mike who had everything up and running. Adam quickly accepted Mikes offer to help at the finishing area rather than accompany me out on the course. Not sure why…
Mike asked if I would head up with Brendan to help get the early starters underway and then pop out on the course somewhere to provide some merriment for all the runners to enjoy. Suggesting the Hut where I might get a bit of shelter.
So, after Brendan had confirmed all the starters and handed me the clip-board I gave a quick countdown and sent them on their way, all the time forming my cunning plan… I promptly handed the list to Adam for passing to laptop operators Barry and Richard and set off in hot pursuit (never miss a chance for a bit of a run) I took a smaller loop around the woods and headed for the hut.
As it turned out, there were happy, (despite also being damp) campers already ensconced in the hut when I arrived, so I decided not to afflict any more torture upon them and moved a bit further along the trail - about halfway down to the stile. On finding a wee clearing, I hid myself in a nice mossy spot, partially sheltered from the weather. When I got myself in position, I did a bit of a 'warm-up' in preparation for the arrival of the early starters. Within minutes a MR marshal appeared, obviously responding to what he must have believed was some sort of distress signal. On discovering it was only me trying to provide some merriment and distraction he casually continued up the path as if nothing was wrong, but gave the game away as he then had to return to his post a few minutes later. Obviously, a few words were exchanged with his colleague and sure enough soon afterwards he too came to see where the racket was coming from. Or maybe it was the lads in the hut sending out distress signals "The Banshee of Brusher Gap is on the rampage!"
Soon enough after that I heard the cheers of the lads in the hut as the first of the runners began to pass by so I piped up and twiddled my fingers as best I could. The poor souls didn't know what to do. On a narrow path, with enough descent to keep them moving and just technical enough to make them want to watch where they were going, suddenly now there's this blood-chilling awful wailing coming from the ferns just off to their side. However, most managed to give some sort of nod or even a Thumbs-up, probably in the hopes that whatever it was, it wouldn't come after them.
One thing I learned, was that the flies are not deterred by a bit of rain (or bad music for that matter) It's quite a task- trying to focus on continuing to play, while a fly crawls up your nostril.
Another thing I learned is that a tin whistle is pretty useless as a fly swat!!
All in all, I think my 'playing' got the expected result, as all of the runners seemed to accelerate as they passed. On my way back to the car, my wonderful son Adam, as encouraging as ever, reckoned that the Brusher Gap part of the route should be set as a new section on Strava as most of the runners would now have a new PB. "Obviously spurred into action by my lively music." I added. To which he had a good old laugh and said something about escaping or getting away as fast as they could.
I still wonder why he volunteered to do the finish line instead of standing with me.
Well done to everyone who managed to get by in one piece. Apologies to anyone still traumatised (but as referenced earlier, blame Mike)
Thanks to IMRA and DWMR
Last Wednesday night :(
But still more races on the calendar :)
See you on the hills soon, g
Bunched & Drenched
22 August, 2019 - Miriam Maher
The very last thing I felt I had the energy for last night was a hill run in a downpour. But it was the last Wednesday night mid week cathartic outing until next year so it had to be done. And it was the Mountain Benefit race, a feel good event if ever there was one.
Arrived feeling completely bunched. Probably the quickest running I did all evening was the run up to the start line from registration to make the early start time. Seeing as how I was considering officially hiking it, reckoned I'd need all the time available.
What a cool route and what a fabulously biblical wet run. Hills looking all mystical and covered with a purple haze near and far.
Accepting with, I like to think, a degree of graciousness, I left Dee to it. She started as tired as me but then, as had been the way of it this year, gained in mojo in jig time and headed off strongly.
I thoroughly enjoyed the way around, catching up with Peter, Dan (welcome back Dan) and Santina on my travels.
Had my annual Laura Ingalls Wilder moment [opening credits of 'Little House on the Prairie' style] across the heather, each footfall landing god knows where each time, finding out at the moment of impact was it to be in a stream, a heather patch, or pure muck. The best fun. Santina stated, without any disagreement from me, that this was just brilliant/beautiful/amazing..can't recall the exact phrase used but I fully agreed.
Given that we were completely soaked right through to the skin, head to toe, at that stage, but were still happy out, gives an idea of the skewed happy head viewpoint of the average hill runner.
Bailed on down the downward slopes, waving to all the mountain rescue crews along the way - delighted to support them, hope to never need them, great people.
Had the mentally magic moment of hearing, then seeing Graham playing the tin whistle along the path past the camper shelter. Would generally view the tin whistle as an instrument of auditory torture - 3 kids in the Irish school system - need say no more. Graham managed to eek some nice tunes out of it, my benchmark is very low though it has to be said...
By then it was Dan, Santina and myself - the merry trio - slogging our way up Paddock hill - always a longer climb than remembered from the previous time. Santina spotted the glint of the camera lens first and we all had enough time to gather ourselves and getting a version of running going again.
John capturing the sodden evening and our running antics brilliantly as always.
Headed over the final stile - warned not to grab the barbed wire like a runner ahead of us - and then had a bit of a race between ourselves to the finish line. Santina pulling ahead decisively and leaving Dan and myself in her wake. I managed, just about, to get to the finish line ahead of Dan. Given that he's back on the hills for the first time since April, more reflective of his returning to full health and good form than my ability to keep ahead.
Found Dee at the finish line sporting bandaged and bloody fingers - she was the one that had come off the worst with the barbed wire - but she still was well ahead of me anyway.
Pub for crisps, drinks and hopes of a spot prize - got the first two - not the last - another season over, bereft at the thoughts of the Wednesday nights ahead where the only 'runs' will be doing my fair share of bringing the kids and their teammates to training sessions...*sigh*
Its been epic - thanks Mike and all the fantabulous volunteers for last night. Thanks to all the ever hard working IMRA committee members that do so much behind the scenes to enable these races.
Endy Wednesdays:(
21 August, 2019 - Mikey Fry
Speeding up after John and robin killian dancing in the moonlight way ahead gap getting longer between me and the lads torben hanging behind me like a bad rasher left on a greasy plate waiting for open mouth dripping sauce of thoughts of brendan's after race munchies that if you wait politely you get nothing lawlor.....camp fire burns in the forest brightly as a wee leprechaun plays some Tin tin tunes hidden by only the smell of pine cones falling down a lake of rain the legs go on the feet are moving can we stop racing on Wednesdays nights for 9 months before depression kicks in suddenly I'm awake out of my dream I'm heading towards the finish line ..well done to killian John robin ...thanks again mike and the mountain rescue for a super fun race...
Spot the raffle in the pub put down your chocolates...
Gooday mikey