Mt Brandon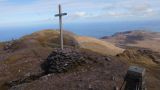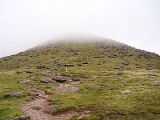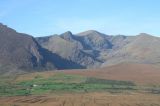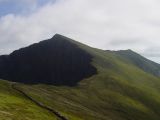 Authors
The Jeidi Returns
04 September, 2018 - Barry Murray
My first time as an RD for an IMRA race so I had more race nerves than actually taking part. The head mills through a hundred different things in the weeks leading up to it and I just think too much anyway.
I moved to Kerry last year and Mt Brandon was one of the first mountains I used as training. Looking at the race calendar I just knew it had to be part of the championships. I had spoken to John Lenihan earlier on in the year and he told me about the previous race routes that were used many years ago. I spoke to a few others and then decided that the best and most pure route was to start at the pilgrim path base and just go up to the summit and back.
I contacted John back in June and asked him if he could do summit marshal. I just thought it would be fitting to have such a legend be part of this race and I knew that it would be a role that he might enjoy. Being so competitive and racing to win, it is often hard to turn up for races and sit on the sidelines. I know this myself and its something John had mentioned to me. So summit marshal, where he is in the middle of the race, gets a good hike in, and with the race instructions being that runners had to "tag" John.... meant more to him and something he seemed happy to do. I hope that he can be involved in future IMRA races in a similar fashion and fingers crossed, I will have him next for Mt Brandon.
So a few weeks leading up to the race, and its just myself and John on the volunteer list. I knew the MMRA crew would lend a hand and I had mr co-ordinator Robbie Williams to help me in the background. I think the main part of being an RD is all about getting the logistics sorted and organized before the big day. The course, parking, pub, food , race details........ then the day itself is easy as you have good helpers.
And thats what happened. The only logistics that didn't work out was the weather ! A heatwave on the Saturday , clear skies...... to wake up to mist and fog on the sunday morning. What can you do. I had guests to entertain as well... great to have some of my Wicklow mates down for the never ending craic... The Bells and Mikey. Arriving on the Saturday evening at least allowed them to enjoy good weather on the peninsula and dining out at Inch beach was like being on holidays.
A few too many craft beers and an anxious sleep had me up early on the Sunday . Got the lads packed up and we made our way out west towards Dingle. Mist and fog got heavier, a real pain. We arrived at the race HQ, An Bothar Pub , and it was already nice to see I had immediate help. Rob and Tricia had arrived the friday evening and stayed over. Rob was already putting the MMRA sign up. They had the race box too so we could set up registration immediately. Michael McSweeney and Henry had made an early trip up too. With John Bell being another experienced head, it was nice to have people around that knew what they were doing ! Thats the great thing about IMRA/MMRA , there are plenty of good heads to sort things out and things are never left adrift. With Peter and Mikey out on the roads, no one got lost and people were car pooling. Hard to guess what sort of numbers we were going to have but we were prepared for a big crowd if they came. The numbers were small enough in the end but the names on the registration sheet looked good... with Sean, Tom, Henry, Paul Deane, young Naoise, veteran Ger Maloney … John and Mikey, then an old adversary of John Lenihans, Rob Bryson to add to the mix too.
Off up the set up the race start and I had more great help from David Twoomey and his wife Mary, along with Czech lady Yvonne who has a cork accent ;) John Lenihan had already made his way up to the summit and I had him on the walkie talkie. The mist looked like it was about to lift but as it approach 1pm, race start, it got even heavier. Fortunately it was mild, even warm, and not really raining. The runners gathered, 30 strong, and I had planned on keeping the race briefing short.... the main thing to point out was they had to tip John Lenihan at the top and also to reassure them that the course route is marked out with posts and crosses. With the poor visiblity I think everyone was happy with this.
Off they went up into the mist and up one of the steepest constant climbs there is. I was thinking sub 40min to the top would be a good time. My walkie talkie crackles and its John , telling me the first runner has tagged him, in around 37mins..... turns out it was Robbie Bryson, one of the oldest competitors in the race , who showed me his own split time after for the summit of 34.44 ! That will be one that is hard to beat I'm sure. John kept me updated with the next few and I knew Sean Quirke was close. With just under 50mins gone, we could see our first runner coming down the mountain. He had no one near him and was just gliding down. In just over 50mins, Sean Quirke crossed the line with a convincing win. Henry Browne finished strong and came in second with Rob who is not as strong a descender as he is climber, arriving in 3rd.
Not long after the leaders, the rest of the field came charging in. Some great runs and good times by many, anything around 60mins for this course is good. Joan Flanagan was first lady home and looked strong at the finish , another veteran that defies age. Siobhan and Mairead were not far behind her either. My quick facebook post was to just report "top 3".... if the top 3 were all female, I would have just reported their names too ! RD's are told not to report all the results on facebook before they are processed . Thats me done your honor ;)
It wasn't long before our last finisher was in, an M60, so then it was just the living legend Lenhian on the course. Everyone headed back the pub for tea and sangwidges..... I said I would go up the mountain a bit to meet John. I just got to the first cross and I could see him coming down in the mist. As he got closer, he had a big smile on his face and said " I almost felt like running down"...... we had a good chat on the way back and given I was just reading his book a few months ago and had never met him before , it was all a bit surreal.
Back to the pub and a good crowd had stayed on to have some grub and pints. Trica helped me with the results and John Lenihan did the prize giving with me.
A full day and before I knew it, I was back in Dingle with the lads before they headed off back east.
Mt Brandon is back. Hopefully next year it will have even more company too for the weekend. Stay tuned.
The 14 crosses of up ups
03 September, 2018 - Mikey Fry
So it finally came time for the big trip to the dingle ding dong....parked car outside John bells house in for quick chat with family and cuddles with the new arrival puss cat...massive journey round the corner to Peter "I need to weed my front garden "bell and we were off John in driving seat Kev the other bro had some yoga to do....sweaty trip down in the car 23 degrees and a hungry Peter in the back seat begging his brother to stop for a cup of tea eventually we pulled into garage picking up some supplies happy Peter dodgy sandwich on his behalf with a few trips to the jacks during the night much to johns delight with sound effects...
Through some low cloud then into beautiful sun shine we reached Barry Murray's b+b quick look around then back out to samys pub on inch strand beach amazing dinner chats chocolate cake surfing for the viewing and a cat who was drying for some desert....then down to Barry's local for the tunes back home for chats and sleep ...really burnt black pudding which I didn't have scrambled eggs rashers yum healthy bread and a cup of tea thanks again Barry for my stitch at top of Brandon :))
Off we go to pub to set up and get ready rain is coming down r fairy tail race in sunshine is out...lots of early birds I think everyone is so excited to race this mountain it's been 10 years since an old route was run I hope they keep this one on it so good:) some nice chats as always even these Munster crew r very nice and welcoming:)) time to hit start line for warm up John is so slow Peter trying to convince him to use sheep wool on his toes for the blisters it's a last minuter up to first turn for look...
John lenihan awaiting us at the top brief details from Barry and we're off nice easy pace at the start it's up hill pretty much all off the way ...so we take the first turn off with the white markers which r all the way up the mountain along with someone told me there is 14 crosses so there's really no way you could go wrong..so I tuck in behind Tom and plod on up the hill it's not raining but misty wet under foot prefect for a mountain race...I'm in about 7 or 8 at this stage I think Tom eventually disappears off into the mist rob and Paul have been pushing hard with me some over under over taking going on rob going after Tom myself and Paul going well together as we weave up this incredible mountain it just has it all a really beauty...so we're still running I haven't seen any of the top runners which will tell me that we're near the top..so just before the right turn to the top Mr"I just glide up mountains"Bryson passes me he's reached the top first but Sean is literally about to walk on him flying behind him with a big grin on his face :)Henry naoise Tom rob I pass and then to high five the legend John lenihan a great honour and thanks again John for standing up in the cold :) I was also very happy to have run the whole way up and not walked:))and it's back down I pass Paul and then John bell and I know if I don't go fast enough he'll catch me up he's a very good descender...so I put the boot down a little stitch on the move (thanks Barry:)))) and it's all go no time for mistakes rocks boulders lose stones grass mud twists turns...(past Peter bell I think he tried to trip me he was holding on to his tum tum:)))unfortunately I couldn't see to far ahead of me and I couldn't see any runners I had nothing to chase but I new I'd got away from Paul so I lashed on passing a few walkers crosses it was just go go go so much fun this downhill one of the best I've ever run...eventually I came across rob at the last someone to chase so I went after him over taking him keeping over to the boggy bit it's was easier to open up the legs and really let go and right on cue just before Big Dipper johns breathing down my back crap we pop out of dip I try to put extra push on but John passes me out I go after him just didn't have it in me we hit the fire road boom my legs went jelly like and he keep ahead off me super running from him I came in just behind him rob then Paul ..ahhh the Cadbury's heroes I brought up for Barry open and awaiting some munching mad if that was up in Wicklow they'd be gone in a flash I suppose there's was only 30 racers there man you guys and girls who decided not to come to race probably my most favourite race of the year you missed out this should be an annual event all ready looking forward to next year :)so down to the pub for tea and sandwich's and some nice chats with rob and Joan ...eventually Barry gets prize giving going well done to Sean Henry and rob Bryson and Joan Siobhan and mairead ...so once again massive thanks to Barry from bringing this amazing race back to life not that this mountain needs life it's a feeling you'll only feel when you set foot on it:)
So it's tour guide Barry taking us around dingle incredible pizza stocked up for car journey home with coke tea chocolates souvenir for lads which Zaks broken already:( 4hours to Greystones then brittas for me well worth the drive people do it...
Mikey
PASSING JOHN LENIHAN ON BRANDON
02 September, 2018 - Mícheál O'Mullain
A welcome addition to the calendar this one. Barry Murray had sent up a flare a while back and whilst being a Sunday and a considerable distance to travel for anyone North of the Cork/Kerry axis limited numbers somewhat the event itself was such a great experience that numbers are bound to increase next year.
After an early start from Cork I touched down at An Bóthar pub by Brandon Creek at about 1200 to register. Given various events abroad a few of the faithful were missing but there was still a hardy bunch of the usual suspects such as Tom Blackburn, Paul Deane, Henry Browne milling about.
I met Anthony Comforth and Joe after registration and we toyed with the idea of jogging to start instead of the recommended carpool. That idea lasted 5 seconds before we decided to drive.....sure the road couldn't help the legs.
Whilst there was a fresh breeze at the start it was quite warm and our warm up up towards the first cross was more than adequate to get the sweat flowing.
Approaching kick off Barry gave his briefing......a Vivian O'Gorman type "you go up and then down....but touch John Lenihan at the top.....(that conjured up strange images but maybe that is just me!)" effort....whilst also pointedly ruling out the option of taking the steep short cut near the top.
1300 hours and we were off churning up the farmers track for the first few hundred metres before being ushered on to the mountain proper by Trish.
Brandon is an easy mountain on this side as regards navigation...despite the fact that visibility was low all one had to do was follow the white posts and the Stations of the Cross all the way to the top.
I settled into a rhythm at lower mid table and was happy enough on the heather and mud passing the crosses as we went until I had my Via Dolorosa at about cross 9 and was passed by a man in a Mooreabbey Milers singlet. I clung to him and he dragged me up towards Micheál McSweeney as we approached the technical section.....to be greeted by leader Sean on way down with Henry in third...apologies to the man in second I just didn't know you!. Micheál instantly became irritating as he demonstrated the ability to have a chat whilst still churning......I puffed a few "yes it's tough" and he then pulled away again as it levelled off towards the summit.
Out of the mist the figure of John Lenihan loomed with arm outstretched. Passed John and down we go helter skelter for the first 600m or so from the summit before it got technical and some caution was required......wild manoeuvres on this section could leave one open to a serious injury.
Once out of the technical section we could really open up the afterburners....well in my case go a bit more quickly in any event....it is all relative....I managed to reel in Micheál again and a few more as we careened down the mix of bog heather and rocky track.....great terrain...a bit like a "Mangerton Plus".
Just before the gorge there was the sudden shock of realising the we were upon a short sharp drop that you couldn't see in the heather...quick application of brakes to enable some semblance of control before we hopped down on to the next level and then back down the farmers track with anxious look behind and we were home...probably about 20th out of the 31 or so but very happy with the time and event.
Congrats to Sean Quirke on the victory. Highly recommended for next year and in years to come if someone asks me "Did you ever come across John Lenihan?"....I will be able to say "Of course...one year I passed him on the summit of Brandon in the IMRA race"......and let them draw their own conclusions...……..
Robert Cunningham
02 September, 2018
Rather than a long drive down on the morning of the race we booked into An Bothar Bar Restaurant and guesthouse the night before.
This was ideal as it's where registration was to be held on race day.
After a 3 hour drive down we arrived to a clear view of Mt Brandon,starving hungry and checked in and ordered food. The sea food chowder was great. With full bellies we headed up to our room which was lovely, Would definitely recommend this place for anyone looking for somewhere to stay down Dingle way.
Next morning I drew the curtains back and the view of Mt.Brandon we had the day before was no more, it was shrouded in a blanket of cloud and mist.
After our breakfast we just relaxed and waited for people to arrive.
Soon RD Barry Murray arrived and set up registration.
After we all registered and had a good chat about the last few races left it was time to head to the race start a short drive away.
At the start of the race I decided not to wear my rain jacket as the mist had cleared and there was no real cold or wind.
With the simple race directions of up to the top and back down via a well marked trail given to the 30 strong runners the race was off.
Up a stoney track not too steep at a steady pace then turning left to follow the white posts all the way to the top.
With Nice grassy ground here I got into a good rhythm, gradually it got steeper and more rocky but I kept up to those ahead of me even passing a few before the top.
With the leading pack passing by on there way down it wasn't far now till John Lenihan came into sight at the summit.
Keep running now I told mysef an I managed this tagged john and turned for home all downhill from here.
Tricky rockey part here, a high level of concentration needed near the top on the way down. Then every now and again a short grassy fast part on the left or on the right would appear, until it's all fast, as fast as you can go no fear downhill running.(love it)
I managed to pass out 4 runners on the way down, the rest were just too far ahead.
I really enjoyed the last part of the race
to the finish line and was happy with how I ran.
Congratulations to Sean Quirke Who won the race on the day and takes the title of Munster Champion.
Big thanks to Barry and all the volunteers, and to An Bothar Bar for the soup and sambos after.
Can't wait for this race