Powerscourt Ridge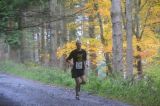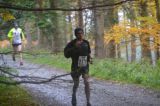 Authors
Powerscourt Ridgeish
04 November, 2018 - Ruairí Long
Mention the words Powerscourt Ridge to any IMRA stalwart and you will be rewarded with a grin. Proud tales of grit, wind, driving rain and a good dose of craic will come streaming forth. For good reason too. The race is an absolute classic in the Irish mountain running scene, with a route that takes everything from you and then some. The 2018 edition of the fixture was to be no exception. I had never done the race before, having only heard stories of the toughness required.
The race begins from Crone Woods on the Wicklow Way fire road for a steady start. Quickly it darts right, up a steep and steady ride to the higher flanks of Maulin. From there its only up to the summit of the same hill along a narrow and largely overgrown trail. A fast decent and then climb on the Wicklow Way leaves the challenge of towering Djouce before a long push to the finish back in Crone. What really seems to set Powerscourt Ridge apart in terms of IMRA races is threefold. Firstly, the aforementioned route is relentless, outstanding in its lack of relief until the finish line. Secondly, a big turnout of quality athletes from all corners of Ireland and beyond ensures everyone has to give that extra ten percent to make it count. Lastly, weather is nearly always foul, as Djouce and Maulin seem to catch every gust of wind going.
Watching the weather forecast and peeking at previous times on the lead up to the race meant I knew it was to be a tough morning out. Although the forecast was spot on, and the wind was accompanied by a seemingly endless drizzle, spirits were high in Crone. For me, it was a joy to see familiar faces amongst the ensemble. In the hard job of race director was Lillian Deegan, who had been very helpful as a team manager at the 2018 World Mountain Running Championships in Andorra. Also joining from Andorra were some of Ireland's finest. Seeing Seamus Lynch and Sarah McCormack alongside the usual suspects like Mikey, Colm and John made me smile. These are the top calibre mountain athletes in Ireland, both fresh out of outstanding seasons.
Special mention must go to the inspiration that is Sarah. She finished her incredible international season ranked number 3 female in the world. Take that in. Third in the world. Crazy.
Usual laughter and craic was balanced with seriousness. We all knew the conditions were a bit crazy and a sensible Lillian informed us of a well needed route change to avoid Djouce summit itself. Also was a minute of silence for recently passed Brendan Doherty, a smiling face that will be missed out in the hills. After these matters, my thoughts turned to the race. Tactics in mind, I set out with the leaders to see what Powerscourt Ridge was all about.
The first fire road section of the race went without much issue. Seamus led out from the start, removing any doubt of at least one position in the race. Behind him at the turn up onto the ride were myself, Mark, George and Sarah. Seamus began to power up the ride. I settled into my rhythm, a vital element of such uphill running, and found myself comfortably moving away a little, breathing and relaxing into the running. Hopping over the first fence, the gradual traverse to the wall up to the summit proved tricky due to a lack of trail and abundance of heather in places. Coming out of the shelter of the forest also allowed the wind to make its expected arrival. Seamus continued ahead, with his Red Newcastle AC singlet being a helpful target. I was glad to be a little separated for the wall up to Maulin itself as it was narrow and wet, leading to a loss of rhythm and power-hike in places.
I will never forget the howling that greeted us as we summited Maulin itself. You could not but try get off that hill as quick as you could, the air moving so fast it was difficult to breathe or see. I was so distracted by staying upright I forgot to actually descend properly, realising by the saddle below I had been going far too slow. Mark was frothing at the bit for a descent and came past with a few words. He's fun to watch going down from behind, with admirable confidence balancing pure recklessness. I was a little safer, keeping something in the tank for the next climb. With early starters, Mark and somewhere out there Seamus up ahead, I had plenty reason to put the head down from the bridge and up to the Djouce turn. It felt as though I made up some time on Seamus on that long climb, but Mark stayed just out of touch ahead. Eventually, the pitiful sight of the "summit" marshal on the saddle of Djouce was a welcome view. I had a quick check on George, who had been keeping good pace behind me, and tried to let go down the grass back to the tree line. It was great to pass many familiar faces on the way down. Hearing people shout your name as they struggle up the hill too is always lovely and greatly appreciated.
I continued to push on during the following way back to the bridge, eyes focused on Mark ahead as Seamus had all but disappeared by this stage. I attacked into the final climb up to Becky Quinn at the right turn, however Mark did too, resorting as it seemed form below to hands and knees pulling. I had mentally prepared myself for the lengthy fire roady section back to Crone, appreciating all the Aerobic training of previous weeks as I puffed past a sheepish John Shiels who was pioneering on the short course. Much to my alarm as I passed the turn from earlier it seemed George was gaining, and as so I hurt on home to the finish in third place, with Mark only 20 or so seconds ahead.
My debut Powerscourt Ridge experience sure lived up to it's legendary status. A big congrats to Seamus, he is as my own dad would say, a class act. All the volunteers and marshals picked a hard day to do it but did so perfectly. Although to some this race may be the end of the season, for me it's the opposite. My second IMRA season has only just begun. Onwards to the Winter League and hopefully a finishers prize next year!