Downshill Leinster League race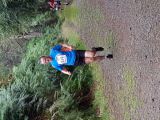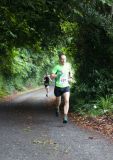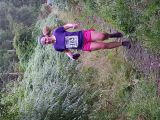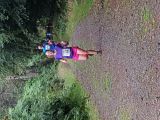 Authors
Where have my legs gone..
02 August, 2018 - Mikey Fry
Last ramble from me for awhile phew your all thinking...down in Wexford for a dip with the lads trying to keep awake from my son "I'll keep you up most of the night "aaaaaaaaagh a chocolate cup cake sitting looking at me for for trip down to Wexford and back eat me eat me but I resisted on the car sit a great build up as usual to my Wednesday night activities ..down to help Mick before the race I'm out trying to help with the car parking I must have failed since someone blocked a bus route whoopsie:( so off to start of race which is 1.5k away nice warm up with Gordon and rob my legs feeling terrible and I remember last years effort brutal ...off up the single track back down for chats and Mick sets us off I decided to stay behind Peter OFarrell today breaking tradition hoping I'd go better so following him up this nice part of the race left turn onto fire flipping fire road Peter difts off and my plan has failed Luke passes me Paul the other Peter in front we hit the right turn up into a really nice up hill section which we had to do twice everyone going well I'm struggling already myself and Pete keep up with each other when we get onto the fire road but he pushes on I can't get legs moving torben passes so many of I can't remember back around again up the nice bit through the forest I hear kids chatting I'm waiting for them to slag me to hurry up etc but my breathing probably wouldn't have heard them:)then on second loop we go left not to far around young Aoife I think try's to pass me I push on I try to get a bit of some kind of wind she's manages to get passed me so I've had a chat with brain that we're going to push a little harder and keep up eventually I pass her again and push on and eventually put a bit of distance ..just before I think we went passed a turn a guy who had passed me went on I called them back thankfully he heard Gordon Rory took this advantage and we're ahead I went after Gordon who looked like an easier last man target but soon we took right back down the single lovely track where mrs Doyle was playing the flute and he was gone I was wrecked so gave it not the usually pace just didn't want to be passed out by anymore people hit fire road a sprinted home very happy to cross the line ducked over and got my breath back and had the usual chats well dones etc...so back walking to pub had really nice chats with Peter O'Farrell no warm down like after lug maybe I should have .....back to car to change for bbq nice chat with Karl Richards a guy I used to play hockey with oh so many years ago :) ques not so bad for food get a sit more chats and banter booted off sits outside chats with ronan and Peter back in for results well done to Barry Mr technical for the win and Aoife fj super running you put me up to it tonight:) thanks again to Mick and crew for a super race to finish off the league wow another year over..
Stayed on for a some more nice chats with the lads till I got SOS for chips from the boss mind you I was recked and didn't mind...home some "I'm not a gun "listening report now well deserved bed...
Good night
Mikey
End of a league
02 August, 2018 - Barry Minnock
Downshill is a relative newbie on the LL calendar, but it is already forming fond memories within the IMRA community. With Mick Hanney as chief, end-of-league endorphins, and BBQ planned for afterwards, this was set up to be an enjoyable evening and so it proved to be. I wanted to get in some last minute panic volunteering in, so reached out to Mick to help with the marking. Mr. Relaxed didn't seem concerned when I only showed shortly before 6 due to traffic. Off I set to mark the course, thankfully Mick had done the tricky single track, so I only had the easy-peasy outer route to mark. I had left it tight. Despite having raced the course previously in 2016, there was a bit of double and triple checking to ensure my bearings were correct – I've been known to get a wee bit lost on occasions :) Thankfully landed back on time to join the race, just about …
The race itself is a pacey enjoyable one. Having lost out of several duals recently, particularly with league winner Brian Furey, I was determined to put my best foot forward on Downshill. No relaxing into race, no losing concentration, full effort from the gun. The race is effectively 2 loops. On the first loop my focus was simply to get to lead up the single-track uphill, to be the pace setter, with a wee be of physiological & psychological blocking if necessary :) Cian McDonald & Brian Furey were in close proximity, but gradually as I went up the hill the sound of footsteps dissipated behind. A sense of relief on the top as now I was in element with a fast fire-road decent. From that point I didn't look back. I did struggle up the last hill before heading for the finish, but thankfully I had built up a lead without someone there to pounce on my state of fatigue. Delighted to get the victory and great to see a really strong showing from all the McDonalds. Well done to all the category winners and particularly to Aoife Coffey, winning in style as a junior.
Afterwards Brian Furey & I talked of the joys of racing and the focus required for marathons while unmarking the outer loop. We were well hungry on returning to Collie's Bar, so fantastic to have food at the ready. Well done to Mick and all his crew on an exceptional job – great location for the BBQ, despite the imperfect weather. The end of a league, well done to overall winners Brian & Becky. I for one will be back …
Race Directors Report
01 August, 2018 - Mick Hanney
Well that went very well. Taking on Downshill originally it was never really a Leinster League style race with lots of fire road to travel. A recce with James Cahill showed other options around the hill so more recces later and plenty of 'gardening' visits revealed a nice single track section through the trees with a testing climb and the variety of a 2 loop course.
But you never know how the course will stand the test of a race and thankfully the feedback at the finish line and in the bar afterwards was favourable.
Weather wasn't promising earlier in the day but the rain held off this evening and it ended up not being too overcast.
Logistically it all worked out and the pub played a blinder. Never easy to feed so many people all arriving pretty much at the same time.
Thanks again to James and to the committee and the volunteer team, especially the marshalls on the hill and the laptop guys and Caoimhin.
Everyone accounted for, no one went astray, no one at first aid, everyone fed and watered and happy at the end and results up before many were even home. Where would you get it. A very good night. And it looks like Barry has found his mojo on this route too. Congrats to Becky and Brian, respective LL winners.