Ballinastoe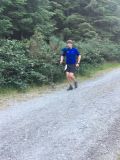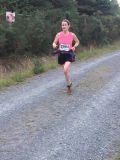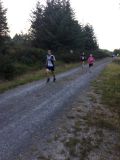 Authors
Ballinastoe - Nearly Never
27 July, 2018 - John Bell
Arriving up to registration in the usual rush to get there and I meet a bunch of Bells. The mountain guru Uncle Brian had brought along my cousins, Yvonne and Rachel. With my young lad Sam, out for his second IMRA race, and Peter it might have been a new record for Bells at an IMRA event?
I squeezed in a quick warm up with arch rival Mikey Fry, when we met Mike Jordan who cut short his warm up to apply first aid to an injured lady on an early start and walked her back to the start. Our RD for the day, John Fitz waited for the injured lady to get back before setting us on our way. 3-2-1 followed by his whistle, quack, quack.
Mikey leads us up the forest road and onto the first steep climb of the day. A number of the serial race winners were missing and the pace was cagey enough at first. I thought (hoped) Mikey would get excited to be in the lead and go out too hard and then blow up. At the same time I expected some of the faster guys to speed past. Half way up this first climb I was tucked in behind Paul Keville when Turlough Conway bounces up the hill past us and then Mikey. I thought that would be the last I'd see him until the finish. At the top of the first climb I had held onto my place, and still no rush past of slower starters. On to the first descent I pushed on a bit and past Paul and then Mikey, into 2nd. When we approached the first rough part of the route (only Eoin Syron knows how he found this route) Turlough hesitated and nearly went the wrong way. This allowed me to close in. It took a fair bit of concentration to follow the markings with the low sun, change in light and seriously rough ground, but having run this route a few times I was more sure than Turlough and got past, into the lead. Not something I'm use to! I kept up a steady pace but not pushing too hard for fear of blowing up. Up through the newly cleared gorse tunnel track (which must have taken some clearing) I met Uncle Brian taking photos. He was popping up all over the place using black hole short cuts through the woods. He encouraged me on my way saying I had a good lead. No pressure now! The second climb of the day is a killer especially after the downhill ducking and diving though all sorts of rough terrain. Usually I'd lose time here. Head down, I had to concentrate to keep the pace steady. I didn't look back the whole way up, half expecting to be passed out. When I was near the style at the Wicklow Way I took a quick glance, still no sign of anyone. Could it be my chance to nick a win? Still plenty to go, but a nice fast descent usually suits me. I was passing a number of early starters and going at a reasonable pace but out of nowhere I hear quick feet behind me. Oh shit, who is it? They stay on my heels for a short while until we hop over the fence entering the woods again. It's young Luke Maher. Where did he come from? After easing off for a bit he flies past and I didn't have speed left to stick with him. Down onto the home straight along the fire road and Luke has a 20m lead. I try one last push but he still manages slightly opens the gap to the finish line. Feck it. I should be happy with second place. So close yet so far. It was great pacing and then speed at the finish from Luke. Serious kudos and best of luck to him and the Irish Team on the Junior British & Irish Champs in September in Glendalough.
After all that the main aim for the evening was still achieved. Finishing ahead of the younger Brother after his fluke two weeks earlier ;-)
A short while after finishing Sam comes cruising down the fire road to finish a tough 8k junior course to take the M14 prize and not long after his friend Kate Fennessy, having left her Dad for dust, takes the F14 prize. No mean feat for two 11 year olds.
Finally, thanks for another really well organised and great race by John and his team of volunteers, with a special thanks to Eoin for marking, demarking and clear felling half the route.
In my toe...
25 July, 2018 - Mikey Fry
So today's events were I had a good few snoozes while the lads messed around outside mummy was home so we had tag sleeps maybe the weather such a beautiful day thankfully there was no 99ers had that I couldn't have:) it was such relaxing day I really had to push myself out the door to head up to Reg at balinastoe....so I arrived in good time headed up to reg to scab voucher punch since rob has mine and probably used them all up:) Eoin Keith nicely gave me a punch:)...off for warm up with the bells we meet lady coming back down with bloody pouring for head think she hit her head off a branch in the early start hopefully a speedy recovery for her:)
Back down to start of race John gets started on Pre talk Richard gives out to me for chatting and not listening:)and John blows his horn it's quite loud and we're off I'm in the lead going at a steady pace we meet James Mr Clancy at this first turn im still in the lead this never happens (probably cause the good guys aren't racing tonight)so we head up the first monster hill duck under some trees go around some trees I'm still in the lead and wondering to myself maybe tonight could I win.....any who near the top of the hill turlough passes and I thought at last first time I'd been in the lead for that long I knew it had to end...so I keep up with him pass the bernad fence jumping pic ...but no bernad tonight...so just keep pushing along on off some bike trails super well marked by eoin incredible stuff he even trimmed his beard with the hacksaw it kept getting caught on the gorse bushes:) was chatting with turlough before race and he said that he'd never ran this race before unfortunately for him we had to shout myself and John bell who went flying past us him a couple of times so johns ahead I'm on turlough heals eventually getting past him and chasing John who's not to far ahead but ahead lovely red top I could see in forest this section off the coarse is great bogs sticks trees hitting you in the face great place to get a facial ladies and free not like your fancy places...so fast running down hill left rights ups downs have to really watch for tape thankfully doing this race most years it comes back to you...so we hit the bridge I put my foot through many years ago slightly angled I hope for the best and make it across now it's all about the up hill and keep pushing I had Luke Peter Paul on my case when we hit the junior turn for home Peter and Paul r with me running side by side this is where mentally I have really tune in to keep pushing on the up hills so after fire road back onto nice tracks up finally hit left turn back towards where we went right in the forest Luke the sly dog I think has been draining my up hill strength flys past Peter it's a hard slog on here Paul try's to pass me again sorry Paul I keep ahead of him and push for Peter hoping to catch him on the down hill ...so we take the right passed bernads style and eoin passes me out then Karl I'm thinking man first place to this any who I blast on keeping Paul at bay and push to get to down hill ..so I manage to get past Peter near the end of down hill but tell him that he'll probably pass me again probably should keep that to myself so low and behold when we hit the nasty fire road it's not long before Peter passes me well done dude great racing we hit the finish line and I head straight over to John Bell who I thought might have won but the super Luke passed him near the last 2k and got the win well done Luke your really flying in hills I wish you all the best in your racing for Ireland at the 17 championships give it socks:)) and also a super well done to Sam Bell on winning his first Imra race under 14s and Kate for first junior you guys will be up there some day:))so I go to get some water can hardly open the bottle what a race and eventually Peter bells strolls in giving out about the heat should have stayed home for his yoga lessons:))...some lovely chats as always and a super well done to Tanya el president for First Lady over the line toot toot..
Arrive at pub some toasted cheese sambos please a cup of tea and sit beside Karen for chats and soon pubs full of the usual crew across the table Jeffs getting itchy hands where's the chocolates the raffle has it been forgotten no viv is chatting holding up the whole thing:)so r table nearly wins all the chocolate shining happy faces all a round...600 races good man Tommy how have you managed to do so many it's just incredible...so no cake this week but thanks again to John and crew for an amazing race can't believe it's over next week.....
Mikey