Wicklow Way Race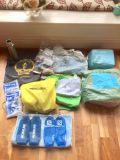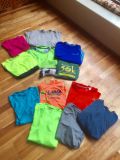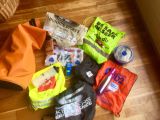 Authors
A friday night in June
20 June, 2018 - Rory Campbell
Sheep don't fly. But they do jump. High. And so it was.
4am. The grassy ditch/path called Coolafunshoge lane. Gavin who was running 50m ahead disturbed a sheep which presumably had been sleeping peacefully. It tore back down the lane towards me. My light picks out the crazed sheep who, not very cleverly, takes a leap towards the light (i.e. my head torch). We do an almighty chest bump, neither of us giving way. I'm left with a hoof shaped bruise, the sheep possibly left with a bad memory. And then quiet again.
Running in the night so far away from Dublin is a reminder of how dark the countryside is. Or rather, how Dublin (and hills around Dublin) always have some degree of light. It's peaceful, but eerie in parts. The lights of the Dying Cow had really loomed out of the inky dark. (Thanks to Paul Mahon and co. for the 2am volunteer shift. Fantastic.)
Gavin, after setting the sheep on me, had taken off. I didn't see him again, and thought he looked strong enough to do a great time. It had been great chatting along and pacing each other up until then. I could hear the farm dogs being woken ahead of me on the way to Iron bridge so I knew he wasn't that far ahead.
Iron bridge was peaceful, and nice to see familiar friendly faces. I completely missed the midges! Perhaps they were still asleep, but I was surprised at peoples reports of their numbers! Perhaps we woke them from their slumber.
Up and over the drag of Slieve Maan. Flagging a bit at this time and morale was ebbing away. But…brekkie (boiled egg, rasher sambo) and a change of tee shirt at the Glenmalure lodge and a fantastic sky boosted morale no end. Actually the lodge always has a positive effect on the spirit, although it has been responsible for more than the one hangover. This time I felt great and felt I was powering.
Glendalough looking pristine. Only the odd solitary walker about. Great to come across yet another super friendly helpful CP crew. I, like other runners, was relieved that there was a water stop added at Pier gates. Friendly greeting from Vivien. I didn't actually know that I was in the lead at this stage. Although I was getting hints at the CPs. I didn't really want to know the positions for whatever reason. It was only at Crone that I learned Gavin had gone astray after Iron Bridge!
The very familiar White Hill, Djouce, Crone leg. Bumped into a few folk on the way, including the bauld JuJu. Into Crone where I learned the gap (to second place) was 26mins. Annually this point marks the start of my struggle on the Maurice Mullins 52km race so on learning the gap was 26mins I thought, if I bonk, or go wrong or mess up somehow then the gap would close quickly. So regulated the pace somewhat being careful not to overdo it but at the same time try and keep a constant forward motion.
Great meeting my wife and son at Curtlestown before the ascent to Prince William's Seat. Apart from the mental boost, the cold wet towel was great. Next stop Boranaraltry Bridge. Again super friendly greeting. And off I go for the last stretch up to the road. Only at this point did I feel I might do it.
Super nice to be greeted by the great Eoin Keith. His exploits continue to entertain and inspire me. He was running the opposite direction and so continued on to greet and encourage other WW participants!
Feeling great at the top towards Fairly Castle. Dipping the hat in the odd puddle helped keep the temp down (ultra running really is a manky sport). so put the foot down for the last 5 or 6Km. Can't believe the quads holding up fine. Into Marley Park, around the paths and delighted to meet the family and friends at the finish line. (The tracker really brings in so many supporters to the sport). Completely delighted with the finish time.
Finishing in Marley park is nice. Relaxed and enjoyed watching the other runners come in. Particularly enjoyed Barry Drennan trying (and failing badly) to eat an ice cream cone while lying down (Inevitably the ice cream plonked onto the grass).
I echo the many thanks to all the volunteers who gave up so much time on the day (+ night). It's a fantastic event.
Rory
P.S. A few folk asked…Training wise…No big amount of long training runs done. The 83Km race in Volvic some weeks before helped though. (This is a super family orientated event. Could do worse than plan your next holiday around it http://www.volvic-vvx.com/). A weekly intensive stand-up spin session I believe was beneficial (www.cadence.ie). And a weekly circuit training class helps the auld core to keep the frame together injury free. And of course in general I eat lots of good basic food.
P.P.S. Just noticed last night…the yellow man on the granite plaques is running the opposite direction compared to other years. I like that.
Unfinished Business
19 June, 2018 - Graham Colmer
http://grahamcolmer.blogspot.com/2018/06/wicklow-way-race-2018.html
Clare Keeley
17 June, 2018
Sunshine and Singing! The Story of Solo-Part 3
The Wicklow Way Race literally gets into your bones. It is right there from the moment you consider running it, to when you stand on the start line in the dark, head torch on, where you spend a night and a day, traveling, on your own two feet, up and down over the mountains till you hit the finish line, 127km later.
I had only one race plan for this year.
Plan A: Have fun and enjoy.
That was pretty much it!
An email to Lillian, Race Director, to say I plan on being on the start line providing I survive World Championships in Spain. If I decide not to run I will volunteer, in some form or other I'll be there!
There was a 4 week gap between Worlds and The Wicklow Way. I didn't know what the hell I was meant to do! I got back running the week after Worlds and felt grand, I even went to the gym a few times and did my rounds of weights but this tiny little part of me was saying STOP!!.
Just rest.
Did I listen to myself?! Nope!
Two weeks before the Wicklow Way I ran 20k along the only section of the entire route that I had never covered south to north. The Derry River to Moyne (and back). It was warm and sunny Friday evening, a very worth-while recce because I got lost (fallen way marker) and I felt great.
Two days later I ran around the roads at home and dragged my poor, sad and sorry, heavy, tired, completely wrecked legs around the town and thought, I'm bunched. Am I really going to run 127km over the hills when I can just about manage 10k on the road?!
So I literally stopped. I had been painting the girls bedrooms at home. I put all the paint away (there are still only half painted doors!). I had started clearing out toys from the attic. I put them all back. I drove to the sea half a mile from my house every day and got into it for 15 minutes of 'freeze the muscles' recovery and had 2 massages from Ger Dempsey and I went to bed as early as I could. The following weekend I took my campervan and 6 kids to Wexford and sat on my ass in the sun, eating shite, reading my book and swimming in the sea.
Recovery at its best!
When I first ran this race 3 years ago, right at the very finish, having pushed so so hard at the end, I swore to myself, some-day I am going to run this and enjoy it with no pressure on myself. Last year I had set my sights on the win and that took a lot of physical and mental energy to achieve this. I still have really enjoyed both previous Wicklow Way Races but the added pressure of hoping and trying to do well is a very different experience and the pre-race prep and post-race recovery is much harder. (I can vouch for that now!)
This year was going to be the year of the "fun run" (sounds ridiculous, I know!). Coming from 89km and 15 hours of slog in Spain 4 weeks prior, it was going to go one of two ways! Either crash and burn with over tired legs or all the training for Spain would still be there and it would go great! I had the whole thing worked out in my head. I had got my free place this year from the win last year, I had set out to do what I wanted last year and achieved my goal, I had already ran this race before and I hadn't been training specific for it, so, if it all went to shit I was going to be ok with that and if I didn't finish I had decided that was ok too.
That's not to say I wasn't apprehensive! I was a bit nervous going in the opposite direction for a start and I had no idea how the night and day was going to pan out. But sure it was worth the go!
Race day arrived and I went to work as normal, home a little after 2pm and I set about getting the last of my pre-race prep sorted, which include buttering some fruit bread, making a little time and distance chart for myself to give me a little focus for the race, shaving my legs and dying my hair! (essential these days). Hoosh the girls in the car and head for Dun Laoghaire to my Mums. Here, my Mum insisted I stay for a home-made bar-be-cued burger but once it was cooked I put it in a napkin, hit the road and ate it on the way. The burger was delicious and hit the spot... so thank you mum!
Registration and kit check went smoothly, left my jeep parked at the car-park at Marley and we were on the bus to Clonegal.
Myself and my best friend Emma (friends since we were 6yrs old!) had made a deal, we will chat until 9.30pm and then shut our eyes for the rest of the journey to Clonegal. Although I rested my eyes I never slept. Off the bus in Clonegal before 11pm, we had an hour to wait until the race started. Sure what else would you do before a 127km race….only head to the local chipper! Gorgeous hot cup of tea (on the house) and a few salt and vinegar chips from Liam Costello's bag and we were all set!
Race Director Lillian gives the best race brief, I still don't know how she ended up a nurse and not a teacher! No messing what-so-ever, detention for anyone misbehaving!!
So, Wicklow Way Race this year…. Clonegal, Co Carlow to Marley Park, Dublin, south to north. The 'harder' way, they say….. running back 'up' to Dublin….. 7 check-points along the way with cut-off times attached.
Clonegal to Raheenakit. 17k. Cut-off 2.30am.
It is really mild out and in just a long sleeve t-shirt and regular t-shirt, shorts and the road runners, hit the road for Dublin.
There was something nice about starting on the flat road and having a decent amount of time to ease into running, warm up and get into the flow. When you start at Marley, you have the steep climb up to Kilmacshanogue Woods soon into the race and it feels a little more disjointed.
Few little hills to Raheenakit, it's hard to know whether you should run them or not so ran some and hiked others, in and out the first woods with no issues, the sky is bright with stars and it's just a fantastic night to be running.
Having the road at the start and the mountains at the end is an interesting challenge and I think if you trained specific for that you could figure this out better but from the very start and for the whole race I had Curtlestown Woods and Fairy Castle in my thoughts! "The Fear"!!
Had great chats with friends along the way and caught up with every-ones news. Down through Raheenakit Woods, its lovely knowing the way and it definitely gives for relaxed and more enjoyable running, especially in the dark. Arrived at CP 1, 17km into the race, 40minutes before the cut off, I thought I would be longer but it is hard to judge this south to north direction first time around.
Raheenakit to The Dying Cow. Cut-off 3.45am.
So nice this year……down "Coronary Hill" just after the check point and still on road all the way to The Dying Cow pub. Passing farms, dogs barking in the middle of night as 100 runners pass by yapping away. Had really nice chat with Chris Dunne all along here, mostly about the trials and tribulations of having teenage girls! Up to the Dying Cow check point and shout out number. Emma is here already and says she is out of the race. I ask her is it a pain or what? I tell her to take two paracetamol and keep moving and see! (She was cursing me later by the time she got to Ironbridge…sorry Emma!). Arrived into CP2, The Dying Cow, 26k into the race, an hour before cut off.
The Dying Cow to Ironbridge. Cut-off 7.30am.
There is more road again for another few kilometres before you hit the mucky cow path Muskeagh Boreen, it was kinda cool coming up it from a different angle in the dark, it felt like a new race but one that you had done before, if you know what I mean??!!?? I ran for a good while along here with Joe Barney . I tell Joe this is the exact spot I decided to do this race 4 years ago… such memories! We call a few runners back who missed the gate to the right that leads down the grassy track to the road at Cookoo Lane. Down the road, swing around a tight left and onto the main Tinnahealy Road for a short while. Cross over the Derry River and its nice knowing there is track and trail for a while.
There was a few moments in this race that I will always cherish and coming over the fields of Ballycumber Hill about 3.30am, the moon still a bright sliver in the sky, the silhouette of the mountains we are heading for off in the distance in a haze of half dark-half light sky. It was breath taking and good for the soul.
No need for head lamps anymore and it is lovely to get it off your head and pack it away. There is a 'un-official' mini aid station just after the ford crossing on to the road that leads to Moyne. A table set up with water, jellies and I recognise Avril Challoner's biscuit tin from the bus and I take one of her delicious home make peanut butter cookies!
Running on road, road, road all the way to Sheilstown Woods so it's lovely to finally turn right and hit the track into the woods. There is a climb up and I hike it and have a snack.
Wait… stop for a second……. 5.20am and I hear The Cookoo. So special! This is the third different Cookoo I have heard in the last 4 weeks and I take it as a sign all is good!
I had zero idea where I was situated in the race and although I didn't really care I took my one and only look at the tracker on my phone while I had reception. Oh, 2nd lady! Cool! Last year, I had friends keep an eye on the trackers from Ironbridge on so I knew what was going on in the race. This year I asked no one to let me know, I just didn't want that sort of day this year so I stuck to my guns and never checked the phone again! Into CP 3, Ironbridge, 50km into the race at 6.11am, an hour and 20 minutes before the cut off.
Iron bridge to Glenmalure. Cut-off 9.45am.
Midgets , midgets, midgets, midgets, millions and millions of midgets. Into the check point and in the blink of an eye every bit of bare skin on me was covered in tiny black midgets nibbling away on my skin and in another blink of an eye I put a compeed on a sore toe and another blink I was gone. How Mick Hanney and Syl Ivers manned that aid station, I never know. They deserve a special prize at the IMRA annual awards. Seriously!
Up the scrubby track out of Ironbridge, rubbing and slapping all the midgets off my arms, legs and face, writing this now is nearly making me itch! I really like the section after the hut at Mucklagh and heading down the other side towards the Military Road, knowing that the half-way point is not too far is great.
Back onto the usual Wicklow Way route through Drumgoff, it was detoured for ages with tree felling. Down the wooden board walk at a decent pace, the sun is shining through the trees and I have this moment where I realise I am so lucky to be here today and just really glad I decided to give the race a go, even if it was a bit mental so close to Worlds!
Down the hill towards CP 4, Glenmalure ,63km into the race. I run over and give the granite half way maker a slap and hit the road section for the hotel, an hour and 50 mins before the cut-off. A big "Hi good morning" and shout my number to John Mc Cann on the check point!
Glenmalure to Glendalough. Cut-off 12.45am.
I take a little pit stop at Glenmalure. My friends Amy and Rob are here and Amy has my trail runners out for me and my food which is a great help. I tell them I feel great, much better than I thought I would! I tell Karina, who is crewing for the amazing Sarah Brady, to tell Sarah I am not racing today and not to worry about me! Order a sausage and rasher sandwich from the lads cooking, yes I will have ketchup, fuck it, why not! Change out of my road runners and into my trail runners. Spray of deodorant, off with the t-shirts and into the vest top, sun cap on, grab the sandwich and go!
Glenmalure to Glendalough. Cut-off 12.45pm.
Off up the hill towards Mullacor, munching on the sausage and rasher sandwich. I may regret it later but right now it tastes so good! I just walked all the way to the devils steps. It was already so hot out and still early in the morning. Passing the half way is such a milestone in this race.
Down into Glendalough and the tourists are out already. Over the bridge towards the car park, it was so nice to meet Deirdre O'Riordan here and have a quick chat. This was a nice boost as the aid station was situated on the Old Military Road, 2.5 or so kilometres father on than the usual spot on the grass at the interpretive centre. Looking forward to the shade of the woods on the up-hill out of Glendalough, I ran hiked this bit and just got ready to sort out my rubbish and stuff at the aid station. Into CP 5, Glendalough, 80km into the race. 2 hours and 25 mins before the cut-off.
Glendalough to Crone Woods. Cut-off 16.45pm.
Emma and her sister Amy are here at the aid station. Sad to see Emma here but she says she has no regrets for pulling up early. She has bigger fish to fry later on in the year. I dump my empty bottles and soak my neck scarf and two wrist sweat bands and hat in water and restock my back pack. Hi to Luke manning the aid station and I am told Sarah is just 20 minutes ahead. I laugh and tell them I don't want to know! I was sent a text message to tell me Sarah had gone the wrong way at one point and I am so glad I didn't see the text until after the race…. I might have taken a notion and put the foot down but I was determined not to put that kinda of pressure on myself this year!
Off over Paddock Hill, the back of this race slowly being broken, nip in behind the hut for a quick wee, in the shade and a light breeze, I could have pitched myself there for the day!
Coming down the road after Busher's Gap I meet Ian Phelan and we say what an amazing day it has been and we end up running together and chatting. This worked out great, Ian said he was on a bit of a dip when I arrived along and I hadn't spoken to anyone for any length of time since Iron bridge so was ready to have a chat, Ian had a really good pip in his step so we ran at a nice pace when we could.
The last minute decision to put a water stop at Pier Gates was a complete blessing, it was a long time between the Glendalough CP5 and Crone Woods CP6 (24K) and the weather was so hot, constant sun shine all day long. Have a hug from Lillian here and we hit the steep climb up the road. Ian has got a few texts from friends to say he is in the top 20 and with that we move along trying to spot runners in the distance.
Up along the board walk, there are tourists out and some seem to know we have run from Clonegal and it is a bit of fun saying hi to people and Ian was singing a bit, spirits were generally good! I stop at the Dargle River, I would have thrown my entire body in if not for the fear of total chaffing in completely wet clothes and runners after so I bent down and shoved my arms in and threw water over my head …heaven! Once we got up the climb towards Maulin, have a quick chat with a bunch of walkers who are amazed we have run form Clonegal…..at this stage I am so sweaty and manky I wouldn't think anyone would be that surprised that I had been running for 14 hours!! Down into CP 6 Crone Woods, 104km into the race, 2 hours and 45 minutes ahead of cut-off.
Crone Woods to Boranaralty Bridge. Cut-off 18.45pm
Hello Crone Woods! It's so good to get here! Leah (my other best friend from when I was 6!) is here and I had looked forward to seeing her all day. Knowing friends and family are along the way definitely help boost the day along. That saying, the volunteers at the aid stations were first class and ready to help you with anything you needed. Liam Vines is here and I take a glass of coke and some orange segments which were gorgeous. I get a bunch of Ice cubes from Liam and I shoved them in my neck scarf and some down my top! Liam, the ice was the absolute business!
We ran the down hill to the bridge. I was getting a bit slow along the grassy path by the Glencree River and Ian was running along ahead. We were back beside each other by the top of the steep grassy slope and put the heads down to get up through the woods at Knockree Hill, we jogged the down-hill to the road…. We were less chatty at this stage but that was ok, the dreaded Curtlestown climb ahead!
The thing about Curtlestown is, with 110 kilometers in your legs, there is expectation to run, and it's just not going to happen! You just get to the top, doesn't really matter how, we just hiked up and it wasn't as bad as I thought it would be. It's nice to spot the gap for the path to Prince William Seat, there is still more climb but it's only about quarter of a mile or so of steep rocks to step up then onto the gravely path. Along here I ask Ian has he any music on his phone.
The Greatest Showman sound track became our life line! And with that we ran along the gravel path and all the way down the winding fire roads towards Boranaralty Bridge singing. Spotting CP 7 aid station was just the best, it was the last one of the race and the best feeling ever and we definitely rocked in all happy out, 115km into the race and nearly 3 hours ahead of the cut off. Restock the bags and a quick photo by Grace Egan and off we go.
Boranaralty Bridge to Marley Parl. Cut-off 9pm.
Oh god, the Glencullen road, the heat, not a whip of wind, I am starting to slow a lot and I walk bits I could be running. Eventually hit the right turn off the road and up the steps towards Fairy Castle. There is another runner ahead ( we passed a few along the way) and Ian pushes on, I just couldn't keep it going and walked the climb up and ran a bit of the flatter rocky technical section. I could see Ian for a while and then he was gone. I passed by the runner ahead and kept the head down and moved on.
I was trying to work out exactly how far was Marley Park from the junction at Fairy Castle and the Dublin Mountains Way and I spent most of the last down-hill trying to work out in my head how far it was…I am still not entirely sure!
The last few kilometers were incredibly painful on my feet, all down-hill, which is a treat but it's not great when you can literally feel the blisters bursting as you run but what the body can do after a night and a day of running is something very special to witness and to experience. That feeling of nearly being done over shadows every single ache and pain, every blister, every bit of sun burn and tiredness and the drive to finish is greater than all that combined.
Down to the road and under the M50, up the path and then the back gates of Marley Park, I actually can't BELIEVE I am here! In through the gates, cut across the car park and along the path, families are out having a stroll and I am having mild moments of panic trying to spot way markers, I can't get fucking lost in Marley Park! Where the hell is the gap in the trees??!! All I wanted to see was the bright sunlight and the green grass.
And then there it was in all its glory.…. The sun shine, the wide open grass, the little granite wall with the little gap to hop through at the trail head, I can see my kids and my mum and Emma, Amy, Leah and Ruan and I wave as I run by.
Hands on the wall and swing myself over and hit the board. Done!
Well chuffed!
Lie on the grass and eat the most delicious ice cream of my entire life. I feel pretty ok, hobble over to the hedge and change into clean shorts and a t-shirt and we hang out on the grass. Normally at this stage I have to be loaded into a car and driven home as I am incapable of holding anything down(or up!), incapable of keeping my eyes open let alone driving myself any-where.
This year was so different, drove to my mums and had a 40 minute nap, a cup of tea and a Fig roll and drove myself and the girl's home to Arklow, stopped for chips on the way and into bed in one piece. Alive.
I finished 2nd lady behind Sarah Brady who ran an outstanding race, this was her year and I am delighted she set the record for south to north! I was really delighted with 16th over-all out of 100 starters. And to top the entire day off a PB of 17 hrs and 18 minutes. I even surprised myself this year!
The Wicklow Way is ultimately a race but it is also a celebration of all that is ultra-running and the unique nature that is the human spirit and what it brings out in people when faced with a true challenge. It is a time to catch up with old friends and a time to meet new ones. It is a time for those not running to come and support, night and day, just to be part of it. It's a time for people to complete unfinished business from previous years and for others to have the drive to come back next year with the knowledge they learnt and give it another bash. The Wicklow Way Race does that to you. It's in your bones, always!
On a funny note. While I was sitting up having the cup of tea in my mums after the race, I told my mum I thought I was coming to the end of the long distance running. I told her I had one or two more planned and that might be it. Sunday morning I woke up and thought…emmm with some specific south to north training, I would love to give that direction a good bash...…roll on 2019 so!
Clare XXX
Scar face
13 June, 2018 - Mikey Fry
Scar face
Having watched my kids eat yummy iced buns during the day leaving me wanting the race to be finished and to be tucking into them I passed them onto mum and headed up to pub to car pool so brendan couldn't give out to me :) .......jumped into car with Angus and John who kindly drove landed at field registered nice and early so had plenty of time to chat with Liam(who did a super job marking the course)James(Cahill I had a hole in my socks so I replaced them from the goodie bag left over from Wicklow 127k race which I had to smell to c if they'd being worn they were fresh so James lashed them on and did better then normal I hope)John Angus and rob and to get cold since it defo wasn't warm.....so eventually myself and rob went for a warm up we were just leaving the field and rob put his foot in a hole and twisted his foot thankfully it wasn't to bad.....back to the start of race a few little chats with various nice people as always......brendan got us under way quick enough since no body wanted to hang around.....des went off and that was that for the rest of us ...when we turned right and headed up the nice grassy section the field spread out nelus Barry ahead a young junior flying along at this stage Peter then passed me out I think Damian is right on my tail from the video I saw on Facebook....so when we hit the wall and the tough climb ahead I was following Peter Barry and nelus keeping up with them but lost them when we turned right at the top to head across to summit where I might des flying back ...the wind at this stage was kind of helping me up to the summits but very strong..good man Deirmid at the top marshalling gave him a nice high five and it was back again this is where you can see who's going to be giving you some racing bernad was hot on my heels and Damian not too far behind...this is the best part of the race it's such a good down section I was flying down the wind reeling me in a bit but still some good speed...at this stage bernad was right on my back but I held him off for awhile then he past me then I passed him back then he passed me..when we hit the flatter section he was ahead of me so I kept up with him turned left I passed him again then he passed me out again sorry getting dizzy writing this...when we hit the last marshal before the gate I decided to give one more push and passed him and went as hard as I could all the way to the finish line and managed to hold him off...well done des Peter and nelus top 3 men ...well done Becky and the other girls can't remember there names sorry....some lovely jelly's thanks to Liam :)and the usual chats of the race ...was meant to mention last week was talking to mike long and he had some very kind words about my race reports thanks again it's your fault I've written an other one:)...down in the pub brendan had found some of his old clothes he wanted to give away as spot prizes you don't know what you people are missing down after the races :)
A big thank you to brendan and crew for a super good race he sure knows how to do it at this stage of the game:)
Mikey